On average, how many times have you forgotten passwords to your social media or email accounts? Quite often I assume.
With the presence of a number of online portals, it is difficult to set secure passwords and then remember them.
This is the case with most adults. Imagine, how children cope?
Haley George, a teacher at a local school in California told a US daily:
Four and five-year-olds are typically still building the fine-motor muscles needed to hold a pencil and button up their own coats, let alone type a nine-digit username and password into a keyboard.
Methods of teaching and classrooms are evolving and getting hi-tech. Remembering passwords could be one less thing to worry about for school going kids in the US.
Also read : QR Codes in the Classroom: Increase Student Engagement
The good news is that QR Codes are replacing regular passwords in classrooms.
The concept was developed by an education technology company, Clever. These QR Codes help children from around 4,585 schools to access more than 200 educational apps.
Children as young as 4 years can log in to education apps by scanning QR Codes printed on their 'Clever Badges' via cameras on their laptops.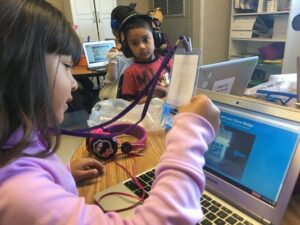 The introduction of QR Codes as passwords have helped students and teachers save upto 20 minutes, which were earlier spent logging in with passwords.
What are your views on QR Code passwords? Share your thoughts in the comments section below.
[cta-subscribe]