You know what QR Code payments are and already pay for Uber rides with Paytm. With the new Paytm QR Code payments, you can now pay autorickshaw drivers also. Even grocery stores, paanwalas, and just about any other small business.
If you have a small business yourself, you can now receive money in your bank account via the Paytm Wallet.
But first – what is a QR Code?
A QR Code is a 2D barcode that can store a lot of information. You can scan and read a QR Code using a smartphone application.
How Does Paytm QR Code Payments work?
With Paytm QR Code Payments, you will be able to send and receive money for everyday transactions.
Here are steps:
A. Request Money (amount specified by sender)
Each account has a QR Code associated with it. To find this QR Code on your Paytm app go to:
Profile > QR Code Icon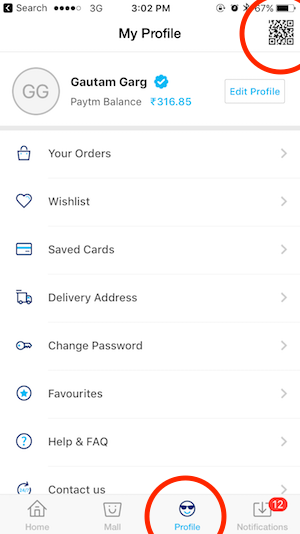 If you are a business, you can print this QR Code and set it up near the point-of-sale. Your customers can scan this QR Code using their Paytm app. They will get an option to specify amount and send money.
When the transaction is complete, you will get an SMS notification. Note that in this case the customer has the option to specify the amount of the transaction.
With the latest update of the Android Paytm app (v.5.5.12 in Android), you can also get a placard with your QR Code and phone number. You can print this and place it in your shop.
Here is what you need to do:
Open App > Accept Payment > Show Paytm QR Code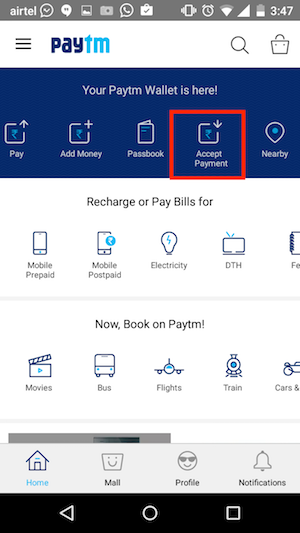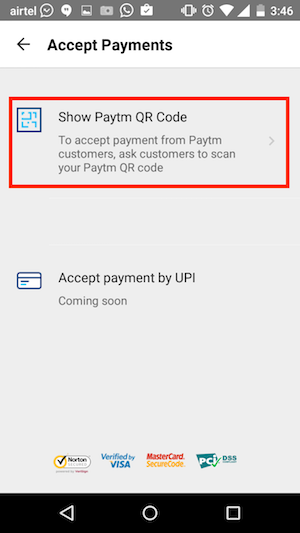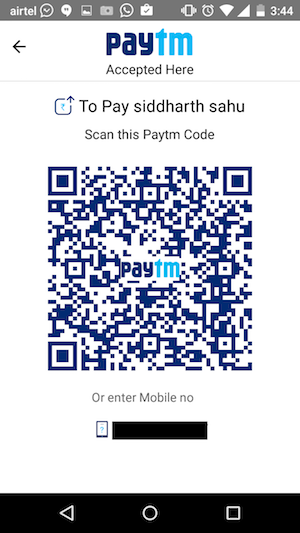 Once you see the placard, take a screenshot. Email the image to yourself and take a print out.
Note: This option will only be available if you have the latest version of the Android app i.e. v5.5.12 and above.
B. Request Money (amount specified by you)
If you want to specify the exact amount of the transaction, follow these steps:
Request > QR Code Icon in the Mobile Number Field > Enter Amount > Generate QR Code
The app will generate a QR Code, which you can share with the payer.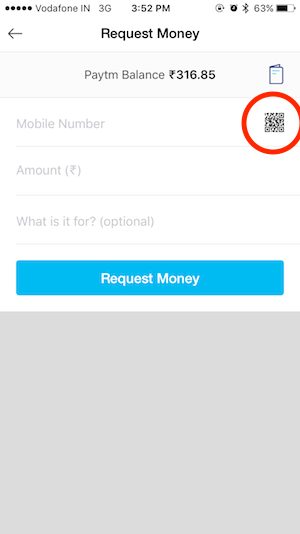 C. Send Money
To send money:
Click on Pay or Send
The default tab is the Scan Code option. Scan a Paytm QR Code of the recipient
Enter the amount (if not already specified) and click Send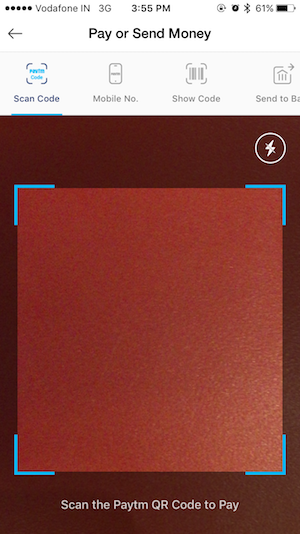 You now also have the option can transfer the money in their Wallet to their bank accounts.
How Paytm QR Code Payments will help?
The advantages of using Paytm QR Code Payments are multi-fold:
Unlike Uber, you don't need to integrate Paytm to receive money
No cash dealings so no issue of change
Unlike Credit/Debit cards, QR Code Payments are contactless and secure
How do I start?
To start making Paytm payments using QR Codes, you will need the Paytm app (Android, iPhone).
If you have any questions, feel free to ask in the comments below.