If you are a business, you probably have a website and an online sales channel that drives some or most of your revenue. But for many businesses, particularly in Education, Consumer Packaged Goods, Food, Beverage & Tobacco, Manufacturing, and Retail industries, traditional print & publishing media (newspapers and magazines) remains one of the most important channels of marketing to consumers. The big question is:
"How do I get my offline newspaper/magazine ad audience to my revenue-generating online content?"
The answer is simple and cost-effective – by adding QR Codes in newspaper and magazine advertisements.
What is a QR Code?
A QR Code is a square-shaped barcode that connects smartphone users to online content such as websites, videos, photo galleries, and just about anything else on the web.

The QR Code, placed on the newspaper ad, can be read by a QR Code scanning application on the smartphone of your target audience member.
Also see how India is using QR Codes.
What should I do to increase my online traffic?
A newspaper QR Code campaign is easy to run and cost-effective. Here is what you need to do:
1. Create a print ad that prompts the user to take a valuable action
The action by the user can mean anything for your business – see a website, see product specifications, watch a video, read reviews about products, register for an event, or even make a purchase.
The consumer should always have an incentive to take the action – a good deal, discount, need for information, or entertainment.
2. Make it easier for the reader to take the valuable action
Once the reader is curious about your product, service or company, and ready to take the valuable action, give them the option of scanning a QR Code. The QR Code will lead them directly to the desired content, helping you drive traffic.
3. Create a visually appealing QR Code personalized to your brand
The Black-and-white barcode and QR codes are ugly and often mistaken for inventory management codes. Use a personalized QR Code with your brand colors and logo to attract more scans from your audience. Add a little call-to-action instruction to let the readers know exactly what to do.

4. Make the landing page mobile optimized
Ensure that your audience has a good experience browsing on their smartphones by making your web page optimized for mobile viewing. You probably don't want a high bounce rate at this stage.
5. Track scanning activity to see impact of your campaign
Using an advanced QR Code Management tool, you can track scanning activity of your QR Codes. You can track scans by date, city, and device. This analytics will help you assess the impact of your newspaper ad campaigns.
Which brands in India are using this marketing tactic?
While QR Codes are widely popular in the West, many brands in India have joined the bandwagon.
Brands such as State Bank of India, LG, Spykar, KAFF, Lavasa, Cox & Kings, Symphony, Shoppers Stop, The Collective, DHFL, SimplyMarry, Advanced Hair Studio, Intec, Sikka Group, and Manyavar have all used QR Codes in their newspaper advertisements to engage their readers with their online content.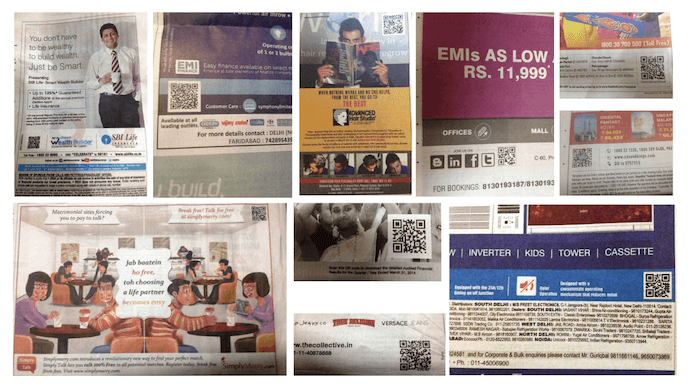 QR Codes will you bridge the gap between static traditional media and dynamic online content. Get started today.
[cta1 caption="Create a QR Code for your Newspaper Ad" content="Create a visually-appealing and trackable QR Code for your newspaper ad to drive traffic to online content" buttontext="Create QR Code now" destination="https://scanova.io/design-qr-code-generator.html?utm_source=gg_sd_qr-code-newspaper-ads-india_cta&utm_medium=blog&utm_campaign=content#/chooseqr/" image="https://scanova.io/blog/wp-content/uploads/2015/11/qrcode-47.png]