You probably run a business and want to get your customers to review your business online. Your potential customers use these reviews to decide whether to buy your services or not.
But getting your existing customers to review your business can be challenging. This is extremely difficult if you do print promotions. They have to follow a time-taking series of instructions to write a review. But the good news is that you can now use a QR Code to get Google Reviews for your business.
Besides marketing and promotions, QR Codes can also be used for a number of other use cases. Getting Google Reviews is one such use case.
The QR Code for Google Reviews redirects customers directly to the review page for your business. All that they need to do is: Scan the QR Code with their smartphone and give their reviews.
A. Why Google Reviews are important for a business?
Google reviews are important for a business in multiple aspects. They help you to:
i. Increase your sales
Reviews provide potential customers with the information they might need. This can help them decide whether to buy your services or not.
People are much more likely to make a purchase when others have strongly recommended the product/service.
ii Serve your customers better
Google Reviews provide you with the issues your customers have. So it becomes easier for you to understand what all improvements your services need. Once you resolve the issues, it creates a positive experience for customers.
And since Google is one of the most used and trusted search engines, place high trust in reviews acquired on Google too.
iii. Improve your rankings
Along with creating a better relationship between you and your customers, reviews help increase your rankings too.
The more is written about your business, the more important Google considers you to be.
iv. Let customers market your services
Positive Google Reviews are a great deal. They give a positive image of your services to potential customers. Finally, it creates brand awareness that favors your business in the long term.
In short, these reviews increase your visibility and help you stand out from other competitors.
v. Influences the purchase decision of your buyers
Google reviews can help customers make a decision about your product or services. That's because most of them prefer reading other's experiences before finalizing a product. And good reviews can give them the confidence they need. You can also add these reviews to your website with free tools like Trustmary.
B. How to increase your Google reviews?
Now that you know why Google Reviews are important, the next question is, how to get them.
But how to actually get customers to review your business?
Here is an exhaustive list that will drive your customers/clients to review your business. We are confident that this will definitely combat the issue at hand:
1. Give guidance to your customers
Many of your customers/clients do not review your business because they simply don't know about it.
Tell your customers how easy it is to post a Google review. And guide them to use star ratings.
You can also say 'Drop A Review' instead of saying 'Write A Review'. This sounds as if it is a work of just a few seconds. And hence there is a high probability that they will submit their review.
Plus, you can instruct them on how to do it. How? Well, in multiple ways.
For example, if you have a brick-and-mortar store, you can guide them on a one-on-one basis. And request them to review your services online.
2. Consider giving an incentive
Well, this one could be really very helpful in getting customers to submit a review. After all, who doesn't like getting some incentive (or a freebie)?
For example, in 2018, Subway did something similar in one of its outlets in India.
They added a QR Code which said 'Review Us Online and Get a Free Cookie on Your Next Purchase'.
This simple initiative helped them gather many reviews online. After all, who would mind sparing a minute or two in exchange for their favorite cookie for free?
You can offer similar incentives or even a discount to your customers on their next purchase in exchange for a review.
3. Be responsive
Responding to a review will make your customer feel acknowledged. This way they will consider spending time writing reviews worthwhile.
This habit also creates a positive impression on new customers. They feel that the company cares and values its customers' opinions.
Plus, it's important to respond to both positive and negative Google reviews. You must be thankful and polite in your tone in either of the scenarios.
This way, they will feel heard. Also, make sure your response doesn't sound cold. It will affect the customer experience negatively.
4. Leverage your print media creatives
You can easily use your existing print media resources to get reviews online. How?
On your bill receipts, you can mention the review link that takes customers to submit a review. Or on your print media promotions (such as flyers and posters). And request your customers to review your business.
And don't forget to tell them what the link does. That means, adding an instruction (also called a call-to-action statement) with it. It could be—Visit here to drop a review.
It will guide your customers on what is to be done.
But here's a problem. To submit a review, people will still have to pull out their smartphones to tediously type the link, find you, and then review you. Since it will need effort, many of them would simply not bother doing it.
But the good news is that you can make the process easier by making your print media material actionable. How? Using a QR Code.
Using it, customers can leave a review after scanning a QR Code. That's it. That's how simple it is.

C. How does a QR Code for Google reviews work?
You probably know what QR Codes are. They are advanced-level barcodes that can store alphanumeric information. And today, they are being widely used for marketing, payments, and inventory tracking.
Once you create a Google Review QR Code for your business, you can add it to your print media creatives. For example, bills, carry bags, or even in-store posters.
When your customers scan it, they will be redirected to a webpage where they can directly submit their reviews. They do not have to do manual typing anymore.
An easy scan via smartphone is all that it will take. That simple!
You now know how a QR Code for Google reviews works. And you're probably thinking—how do I create one for my business? Keep reading to know how.
D. Some pre-requisites before you start
In this section, we've covered some important FAQs that users typically have before working with a QR Code.
These will make sure you leverage the QR Code to the best potential.
In case you'd startight like to know how to create the QR Code, you may proceed to section E.
1. How does a Google Review QR Code scan
Well, your customers will not need anything beyond their smartphone for a quick scan. most smartphones today come with an in-built QR Code scanning feature.
All they have to do is open the camera and hold the phone in front of the QR Code. And bam! It gets scanned.
In case this doesn't work, they can use their phone's Google Lens application. It also helps scan the QR Code in no time.
In rare cases where none of this works, your end-users can install any free third-party QR Code scanner. There are many of them available on both App Store and Play Store for free.
2. How do I increase the scans on my QR Code
First, make sure the QR Code scans well. To make sure it does, ensure a high contrast between the QR Code and is background. It's very important for good scannability.
In addition, also make sure the QR Code image you print has a high-resoltuion. It's really tough (or rather impossible) for unlcear and pixelated QR Codes to scan.
Now, talking about how to increase the scans, follow a few quick hacks:
Ensure the QR Code is noticeable to people. That means its size should be prominent enough to grab their attention
Also, add a design to the QR Code. That means you may add a logo and colors to the QR Code. Alternatively, you may even use an image as its background. Customized QR Codes are known for increasing scans. That's because they grab the audience's attention and act as a point of engagement for them
Add a CTA (call to action) with the QR Code. For example, Scan here to review us online. A small nudge like this tells the end-users what the QR code does and what they can expect on scanning it
3. Will customers need internet connection to take a scan
People not not really need internet to simple 'scan' the QR Code per see. But they'll sure need it to make the whole process work.
Let us explain it further. A phone can scan the QR Code even without internet and show you the webink it contains. But for that web link to open and whole process of taking the end-users to your website, internet in a pre-requisite.
After all, you can't open a webpage without an internet connection, right?
4. Can I monitor my QR Code's performance
Yes, QR Codes come with a feature called scan tracking. it helps you monitor the details scanning activity. For example, it helps you see the number of scans based on:
Date
City/Country
Browsers used
handsets used
Exact GPS location
This data comes in handy while drawing insights into your target audience. You may learn more about scan tracking here.
5. Can I create Google Review QR Code for another website
Yes, you may create it for nay business you want. It should juts have a Google Place ID (covered later in the article).
we've now covered most questions people have before getting started. Let's move ahead.
E. First thing first, create a link for Google review
Pretty obvious isn't it?
Only after creating the web link that will take customers to your review page, will you be able to create a QR Code.
So the question is how to create this web link? Well, here's how:
1. Go to Google Place ID Tool
2. Enter the name of your business. Make sure to enter the name your Google My Business Name has listed

3. Copy your Place ID which is nothing but a string of letters and numbers, listed under your business name

4. Paste your place ID into the following link:
https://search.google.com/local/writereview?placeid=PASTE PLACE ID HERE
Now that you've created the link, test run it too.
Just make sure that opening this link takes you directly to your review page.
Once the test run is complete and everything looks good, proceed to create a Website URL QR Code.

Related : QR Code For App Link
F. Create a QR Code with Google Review QR Code generator
1. Find a Google Review QR Code generator
To get started, you'll need a QR Code generator. Now that's quite a task too. Why?
Because there are many choices available online. While that gives you ample options to pick from, it's not that easy to decide which one is the best.
To make things a little easy for you, look for the following features in your QR Code generator:
Scan tracking: As mentioned before, scan tracking is an important feature of QR Codes. It helps you monitor how many times your QR Code has been scanned. Where was it scanned from. And when was it scanned. Such information helps you draw valuable insights into the performance of your campaigns
Custom design capabilities: Did you know that you can design your QR Codes? Yes, they don't need to be black-and-white (they're not barcodes, after all. Hence, make sure you look for custom design feature in your QR Code generator
High-resolution image export: If you'll use the QR Code image on print media, make sure your service provider offers high-resolution formats. For example, SVG, EPS, and PDF. These formats are preferred by designers since they don't pixelate on designing, resizing, and printing. And trust us, none needs a pixelated QR Code (since it'll not really work)
To further make things smooth for you, here's a detailed comparison chart of the topmost QR Code generators. You can go through it to decide the best one for your use case.
2. Create a QR Code
Follow these steps to create a QR Code:
1. Go to Scanova. Click on Create QR Code
2. Select the Website URL category from amongst other QR Code categories.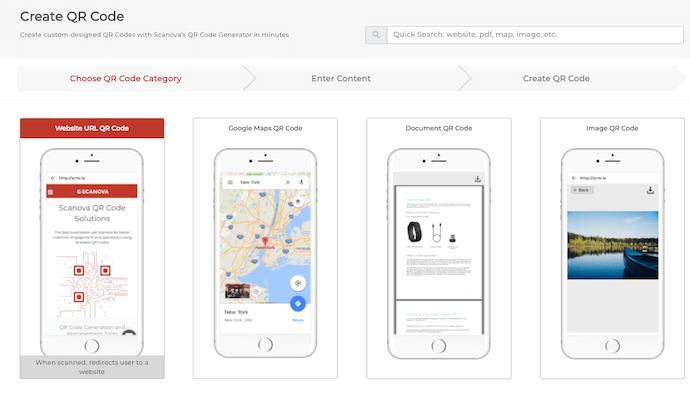 3. Enter the link and click Create QR Code
4. Next, you'll see two QR Code designs. You can choose custom with logo or custom with a background
Note that a customized QR Code attracts more scans than a black-and-white one. Hence, to attract maximum scans, design your QR Code.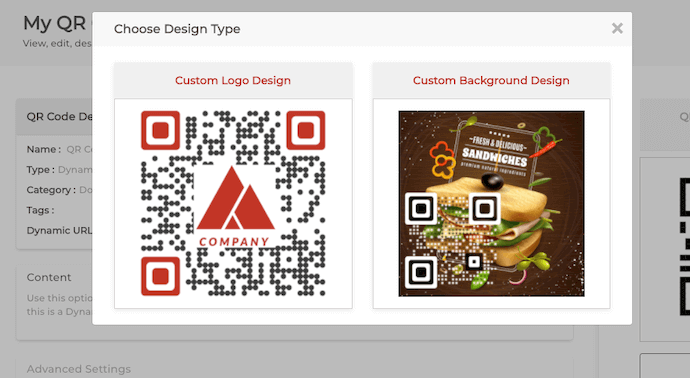 5. Once your QR Code is ready, say after you design it, you can click on preview. If everything looks fine, proceed to download.
6. To download the QR Code, you need to create an account. Here, Sign Up to get started with a 14-day free trial
7. Once you sign up, click on the Download icon. A pop-up will appear prompting you to specify the QR Code image size and format. Once you enter the details, click Export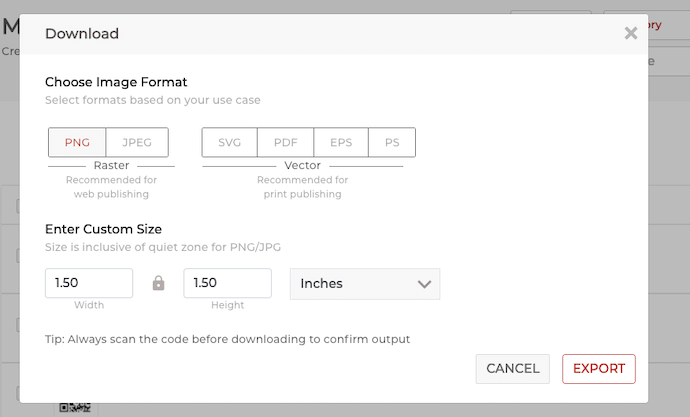 Your QR Code has been created. You can now print it and share it amongst your end users.
But the question is that where will you put these QR Codes out for people to scan?
G. Where to put the Google Review QR Code
After creating the QR Code, you'll have to put it up at important customer touchpoints. In case you're wondering where these would be, we've got some ideas for you:
1. invoices and bills
These are the first customer touchpoints after a sale is made. Hence, these will make a good avenue for you to place your QR Code at. Just make sure you add an appropriate CTA with the QR Code as mentioned earlier in the article.
2. Product packaging
Do you sell physical products? These could be groceries, cosmetics, stationery items, food, etc.
Then add a Google Review QR Code to the packaging. It'll be pretty easy for customers to quickly scan it and share their reviews online while using the product.
3. Social media
Do you have a decent social media presence? Great! Then leverage it to gather reviews. After all, who will be better suited to submit their reviews than customers who are already following you online?
4. Print media creatives
Do you engage in print media promotions? If yes, then this one will be really helpful.
Print media has a longer attention span than that of digital. Hence, when people see a promotion in print, they're much likely to take an action than digital.
So put your print media creatives to work and get them to bring you some reviews.
5. In-store premises
If you have a brick and mortar store, then engage customers while they're still inside the store.
Put up your Google Review QR Code on posters at the billing desks.
6. Reception
This is for the ones who own a hotel or restaurant. They can add the QR Code at their reception to get the guests to submit their valuable feedback.
H. Best practices you should follow
As the last piece of advice, it's important to use QR Codes the right way for maximum benefits.
While these are pretty easy, here are the top three things that you must take care of:
Always add a CTA (call to action) with the QR Code. It helped nudge the audience to take the action you desire. In addition, it also helps your audience know what they're supposed to do or what to expect on scanning the QR Code

Ensure that your QR Code is of the right size. A QR Code that's too small will not scan and neither will the one that's too large. How do you then decide what's the right size for your QR Code? Here's the deal. The right size of the QR Code depends on the scanning distance
As a rule of thumb, the ratio of scanning distance and QR Code's size should be 10:1. That means if you expect the end-users to scan the QR Code from 100 cm away, QR Code should be 10 cm (length and width).
There should be a high contrast between the QR Code and its background color. For example, if the QR Code is black, the background could be white (or any other highly contrasting colors for black). This ensures maximum scannability of the QR Code
As mentioned before, make sure you export the QR Code image in high-resolution formats for print media. Such formats include SVG, EPS, and PDF. Your designer will ask for the QR Code image in these formats to get started. That's because they don't pixelate on redesigning which is important for a QR Code to get scanned
That's all you need to know about a QR Code for Google Review. It makes it easier for your customers to submit their reviews online. And helps you get as many customers as possible to review your business.
A good number of reviews give your potential customers confidence to opt for your services. And even helps you get a good SEO rank and better business. So get started on creating a QR Code for your business today.
[cta1 caption="Create a Google Review QR Code" content="Generate a visually-appealing and to get Google Reviews from your customers" buttontext="Create QR Code Now" destination="https://app.scanova.io/qr/create/url?utm_source=smb-pr-google-review-qr-code-cta&utm_medium=blog&utm_campaign=content" image="https://scanova.io/blog/wp-content/uploads/2016/12/qrcode-8.png"]
That's it. You now know everything about how to create a QR code for Google Reviews. If you still have questions, feel free to ask in the comments section below.