You have seen and even scanned a QR Code. It is a square-shaped barcode that stores information such as text, numbers, and URLs. QR Codes are a common sight now. Thanks to easy access to high-speed internet and increased smartphone penetration.
Hence, many industries today are using QR Codes for diverse use cases. These include payments, promotions, running survey campaigns, and providing product details.
You have a use case too. And you want to use QR Codes for the same in a creative way. You want to add a QR Code to T-shirt. And you're probably thinking—will it be a good idea?
Don't worry. People are conveniently using QR Codes for this use case already. For what purpose? Keep reading to know.
A. How is a QR Code T-shirt useful
The purpose of adding a QR Code to your T-shirt is—to make it interactive and interesting.
You come across many t-shirt designs. But you don't really remember most of them. You occasionally remember one or two of them that had out of the box design, right?
A QR Code on a T-shirt helps you stand out from the crowd. It does not only make your garment different but also adds the element of technology to it. Hence, it attracts attention from others.
And this is especially useful if you want to use these t-shirts for the purpose of marketing. Hence, you want to create a QR Code T-shirt too.
In this article, we will tell you everything you need to know to get started with your QR Code T-shirt.
B. How to create a QR Code T-shirt
Simply creating a QR Code and adding it to the t-shirt is not enough. You'd want to make sure that you make the most of it. And to do that, you will have to follow some best practices. These include:
1. Create a QR Code
The first and the most basic thing here is to create a QR Code.
Before you go ahead to do it, make sure you know what you want to create the QR Code for. That means, what do you want your audience to see on scanning the QR Code?
For example—you might want them to visit your website, see your social media profiles, see a text, or even an image.
Depending on the content you want to encode, you must look for a suitable QR Code category.
For example—website URL QR Code, Text QR Code, Image QR Code, and Social Media QR Code. Here's a list of all the QR Code categories that you can choose from.

Once you know which QR Code you want to create, go ahead to choose a QR Code generator that offers this category.
Here's a detailed comparison chart of the top QR Code generators available online. You can go through it to decide the best-suited one for your use case.
2. Add design for more scans
A standard black-and-white QR Code is quite plain and boring to look at. And people often perceive it as 'some barcode for official purpose'.
Of course, you wouldn't want it to be the case with your QR Code too, right?
Then customize your QR Code by adding colors and an image to it. Yes, you read that right. QR Codes allow you to design them by adding colors to them and even an image as a logo or as a background.
Here's an example of a customized QR Code with colors and a logo in the centre:

Customization will help your t-shirt look designed. In fact, it will also help you attract maximum scans. It is a fact that customized QR Codes attract many more scans than black-and-white ones.
So if you're using them for a promotional purpose here, adding design will help you boost your conversions.
Here's another example of a QR Code with an image as its background:

Don't worry. You don't need a designer to do the job here. You can do it yourself easily with a QR Code generator that offers customizable QR Codes. Here' a detailed guide on how to do it.
3. Type of Content
We don't wear the same clothes every day. Then why carry a QR Code with the same content all the time?
For example—say you create a QR Code that, when scanned, brings up the links to your Facebook and Twitter profile. And a week later, you also wish to add the link to your LinkedIn profile.
In such cases, you can change the content encoded in a QR Code anytime you want. And to do it, you don't really need to create a new QR Code and print it on a new t-shirt.
You can make changes to the already existing QR Code itself. How? With a Dynamic QR Code.
Dynamic QR Codes are editable. That means you can edit the content encoded in them even after creating them. Yet your QR Code will remain the same.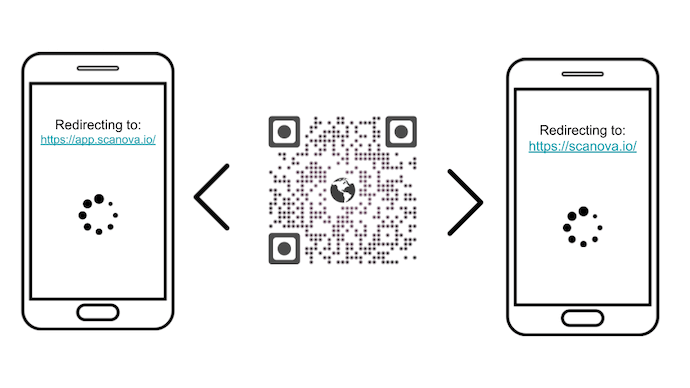 In fact, dynamic QR codes are trackable too. They help you monitor their scanning activity. For example—how many people have scanned them, what was their location, and what was the date and time of scans.
And serious marketers know how important these details are to understand your target audience well. And make the required changes to your future campaigns accordingly.
4. Ensure Scannability
With time, it is possible that your T-shirt endures some wear and tear. It is important that your QR Code still remains scannable. Here's how you can ensure it:
i. Add Error Correction
Adding error correction allows a QR Code to remain scannable even if it has been damaged by up to 30%.
There are four levels of error correction—L,M,H, and Q. L is the lowest level while Q is the highest.
Some QR Coe generators allow you to choose the error correction level by yourself. And rest of them choose it themselves depending on how you're designing your QR Code to ensure maximum scannability.
ii. QR Code Size
To ensure high scannability, it is important that you create the right sized QR Code for your T-shirt. A 'too-small' QR Code will hinder the scannability as much as a 'too-large' QR Code will.
Thinking—how do I calculate the correct size for my use case? The correct way to do this is to apply a standard rule. You can know about it in detail in our article—QR Code minimum size.
iii. Contrast to T-shirt color
To ensure smooth scannability, QR Code should have enough contrast with the background.
The contrast allows the QR Code reader to scan it easily.
Hence, if you're choosing a light-colored T-shirt, add dark color to the QR code and vice-versa.
For example, both standard and colorful QR Codes look and scan the best when printed on a white T-shirt.
In case you wish to get a QR Code printed on a black T-shirt, ensure the colors are bright and none of the data modules or eye color is black.
iv. QR Code on a Flat Surface
Ensure that the QR Code printed on your T-shirt does not fall on a curved surface. A smartphone QR Code scanner ensures maximum scannability if the QR Code falls on relatively flatter areas of the body.
Once you've created your QR Code, download the image in PNG or SVG format, both work best for print. Share the image with the T-shirt printing company of your choice.
Note that it is recommended that you download the image in a vector format such as SVG, EPS, and PDF. These formats are suitable for printing purposes and don't pixelate no matter how much you zoom-in or zoom-out.
The volunteers at 'Because She Can' run organized by the authorities in Ethiopia and the Great Ethiopian Run wore QR Code t-shirts. The main aim of QR Codes was to gain followers on Facebook.
Now that you know the do's and don'ts to create a QR Code T-shirt, create a QR Code for your T-shirt with Scanova.
[cta1 caption="Create a QR Code for your T-shirt now" content="Create a fully scannable, visually-appealing, and dynamic QR Code for your T-shirts." buttontext="Create QR Code now" destination="https://app.scanova.io/qr/create?utm_source=smb-qr-code-t-shirt-bod&utm_medium=blog&utm_campaign=content" image="https://scanova.io/blog/wp-content/uploads/2014/08/qrcode-19.png"]