QR Codes were invented in Japan back in 1994. And the main aim behind their invention was— replacing barcodes in inventory management.
Since then, they have been adopted for various other purposes. Some of them include—marketing, security, and identification (particularly in the West).
Thanks to WeChat, the QR Codes have seen a massive adoption in China and South-East Asia in the last couple of years. In fact, the Middle East is also picking up the technology.
Though statistics indicate their massive adoption, how other regions use QR Codes? How is Australia using QR Codes? So we set out to find how brands and businesses are using QR Codes in the country.
Here are the top 11 campaigns that use QR Codes in Australia:
1. Education of voters on polling day
Bill Cashman, Greens NSW candidate from Fowler, Australia added a QR Code to their campaign material during the electorates in 2016.
Bill Cashman, Greens NSW Candidate from Fowler, Australia, said:
On our Fowler and Werriwa polling booths, The Greens will be displaying material that has a QR (quick response) Code. It can be read with a mobile phone and a free barcode-reading app. Our unique QR codes will allow Fowler and Werriwa voters with smartphones to quickly access our Greens how-to-vote cards online.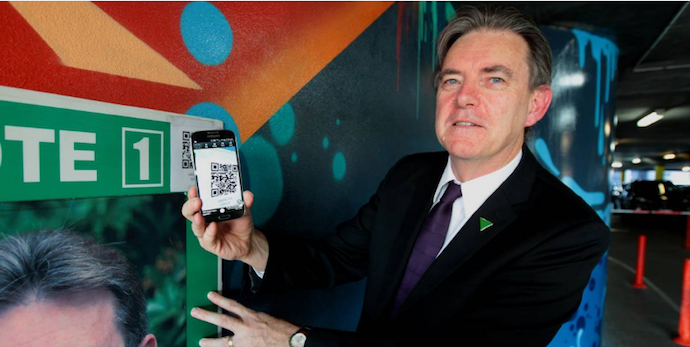 Lack of manpower and other resources lead to the adoption of QR Codes in electoral polls.
As a result, this cost-effective way the candidates will be able to influence voters. This is especially true for the tech-savvy ones.
2. Design of new building of National Museum Australia inspired by QR Codes
As reported in Sep 2013-Feb 2014 issue of the National Museum Australia (NMA), QR Code technology inspires the new extension of the museum's administration building's exterior design.
Visitor's can scan these QR Codes and learn more about the museum.
Meredith McKendry, NMA, said:
Clad is eye-catching handmade ceramic tiles arranged in a pattern based on QR (Quick Response) Codes. The design of the new extension of the Museum's administration wing literally encourages the idea of reading the building.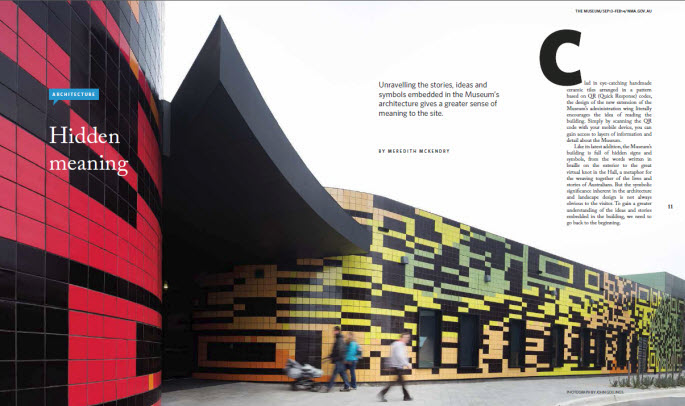 3. oOh! Media digital ad panels campaign for Google Play Store at airports
In 2013, oOh! Media, on behalf of Google, used QR Codes on digital ad panels.
They placed QR Codes on Sydney, Melbourne, and Brisbane airports. And these QR Codes helped travelers interact with the panels.
Travellers could select books, movies, music, magazines or apps on the digital panel and then scan the QR Code or tap NFC to download.
Warwick Denby, Group Director – Business Strategy, oOh! Media said:
This was the first time an advertiser has taken full ownership of a digital platform to create a mass campaign that has enabled consumers to take control of the screen with their smart phones.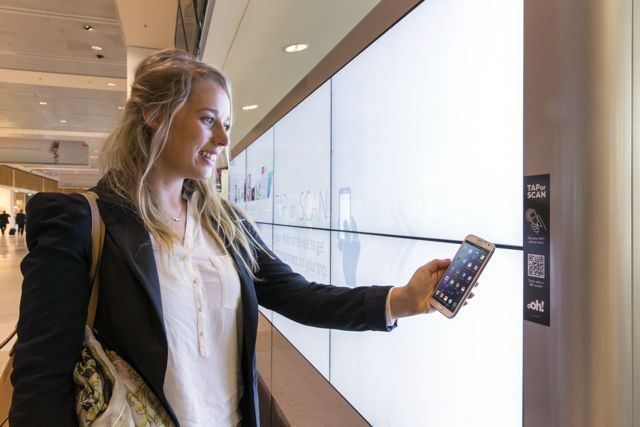 4. Australia Post Video Stamp Christmas campaign using QR Codes
In 2013, Australia Post used 'video stamps' or QR Codes in alliance with an advertisement agency Clemenger BBDO, Melbourne on its parcels.
The gift sender could record a 15-second video. And one could view the video by scanning the QR Code.
Greg Sutherland, Chief Marketing Officer, Australia Post, said:
This is our busiest time of year and to be able to give people a unique way to deliver their Christmas wishes in person is thrilling for us.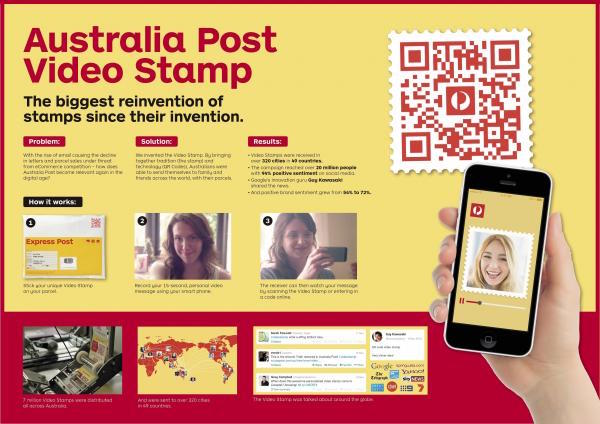 5. Whadjuk Trail Network used QR Code to spread information
Whadjuk Trail Network on Noongar land in the western suburbs of Perth uses QR Codes on its trails. When scanned, the QR Code allows trail users to listen to Aboriginal stories and songs, and to learn additional information about the fauna and flora in the area.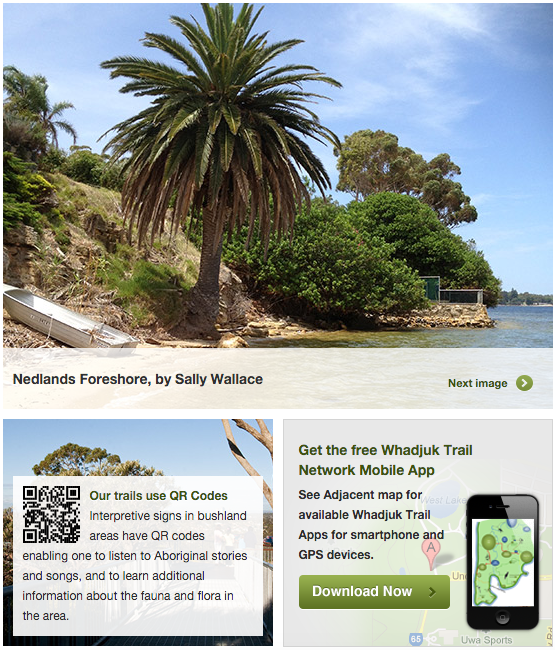 6. Western Australia Wildflower Society QR Code Treasure Hunt
In 2014, Western Australia Wildflower Society, organized a treasure hunt using QR Codes to get residents to take notice of the Christmas trees. They placed QR Codes on 20 trees and Perth residents were encouraged to find all QR Codes. The winners got Nuytsia seedlings.
The Western Australian Christmas tree, a variety of mistletoe, has declined by 90 per cent in urban areas of Perth in the past 30 years – Emma Wynne, ABC News Australia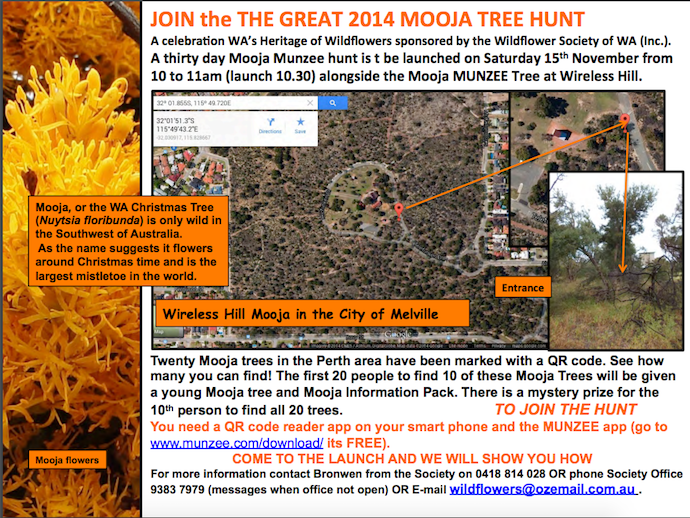 7. Heroes & Villains Walking Tour in Newport
In 2015, HistoryPoints.org created a walking tour called Heroes & Villains in Newport, New South Wales that features stories on a soldier who returned from the Boer War to kill his wife and a delivery boy who was the hero of the 1909 dock disaster. There are Eight QR Codes at different locations across the city centre.
Another QR Code-based HistoryPoints tour has been placed in Bute Park in the city.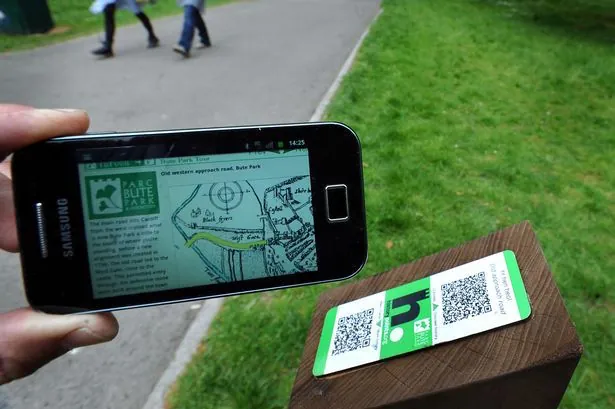 8. Bendigo bank uses QR Code for payment in Australia
In 2014, Australia's Bendigo Bank collaborated with Samsung. This allowed shoppers to make mobile payments using QR Codes via Redy.
A merchant's tablet-based POS terminal using the Redy App generates the QR Code. The shoppers need to scan this QR Code.
9. BPAY Payments using QR Codes
Australia's popular bill payment service, BPAY, allows consumers to pay bills by scanning a QR Code on the bill.
Participating banks can add a QR Code scanning feature on their mobile applications. This will help consumers to pay their bills.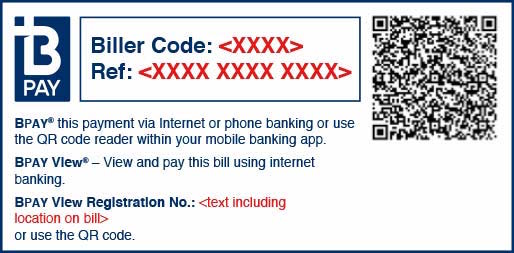 Both Commonwealth Bank of Australia (CBA) and National Australia Bank (NAB) have added this capability to their mobile banking apps.
10. Oceanwatch used QR Code to increase traceability in Australia
On World Fisheries day in Nov 2014, OceanWatch launched a traceability system using QR Codes.
This was a part of the OceanWatch Master Fisherman Program. Scanning the QR Code helped buyers get a complete picture of fish catching. And even the face behind the fishing.
The QR codes also revealed the characteristics of the species, migration patterns, and population statistics.
Brad Warren, Executive Chair, OceanWatch Australia, said:
"These QR codes offer real transparency around the provenance of seafood. It's important the community knows where their seafood comes from. Also, it is confident that fisher is dedicated to responsible fishing and best-practice techniques to protect our marine environments."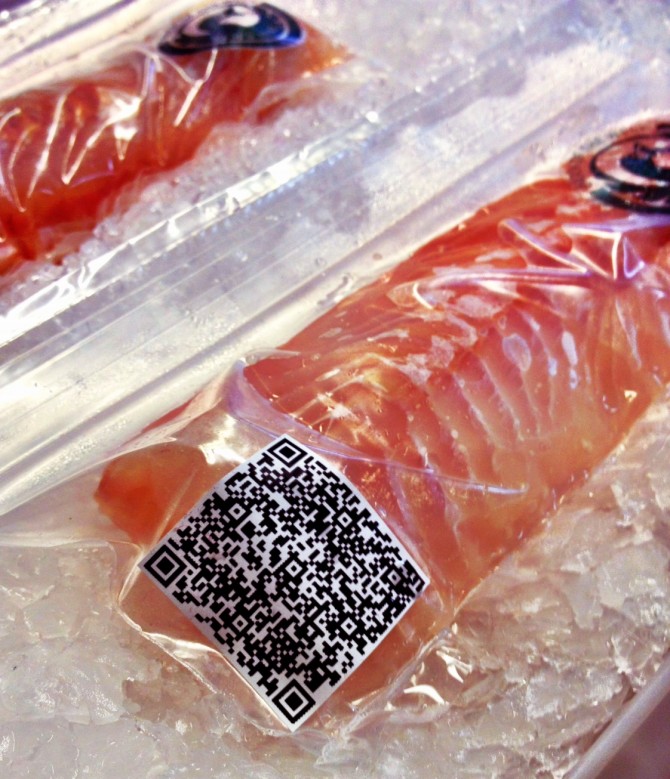 11. Australian government use QR Code for safe construction
In 2012, CodeSafe Solutions (CodeSafe) and Master Builders Association of Victoria (MBAV) partnered with WorkSafe Victoria. They showed safety videos/demonstrations on high risk construction activities.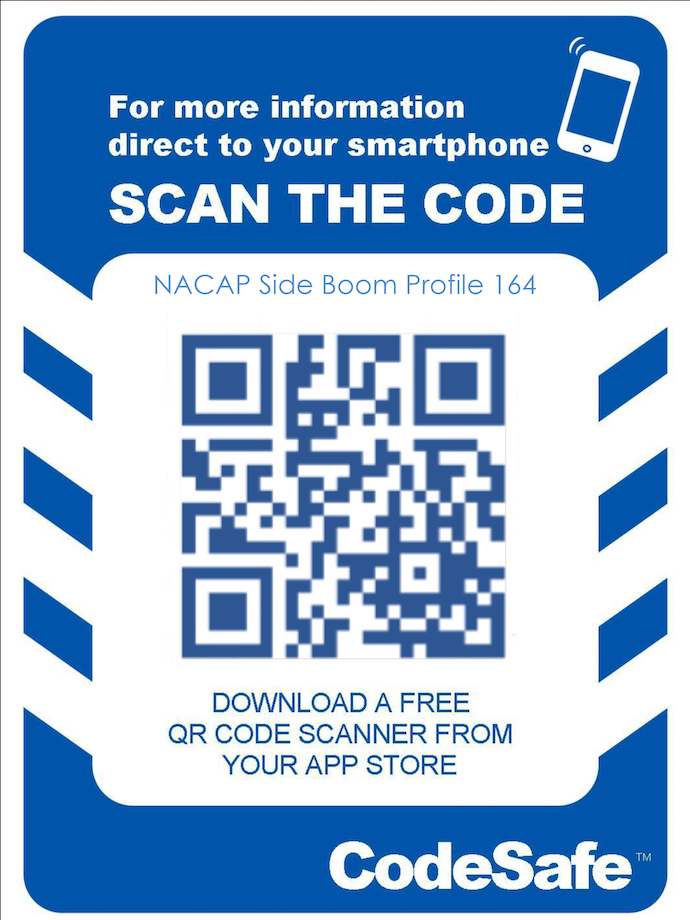 These campaigns show that Australia uses QR Codes for tourism, customer education, and improving customer experience.
That's all you need to know about the use of QR Codes in Australia.
The inclusion of QR Codes in day-to-day operations indicates that consumers are highly aware of the technology. Brands should also add QR Codes to their print media promotions. This will make it easy for consumers to get information.
If you are a marketer planning to run marketing campaigns in Australia, QR Codes are your way to go!
[cta1 caption="Create a QR Code for your campaign" content="Create a visually-appealing and dynamic QR Code for your campaigns to connect consumers from print media to online content" buttontext="Create QR Code now" destination="https://scanova.io/design-qr-code-generator.html?utm_source=sm_sd_qr-codes-australia_cta&utm_medium=blog&utm_campaign=content#/chooseqr/" image="https://scanova.io/blog/wp-content/uploads/2016/02/qrcode-53.png"]