You know what a QR Code is and have even seen or scanned one. Ever since the increase in smartphone penetration and access to high-speed internet, the use of QR Codes has increased.
As per statistics, QR Code scanning was rampant in 2018. And it will only increase in the years to come.
Hence, you can easily find them being used across a wide array of use cases. For example—promotions, payments, education, and even in events.
But are QR Codes of any utility to energy companies? Yes, they are.
In fact, many energy companies in the world are using QR Codes for many use cases. Some of these include helping customers pay their bills and visit the service provider's website.
In this article, we will see different ways in which energy companies can use QR Codes.
A. To help consumers easily pay their bills
Making a payment is one of the most common use cases of QR Codes. You would have seen QR Codes placed at the bill desks of grocery stores or Walmarts.

Buyers can simply scan the QR Code to authorize payment via a digital wallet. No need to fill in your card details every time you need to pay.
Similarly, energy companies can help their customers make payments via QR Codes. For example—you can add a QR Code to your electricity bills. And add a CTA that tells people they need to scan the QR Code to be able to make payment.
Tata Power, India's leading integrated power company, uses QR codes on its bills. In a statement, Tata Power said:
"Tata Power has become the first power utility to introduce QR Code service for bill payments in Mumbai."
So customers don't need to visit the bill collection centre. They can make the payment from anywhere.
B. To help consumers get a better deal for their money
Before you make a purchase, you look for various options to ensure you make the most of your money.
And QR Codes are being used to do this by energy suppliers in the United Kingdom.
They add a QR Code on the energy bills to help customers monitor their energy consumption. And to even help them switch the supplier.
Edward Davey, Secretary of State, Department of Energy and Climate Change, said:
"We are determined to make energy markets work better for consumers. We are acting to make sure people have a quick, straightforward way to compare the best deals."

On scanning this QR Code, customers can monitor their spend on gas and electricity. And they will also get the data on comparison results across different suppliers.
Hence, people will see tariffs from the whole market. And select the one they would like to go ahead with.
Also see—how QR Codes are being used to move towards sustainability.
C. To get people to download your mobile application
Do you have a mobile application? It could be to provide bills to the customers, to give the best offers, or any such purpose.
For example—to help consumers compare the best deals (as stated in point 1), uSwitch developed a mobile app.
People could install it to scan the QR Code on their bills and get the comparison data.
If you do have one such application, you know that getting people to install it is not easy. They have to visit the app store, type the app's name, locate the right app, and finally install it.
It is a long process and needs effort. And due to busy schedules, people do not really bother doing that.
So what you can do here is—make it easier for them to find the app online. And a QR Code can help you do it. We call it—An App Store QR Code.
When scanned, it takes the end-users to the app link on the appropriate App Store. They simply need to install it then.

Since this makes the process easier for end-users, their likelihood of installing the app increases.
D. To redirect people to your website
Keeping people engaged is not an easy task for energy companies. But taking them to your website online can be one effective way to do this.
However, make sure your website has actually useful content for your audience. For example—articles on energy saving that people can learn something from.
Once you're sure your website will impart value to the audience, you must go-ahead to get them to visit it.
But simply printing the website URL to do the job is not sufficient. Since it needs people to tediously type the entire link, most of them won't take action.
You can rather use a Website URL QR Code. When scanned, it directly takes people to the encoded website.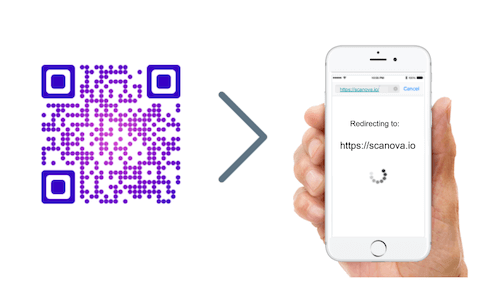 GERMI, an energy institute in Gujarat, India, uses QR Codes in its magazine to do this. On scanning, it takes end-users to a website with energy-related news and updates. And it also gives users the option to signup for a newsletter.
Similarly, the Agency for Natural Resources and Energy (Japan), adds QR Code to its brochures. When scanned, they take users to read the detailed articles online.
E. To provide detailed information
Providing in-depth information is yet another common use case of QR Codes.
You would have already seen QR Codes on product packagings. When scanned, they show you all the product details which could not be added to the packaging due to limited printing space.
Similarly, you can also use QR Codes towards this use case.
At the Seoul Innovation Park, South Korea, energy is generated by solar panels and wind turbines. The park has QR Codes put up on the elevation.

As visitors scan these QR Codes, they help them learn about renewable energy for sustainable development.
F. To help your customers reach out to you
You know that a QR Code can help you get payments or website traffic. But do you also know that they can help your customers contact you easily? Yes, they can actually do it in multiple ways. For example:
1. A Phone QR Code
When scanned, it helps users to call you. That means they do not need to manually type your contact number.
2. An Email QR Code
When end-users scan it, it opens the default email application in their phones with your email address in the recipient field.
3. An SMS QR Code
You can even get people to contact you via a text message. When scanned, it generates a pre-loaded text message on the user's phone. They then simply need to click Send.
4. A Vcard QR Code
You can add all your contact details such as phone number and email, in a single QR Code. As end-users scan it, they get prompted to save you as a contact on their phones.
Sootless Energy, a solar power energy installer in Tamil Nadu, India, uses QR Codes for this purpose.
G. To make your processes better
Solar Victoria, a program that helps Victorians control their energy bills and create a cleaner future, uses QR Codes in a unique way.
People can apply for the solar rebate. Once it gets approves, and the customer gets labeled as 'eligible', he receives a QR Code.
Accredited installers then visit the customer to install the set-up. They need to have Solar Vitoria Mobile App installed on their phones.
Using the app, they can scan the QR Code provided by the customer. On doing this, they get designated as the accredited installer with the installation.
This way, a simple scan makes the entire process of installation better and well-accounted for.
These are seven ways energy companies are using QR Codes for various use cases. From helping customers pay their bills to assisting them easily contact the service provider, QR Codes do it all.
Whatever your use case is, make sure you always use QR Codes the right way. Not sure what it means?
You must follow best practices while working with QR Codes. For example—if you are adding them to print media creatives, make sure you print a high-resolution image. It will ensure the smooth scanning of the QR Code.
Also, make sure you always add a CTA with your QR Code. For example—Scan here to download our mobile app. Or Scan here to pay your bill easily.
It will clearly tell the users what action they need to take. And what they can expect after scanning the QR Code.
[cta1 caption="Create a QR Code for your use case now" content="Get started with your first QR Code" buttontext="Create QR Code now" destination="https://scanova.io/design-qr-code-generator.html?utm_source=yt_sd_qr-codes-in-energy-companies_bod&utm_medium=blog&utm_campaign=content#/chooseqr/" image="https://scanova.io/blog/wp-content/uploads/2016/12/qrcode-8.png"]
Do you know a use case of QR Codes in energy companies that we missed? Let us know in the comments.