You are probably working in the telecommunications sector. And you want to keep your customers engaged.
You have seen various industries using QR Codes to do the job. So you want to explore the scope of using them in your industry.
You are thinking—will QR Codes make sense to our customers? Are any telecom companies using QR Codes presently?
Well, they will definitely make sense for your customers. And many telecom giants are using them already.
QR Code scanning has increased over the last decade. Thanks to increased smartphone penetration and high-speed internet.
They are being used for a wide array of use cases (such as marketing and payments) across various industries.
And here are six ways telecom companies can use QR Codes for various use cases.
A. To help your customers pay their bills easily
You have been to grocery stores or Walmarts. And at the bill desks, you have seen square-shaped barcodes or as we call them—QR Codes.

They help you pay your bill easily. You simply need to pull out your smartphone to scan the QR Code and authorize the payment. No need to carry your card all the time.
Making payments is one of the most common use cases of a QR Code. Just like other industries, you can also use QR Codes to help your customers pay their bills easily. Or even buy a subscription plan.
Some of the leading telecom companies across the world are already using QR Codes to do it.
For example—Bharat Sanchar Nigam Limited (BSNL), an Indian telecom giant is already doing it. In 2015, they added QR Codes to their landline bills in Kerala. As customers scan it, it takes them to their payment gateway.
On the page that loads, users can select a payment option among net banking and credit/debit card. And complete the payment.
Similarly, Chunghwa Telecom Co., Taiwan's leading mobile operator, announced QR Code bill payments.
B. To get people to download your mobile application
Most telecom companies have their own mobile applications for customers. They help people check their account balance and validity, pay their bills, browse offers and deals, and a lot more.
But creating an app is one thing and getting people to install it is another. To do it, users have to open the play store app and type your app's name. Then they need to find the correct app and finally, install it.
While some users might do it, others generally don't. This is because it takes both time and effort to install an app. And the longer the process, the lower is the conversion rate (number of app downloads here).
So what you can do here is—make it easier for them to download your app. And an App Store QR Code helps you do just that.
When scanned, it takes end-users to your app on the appropriate app store. No need for them to manually locate and download the app.

You can add this QR Code to your bill invoice. Or you can even add it to promotional material such as banners and flyers.
C. To give detailed information
The main functionality of a QR Code is to condense information. Hence, they are frequently used to provide information where printing cannot to the job.
For example—packaged food products often have QR Codes on them. On scanning, they take you to detailed product information that could not be printed due to limited printing space.
Similarly, you can use QR Codes to provide detailed information. For example—on network booster devices. How?
Say you provide network booster devices to your customers. To help them understand how it works, you give them a printed user manual. Here, a QR Code can easily help you do away with printing costs.
You can simply add a QR Code sticker to the device. When scanned, it can take users to a landing page with all the details you want. Or it can also help them download a PDF with all the instructions on their smartphone.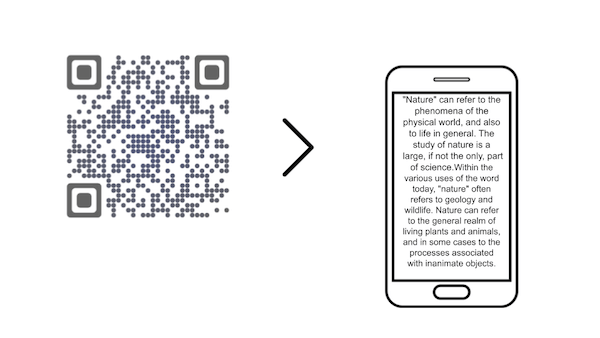 And providing the information is not the only use case of a QR Code on such devices. In Jan 2020, Bouygues Telecom, a French telecom service, announced the addition of QR Codes on its Wi-Fi-6 routers.
On scanning, it will help users to easily connect to the WiFi.
D. To make your marketing strategy better
Does your marketing strategy involve print media? Great! While digital media is readily actionable and trackable, print media has a longer attention span.
And your marketing strategy should include both print and digital approaches. How? With QR Codes.
QR Codes make print media both actionable and trackable. So the next time you print banners, brochures, or flyers, leverage QR Codes. Wondering—what will I use them for?
Well, anything. For example—you can add a QR Code to your flyers. This QR Code, when scanned, will take end-users to your website. They can then see details such as plans and pricing. Or best offers.
Or it can also get them to download your mobile app (as discussed in section B).
And with QR Codes, you can easily track your campaign's performance. And if you are a marketer, you know how important it is to analyze your campaigns.

QR codes help you monitor their scanning activity based on various parameters. Some of these include—number of scans, location and time of scans, and devices used to scan the QR Code.
With such details, you can draw valuable insights. For example—what was your conversion rate. Or from which region most scans were done. Or which time is the best for your ads.
And using this data, you can optimize your future campaigns accordingly.
E. To verify your customer details
Before any telecom company provides its services to a user, it has to verify their identities. And to do it, telecom companies in India started using QR Codes.
Ranjan Mathew, Director General, Cellular Operators Association of India, said:
"Telecom companies are trying to use the method of electronic verification. It may include using the form generated as one of the documents created from the customer's base, QR Code."
To verify the customer's identity, telecom companies don't use hand-filled forms. They rather scan the QR Code present on the Aadhar Card (a government ID proof in India).
Since it only takes a few seconds to scan a QR Code, the process of ID verification has become faster. It even costs the telecom companies cheaper than using the 12 digits number-based verification method.
F. To make saving chatting and calling easier
Do you use apps such as SnapChat and Instagram? You would have then seen their customized QR Codes that help users get followers.
For example, with SnapChat, you can share your SnapCodes. As people scan it, they get redirected to your profile. They can then easily follow you.
In a similar way, telecom companies can use QR Codes to make chatting and calling easy.
Reliance Jio telecom, an Indian telecom company is doing it already. How?
It offers a service called JioChat that helps users chat and call. Each JioChat user has a unique QR Code. This QR Code can help you in the following way:
Say your friend shares her JioChat QR Code with you. You will have to go to the Chats tab in your JioChat app. From there, you will have to launch the QR Code scanner.
Using this, you can scan the QR Code shared with you. Once you do it, you can add her contact to your phone and start chatting and calling.
Also, see how QR Codes can help you get people to add you as a contact on their phones easily.
These are six ways telecom companies across the world are using QR Codes for various use cases.
If you have a use case, you can go ahead to use QR Codes for your telecom company. And since they are easy to use and user-friendly, you can expect a good engagement too. In fact, statistics suggest that the use of QR Codes will only increase in the years to come.
But before you get started with QR Codes, make sure you follow some best practices. For example—make sure you add instruction or a CTA with your QR Code.
It could be anything such as Scan here to pay the bill. Or Scan here to know the best offers for you.
It will tell the users what action they need to take. And will also inform them what they can expect after scanning the QR Code.
Also, if your use case is promotional (such as marketing), you must design your QR Codes. Why?
Because standard black-and-white QR Codes look like 'some barcodes for official use'. But customized QR Codes act as point-of-engagement to attract scans. Hence, if you want to maximize the number of scans, design your QR Codes.
You now know everything on how telecom companies can use QR Codes.
The next step?
[cta1 caption="Create a QR Code for your use case now" content="Get started with your first QR Code" buttontext="Create QR Code now" destination="https://scanova.io/design-qr-code-generator.html?utm_source=yt_sd_qr-codes-in-telecom-companies_bod&utm_medium=blog&utm_campaign=content#/chooseqr/" image="https://scanova.io/blog/wp-content/uploads/2016/12/qrcode-8.png"]
Do you know a use case of QR Codes in telecom companies that we missed? Let us know in the comments.