Virtual tours are an amazing way to let people explore any location without having to visit it in reality.
Hence, many businesses and city admins are today using this innovative technology to enthuse their audience.
For example, say you are a realtor and you need to show people around before they finalize a deal. But getting people to visit the property itself is a time taking phase. After all, how much interest can pictures invoke alone?
This is where virtual tours can come to your rescue. With the help of this technology, you can show your prospects a whole virtual demo of the property. Once they see it, the likelihood of them being willing to visit the property in real would increase.
In fact, a virtual tour can help convince the buyers halfway through to make the purchase.
Since the pandemic, there has been a surge in usage of virtual tools such as Zoom and its alternatives. They help people connect without any physical contact.
So you're planning on using virtual tours for your business. But here's the problem—how do you go about it?
You can create a virtual product tour and service tour to be shared with the clients. And then you'd add its link to various promotional creatives.
People will then have to open their phones, type the entire link, and finally watch the virtual tour. This is a long process with certainly not the best user experience. So many people will not bother going through with it.
As a customer-centric business, you'd need a seamless way to offer virtual tours. But the question is—how? Wouldn't it require you to install expensive infrastructure?
Well, you don't really need to do that. There's one way you can offer virtual tours without investing a huge amount of money. How? With QR Codes.
QR Codes are advanced barcodes that can store a lot more information than traditional barcodes. In addition, they are easily scannable with a smartphone.
Let's now see how QR Codes can help your offer virtual tours.
A. How QR Codes can offer virtual tours
Do you know a lot of marketers use QR Codes to direct people from offline media to online content? And they can help facilitate the same for virtual tours.
So the question is—how does the QR Code technology offer virtual tours?
Here's how you can do it in three different ways:
1. Using Website URL QR Code
Do you know a lot of marketers use QR Codes to direct people to their website? And a Website URL QR code helps facilitate the same.
Website URL QR Code, when scanned, redirects your target audience to the required virtual tour online. Here, you just need to encode a shareable link to the virtual tour.
To create it, you can use any tool such as Google Meet, Zoom, or WebEx.
Once generated, add this QR Code to your promotional campaigns and creatives. Your target audience can scan and join the virtual tour live. Quite simple, right?
In addition, you'll also be able to track the scanning activity of the QR Code (only if you choose to create a dynamic QR Code). That means you'll be able to see how many people have scanned the QR code, the time and location of the scans, their exact GPS location, device type, browser, etc.
2. Using Video QR Code
A Video QR Codes can also help you offer virtual tours. A Video QR Code, when scanned, takes the end-users to watch the encoded video online. Hence, users do not need to manually type the video's name or link anymore.
To create one, you'll first have to upload the video on a platform to generate a link such as YouTube, Vimeo, and Dailymotion. Once done, copy the sharable link to the video and head on to a QR Code generator.
Moreover, you can also track the performance of the Video QR Code (only if you choose to create a dynamic QR Code). That means you'll be able to see the following details:
How many people have scanned the QR Code
The time and location of the scans
Their exact GPS location
Device type
Browser
3. Using Event QR Code
Do you have a dedicated event where you'll be taking the audience on a virtual tour? Then it makes sense that you provide complete event details to potential attendees. And to do it, you'd run various promotions.
Also, giving complete event details would be an important part of your campaigns. This is where an Event QR Code would come in handy.
It can encode pictures, videos, textual information, maps location of the venue, event schedule, virtual tour link, and even social sharing buttons. In addition to it, it also allows the guests to RSVP without having to call you or send you an email. How?
When your audience scans the QR Code, they will see all the event details with an option to RSVP to confirm their presence. And for each response, you get a notification on your email. You can then make event arrangements accordingly.
That means you get an idea of how many people could come for your virtual tour and prepare accordingly. Great, isn't it?
B. Popular use cases of QR Codes for virtual tours
You now know how QR Codes can be used for virtual tours. Let's see some popular use cases where QR Codes can help offer virtual tours.
1. Museum
You know that art in itself is very intriguing. A typical museum tour includes selected artifacts to experience and history. This doesn't completely satisfy the guests who want an elaborate tour.
This is where a QR Code can help you out. You can put a QR Code for virtual tours helping visitors learn about the artifacts in-depth and other essential aspects of the museum.
You can also put an Audio QR Code along each sculpture to offer an audio interpretation of the art.
2. Education
Colleges and schools can be fun. And many times, newly admitted students may want a virtual tour of campus. This allows them to digitally explore the campus at their convenience.
And QR Codes are up for the job. They can especially be helpful for international students. It helps them learn, interact, and view the campus from anywhere. Just print this QR Code on brochures and students can scan it to get a virtual tour.
3. Real estate
QR Codes with real estate marketing platforms can help the real estate industry take the buying experience to a whole new level. It will allow you to showcase a property from anywhere in the world. It can be especially helpful for long-distance buyers who can't visit the site physically.
4. Tourism
Travelers often feel confused about directions in new cities. To help them, city admins can use QR Codes at various public places such as bus stops and metro stations.
They allow the tourists to easily navigate through popular historical sites and eateries with all the routes and directions. It will be both fun and helpful for tourists and residents alike.
5. Restaurants
Nowadays, decor has become an integral part of customer-based businesses such as restaurants and bars. It helps attract new customers along with the food and other services.
To provide a better glimpse of the decor, you can offer virtual tours via QR Codes. Just create these QR Codes and print them on your marketing creatives. When scanned, visitors can take a virtual tour of the restaurant and its kitchen. This will build trust among your customers.
6. Retail
Similarly, brick-and-mortar retail stores can use QR Codes to attract new customers into their establishments. This will allow them to browse through different products and services and cater to a broader audience base quickly.
7. Healthcare
You know the healthcare industry, especially the hospital, leverages QR Codes for various purposes. From providing patient information to inventory management, they got it covered.
Apart from these use cases, QR Codes can also help offer educational content. These can be training tours or virtual tours for patients and their families.
For more such Industry specific QR Code Campaigns, you can download a free e-book on QR Code Trends 2022 and get interactive ideas for your marketing campaigns.
C. How to create a QR Code for virtual tours
Now you know why taking advantage of QR Codes for virtual tours makes sense. Next question is—how to create one?
1. Using an online virtual video platform and a QR Code generator
The first thing is to create a shareable link to the virtual tour. To do this, you'll have to use an online tool.
For a live virtual tour, you can use Google Meet, Zoom, or WebEx. On the other hand, for video-based virtual tours, you can use YouTube, Vimeo, and Dailymotion. Or you can also use a cloud storage service to store your video digitally and get a sharable link to it. Tools such as  Google Drive, Amazon S3, and Dropbox can help you with it.
Once done, you'll get a unique URL (virtual video link). Now, copy this link and go to a professional online QR Code Generator such as Scanova.
Using Scanova QR Code Generator for demo purposes, you just need to follow some simple steps.
2. Create a QR Code
a. Go to Scanova
b. From the QR Code categories, select Website URL QR Code or Event QR Code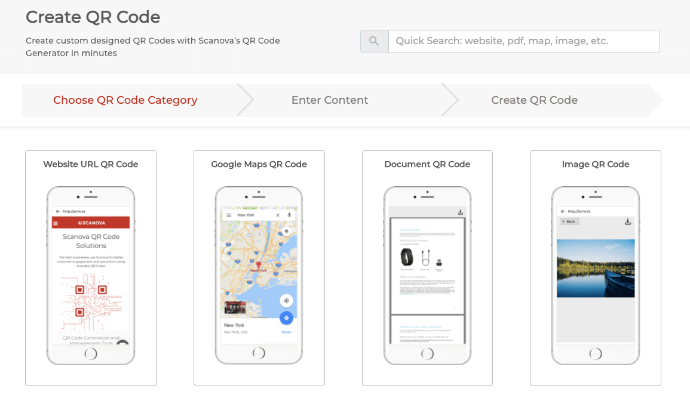 With the Website URL QR Code, you can just encode the unique URL. And that's it.
On the other hand, an Event QR Code allows you to provide much more information than a mere virtual tour link. And if you want to provide the same, select Event QR Code.
c. Once selected, start customizing the landing page by adding background color, title, and banner images to it (up to three)

d. Next, specify the virtual tour details such as date and time

e. Next, you can add the event description in the Description Box. It could be any details about the event
f. Next, you will see the option Button. Here, you can add the shareable link to the virtual tour

g. You'll also option of RSVP. Here, specify the email address where you want to receive responses. Here you can also specify how many attendees are allowed and any additional questions that you'd like to ask

h. Further, you'll see the Social Sharing buttons option. Use it in case you'd like the guests to share the virtual tour on their social media profiles
i. Once you've added all the event details, click Continue
j. Now, you'll see the preview of the QR Code along with the Edit Design option
k. If you click on the Edit Design option, you'll then see two design options to choose from—Custom Logo Design and Custom Background Design

Custom logo design: It allows you to add your company's logo and colors to the QR Code. A logo can be an image or a text.
Custom background design: It helps you place your QR Code on an image.
l. Once you've decided on the design or no design, click Download. A window will open prompting you to sign-up for a 14-day free trial. Once you've signed up, proceed to download the QR Code
Note that no credit card information is required for sign-up.
m. Now you'll be asked to specify the QR Code image's size and dimensions. Once you submit the details, click Export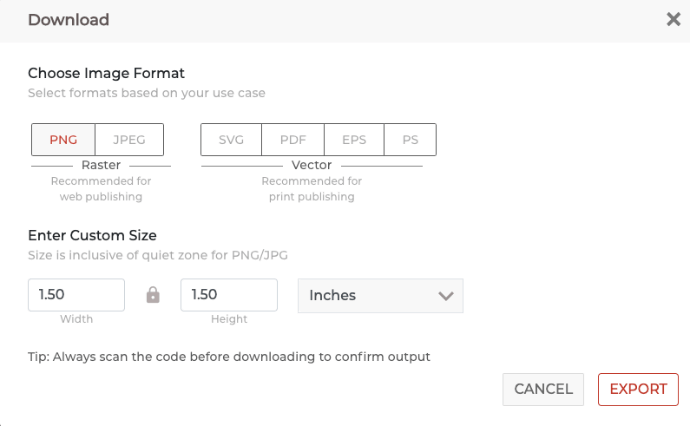 That's it. Your QR Code will be downloaded and ready for use. It is always advisable to test scan the QR Code before putting it out for your customers.
That is all you need to know about how QR Codes can be used for virtual tours. You can now go-ahead to create a QR Code and offer a seamless virtual tour.
[cta1 caption="20+ QR Code Campaign Ideas from 2022″ content="" buttontext="Grab Your Free E-Book Today!" destination="https://scanova.ck.page/a6343dd3f0″ image="https://scanova.io/blog/wp-content/uploads/2016/12/qrcode-63.png"]