AirAsia, a Malaysian-based airliner, allows its flyers to book, upgrade, check-in and save all travel details using a mobile application. If you visit the AirAsia website, you'll have the option of downloading the mobile application by scanning a bright red QR Code that has the AirAsia logo in the center.

Testing the AirAsia QR Code
The brand did a good job on the QR Code. The AirAsia QR Code is colorful and personalized to the brand. The brand has also ensured that site visitors know what to do by adding a call-to-action text 'Scan to get your own AirAsia Mobile App now!' and scanning instructions.
Once the AirAsia QR Code is scanned, you are directed to a mobile-optimized page that provides you with an option of choosing the right app store for your device – iPhone, Android, or Windows Phone.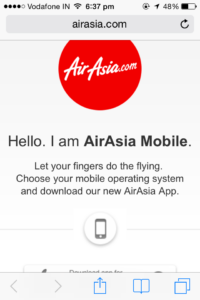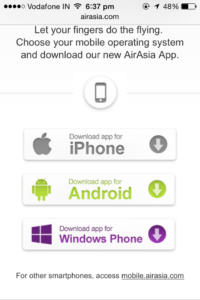 Is the 'Choose Mobile Operating System' page necessary?
While this is a well designed page, it is unnecessary. AirAsia could have easily used a splitting QR Code to automatically redirect the user to the relevant app store. This would have meant – one less click for the user ensuring a lower bounce rate. According to Morra Aarons-Mele, founder of the digital cause marketing agency Women Online:
"An average bounce rate is about 50%, meaning that about half of people who land on your website pages leave and don't come back"
In summary, fewer the steps for the user, higher is the conversion rate.
A splitting QR Code identifies the device/OS of the user and redirects to the respective App Store thus eliminating the need for user input. Read more about using splitting QR Code to download mobile apps.
We created a sample splitting QR Code for AirAsia
To demonstrate how this works, we created a custom-designed splitting QR Code for AirAsia. Give it a scan with your smartphone and see what happens. This code was created using the Scanova free QR Code generator.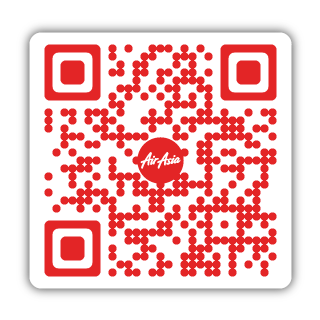 [cta-subscribe]