We love our iPhones and even the smallest of bugs leave us dissatisfied. We expect it to be always perfect but glitches still creep in. A recent such glitch was discovered in iPhone's QR Code scanner feature of the camera app.
What was the vulnerability?
For the past four months, a security vulnerability existed in iOS 11.2.1 but was discovered only recently. It was incorrectly reading the QR Codes that could be exploited by attackers to redirect users to malicious websites.
For instance, on scanning a QR Code, you may be see a pop-up to open a Facebook link. But on clicking it, it takes you to a completely unknown website.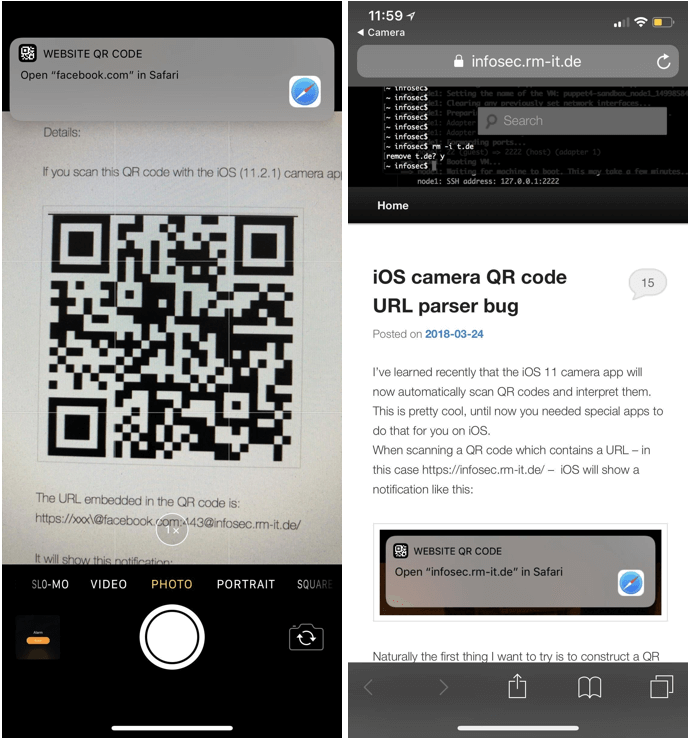 Why was the issue happening?
The issue was happening because the URL parser in the camera app was not able to detect the name of the host, the way a web browser does. The attackers were exploiting this vulnerability to redirect users to other similar-looking websites which is a form of phishing. This can cause a lot of damage from compelling a user to reveal sensitive data to taking complete control of the device.
Has this been fixed?
In the fourth week of April 2018, Apple has finally released a security patch in the 11.3.1 iOS update after there were complaints by a number of experts. One such security expert, Roman Mueller was the first to discover the issue. He confirmed via Twitter that Apple has finally fixed the problem.
How can iPhone user fix this?
iPhone users need to update their OS to the latest available version. Here are the steps to do so:
Take a backup of your phone on iCloud using Wifi or by iTunes
Go to Settings-> General->Software Update and check whether any update is available or not
If an update is available, you can download it using Wifi or by connecting your phone to your computer and downloading the latest version using iTunes
After knowing the QR Code-scanner glitch, Apple took immediate steps. These steps were to ensure that security patches be present in the current and the beta version of iOS 11.4 as well. Thus, all you need to ensure is that your beloved iPhone has the latest software update. And you are safe.
(Featured Image: Gizmodo)
[cta-subscribe]