We love discounts. Don't we? After all, who doesn't love getting as many discounts as possible on their purchases?
The customer's intent to make a purchase increases on seeing a discount. So, you are looking forward to running a coupon campaign.
It is a great gimmick to both drive and boost sales for your business. And you want to make the best out of it. You want as many people as possible to avail of the offer and buy your products or services.
In this article, we will discuss how you can create a coupon QR Code to make your marketing strategy better.
A. How to hand-out coupons
The first step here is to hand-out the discount coupons to your audience, right? And how do you do it?
Most businesses use print media to do it. It could include handing out flyers, brochures, magazines, or even putting up banners.
But here are some of the issues that bother the audience in this approach:
1. They don't usually know what to do with the coupons. Should they cut and keep them? And show them when they come to your store
2. Where do they keep these coupons? They can obviously not carry them along all the time
3. They might forget to carry the coupon when they actually go out for shopping
Wondering—what should I then do? Well, you must continue with what you are doing. Just make a small addition to your campaign.
Here we are talking about an element that makes it easier for your audience to avail discount. And helps you monitor the performance of your campaign too.
Yes, we are talking about a QR Code. And since it deals with discount coupons, let's call it a Coupon QR Code.
B. What is a coupon QR Code
You know what a QR Code is. It is a square-shaped barcode that stores information. And unlike barcodes, it doesn't store limited data. It can rather store much more of it. This includes numbers, alphabets, special characters, and even website URLs.
A Coupon QR Code, when scanned, helps end-users avail the discount. It redirects them to a mobile-optimized coupon page. This page has all the coupon information. For example—coupon code, offer details, terms and conditions, etc.
Also, it needs people to put in minimal effort. That is—they simply need to pull out their smartphones to scan the QR Code. That's all. The QR Code will be scanned. It is as easy as clicking a picture.
This way, you can make the customer experience seamless. Coupon QR Code can be used across various industries such as:
Grocery shops
Supermarkets
Apparel stores
Hotels
Restaurants
Gyms or any other B2C business
Here's a sneak peek on how it works:
C. How is it helpful
Before you go ahead to create and use a Coupon QR Code, you'd like to know how is it beneficial for you and your audience. Keep reading to know how.
1. For your audience
Besides making it easier to take the required action, here are three chief benefits:
a. People can save as many coupons as they like on their smartphones
b. Everyone carries a smartphone along. Hence, the coupons will always be handy. No need to worry about carrying them everywhere
c. people can share the coupons digitally with their friends or even on social media sites. That simple
2. For the marketer
The Coupon QR Code offers many benefits for marketers as well. Here's how:
a. You can build an email subscriber list. How? By asking the end-users for their emails before they can see the coupon. You can then use these emails for re-marketing purposes

b. It also allows you to get the potential customers to like or follow your social media pages or profiles. Once they do it, they'll get the coupon code. This way, you can build your audience online and your customers get a discount too
c. You can also get your audience to fill out a survey form or feedback form before giving them the coupon code
d. The simplified redemption process can fetch you a lot of conversions. In addition, the contactless nature of QR Code-based coupons is extremely useful amidst the COVID-19 pandemic
e. QR Code coupons are editable. That means you can edit the content anytime you want and the QR Code will remain the same. No need to recreate a new QR Code or reprint it
Moreover, you can also track its activity. This is very crucial for marketers as it helps determine the campaign performance. Here are all the parameters based on which you can monitor the performance of the Coupon QR Code:
Date/Time
City/Country
OS
Device
With this data, you can further optimize your ongoing and future campaigns.
f. You can customize the QR Code to look branded to your business. This can be done in two ways. The first is by adding colors and a logo to it. The second is by adding a background image to it. This will help you build your brand's recognition
Also, the QR Code can also help you keep an eye on its scanning activity.
D. Popular use cases of Coupon QR Codes
Here are some of the most common use cases of Coupon QR Codes:
1. Book publications
As a book publisher, you'd want your sales to touch the sky. And to do it, coupons and discounts can play an important role.
But remembering random characters of coupons is exhausting. And many customers won't bother to follow through. So, you need a better solution.
Just create a Coupon QR Code and add it to promotions or on book covers. Customers can scan them to avail of the offer. Getting discounted price shall boost your sales manifold among the readers.
2. Restaurants
People usually go to restaurants to enjoy delicacies. And they are enjoyed even better when clubbed with a discount. Here, a Coupon QR Code can help you out. You can add it to promotional materials or inside your business premises. People can scan them to get the deal and enjoy the food.
3. Softwares or subscriptions
Just like any other business, it's common for software and SaaS companies to offer discounts. And yet again, digital coupons can help you do so easily.
4. Consumer goods and retail
Coupons are usually used to offer discounts to people buying goods such as clothing, food, and jewelry. And with contactless technology on the rise, the use of a Coupon QR Code makes sense.
Now that you know what a Coupon QR Code is and how it is helpful, the next step is to create one. You will obviously need a best QR Code generator to do it. And you know that you can find one online. Just run a Google query and you will get pages of results.
You can then go on to check them out and compare them. But the problem is—doing this for every QR Code generator will take a lot of time and effort. Don't worry. You don't actually need to do that.
We have compiled a detailed comparison chart for the top QR Code generators. You can go through it to decide the best one for your use case.
E. How do I create a coupon QR Code
Once you decide on which QR Code generator you'll use, you can go ahead to create your Coupon QR Code. Using Scanova for a demo, here's how you can do it:
1. Go to Scanova and sign-up for a 14-day free trial
2. From All Categories section, select Coupon QR Code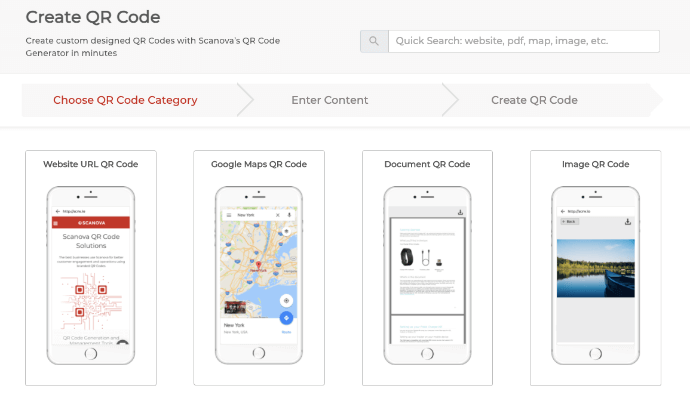 3. On the page that loads, start optimizing the landing page by adding coupon details. Here, you can start by uploading a logo, your company's name, and a title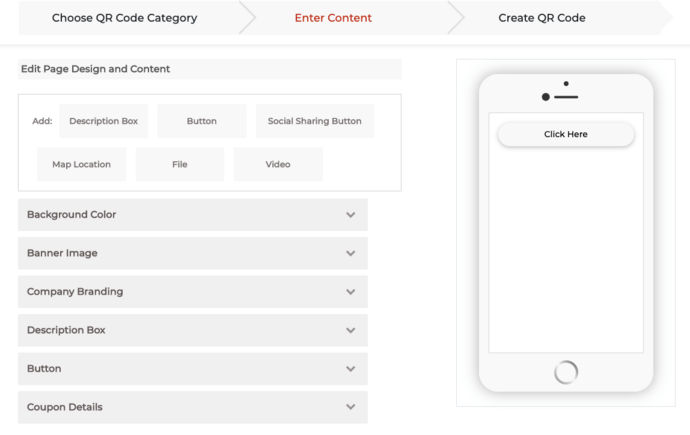 4. Next, you can add the coupon code, description, button text, and redirection URL
5. Once you add all the details, click Create QR Code
6. On the page that loads, enter a name for your QR Code and click on Create QR Code
7. Next, you will see details such as QR Code name, type, and category. On the same page, you will see a preview of the QR Code on the right with Edit Design option
8. If you click Edit Design, you will see two design options to choose from—Custom Logo Design and Custom Background Design. The custom logo design allows you to add a logo and colors to the QR Code. On the other hand, the custom background QR Code helps you place an image on it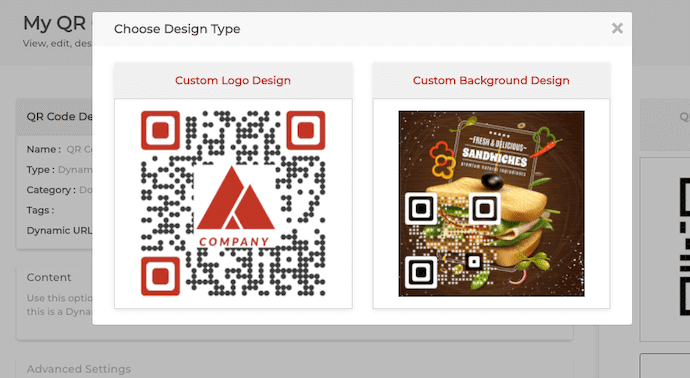 9. Once you're done designing the QR Code, click Download. You'll be prompted to sign-up for a 14-day free trial
10. After you sign-up, you can proceed to download the QR Code. You'll be asked to specify the size and format of the image to be downloaded. Specify these details and click Export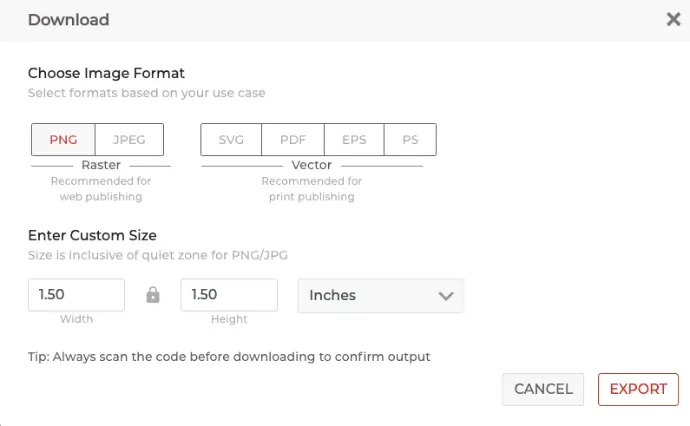 That's it. You now know how to create a Coupon QR Code. Do you also know that you can edit your content encoded in the QR Code even after you have created it? See how.
F. How to edit the QR Code
A Coupon QR Code is dynamic in nature. That means you can edit the details encoded in it even after you have created it. Yet your QR Code will remain the same.
This is because a QR Code is editable and also trackable. Hence, it even allows you to track its scanning activity.
That means you can see how many people have scanned the QR Code. Where did they scan it from. Which device and browser did they use to do it. And even what was their exact GPS location.
Here is how you can edit the QR Code:
1. Login to your Scanova account
2. From the dashboard, go to My QR Codes


3. Select the QR Code you want to make changes to
4. Once you make all the required changes, click Apply
You will get a pop-up notifying you regarding the QR Code update. And your changes will be updated.
You can test scan the QR Code to see if everything is working fine. Now you know everything about a Coupon QR Code. But before you proceed to use one in your coupon campaign, you must know some best practices to avail the maximum benefits.
G. Best practices: Coupon QR Code
1. Add an appropriate CTA
CTA translates to a 'Call-to-action' statement. It is a small instruction that tells the users what they need to do. And this kind of small text nudges them to take the required action.
It could be anything such as 'Scan here to redeem the coupon''.
2. Add a design to your QR Code
You want as many people to avail the discount, right? So you'd want to attract maximum scans. Designing your QR Code helps you achieve this.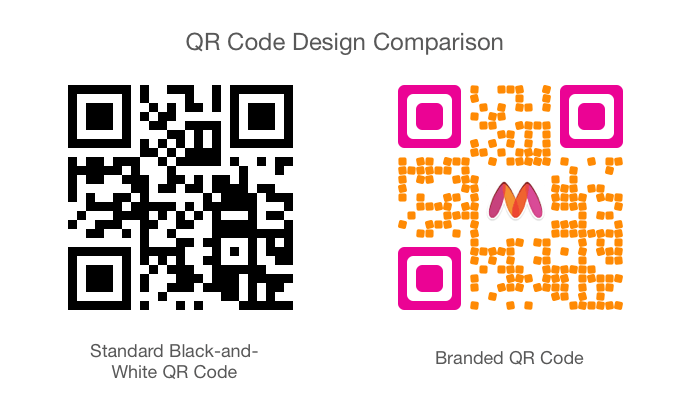 A black-and-white QR Code looks like 'some barcode for official use'. But a customized QR Code acts as a point of engagement to attract attention. And it is a fact that customized QR Codes attract many more scans than black-and-white ones.
3. Track your campaigns
Here's a detailed guide on how you can customize your QR Code design.
As a serious marketer, you know that it's important to monitor the performance of your campaigns. It helps you understand what you're doing right and where you need improvements.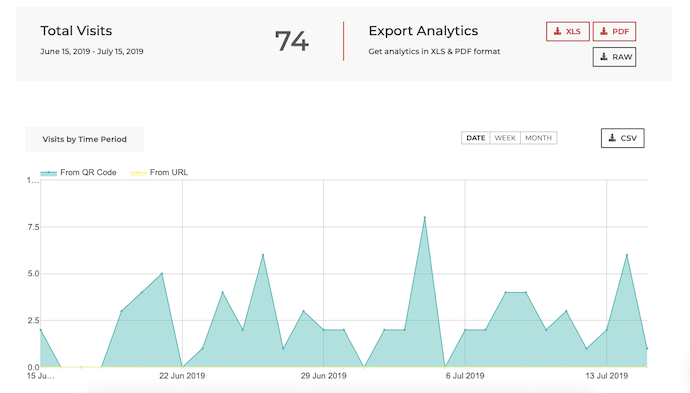 QR Codes can help you do all that. They allow you to track their scanning activity.
Moreover, QR Codes also offer another feature called event tracking. It allows you to see how your end-users are interacting with encoded content after scanning it. It could be a button to redeem coupons.
Hence, you can make the necessary changes to your future campaigns accordingly.
4. Ensure a smooth scanning experience
While exporting the image, make sure you download the QR Code image in high-resolution vector formats. These formats are SVG, EPS, PDF, and PS.
This is because these formats don't pixelate. No matter how much you zoom-in or zoom-out. This is especially useful if you'll be putting up the QR Code on large billboards or banners.
A high-resolution image will ensure the smooth scannability of the QR Code. And your designer will ask you for vector formats while working on print resolutions.
FAQs: Coupon QR Code
1. What is a Coupon QR Code?
A Coupon QR Code is a type of QR Code that contains information about a discount, offer, or coupon. When scanned with a QR Code reader or a mobile app, it can lead users to a webpage or display a message that provides details on the coupon or discount.
2. How do I create a Coupon QR Code?
To create a Coupon QR Code, you can use Scanova's QR Code Generator.
3. What information can a Coupon QR Code contain?
A Coupon QR Code can contain information such as the coupon code, the discount value or percentage, expiration date, terms and conditions, and a link to a webpage with more details.
4. How can I scan a Coupon QR Code?
You can scan a Coupon QR Code using a QR Code scanner app on your smartphone or tablet. Most modern smartphones have built-in QR Code scanning capabilities in their camera apps.
5. Are Coupon QR Codes secure?
Coupon QR Codes are as secure as the information contained within them. If a coupon code is a one-time-use code, it can enhance security. However, like any digital information, it's important to safeguard coupon QR Codes to prevent unauthorized use.
6. Can Coupon QR Codes be reused?
It depends on how they are generated and the specific terms of the coupon. Some coupon QR Codes are designed for single use, while others can be reused until they expire.
7. Are there any best practices for creating Coupon QR Codes?
Some best practices include ensuring the QR Code is easily scannable, using high-quality graphics and clear instructions, and making the expiration date and terms clear and visible.
8. What industries use Coupon QR Codes?
Coupon QR Codes are used by a wide range of industries, including retail, food and beverage, e-commerce, and hospitality. They are a popular way to distribute discounts and promotions to customers.
9. Can I track the usage of Coupon QR Codes?
Yes, you can track the usage of Coupon QR Codes through Scanova.
10. Are there any legal regulations for Coupon QR Codes?
The regulations for Coupon QR Codes can vary by region and industry. It's important to ensure that your coupons comply with local laws and regulations, especially in terms of expiration dates and disclosure of terms and conditions.
You are now ready to use the Coupon QR Code in your campaign. It does not only make availing discount easier for your audience but also helps you with many things.
In case you still have any queries or concerns, let us know in the comments.