You know that the use of QR Codes is growing every day across the globe. And also across most industries, particularly marketing.
So you have decided to use QR Codes in your latest print media campaigns. And you now need to head on to a QR Code generator. But you're not sure which one is the right for your use case.
A quick Google search will give you many options. How do you then choose the best QR Code generator? This guide will help you.
We have divided this guide into two sections:
1. Features of a good QR Code Generator
2. A detailed comparison chart of the top QR Code generators
Note that no QR Code generator is perfect in an absolute way. You need to figure out what your requirements are and which QR Code generator suits your needs.
A. Must-have features in a QR Code Generator software
A good tool is one that makes your work easy. It either saves you time or money.
It is not just about getting the job done. It's also about how quickly you can get it done. Or how cost-effective it is. Follow this thumb rule:
"If a tool is not saving you time or money, you shouldn't be using it."
Keeping this in mind, a good QR Code Generator should be able to:
1. Generate Dynamic QR Codes
Say you create a QR Code that takes the end-users to your website. And you add it to your business cards. A year later, you want it to take the end-users to your blog.
To do it, you don't really need to create a new QR Code and reprint your business cards. How?
By making the required changes to the existing QR Code. Yes, you can edit the content encoded in a QR Code (if it is dynamic in nature). Keep reading to know what a Dynamic QR Code is.
Each QR Code you create falls under one of two categories—Static and Dynamic.
Dynamic QR Codes allow you to edit the encoded content anytime you want. It can be anything such as website links, text, documents, and images. It does away with the need to create a new QR Code each time you want to make changes to it.
That means one day you can lead your customers to your Facebook Page and the next day to a YouTube video. Yet your QR Code will remain the same.
As a serious marketer, you need this flexibility in your campaigns.
You certainly wouldn't want to be stuck with a QR Code that cannot be edited once created. And that leads to a page that you don't want or that no longer exists.
Such QR Codes, which cannot be edited after being created, are called Static QR Codes.
Most free QR Code generators online allow you to create basic Static QR Codes only. These QR Codes are basic, non-editable, and non-trackable. Keep reading to know what it means.
2. Track scanning activity
If you're a serious marketer, you know the importance of analyzing your campaigns.
It helps you understand if your campaigns are meeting expectations or if they need to be improved.
If you are not analyzing your campaigns, then you are not optimizing them. And if you are not optimizing, you are losing money in lost sales opportunities.
Does your generator tell you exactly how many people scanned your QR Code? And from exactly which city, country, device, handset model, operating system, or browser did they do it?
In fact, does it tell you the exact GPS location of the QR Code scan? Yes. It's possible to track these details. And we call this feature—QR Code Tracking.
WeI'll tell you why this data is important.
Say you run a print media campaign across three cities. And you learn that the majority of users are scanning the QR Code from one of the three cities. You will then know where your target audience is.
You can then increase your marketing budget for this region to gain more conversions. Do you know how valuable this information is? A lot. It will help you make data-backed decisions.
As Gregory Ciotti says–Making decisions without metrics is like driving with eyes closed.
Another important analytics feature that you should check is—integrations.
If you are a marketer, you probably have other campaigns running. And you might also have tools such as Google Analytics and Kissmetrics to monitor their performance.
The last thing you'd then want is another analytics dashboard for QR Code campaigns. So, check if your dynamic QR Code Generator offers you the desired integrations with other analytical tools.
3. Track event activity
Most QR Code generators allow only scan tracking but that's not enough. Getting information on what the end-users did after scanning your QR Code helps you draw valuable insights. We call it—event tracking.
It helps you understand if your end-users are even interacting with the content stored in the QR Code after scanning it. It could be clicking on the sign-up button, registration button, etc.
By analyzing the engagement rate, you can optimize your future campaigns even better.
4. Capture contact information of the target audience
As mentioned above, most advanced QR Code generators can track scanning activity.
But only a few can tell exactly who scanned the QR Code. For example, the name, email address, and phone number of the user scanning the QR Code.
This feature is called Lead Generation. It helps you capture lead information to build a list of potential customers. With this data, you can target a highly targeted audience who have already shown interest in your content.
And if you are looking forward to capturing leads information, you should check if your QR Code Generator offers this feature.
Here's how it works—you create a leads list (having fields for details you need to capture). While creating the QR Code, you select this leads list. Next, you add this QR Code to your print media creatives with a suitable CTA.
When scanned, they are taken to fill in the required information in appropriate fields. When they submit it, you get this information in Leads Analytics.
Also, check if the lead information can be integrated with your CRM Software —say via Zapier webhooks.
5. Design QR Codes to attract more scans
Have you ever scanned the barcode on a Coke can that you just bought? No. Why would you? They simply appear to be intended for some 'official use'.
Then why should anybody scan a plain black-and-white QR Code on your promotions?
Black-and-white QR Codes are simply plain and boring to look at.
And if you really want people to scan your QR Code, make it stand out from the crowd. It should scream to your audience that this is a point of engagement. How? Here's an example: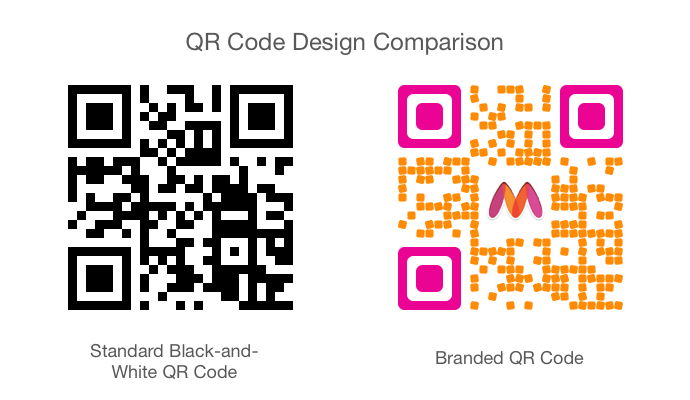 By making your QR Codes colorful and personalized to your brand. Wondering how to do it? Here's the answer:
a. By adding colors to it
A standard black-and-white QR Code often doesn't blend well with your print media creatives. So the first thing you can do here is—change its color.
You can add your brand or company's colors to it. Just make sure that there is enough contrast between the QR Code and the background. This ensures good scannability.
b. By adding an image as a logo
Yes, you can actually use your brand's logo or image in the QR Code design. And there are two ways to do it:
a. Adding the image as a logo in the centre
b. Adding image as the background
c. By adding text as a logo
Just like an image, you can also add custom text as a logo in the centre of your QR Code. The text could be anything. For example—a CTA that tells people what to do—Scan Me.
Here's what it will look like: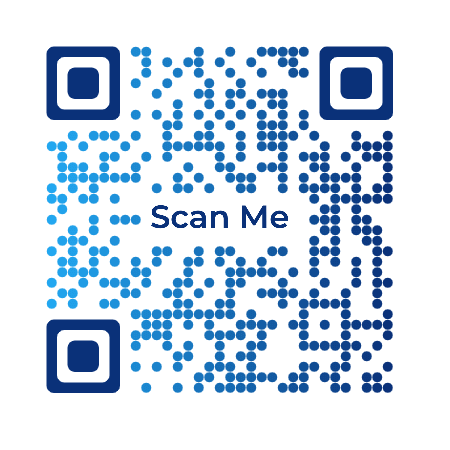 You can only do it only if your generator has advanced QR Code designing capabilities.
Also, if you are planning to regularly design QR Codes make sure your service provider saves designs as templates.
Here are examples of branded QR Codes with logo that were created using the Scanova QR Code Generator:


6. Create the type of QR Code you need
There are various categories of QR Codes depending on what information you want to share. Or what action you want your target audience to take.
For example:
a. Webpage QR Code leads you to a website
b. PDF QR Code shows a PDF document
c. Google Maps QR Code redirects you to a specific location
d. App Store QR Code redirects you to the right app download page depending on the operating system of the scanning device
Related : How To Make QR Code For App Links: Everything You Need To Know
e. Social Media QR Code that takes end-users to a landing page with links to all your social media profiles
f. Vcard QR Code which, when scanned, prompts the end-users to add you as a contact on their phones
g. Event QR Code which redirects you to a landing page with detailed text-based as well as multimedia event information
h. Calendar QR Code that prompts the end-users to add the event to their calendar
i. Audio QR Code that redirects you to listen to an audio file
j. Product QR Code that takes your audience to see the product details
k. App Deep Link QR Code takes the end-users to a specific page within your app
Check if the QR Code generator allows you to create the QR Code you need.
Basic apps will let you create about 5-6 basic content categories. Whereas advanced QR Code generators can help you create more than 20 QR Code categories.
In addition, if you're sharing sensitive data (say via PDF QR Code), do you have the option to secure it? Can you password-protect your QR Code?
When the end-users scan a password-protected QR Code, they are required to enter the password. Only after doing it, they're able to access the encoded information.
Hence, password protection allows only authorized personnel with the password to access the information.
7. Export vector formats of the QR Code image
QR Code makes the most sense when added to print media.
Raster formats such as PNG or JPG work fine if used on web pages.
But if you have to print a large image of your QR Code, say in the case of banners, raster formats don't work.
Here you'd need to print a high-resolution QR Code image. Hence, you will need the QR Code image in vector format—SVG, EPS, PS, or PDF.
These images do not pixelate no matter how much you zoom in. And that's important for your QR Codes to remain scannable.
These are the formats your designer will ask for. That's because they come in handy while working with tools such as Adobe Indesign, Illustrator, and Photoshop.
So make sure your generator exports vector images of QR Codes. And not only black-and-white QR Codes but designer ones as well.
8. Add error correction to QR Codes
Error correction is useful if you are adding a logo to your QR Code. Or if it is vulnerable to wear and tear.
For example—say you're putting QR Codes on the product packaging. This is for smooth inventory management.
But here, QR Codes will be subjected to factory environments. And hence, they'll be susceptible to damage and dirt.
In such cases, error correction ensures that your QR Code remains scannable. No matter if it is a little damaged or dirty.
Similarly, it is error correction that makes it possible to add a logo to the QR Code design.
Here's a fun fact—there are four different levels of error correction based on how much damage you expect:
L: 7% error correction
M: 15% error correction
H: 25% error correction
V: 30% error correction
(Tip for Scanova Users: Scanova uses complex image processing and algorithms to generate scannable QR Codes only)
9. Keep QR Codes and landing pages ad-free
Many QR Code Generators will allow you to create QR Codes for free.
But here's the problem. They will not tell you that they will add mobile ads to your landing pages.
Since users are not pleased to see ads, it will adversely affect their experience. And can even significantly decrease your conversion rate.
Choose a QR Code Generator that keeps landing pages completely ad-free.
Note that sometimes free QR Code readers also include advertisements. If this happens, this is out of the control of the QR Code generation tool.
10. Organize QR Codes in Campaigns
Organizing QR Codes in campaigns is helpful if you run multiple campaigns. How?
You can create folders called Campaigns. And add your QR Codes to appropriate folders to keep them organized.
QR Code Campaign Management allows you to do this and manage QR codes in a systematic way.
For example, you can activate or deactivate an entire campaign in one go. Thus, it removes the need to deactivate multiple QR Codes one by one.
You can also monitor analytics at the campaign level instead of doing so at the QR Code level.
11. Provide multi-factor authentication
Multi-factor authentication is adding an extra layer of protection to your account. It provides a higher security assurance to the user than adding a password alone.
Here's how it works. Say while creating an account with your QR Code generator, you added a password for login and security purposes. But somehow your password gets stolen.
This will risk your account's safety and privacy. That means there could be data breaches and even unauthorized QR Code edits that can result in losses.
Multi-factor authentication ensures that no unauthorized user can access or hack your account. It does so by asking you to not only enter the password while creating account but also additional information. For example, OTP and push notifications.
You can log in only once you furnish both the pieces of information required.
Hence, your QR Codes, data, and campaigns remain safe.
12. Multi-user support with custom roles
Need your teammates to help you handle the campaigns? The multi-user support feature is here for you.
It allows you to invite teammates and stakeholders to access and manage the same QR Code account.
So look for a service provider that allows you to add multiple users to help manage your account. Even better, look for one that helps you assign custom roles to each one of them depending on your desired level of access. These include—Viewer, Manager, and Admin.
13. Upload file via file manager
Say you are planning to use a QR Code to share a file. It could be an audio, a document, or an image. But you have it on the cloud, rather than on local storage (directly on the computer).
So, what will you do? Will you go to the cloud to first download it and then upload it to your QR Code generator? While you can do it, it is time-consuming.
But don't worry. This is where Upload File via File Manager feature can help you out.
With this feature, you can upload files securely and directly via Google Drive, OneDrive, or an external link/URL. That's it. Simple, right?
14. Bulk operations
Suppose your use case requires QR Codes in large numbers. Well, then you'd need a bulk QR Code generator.
But here's the problem with most bulk QR Code generators available online—they only produce static QR Codes.
And these QR Codes are neither editable nor trackable. Moreover, you can only store up to 7,089 characters in them. This might be enough for some use cases but not all the time.
Hence, you need a tool that allows you to generate dynamic QR Codes in bulk. Dynamic QR Codes are editable and trackable. That means you can edit their encoded content anytime you want.
Thus, in a matter of a few minutes, you get all the QR Codes you need.
15. Add password protection to QR Codes
Say you're encoding confidential data in the QR Codes. And you want only authorized personnel to see the encoded content.
But here's the thing—for generic QR Codes, anyone with a smartphone can scan them and access the encoded information.
But the good news is—you can password-protect your QR Codes and share them with the ones you want.
That means, once the end-user scans the QR Code, he will be prompted to enter the password. Only after doing so, he will be able to access the encoded content.
16. Help restore deleted QR Codes
Every once in a while, you must have thought—"What if this project that I have been working on gets accidentally deleted? How will I get it back?"
Usually, there are no do-overs. So make sure your QR Code generator allows you to restore a QR Code even after you've accidentally deleted it.
This feature helps you relax even if you delete a QR Code by mistake. That means, neither any data loss nor any stress.
17. Provide customer Support
Say you run into a technical issue or need help from your QR Code service provider. In such cases, your service provider must be up for the job, providing you with help whenever required.
Most QR Code generators provide customer support. It could be via email, phone, or live chat. Hence, make sure you choose a service provider that helps you connect as per your desired mode of communication.
18. Add custom URL and custom domain feature
Say you've created a dynamic QR Code for promotional purposes. As end-users scan it, they will see a short URL that will probably have the name of your service provider along with random alphabets and numbers.
But you rather want them to see a URL that reflects your company or brand name. After all, brand building is important in promotional use cases.
So, make sure you select a QR Code generator that allows you to add your own website domain or URL hash.
19. Allow flexible payment options
The biggest advantage of a web app over licensed software is flexibility. You can subscribe to the web app as per your convenience when you need it.
But many generators will not give you this flexibility and ask you to subscribe for at least a year.
Check what flexible payment options does the generator has.
20. Not put a limit on the number of scans
When you just start a campaign, you don't really know if your campaign is going to be successful or not. Hence, you can certainly not be sure about how many scans your QR Code will get.
Often, QR Code generators will put a limit on the number of scans you get in your subscription plan.
So how do you choose a plan if you are not sure how many scans you will get? What happens if you exceed the limit? Does the QR Code stop?
Hence, the design of subscription plans should be based on the number of QR Codes and not on the number of scans.
So, one must opt for a QR Code generator that offers unlimited scans.
21. Keep your data secured
Whenever you use a tool or a service, you share some personal data. And ensuring that your data is in safe hands is important.
Hence, your QR Code generator must safeguard the data you share. So make sure the tool you select is GDPR compliant and ISO 27001:2013 Certified. Not sure what it means?
The General Data Protection Regulation (GDPR) is a regulation on data protection and privacy. It ensures that EU residents have control over how their personal data is stored and processed by organizations.
ISO 27001:2013 is a certification that signifies the organization has met quality standards for its information security management system. These conditions are requirements for establishing, implementing, maintaining, and continually improving its system. It ensures that the organization knows how to manage its data with utmost security.
B. Best QR Code Generator—Comparison Chart
You might think—there are many QR Code generators online. Though I know what all features I need, how do I figure out the best one? Do I compare all of them one by one?
Don't worry. We conducted exhaustive research and created a detailed comparison chart.
Here is a helpful comparison of the top QR Code Generators available on the web. This will help you select the best one for your business: