The coronavirus (COVID-19) outbreak has emerged as a global cause of concern. The outbreak started as a cluster of cases of severe pneumonia in December 2019.
And soon, it picked up its pace and spread across the world. As a result, the World Health Organization (WHO) declared it a 'pandemic' in March 2020.
The affected individuals show symptoms such as dry cough, high temperature, fatigue, and difficulty breathing.
By now, you know that it is a highly contagious disease that spreads via droplets. Hence, governments across the world are taking various measures to minimize physical contact among citizens. And are advocating them to maintain hygiene by following some simple measure such as:
1. Avoid touching your face (especially eyes, nose, and mouth)
2. Wash your hands regularly for at least 20 seconds
3. Use a sanitizer in case soap and water isn't available
4. Avoid large gatherings and traveling abroad unless necessary
5. Seek medical help in case you have the symptoms
Besides issuing the advisory, the governments are seeking the help of technology to tackle the issue. And QR Code technology has emerged as a helping hand to address the coronavirus spread already.
QR Codes are 2D barcodes that are easily scannable with smartphones. Just like barcodes, they store information. But they're a step ahead of them and can store much more data.
Scanning a QR Code is as easy as clicking a picture with your phone. And it requires no physical contact with anyone. Hence, they are being used to curb the disease in many possible ways.
In this article, we'll discuss how QR Code technology is helping curb the coronavirus pandemic:
A. To enlighten people on their likelihood of infection
As we just discussed, the Corona Virus spreads via droplets. Hence, anyone coming in contact with an infected individual gets prone to acquiring the disease.
But how do you know if you have come in close proximity to any affected person? It takes about 1-2 weeks for the symptoms to surface (called incubation period). But the carrier (affected person) still remains contagious.
Hence, you cannot be sure if you have come in contact with such people, right? Well, if you stay in China, you can actually know it.
In Feb 2020, China spearheaded the use of QR Codes to detect the probability of coronavirus infection.
It rolled out an app that helps people know if they have come close to people exposed to the virus. The system is powered by Alipay. And is now being used across 200 cities in China.
Citizens need to install this app on their phones and fill out a form. In the form, they need to report their ID, travel-related details, and any symptoms they are facing (if any).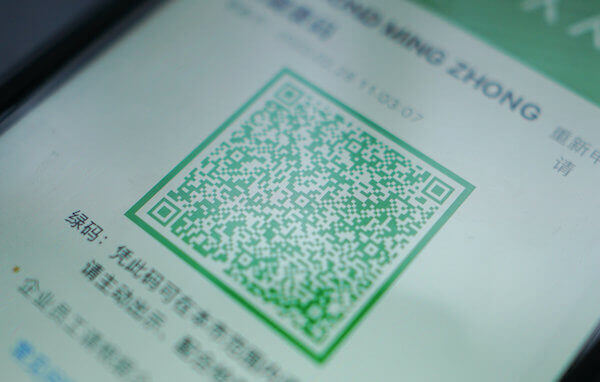 Once they do it, they receive a colored QR Code, indicating their health status. Users who get a red QR Code need to remain in quarantine for 14 days.
Similarly, the ones who get a yellow QR Code have to remain in quarantine for seven days.
And the ones who get a green QR Code are believed to be healthy. Hence, they can roam around unrestricted.
Citizens need to show these QR Codes at various checkpoints across the cities. For example—apartments, shopping complexes, and markets.
Zhou Jiangyong, Hangzhou's Communist Party Secretary, says this system is important in digitally-empowered city management.
And this is not the only way China is using the QR Code as a tool to tackle coronavirus. Keep reading to know more such use cases.
B. To keep an eye on citizens' whereabouts
Keeping track of citizens' travel history and whereabouts is important in fighting against coronavirus.
It keeps the government informed about where each citizen has traveled. And who all are at a high risk of getting the disease. So China has come up with QR Codes as a solution to this problem. How?
In Shanghai, the train authorities added QR Codes on all the subway train windows. And they asked all the subway passengers to scan this QR Code without fail.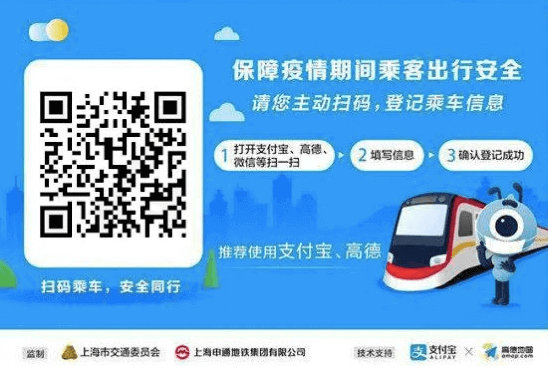 Doing this records the passenger's phone number and identifies the train compartment they're sitting in. And in case they shift to another compartment, they need to scan the QR Code pasted there.
Similarly, it is possible for them to change the train during their journey. Here, they will again have to scan the QR Code on the next train.
This way, QR Codes help the government track people in close contact with suspected patients. That's how China is using QR Codes to make contact tracing easier and effective.
The Shanghai Municipal Transportation Commission planned on adding these QR Codes in 6,000 train compartments of the city.
C. To ensure people follow quarantine protocols
Ever since the coronavirus outbreak, governments have been stringent about isolation of travelers.
Passengers coming from abroad are screened at the airports and are advised to stay in quarantine for 14 days. And to ensure that they follow it, Hong Kong is using QR Code wristbands.
The travelers are given these wristbands to wear. They need to install an app on their phones and scan the QR Code.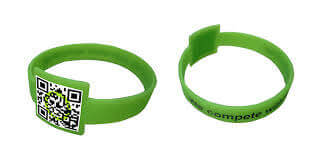 Doing this will enable trackers to detect their location. Hence, helping ensure that people follow the quarantine protocols.
Carrie Lam, Chief Executive, Hong Kong, said:
"If we don't impose tough measures, our previous efforts to prevent the disease from spreading could be wasted."
D. To avoid long queues at railway stations
To travel on a train, you need to get a ticket. And to discourage passengers from buying tickets from the ticket counter at the railway station, India is using QR Codes.
The authorities rolled out QR Code-based ticketing system in the Unreserved Ticket Booking app.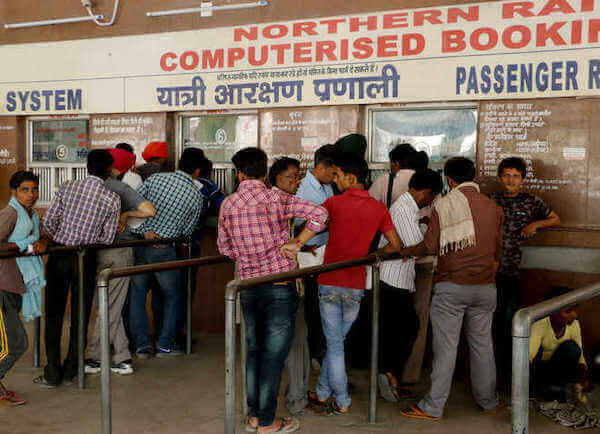 Hence, passengers no longer need to get paper-based train tickets. Railway authorities have put up QR Codes on the stations. Passengers can simply open the app to scan the QR Code. And book their tickets.
No need to stand in queues and get a paper-based ticket (which itself can act as a mode of disease transmission).
This is not the first time India has QR Codes for ticketing purposes. The Noida Metro Rail Corporation uses QR Codes on metro tickets to allow easy fare collection.
E. To help students stay safe
You would have seen QR Codes being used to record attendance in schools and universities. The Nanyang Technological University, Singapore, is using QR Codes for the same.
They have put up location-specific QR Codes at the entrance of lecture theatres, labs, and meeting rooms.
All the students need to scan the QR Code to log their attendance. They do not only need to do this for lessons but also for co-curricular activities.
Scanning the QR Code takes students to an online form. Here they need to fill their name and mobile number. Doing this will help the university in contact tracing in case of an outbreak.
Besides this, it's also mandatory for the students to record their temperature twice a day and declare it online.
Also, in addition to NTU students, the university has set-up QR Codes for non-NTU students too. If any non-NTU student comes to the university to participate in an event, she will have to scan the QR Code. And submit her name and contact details.
The university authorities have limited activities and events to 50 participants.
Professor Ling San, Deputy President, NTU, said:
"Student organizers should discuss if such events should proceed in regard to circumstances. And keep well within this limit."
F. To make it safer for customers to dine-in
To reduce the risk of droplet transmission, Beijing came up with an innovative precaution.
As per the latest policy, Municipal Commerce Bureau Government (Beijing) has issued some orders for food joints.
It says that all the restaurants, cafes, stalls, and caterers have to arrange tables a meter away from each other.
They need to first check the body temperature of all the customers. And then ask them not to eat facing each other.
And to take the safety of these measures a step ahead, they need to use QR Codes. Wondering—what will QR Codes do here?
They will help customers place their order easily without contacting anyone. And the same QR Code can also be used to make payment for the order.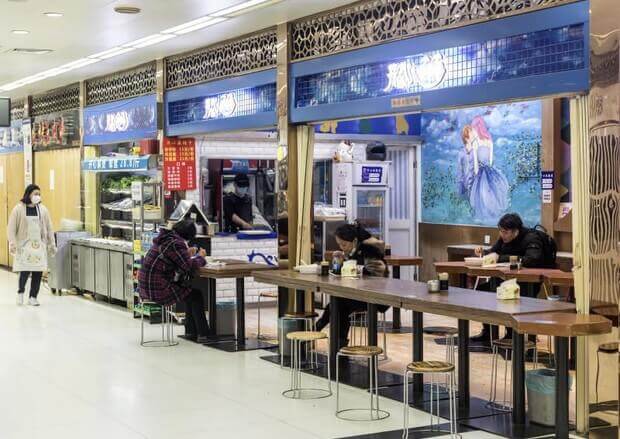 Similar regulations have been applied across many cities and universities in China. One of these includes the Henan University of Technology (Zhengzhou).
Also see how QR Codes can are helping restaurants make their services better.
G. To collect medical information
The severely affected areas of China witnessed the use of drones. For what?
To facilitate the transportation of both patient samples and medical equipment. Using drones for this purpose served two chief benefits.
First, it safeguarded the samples from contamination. Second, it made the transportation process better and faster.
In addition, these flying drones also had a QR Code. People could scan the QR Code to submit their health-related details and information.
This is yet another way China is using QR Code technology to fight against coronavirus.
In a similar attempt, authorities in Singapore are using QR Codes to collect medical information of visitors.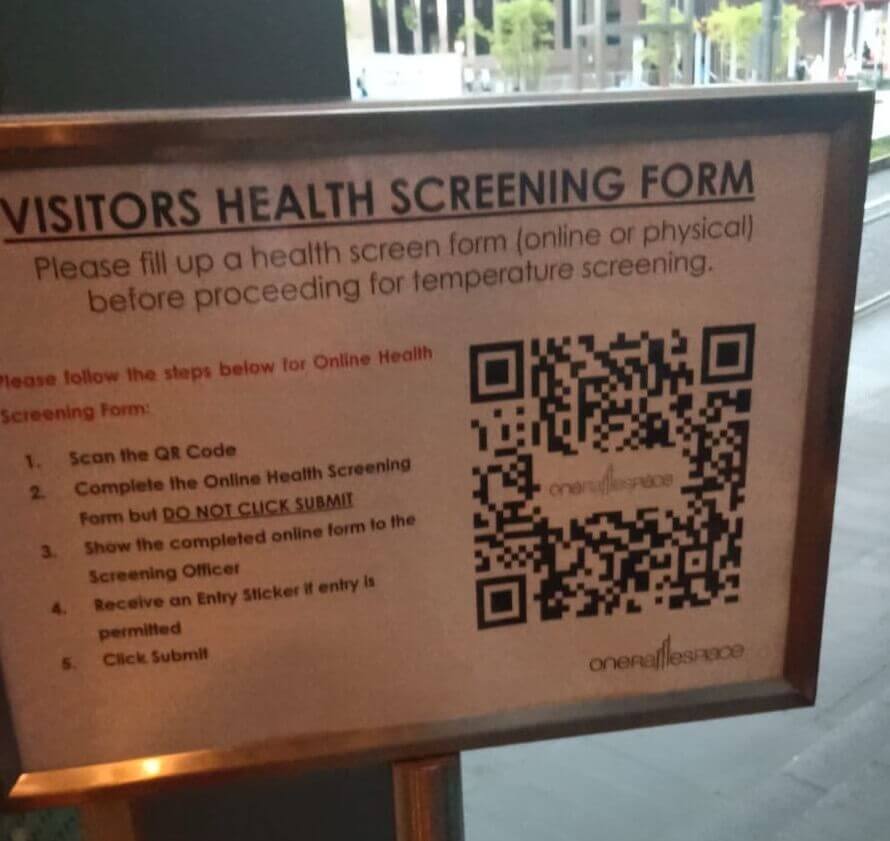 Visitors entering a premise need to scan the QR Code at the entry gate and fill up a form. Along with it, they need to submit online health screening.
They are granted entry only once they complete this procedure.
H. To encourage people to use digital tools
If you have ever got insurance done, you know that it involves a lot of paper-work and formalities.
But amidst the coronavirus outbreak, going outdoors to complete such formalities is tough.
Hence, Vanbreda Risk & Benefits, a healthcare insurance provider in Belgium, came up with a solution.
On its website, it released a request to ask people to use its digital tools. The officials issued App Store QR Codes to encourage people to download their mobile app. And get their problems solved digitally.
For the uninitiated, an App Store QR Code, when scanned, helps end-users download a mobile app. They don't need to go to the required app store to find the app. A simple scan is all they need to do.
Vanbreda announced that customers can use the app to get their files processed for:
1. Declaration of admission to hospital for serious illnesses
2. Submission of medical expenses
3. Other requests for information
Hence, people can get their issues answered and solved online without visiting anyone.
I. To register visitors' details
Amidst coronavirus outbreak, a cafe in Singapore installed a QR Code at its entrance. When scanned, this QR Code brings up a registration form to ask for customer's details such as name, passport number, mobile number.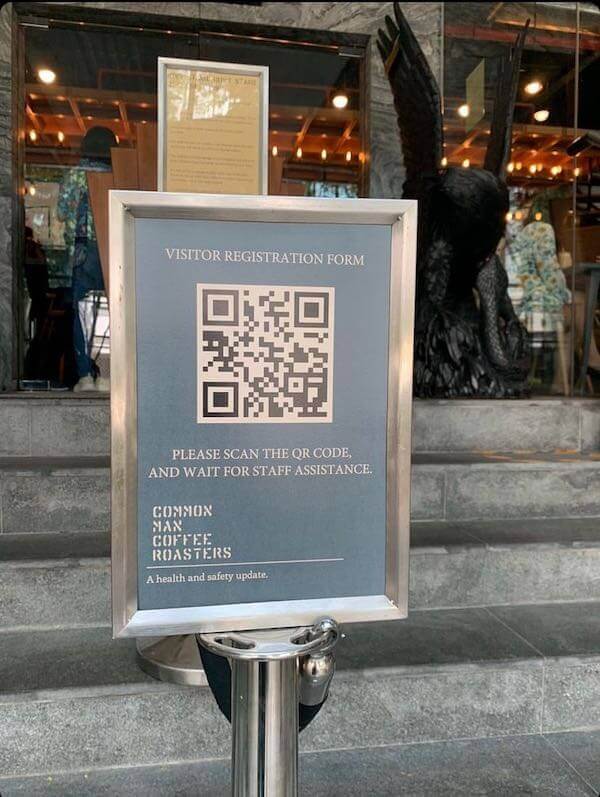 Customers entering the cafe need to scan the QR Code to fill the form. And in case people are visiting the cafe in a group, one member of the group needs to fill it.
This ensures that the cafe can efficiently perform contact tracing in case of an outbreak.
J. To track the movement of residents and workers
To tackle the coronavirus issue, Moscow developed a mobile app that helps monitor patients' movement during self-isolation.
Using this app, residents need to register themselves. And each time they leave their home, they need to generate a QR Code that acts as a pass. And this QR Code needs to be shown to the police on demand.
Also, the residents are allowed to leave their homes only to visit grocery stores, pharmacies, and to take out trash.
In a similar attempt, the government of Manila, Philippines, launched a rapid pass system. All the front-liners are given QR Codes to be scanned at the control points.
It helps make the process of vehicle inspection fast and contact-free.
K. To help cops access confinement forms
In France, the government rolled out confinement forms in an attempt to keep covid-19 cases in check.
People need to fill out these forms either on papers or digitally on their phones. They can download the form in PDF format. And fill the required details (name, address, the reason for trip, date, and time)
Once they fill it, it'll reflect when the form was filled and last edited. Hence, it leaves no room for manipulation.
People will get a QR Code. And the present it to the cops at checkpoints. They can scan the QR Code to access the form. No need for them to physically contact anyone.
These are some ways QR Code technology is helping tackle the coronavirus outbreak. From helping people know their chances of getting infected to allowing them to get their work done online, QR Codes are doing a lot.
Being a digital tool, they minimize the need for you to come in contact with others. Plus, provided that many smartphones have in-built QR Code scanners, scanning a QR Code becomes an easy task.
[cta1 caption="Create a QR Code now Or Talk to us about a QR Code-based requirement" content="Get started" buttontext="Create QR Code now" destination="https://scanova.io/?utm_source=yt_ff_coronavirus-qr-code_cta&utm_medium=blog&utm_campaign=content" image="https://scanova.io/blog/wp-content/uploads/2015/06/qrcode-34-1.png"]
Do you know any other way QR Code technology is being used against coronavirus? Share it in the comments.