Say you're presenting your research work at a conference. And you want to share the research material with all the attendees.
Or you're a product manufacturer and need to show Terms And Conditions via product packaging.
How do you share documents in such use cases?

There are two possible ways to share documents:

This is the easiest way to share documents. You simply need to do it in one of the two ways: via as a hard copy (physically) or email (digitally).
a. As a hard copy
Here you only need to get the documents printed. And hand them out to your target audience. That simple!
But this method is cost-intensive. And even if you go ahead with printing the documents, there's another problem.
In cases such as a conference, you don't really know exactly how many people would turn up. So you're often not sure about how many copies you should get printed.
While running short on printed copies will be a problem, getting too many extra copies will still be a concern. It will not only cause wastage of paper but will also shoot up the printing costs unnecessarily.
b. Via email
If you share the documents via email, you'll not have to worry about getting the documents printed. And even the printing costs.
Just type an email, attach the document, and send it to all the recipients.
But you can only do it if you have the recipients' email addresses. And even if you do, you'll still have to tediously type their email IDs one-by-one. It will take a lot of time and effort.
Then how about getting the audience to collect the document themselves?

2. Audience access the document
You can easily get your audience to access a soft copy of the document by themselves in two possible ways:
a. Via a website URL
You can upload a soft copy of your document to a cloud storage site such as Google Drive or Amazon S3. And share the link to it with your audience.
Simply add it to the last slide of your presentation. Or on the product packaging. And add a suitable call-to-action statement such as—Visit here to get a soft-copy of this document. Or Download our terms and conditions here.
But here users will have to pull out their phones to open the browser and tediously type the entire link. And only after that, they can finally access the document.
This is a long process and needs them to put effort. While some of them might do it, others probably won't.
So what you need to do is—make it easier for them to access the document. Keep reading to know how.
b. Via a QR Code
A QR Code can help you get people to access the document easily. You can add it to your presentation, product packaging, or any other printed material.
All that users then need to do is—open their phone's camera, scan the QR Code, and view or even download the document.
We call it a PDF QR Code.

B. What is a PDF QR Code
A PDF QR Code, when scanned, redirects the end-users to view or download the encoded PDF on their phones. And it does not allow you to encode only one PDF but up to 20 PDFs together.
PDF QR Code is a mobile-friendly way to share documents with your audience. It could be presentations, user manuals, or T&C-related files.
You can even customize its design to make it look visually appealing. In fact, it is strongly recommended to add a design to your QR Code if you're using it for promotional purposes.
All that users need is—a smartphone with a QR Code scanning feature. And most smartphones now come with in-built QR Code scanners.
Even if your phone lacks it, you can download a third-party QR Code scanning app on your phone.
C. Why use a PDF QR Code
You now know PDF QR Code directs you to the encoded PDFs. But that's not all that it can offer. Here are many other reasons to use it:
1. Level up your marketing game
QR Codes are loved by marketers. They help make the campaigns not only actionable but also trackable. And all that people need is a smartphone to scan them.
You can use it to share a lead magnet, user manuals, and product information. And the best thing is, with QR Codes (dynamic QR Codes), you can even edit the encoded content anytime. That means you don't have to create a QR Code from the scratch every time you want to make some changes.
This is quite useful if you've created a QR Code with a PDF but later want to use a different one.
With dynamic QR Codes, you can add, remove, or replace existing documents. Hence, it eliminates the need to re-create the QR Code every time you share new information.
PDF QR Code is one of the best ways to share documents. And it is mobile-friendly. You can use it anywhere. It could be in the classnotes, resume, presentations, or even product packagings. And all your audience needs to do is scan to view and download information on the go.
They can save this information on their phones for the future or read it later at their convenience.
3. Trackable
PDF QR Codes also comes with a scan tracking feature. They allow you to monitor their entire scanning activity. For example:
How many people have scanned the QR Code
Where did they scan it
When did they scan it
Which device did they use to scan it
Hence, you can valuable insights into your audience. And you can use this data to better optimize your campaigns.
4. Better organization of your materials
With a PDF QR Code, you can eliminate the need to keep printed stockpiles of your documents. You just need to print one QR Code for every document instead of stockpiles. In fact, you can even add up to 20 documents to a single QR Code.
No need for unnecessary clutter.
5. Improves your target audience's experience
With PDF QR Codes, you can share detailed product information with the customers.
It not only helps ensure product transparency but also improves your print marketing by offering a new user experience—Scan and Save.
This can differentiate you from competitors while attracting the maximum number of customers.
6. Increase brand recognition
Do you know PDF QR Codes can help build your brand recognition? By allowing you to custom-design them. Here, you can personalize the design of a QR Code by adding your brand's logo and color or a background image to it.

Moreover, it is a known fact that custom QR Codes attract 50%-200% more scans than basic black-and-white ones.
To create a PDF QR Code, you'll need an online QR Code generator that offers this category.
There are many such generators online. How do you then decide which one is the best for your use case?
Just check if your QR Code generator has all the features you need. For example—password protection, custom design, and lead generation.
Don't worry. You don't have to compare all of them one-by-one. Here's a comparison chart of the top QR Code generators. Check it out to find the best one for you.

D. How to create a PDF QR Code
Using Scanova for a demo, here's how to create a PDF QR Code:
1. Go to Scanova and from the dashboard click on Create QR Code
2. From QR Code categories, select Document QR Code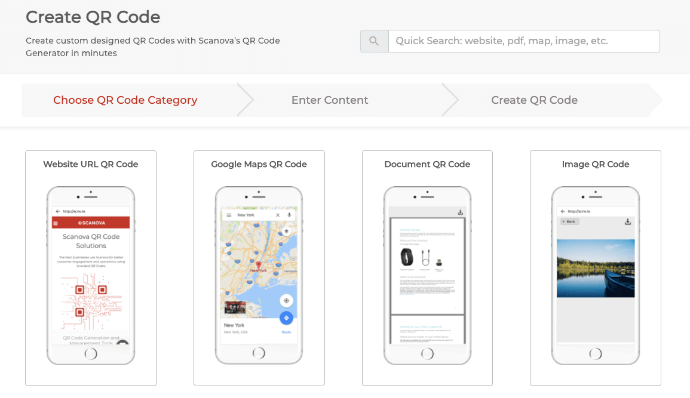 3. Click Upload and upload the PDF that you want to encode into your QR Code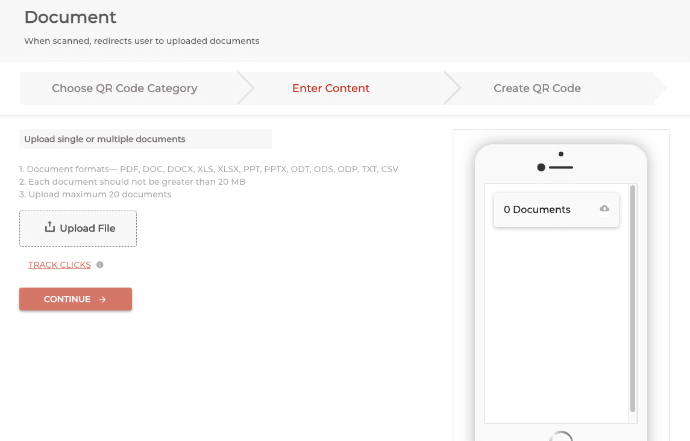 Once done, click on Continue.
4. Next, you will see the option to name your QR Code. Note that it is a dynamic QR Code which means you can edit it anytime and even track its scanning activity
This is unlike a static QR Code which is basic and cannot be edited once created.
5. Once you add a suitable name, click on Create QR Code
6. Now, on the page you land, you will be able to see QR Code details
Under the QR Code image, you will be able to see the Edit Design option. You can use it to customize your QR Code. Once you click on it, you'll see two QR Code design options: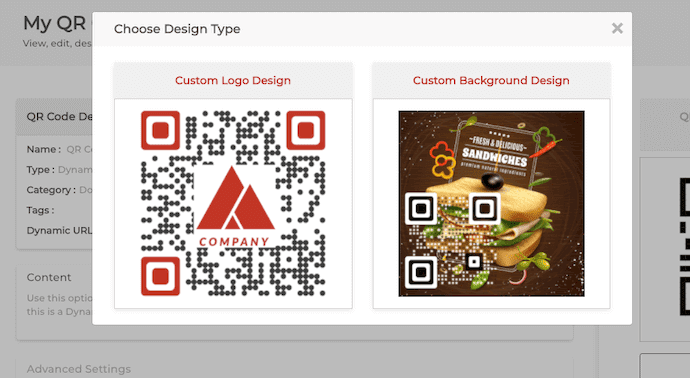 Custom logo design: Here, you can add a logo to the center. In addition to this, you can also change the color and pattern of the QR Code's eyes and data modules
Custom background design: It allows you to superimpose your QR Code on a background image. It also gives you the option to change the pattern of both QR Code's eyes and data modules
7. Once you've finalized the QR Code design, Update it and proceed to click on the Download
8. Next, a window will pop up prompting you to sign-up for a 14-day free trial. Once you do it, you'll also be able to assign tags to your QR Code to be able to search it in the future
9. Next, you can proceed to Download your QR Code. Simply specify the size and format of the QR Code image to be downloaded. Once you do it, click on Export
That's it. Your QR Code will be downloaded.

E. How to edit a PDF QR Code
Say you've created a PDF QR Code but a few months later you want to change the PDFs encoded. You may want to add a couple of new files or even delete some of the encoded PDFs. What will you then do?
You can simply edit the QR Code you created.
A PDF QR Code is dynamic in nature. That means you can edit its content (PDF file here) anytime you want. Yet your QR Code will remain the same. No need to mass-print it again.
And it even allows you to track its scanning activity. That means—how many people have scanned the QR Code, when and where did they do it from, etc.
In addition to these, A PDF QR Code also allows event tracking. That means you can gauge how your audience interacts with the encoded content.
Here's how you can edit a PDF QR Code:
1. Login to your Scanova account and go to My QR Codes


2. Select the QR Code you want to edit
3. Here you can edit the following things:
Content: You can edit the PDFs you linked to a QR Code
Advance Settings: You can enable password protection, GPS location, lead generation, and even customize the short URL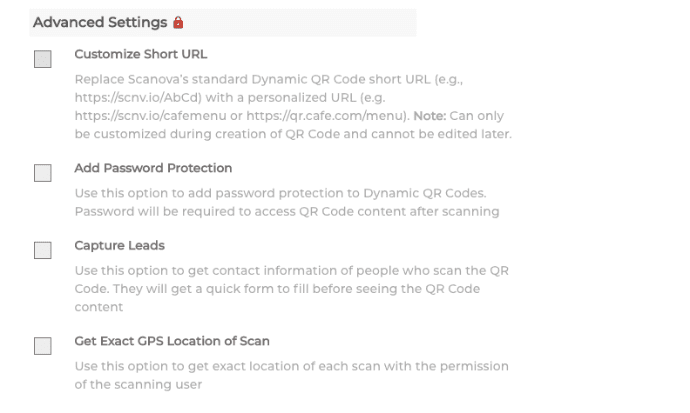 Design: You can again edit the design the way you'd want to
4. Click Update QR Code
That's it. Your QR Code will be updated. You can scan it to cross-check the changes.
F. Potential use cases of PDF QR Codes
All QR Codes have one thing in common—they make things easier for the end-users. Similarly, a PDF QR Code helps you:

Say you're an employer and you hire a guy. You make him sign all the necessary documents and want to share a soft copy of these documents with him.
Here you can simply print a PDF QR Code on one of the documents. It will help the candidate access the soft copy on his phone.
Similarly, when you deliver a powerpoint presentation, you might want to share it with the attendees. A PDF QR Code can help you here as well.
Simply convert your powerpoint presentation into a QR Code. And add it to the last side of your presentation material. Attendees only need to scan it to download or view the presentation on their phones.

2. Show T&C and user manual for products
If you're a manufacturer, you know it's necessary to provide T&C or user guides with your products. But it's impractical to print these documents on product packagings. The limited print space keeps you from doing this.
Here a PDF QR Code can help you share these details easily. Just add a QR Code and print an appropriate CTA. For example—Scan here to download our Terms and Conditions.

3. Allow stakeholders to access company reports
Say you want to share company reports with your employees. A PDF QR Code will help you do it.
But you might also want to restrict the access to these reports. You might want only the authorized personnel to be able to view and download them.
In such cases, you can add password protection to your QR Codes. When end users scan a password-protected QR Code, they are prompted to enter a password to access the data (PDF).
You now know everything on how to create a PDF QR Code.
PDF QR Codes make it easier for you to share documents with the target audience. And also help you monitor how many of them have actually scanned them.
4. Allow publishers to promote their books
If you are a publisher, then you know the importance of promotion. Nothing beats stimulating your audience's interest by showing a synopsis or excerpts from your book during promotions.
Here a PDF QR Code allows you to do just that. Simply add the QR Code to your print or digital media creatives such as banners, brochures and social media posts. It would help ignite their interest in your book. Thus, encouraging them to purchase the book.
You can also use tools such as Flipsnack (an online flipbook maker). It'll help you turn your PDFs into flipbooks for a better reader experience.

Say you are at a job fair or conference. And want to share your resume with as many recruiters as possible. Here, PDF QR Code can help you do just that.
Just encode it on your name card or a business card. And your recruiters can view your entire portfolio with a single scan.
Many businesses issue paper-based warranty cards to the customers. But they get lost or damaged, rendering them unusable.
This is where a PDF QR Code can help you out. Just add it to the product's packaging. And customers can scan them to access their warranty cards.
Moreover, you can also use it to share all other kinds of information. This includes the warranty period, date of purchase, and serial number.
7. Provide bills

We all receive a lot of bills every month. For example, electricity, water, and even grocery bills. And this leads to the vast amount of paper usage.
And with a PDF QR Code can help you reduce that. When scanned, customers can view their bills and invoices simply on their phones.
You can also use a PDF QR Code on educational materials and presentations to share educational information. With one scan, students can access class notes, test answers, and other related documents easily.
Say you run a hotel business and you want to ensure the best services to your guests.
Menu cards in the hotel room are instrumental in doing just that. But here's the problem—these menus keep changing very frequently in your business. Hence, you've to reprint them every time there's a change in your services. This is where a PDF QR Code would come in handy.
You can simply put the QR Code in each room for guests to scan and go through your services. You can update it whenever you want without the need to reprint each QR Code each time there's a change in your services.
That's all you need to know about how to create a QR Code for a PDF.
Create a PDF QR Code now
Upload PDF files and generate visually-appealing QR Codes for your audience. Free Trial.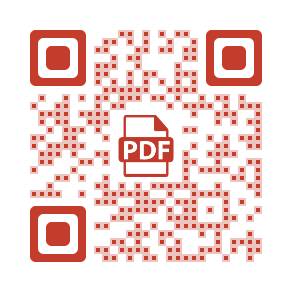 Still have any queries? Ask them in the comments below.