You are a marketer, an entrepreneur, or a business. And you want to run a survey. It might be to:
a. Get feedback on your products or services
b. Gather data or insights for a use case such as market research
c. Assess the performance of your customer-facing staff
d. Understand where you need to make improvements
And you're right. These surveys are important to understand your audience. For example, what your audience wants or expects from you. And they hence, help your business grow in the long run.
To run a survey, the first step is to create a survey. And you might probably be running such surveys already. But your concern is—how to increase the survey response rate?
You know that creating and sharing survey forms is easy. But getting people to actually respond to these surveys is easy said than done. Out of all the people who receive these forms, only a few actually turn up to respond to them.
Don't worry. We have compiled a list of seven tactics to help you increase your survey response rate. Keep reading to learn more.
There are two possible ways to share survey forms with your audience:
1. Via digital media
You receive emails and text messages asking you to submit your review or fill out a survey. These are generally for products and services. That's one way you can reach out to your target audience.

But there are two problems here:
First, you'd need your audience's contact details (email or phone number). And there might be times when you wouldn't have these details. How would you then share survey forms?
Second, people receive too many texts and emails every day. And they don't bother opening most of them. Of course, you wouldn't like that to happen to your survey forms.
2. Via print media
This is yet another way to share your survey forms. Just create a form online and add its link to one of your print media creatives. They could be flyers, magazines, or brochures. Once done, add an instruction (a call-to-action statement) to help guide your audience. It could be anything such as—Visit here to submit your valuable feedback.
You don't need your audience's contact details anymore here. Just give them the print media creative and wait for them to fill out the form.
Also, it is a fact that print media has a longer attention span than digital media. Hence, the chances of people filling out your form only increase.
But the problem is—print media is not actionable alone. To fill out a survey, people will have to open their phone's browser. Once done, they'll have to tediously type the entire link, fill the form, and finally submit it. This is a long process and people usually don't put in the effort.
What do you then do? Which medium do you then choose to share survey forms? The answer is—don't. Simply combine the two. How? Using QR Codes.
A QR Code stores information such as text, numbers, and website links. And that's just what you need.
Encode the link to your survey in a QR Code and add it to your print media creatives. It could be flyers, brochures, magazines, or even your bill receipts.
Just remember adding a suitable call-to-action statement with the QR Code. For example—Scan here to fill out a quick survey form.
It will help people know what they need to do and what to expect after scanning the QR Code.
B. Make them feel delighted to open the survey form
Once you create survey forms, make sure people have a reason to open them. Or in fact, feel delighted to open them. How?
Think—when do you fill a survey form? Maybe when you feel it will benefit you in some way or the other. Or when you need to share your opinion with the stakeholders.
All that you need to do here is—make your target audience feel appreciated or delighted. How?
One way is to make them feel appreciated for their participation. And adding a CTA such as 'Your opinion matters. Let us know how we're doing?'
It will convey that their effort will be valued and worthwhile.
Another way is to offer them an incentive. It will further increase their likelihood of responding. Thinking what incentive can you offer? Well, it can be anything such as a goodie, a discount on their subsequent purchase, or even a cashback.
C. Ensure you're asking them only the relevant questions
Once people open your survey form, they must find the questions relevant.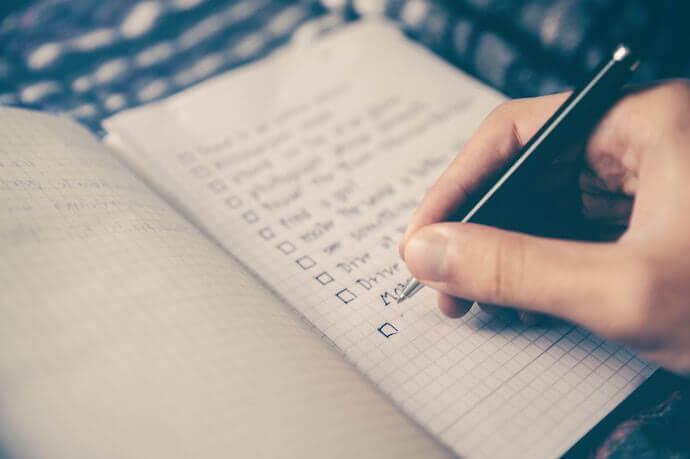 Not sure what it means?
Well, you must ensure that you're not targeting the wrong audience. And you're asking them only very simple, targeted, and appropriate questions.
For example—say you're a beverage manufacturer. And you want to survey your existing customers on product quality.
Here, your target audience will have a wide range of preferences. For example, fruit juice, soft drinks, coffee, etc.
So, asking a question such as 'How much will you rate our coffee' will not make sense for the ones who don't drink coffee at all.
You can instead put screening questions such as 'Have you tried our coffee?'
Once done, only the ones who answer positively should be asked to rate it. And the others should be taken to the next relevant question.
This way, you can get your audience to answer only the questions relevant to them. And the responses received will have highly accurate data. This will, in turn, provide valuable business insights.
D. Keep them informed on the survey length
Say you open a survey form and start filling it. After every four to five questions, it keeps taking you to subsequent pages of questions. And you don't really have any idea about how long it is.
What will you then do? Maybe quit the form after completing a page or two, right?
That's what many people do when they are not sure how long the survey is.
So, make sure you're honest with the audience about the survey length.
And the best way to do it is by showing them a progress bar on the form. Or maybe telling them how long the survey would take (say 5 or 10 minutes).
As per SurveyMonkey, 45% survey takers prefer spending up to five minutes to complete a survey. And only 33% are willing to spend up to ten minutes.
Hence, if you want your survey response rate to increase, try to keep the survey as short and precise as possible.
E. Keep it easy and simple
Be considerate about the time and effort your audience will have to put to complete the survey.
And keep it as simple as possible. For example—give them objective answer choices over subjective ones wherever possible.
The lesser the effort they need to put in, the higher will be their chances of completing the form. After all—the simpler the process, the better it is.
And complete survey responses are just what you need!
F. Acknowledge their effort
Say you've completed a survey. And you shortly receive an email acknowledging your response. You will not only get a confirmation about survey submission but also feel good about it, right?
Make sure your audience feels assured and acknowledged too. Once they submit a response, immediately get back to thank them for their effort.

It will make them feel valued. And the next time you ask them to fill another survey, their chances of responding will only increase.
But make sure you don't overdo it. It is suggested that you should limit the number of surveys to four to six per contact per year. Why? Because going beyond this limit is likely to overwhelm your audience.
Now that you've collected the data, it's time that you draw some insights. And take the necessary actions to make improvements wherever required.
But that's not where it ends. You must complete the loop to end it where it started. That means you must communicate these insights and the resultant actions with your audience. Why?
Because that's what they submitted their responses for. It shows them that you actually paid attention to them.
Also, it's important to make them feel that their opinions and effort were valued. This will help you get their active participation in any survey campaigns in the future.
That's it. These are seven simple ways you can get your audience to respond to your call. And increase your survey response rate.
From getting them to open the survey form to sharing the insights, make your audience feel valued. When done the right way, these small steps can help you maximize your response rate easily.
Next step?
[cta1 caption="Create a Survey QR Code" content="Help your audience access the form and maximize your survey responses" buttontext="Create QR Code Now" destination="
https://scanova.io/design-qr-code-generator.html#/create/event&utm_source=yt_pr_increase-survey-response-rate_bod&utm_medium=blog&utm_campaign=content
" image="https://scanova.io/blog/wp-content/uploads/2016/12/qrcode-8.png"]
Still, have any queries? Ask them in the comments.