Yearbooks serve as a channel to reminisce the memories of the year gone by. It is, without a doubt a book that students hold close to their heart. Each school has a unique way of sharing stories of the last academic year.
Lisa Connor, of the Martin Luther King Jr Magnet School (MLK) has adopted one such unique way. Lisa, a teacher and co-adviser of the MLK yearbook has used QR Codes in the school's yearbook.
QR Codes are 2D-barcodes that can link to information such as images, videos, and text. To view the information, all one needs is a smartphone equipped with a QR Code scanning app.
QR Codes are a popular print media marketing tool. Marketing, retail, and many other sectors use QR Codes to engage their audiences. The education sector is no exception.
QR Codes are now an integral part of the education sector. Teachers in schools and universities use QR Codes in innovative ways to engage their students better.
About MLK Jr. Magnet School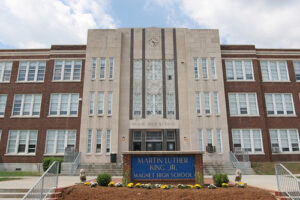 MLK Magnet school, located in Nashville, Tennessee, US ranks second among 26 other schools in Nashville. The school is one of the most diverse schools in the area. MLK's total minority enrollment is 56%. The school also boasts of a 100% graduation rate.
MLK Jr. Magnet School Yearbook QR Code
Lisa, a journalist by background wanted to give the MLK yearbook a digital twist by adding QR Codes. This is going to be MLK's first interactive yearbook.
"I am thrilled with how technology is allowing us such a wide scope for creativity."
On asking why she chose to have QR Codes as a part of the yearbook, Lisa told the Scanova team,
"Up until this year, the MLK yearbook has not had stories or many captions for photos. I want to bring it up to journalistic standards. I also want to cover as much as possible – thus the QR Codes."
Many a times editors have to take tough calls while short-listing images. Limited space is the primary issue. QR Codes help solve this issue. Using QR Codes, one can share many images, videos, and links without consuming much space.
Lisa adds,
"We'll now be able to include all the photos we've taken of the students, as well as videos of school activities."
QR Codes will also help Lisa include images from the annual prom and graduation ceremony. This will be the first time the MLK yearbook will feature photos from these events.
Lisa also plans on setting up a video library. The library will hold videos from the various school events and student testimonials. A QR Code will link to this online video library.
How will the MLK Jr. Magnet School Yearbook QR Code help?
QR Codes in yearbooks allow you to chronicle an entire journey without making compromises. It makes sure no group or event in the school gets left out.
Lisa adds,
"Having videos and additional photos in the yearbook will bring this sense of community to awareness – reminding the students, teachers and administration of what an awesome school we have."
Lisa concludes,
"This is the first year we've done this (adding QR Codes), and I really feel that it'll continue to grow in the coming years."
The above use case of QR Codes only further cements the fact that QR Codes have a lot to offer.
Are you an educator who wants to make classes and books more engaging? Try adding QR Codes.
[cta1 caption="Create QR Codes for your Yearbook" content="Create, design, and manage QR Codes to increase the engagement level of your students" buttontext="Create QR Code now" destination="https://scanova.io/design-qr-code-generator.html?utm_source=qrcbcta&utm_medium=blog&utm_campaign=scanova" image="https://scanova.io/blog/wp-content/uploads/2016/11/qrcode-62.png"]