Say you are planning on organizing a lucky draw. And as a responsible organizer, you'd want to ensure that it is fair for the participants.
As a part of the process, you'll provide them with all the information required. For example, rules and regulations, prizes, and offers. To do it, you'll take either the digital or the print media route.
But how about making the most of both the routes? QR Codes can make it possible for you. Now, you may wonder—how exactly can QR Codes be used in a lucky draw?
For the uninitiated, QR Codes are square 2D barcodes that can store a lot more information and are easily scannable with a smartphone. End-users simply need their smartphone to scan a QR Code to see the encoded content.
In this article, we'll discuss six ways in which a QR Code can make a lucky draw better. Keep reading.
A. Use-Cases of a QR Code in lucky draw contests
Here are some popular use-cases of the QR Code in the lucky draw contest:
1. Integrate QR Code generation with your lucky draw management system
You probably have your own lucky draw management system. And QR Codes can help you take it a step further. Here's how—you can integrate QR Code generation with your information system. 
Doing this will help you generate QR Codes in real-time which can be added to the lucky draw tickets. These QR Codes, when scanned, can show the serial number of the ticket, and even if the ticket has won the prize
2. Offer a contactless experience
The world is going as contactless as possible ever since the COVID-19 outbreak. And it is no surprise that QR Codes have been massively used to do just that. 
With QR Codes, you no longer need to print paper-based tickets. You can simply share the QR Code image with the participants. When they scan it, they'll be able to see the encoded content easily.
3. Get quick registration
Need to get people to register for the lucky draw? You'd certainly want to get maximum possible participation. And to do that, you'd need people to register for it.
QR Codes can help you do it easily. How? Simply add it to your promotional material with suitable instruction (also called Call To Action statement). It could be anything such as 'Scan here to register'.
When scanned, it would take the end-users to fill the registration form quickly. No need for you to put the form link on the promotional creatives. Similarly, even the end-users won't have to open the browser to type the link and open it to access the form. A simple scan will make the job easier for them.
PS: There are tools that can even help you get event registrations. One such tool is Ticket Generator. It helps you design a mobile landing page for your event with in-built registration. That means your audience can see all the lucky draw details and even register for it. The best part is that it automatically generates secured event tickets/passes against them.
Oh, and in case we didn't mention, you can even receive payments via this registration page. And no need to hire any software developer to get all this done. Here's a detailed guide on how all this works.
If you're planning on organizing an event for the lucky draw, you'd like to give the event details to the participants. This could include an event itinerary, images, video, and a lot more. And Event QR Code can help you do just that.
It allows you to add an event description, images, video, website link, social sharing buttons, and even helps you get guests to RSVP. Yes, they do not need to email you or give you a call to do the job. They simply need to press a button on the landing page confirming their call or email.
5. Gather feedback
Getting feedback is always important to improve your services. It helps you know what went right and where you can make improvements.
But getting participants to submit their feedback is not easy. They usually need to follow a long list of procedures to access the feedback form and finally fill it.
But just like getting registrations, QR Codes can help you get feedback seamlessly. Simply create one and put it inside your premises, on the template of invoices, or on your promotional material.
Do you have a website? It could be to provide information about the lucky draw, give discounts, or to get people to register for the draw. And you'd want people to visit it. A Website URL QR Code can help you do that. Just create one and place it on print media promotions. Your target audience can scan it to visit your website in no time.
In addition, you can also offer them an easier way to follow you on social media via Social Media QR Code. As end-users scan it, they'll be redirected to a page with buttons to all your social media accounts. They can then select their favorite platform to follow you online.

Related : QR Code For Link
B. Benefits of using QR Codes
QR Codes offer various benefits while making your lucky draws more efficient. Here are some of them:
1. Editable content
Say you have created a QR Code for the lucky draw event. And due to unforeseen reasons, you've to change the date and time of the event. You can update the new information into the existing QR Code without having to create and print a new one. How?
With the help of a dynamic QR Code. It is editable in nature and can be updated whenever you want. 
2. Trackable
QR Codes also help you monitor their scanning activity. That means when did your audience scan it, where did they scan it, and how many of them scan it. 
Apart from this, QR Code also offers a feature called event tracking. It provides valuable insights into your audience how they interact with the actionable elements after scanning the QR Code. It could be a Register or a Sign-up button.
This feature is especially useful if you're using QR Codes for promotional purposes.
3. Customizable
If you are going to use QR Codes for print media creatives, consider adding design to your QR Codes. Why? That's because custom QR Codes attract 50%-200% more scans than basic black-and-white ones.
Customization allows you to design the QR Code by adding your company's logo and colors or even a background image to it.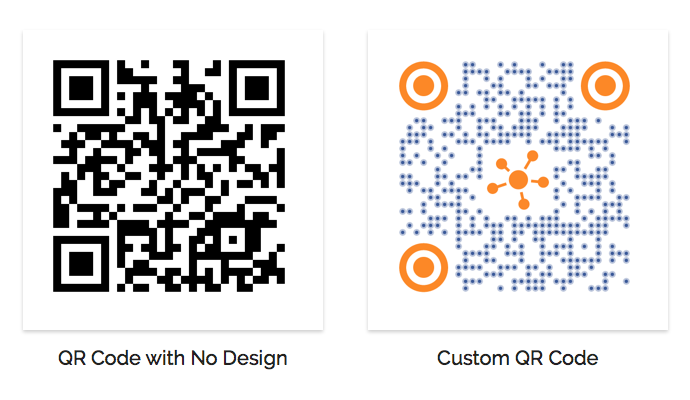 4. High-resolution Images
If you're planning on using the QR Codes on print media creatives, make sure you export it in high-resolution format. Some of the popular formats are SVG, EPS, and PDF. They make sure the QR Code doesn't get pixelated no matter how much resizing is done.
C. How to create a QR Code for a lucky draw
Now you know the popular use-cases of a QR Code in the lucky draw and its benefits. The next question—how to create one?
1. Decide on the QR Code category
You'll first have to decide which use case you want to create the QR Code for. Depending on that, you'll have to choose an appropriate QR Code category.
For example, if you want to provide all information about the lucky draw, you need to select a Document QR Code or Rich Text QR Code. But if you want to increase your social media following, you'd need to create a Social Media QR Code.
Once decided on the QR Code category, you need to select an appropriate QR Code generator. A simple Google search will fetch you many results to choose from. For your convenience, here is a detailed comparison chart of the best QR Code generators available online. You can go through it to find the best one for your use case.
2.Create a QR Code
Using Scanova QR Code generator to show a step-by-step guide on how to create a QR Code lucky draw:
1. Go to Scanova
2. Select the relevant QR Code category

3. Now add the content you want to encode in the QR Code and click Continue
4. On the page that loads, name the QR Code and assign tags to it. Tags help you locate and organize QR Codes easily in your account
5. Now click on the Create QR Code button. Here, you'll see the preview of the QR Code along with the Edit Design option
6. If you want to customize your QR Code, click on this Edit Design option. Here you'll see two design options—Custom Logo Design and Custom Background Design. The custom logo design allows you to add your company's logo and color to it. On the other hand, the custom background design allows you to add an image as QR Code's background

7. Once you've finalized the design, click Done Editing followed by the Download button. A window will open prompting you to sign-up for a 14-day free trial. Once you've signed up, proceed to download the QR Code
8. Here, you'll be asked to specify the QR Code image's format and dimensions

9. Once you've specified the details, click Export
That's it. Your QR Code will be downloaded and ready to share.
That is all you need to know about a QR Code Lucky draw. You can now get started with creating the first QR Code for your lucky draw.
[cta1 caption="Revamp your lucky draw with QR Code" content="Get started with your first QR Code" buttontext="Create QR Code now" destination="https://app.scanova.io/qr/create?utm_source=dk_sd_qr-code-lucky-draw_cta&utm_medium=blog&utm_campaign=content" image="https://scanova.io/blog/wp-content/uploads/2016/12/qrcode-8.png"]