Wedding is one of the most important events in one's life. Each wedding comes with a lot of drama—venue, gifts, guests, gala, and invitations. The invitation card is your official announcement to your friends and family and you might want to make the most of it.
You want your wedding invitations to be unique and enthusing. So you're exploring a number of design options to find the one that pleases you. Or you might even think of designing one yourself.
Whichever option you go ahead with, you'd want your invitations to be memorable. But before that, think about what purpose will your invitation card serve?
First, it will reveal important details such as the date and time of the event. This is the first and the most basic element of an invitation card. It helps guests remember when your big day is.
Second, you'd want it to meet the recipients' eye. You'd want a card that gets your guests to behold it even after the wedding.
Third, you'll mention the venue name on the cards. In fact, you might even want to design and print a map that helps guests reach the venue easily.
Fourth, you'll specify an email or phone number where guests can RSVP. Now getting these responses is important to ensure that you make all the necessary arrangements.
And a QR Code wedding invitation can help you do all these things efficiently. Wondering how? Keep reading to know.
A QR Code will not only make your wedding invitation hi-tech but also make many things easier for your guests on your big day.
A. What is a Wedding Invitation QR Code?
You can either add a QR Code for any of the purposes above. For example—a Calendar QR Code to help guests add an event reminder on their phones. Or a Google Maps QR Code to help them find the exact venue location or a Video QR Code to show your wedding teaser.
Or you can simply use the all-in-one Wedding Invitation QR Code.
A Wedding QR Code leads to a landing page with details of your big day. And besides text-based information, it also shows multimedia content to your guests.
A Wedding QR Code gives you the option to add the following details:
1. Page Title (for example, Wedding Invitation)
2. Banner Images
3. Names of Bride and Groom (e.g., Mary Jane weds Peter Parker)
4. Button Link to an external webpage, photos, or video
5. Event date and timings with 'Add to Calendar' button
6. Full event address with 'View on Google Maps' button
7. Email RSVP with 'Accept/Decline' buttons
See a preview of how the landing page will look like: Sample Wedding QR Code Landing Page.
Now that you know what a Wedding Invitation QR Code is and what it does, the next question is—how do I create one?
Now the first thing you need to create a Wedding invitation QR Code is—a QR Code generator that offers this category.
So you might want to compare the various QR Code generators online. Now comparing them one by one will take a lot of time and effort.
To make the process easier for you, we've compiled a comparison chart for the top QR Code generators. You can go through it to decide the best one for your use case.
B. Why you should add a QR Code to the Wedding Invitation
QR Codes help make a lot of processes better. For example—a Website URL QR Code makes it easy to visit a website. And a Social Media QR Code makes it easy to share your social media profiles. Similarly, there are numerous examples where QR Codes make things better.
In Apr 2017, a couple in China used QR Codes on their wedding to replace cash gifts with digital payments. The amount received from each guest was deposited directly into the couple's bank account.
Riding this wave, a couple in India too added a QR Code on their wedding invitations in 2021. Scanning this QR Code enabled the guests to give monetary gift without any hassle of bringing cash envelopes to the venue.
But that's not all. There's a lot more that a QR Code can facilitate other than receiving money. Not sure how? Let's see:
a. Give detailed information
You probably know you can't provide all of the information on your wedding card. That's because of the printing space constraints. Too many printed details will make the card look cluttered.
But with a QR Code, you don't have to worry. That's because it allows you to offer as much information as you want without worrying about space.
A Wedding QR Code helps you add detailed information to it. For example, wedding details, images, videos, audio files, document files, etc.
Hence, you can offer a digital wedding invitation with minimum effort.
Also, since the QR Code shall have all the information, your paper-based invitation can be small and concise. This way, you can save a lot on paper and printing costs.
This is probably the most popular use case of adding a QR Code on a wedding invitation card.
It allows you to share the exact Google Maps location of the venue when the QR Code is scanned. That means as the guests scan the QR Code they see a mobile landing page with wedding-related details. In addition, they see a button that says 'See the Venue Location'. As they click on it, they get redirected to the venue on their phone's Maps application.
No need to design and print the map on the card. Guests will not have to make complex interpretations to understand the route anymore.
They can simply follow the directions using the Google Maps application on their phones.
c. Get guests to mark the event on their calendars
Your close friends and family members will definitely attend the wedding. But it doesn't hurt to add a teeny-tiny reminder on their calendar, right? A QR Code on the invitation can do this.
On scanning, a calendar event will be created on the user's smartphone. This will ensure that your guests not only prepare for the event but also reach in time.
Couple stories are quite a thing nowadays. A Wedding Teaser or a Pre-Wedding shoot reflects timeless memories which are reminiscent of 'How it started'.

A QR Code on the wedding invitation allows you to share your journey via photos, videos, or any other webpage that illustrates the storyline. This way, you can share your love story with your loved ones, friends, and families.
You can't do all this with an invitation card alone, right?
e. Make it easy for guests to RSVP using their smartphones
Did you know that a QR Code on wedding invitation can help guests RSVP easily? They just need to scan the QR Code and respond if they will attend the event or not.

For each response, you will get an email notification. That means they will not have to send RSVPs by snail mail.
As a result, the response rate will increase. After all, the easier the process, the better the response rate.
f. Customizable design
You'd want your wedding invitations to align with some theme. For example, if you are going down the traditional route, it will involve colors such as white, silver, and hues of pink.
And adding a black-and-white QR Code to such colorful invitations would not look pleasant.
Fret not! You can add a design to your QR Code. How? By adding colors and a logo to it. Or by adding a background image to it. This is will blend the QR Code design with that of your overall invitation design.
g. Editable
Say you have created a QR Code for your wedding and after some time, there's a change in the venue location. So you'd want to put this new information out in the QR Code.
This is where a Dynamic QR Code can help you out. It allows you to edit the encoded content anytime you want without the need to recreate it. And Wedding QR Codes are dynamic in nature by default.
C. How to create a Wedding Invitation QR Code
Here's a step-by-step guide on how to create a QR Code:
1. Go to Scanova QR Code Generator and click on Create QR Code
2. From the QR Code categories, select Wedding QR Code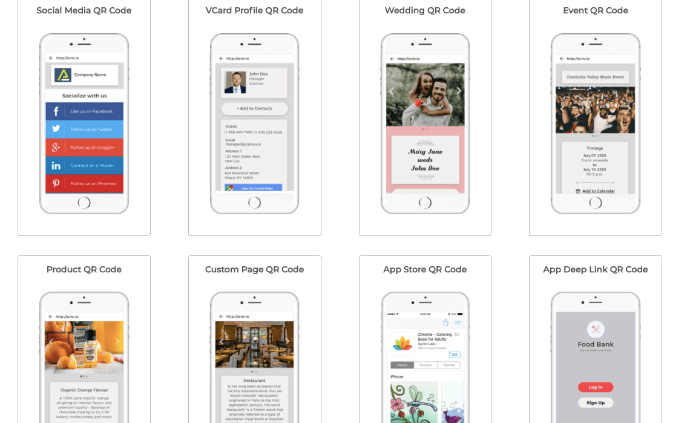 3. Start customizing the landing page by first adding basic information such as Page Title and banner photos. You can add up to 10 buttons and description boxes.

5. Further add event details such as Date, Time, Venue Address, and File
Here, you will also see an All-Day event option. This allows you to skip entering the event end date. Convenient, right?
6. If you need the RSVP section, first specify the email address where you want to receive the responses. You can also specify when invitees should respond and how many guests are they allowed to bring. The maximum limit of guests allowed is 50

Moreover, you can also customize the aesthetics of the RSVP section using the Form Formatting feature.
7. You can also go to the Button option. Here you can add an online event link, which would allow the end-users to attend the event virtually
8. Once you've added all information, Click Continue
Customize QR Codes
9. Next, you'll see two QR Code designs—custom with the logo and custom with the background. You can proceed with either of the options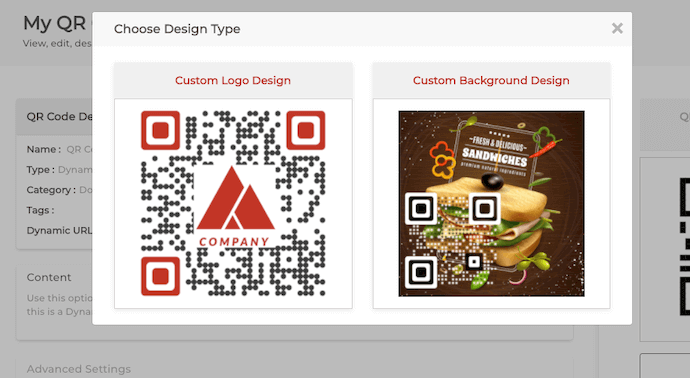 To make the QR Code blend well with your invitation card design, you must customize it. Here you can add an image either as a logo in the centre or as a background. Customization also allows you to edit the color and pattern of QR Code eyes and data modules.
10. Once your QR Code is ready (say after you design it), click on Done Editing and then proceed to Download it.
11. You will now be asked to create an account. Sign Up for a 14 day free trial to continue downloading.
12. Now, once done with creating an account tap on the Download icon
13. A pop-up will appear prompting you to specify QR Code image size and format. Once you specify the details, click Export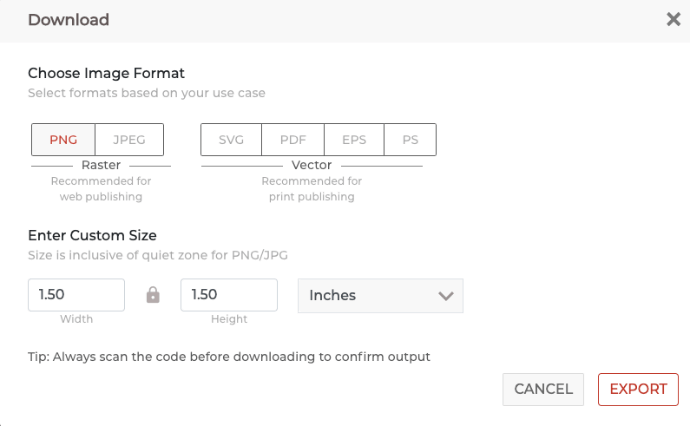 That's it. Your QR Code has been downloaded.
Now that you have the QR Code, you can add it to the wedding invitations.
Note that your wedding invitation designer will probably need a vector image of the QR Code (SVG, EPS, etc.). Vector images are suitable for print resolutions and don't get pixelated. So download the appropriate format.
D. How to edit the wedding QR Code?
Say you specify an email address to receive responses for RSVP via QR Code on wedding card. But for some reason, you want to change the email address.
You can make such edits even after your QR Code has been created. This is because a Wedding Invitation QR Code is dynamic in nature.
And unlike a static QR Code which is permanent in nature, a dynamic QR Code can be edited anytime you want. Yet your QR Code will remain the same.
Moreover, a Wedding QR Code also allows you to download the RSVP data.
Here's how you can do it:
1. Login to your Scanova account and go to My QR Codes.


2. Select the QR Code you want to edit
3. Here you can edit the following things:
Content: You can edit the content you linked to the wedding card
Advance Settings: You can enable password protection, GPS location, and lead generation
Download Data: Here you can download the RSVP responses data, making it easy for you to compile and analyze the responses
Design: You can edit the design again the way you want to
4. Click Update QR Code
That's it. Your changes will be updated while your QR Code will remain the same. That means no need to reprint the cards.
E. How does a wedding invitation QR Code works
A wedding invitation QR Code works as a digital shortcut that allows guests to quickly access additional information related to the wedding.
Here's how it typically works:
1. Creating the QR Code
The couple or wedding planner generates a QR Code using a QR Code generator tool. This QR Code is linked to a specific URL, such as a wedding website, RSVP form, or additional event details page.
2. Inclusion in the Invitation
The QR Code is then included in the physical wedding invitation, usually alongside other details like the date, time, and location of the wedding. It might be placed on a separate information card or incorporated directly into the design of the invitation.
3. Guest interaction
Upon receiving the invitation, guests use their smartphones to scan the QR Code using a QR Code scanning app. Most smartphones have built-in QR Code scanners, or guests can download a free QR Code scanning app from the app store.
4. Accessing additional information
After scanning the QR Code, guests are directed to the specific URL linked to the QR Code. This can be a wedding website with comprehensive event details, an online RSVP form, or a page providing additional information such as accommodation options, dress code, or registry details.
5. RSVP and interactivity
Guests can use the QR Code link to quickly RSVP to the event, view the couple's love story, browse through the wedding registry, or access any other interactive features the couple has included on their wedding website.
F. Other ways QR Codes can be used in a wedding
1. Digital invitations
Include QR Codes in the physical wedding invitations, allowing guests to quickly access additional event details, RSVP online, and access maps or directions to the venue.
2. Interactive seating charts
Create QR Codes for each table that, when scanned, reveal information about the guests seated there, such as a short bio or a fun fact about the couple's relationship with them.
3. Virtual guestbook
Set up a digital guestbook with a QR Code at the wedding venue, enabling guests to leave video messages, well wishes, or personal notes for the couple. This can be a modern twist on the traditional guestbook.
Share a QR Code that links to a shared photo album or a social media feed where guests can upload and view pictures from the wedding, using a designated wedding hashtag.
5. Menu and recipe sharing
Include QR Codes on the menu cards that link to the recipes of the dishes served at the wedding, allowing guests to recreate their favorite meals at home.
6. Music playlist access
Provide a QR Code that links to the wedding playlist, allowing guests to access and enjoy the music played during the event and relive the special moments.
7. Couples' storytelling
Create a QR Code that leads to a webpage or video telling the story of the couple's journey together, offering guests a deeper understanding of their relationship and shared experiences.
8. Thank you messages
After the wedding, send out thank-you cards with QR Codes that link to personalized video messages from the newlyweds, expressing gratitude to each guest for their presence and support.
G. Best practices for QR Code wedding invitation
Using QR Codes for wedding invitations can be a creative and convenient way to provide guests with additional information or interactive content related to your wedding.
Here are some best practices for incorporating QR Codes into your wedding invitations:
1. Clearly explain the purpose: Ensure that your invitation includes a brief and clear explanation of what the QR Code will lead to. You can use a simple phrase like, "Scan the QR Code for additional details" or "Scan to RSVP."
2. Test the QR Code: Before sending out your invitations, make sure to test the QR Code on multiple devices to ensure it works smoothly.
3. Choose a reliable QR Code generator: Use a reputable QR Code generator to create your QR Code. Look for one that allows you to customize the QR Code's design, color, and size to match your invitation's aesthetics.
4. Mobile-friendly content: Ensure that the content linked to the QR Code is mobile-friendly and easy to access on smartphones. This might include a dedicated wedding website, RSVP form, or any additional information you want to share.
5. Create a wedding website: A wedding website is an ideal platform to link to via the QR Code. Include essential details like the date, venue, RSVP form, guest accommodations, and any other relevant information. Keep it updated as plans evolve.
6. RSVP option: Make it easy for guests to RSVP through the QR Code. Include a simple form or link to an online RSVP platform where they can confirm their attendance and dietary preferences if applicable.
7. Privacy considerations: If you're collecting sensitive information, such as RSVPs, ensure that your online forms are secure and that you have a privacy policy in place to protect your guests' data.
8. Personalize the QR Code: Customize the QR Code with your wedding colors, monogram, or design elements to make it more aesthetically pleasing and in line with your wedding theme.
9. Include a backup plan: Not all guests may be familiar with QR Codes or have a smartphone. Provide alternative contact information (e.g., phone number or email) for guests who prefer traditional RSVP methods.
10. Timing: Send out your invitations with QR Codes well in advance to give guests ample time to respond and plan. Consider sending a reminder closer to the wedding date for those who haven't RSVPed.
11. Accessibility: Ensure that the content linked to the QR Code is accessible to all guests, including those with disabilities. Provide alternative methods for obtaining the same information if necessary.
H. FAQs: QR Code for wedding RSVP
1. What is the QR Code on the wedding invitation for?
The QR Code on the invitation provides quick access to additional wedding information and allows you to RSVP conveniently.
2. How do I scan the QR Code for wedding RSVP?
To scan the QR Code, open your smartphone's camera or a QR Code scanning app. Point the camera at the QR Code, and it will automatically recognize and open the linked content.
3. What information is available through the QR Code?
The QR Code will lead you to our wedding website, where you can find details about the date, venue, RSVP instructions, and other important information about the wedding.
4. Do I need to RSVP through the QR Code?
Yes, you can encourage all guests to RSVP through the QR Code or the provided link on the wedding website. It helps to plan and make necessary arrangements.
5. Is there an alternative way to RSVP if I can't use the QR Code?
If you prefer not to use the QR Code, you can RSVP by visiting the wedding website directly or by contacting via phone or email.
6. Can I access the wedding website without scanning the QR Code?
Yes, you can access the wedding website by typing the URL provided on the invitation into your web browser.
7. What should I expect to find on the wedding website?
The wedding website contains detailed information about the ceremony and reception, a schedule of events, accommodation options, travel details, and any updates or changes to the wedding plans.
8. Can I share the QR Code with other guests?
Yes you can share the QR Code with other guests to help them access the wedding information and RSVP easily.
Summing Up
That's it. That's all you need to know about a wedding invitation QR Code. It does not only help you make your invitations hi-tech but also assists both you and your guests do many things.
Still have any queries? Ask them in the comments.