Weddings in most communities and countries are a grand affair. In a traditional wedding, the groom and the bride receive cash gifts from family and friends to help them set up their new life.
Weddings in China are no different. The Chinese consider it auspicious to give newlyweds money in a red envelope.
Over the years, the tradition hasn't changed but it now comes with a twist.
Instead of giving the newlyweds cash directly, people can transfer money to them through QR Codes.
In April 2017, at a wedding in Beijing, China, the bride and groom replaced cash gifts with QR Code payments. The maid of honor wore a QR Code tag that allowed guests to scan and transfer money to the couple. The amount got transferred directly to the couple's bank account.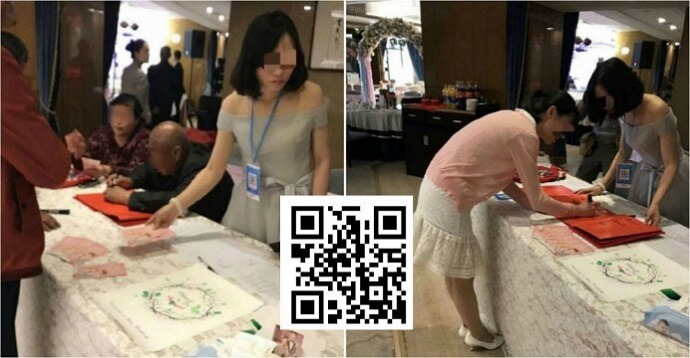 QR Codes are quite popular in China. These 2D barcodes feature almost everywhere—from billboards to packaging. The instant messaging app—WeChat (Weixin)—made QR Codes even more popular.
Also read: 3 ways to use QR Codes on wedding invitations
While we're at it, we also know how difficult it could be to organize an event. Now, getting an event organizer on board is pretty effective to get everything taken care of. However, it also costs quite a bit in the pocket.
However, don't worry! You can easily do it on your own just with a bit of homework. And there's an amazing website called EventTube that helps you learn how to organize amazing events. And the best thing is that it offers all the resources for free.
No need to pay any penny out of your pocket. Just become an amazing wedding planner in a couple of days.
Our Views on This Concept:
To some, it might seem like a way for families to bluntly ask guests for gifts. Our perspective is that QR Code payments at weddings are actually a practical idea.
For instance, in Nov 2016, the Government of India demonetized 500 and 1,000 currency notes. This led to a temporary cash crunch in the country. A lot of people moved to digital modes of payments.
In a situation like this, QR Code payments can offer more convenience.
Besides this, weddings are hectic for families, and managing cash gifts is an added burden. With QR Code payments, neither the guests nor the families need to worry about handling cash.
That's all you need to know about QR Codes at a Chinese wedding. What are your views on this unique idea? Share your thoughts in the comments below.
[cta-subscribe]