Africa, the world's second largest continent, had over 453 Million active internet users in 2017. Along with high smartphone penetration. And the number has only soared since then.
As a result, industries from various countries across the continent started looking out for ways to engage this internet connected tech-savvy population. And they came up with one common solution—QR Codes.
QR Codes or 2D barcodes are an excellent tool to connect people from offline content to online. And one can easily use a smartphone to decode a QR Code. So industries such as marketing, education, real estate, and retail are using QR Codes widely. And statistics show that use of QR Codes is soaring day-by-day.
Here are examples how QR Codes are used in Africa:
A. Payments
African countries have always been in the front to adopt mobile payments. After the success of contactless NFC technology, QR Codes—a simpler technology—hit Africa.
The main advantages of QR Code payments for merchants and businesses include:
i. Convenient and safer alternative to cash payments. QR Codes ensure safe transactions for both merchants and customers
ii. Negligible set-up cost. Merchant need not install a POS devices or even have internet connection. All that merchant need is—a QR Code placed at the bill desk
Here are some QR Code-based payment systems used in Africa:
1. Zapper
In 2017, Masterpass collaborated with Zapper, an African payments and loyalty rewards app to introduce QR Code payments.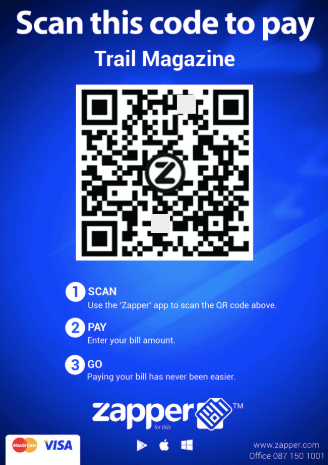 Zapper provides all-in-one vouchering, payments, and loyalty services to businesses and brands. According to Informal Economy Report, 22% informal market merchants were interested in using QR Codes. They wanted them to make economic sense and offer discounts.
2. Snapscan
Snapscan is one of the top payment applications in South Africa. It uses QR Codes known as SnapCodes.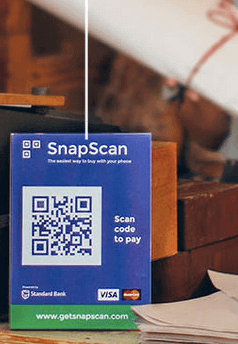 Many merchants and restaurants display QR Code at bill desk. Or even on the bill. These SnapCodes help customers make payments easily.
All that they need to do is—open Snapscan app on their phones and scan the QR Code at bill desk. Then enter the amount and authorize the payment.
3. Youtap
In Aug 2017, Youtap launched QR Code payments across both Africa and Asia. It enables mobile money and virtual wallet users to tap and pay using any mobile device.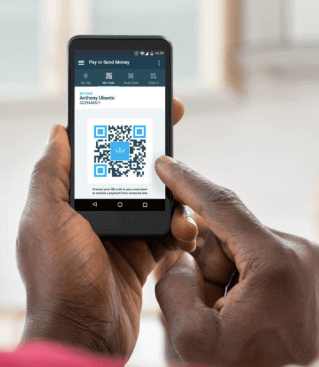 Merchants use QR Codes to accept payments. And customers simply need to scan one and authorise the payment. The unique feature of Youtap is—it integrates, serves, and grows existing mobile money and banking services in the marketplace.
4. Nedbank app
To speed up digital payments, Nedbank rolled out QR Code payments in 2018.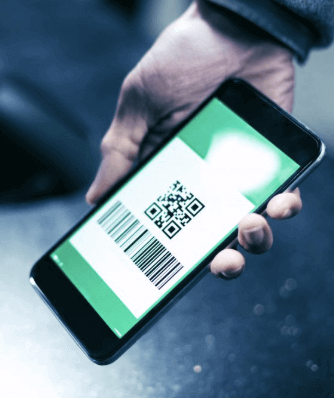 It allows Nedbank money users avail scan-to-pay services by simply installing its smartphone app. (Note that Nedbank operates across African countries such as Zimbabwe, Kenya, Angola, and Lesotho.)
It even allows users to make payments to Masterpass, Zapper, Snapscan, and Pay@ merchants via Nedbank Money app.
5. FNB (First National Bank)
FNB is a South African bank that announced the expansion of digital payments system in Jan, 2019.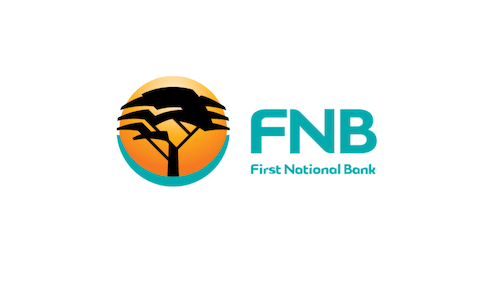 It allows customers and businesses to make and accept QR Code-based payments via FNB Banking app.
B. Education
Technology has transformed everything from shopping to banking. And even education.
Almost every student now has a smartphone and internet access. Since they love using their phones, educators came up with a way to engage students better—QR Codes.
There are several ways how teachers use QR Codes in classrooms. Some of these are:
i. To provide additional notes and multimedia content for a topic
ii. To organise scavenger hunts
iii. To conduct tests and quizzes
Here's how QR Codes are being used in Africa for educational purposes:
1. Bubbles technology
Bubbles technology—South Africa—integrates traditional learning with digital content. It uses QR Codes throughout the textbooks.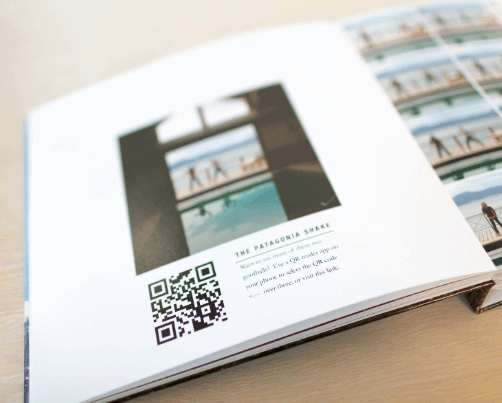 These QR Codes link to multimedia content such as audio and visual snippets. And help students learn better with short yet interactive modules.
Students can install any QR Code reading application on their smartphones to read these QR Codes.
This way, Bubbles technology is using QR Codes to supplement learning process.
2. University of Cape Town
In 2013, Shehaamah Mohamed—a subject specialist librarian in South Africa—initiated the use of QR Codes to access library services at University of Cape Town.
She suggested using QR Codes to help students stay informed on the subject when they miss the lecture.
"To circumvent copyright infringement, the lectures, which will have been loaded onto library desktop computers in the training room, can only be viewed and not downloaded." —Shehaamah Mohamed
C. Marketing
Traditional print marketing continues to be the king of marketing. However, it had the drawback that neither it helped people take an action, nor could its impact be estimated.
But QR Codes have transformed it. Today a lot of marketers are using QR Codes on their print promotions for use cases such as:
1. Driving traffic to their website via Website URL QR Code
2. Increasing social media followers with a Social Media QR Code
3. Offering coupons via Coupon QR Code
4. Getting customers to review their business via Google Review QR Code
Hence QR Codes have picked up well in marketing across the world.
Here's one marketing use case of QR Codes from Africa:
1. Associated Media Publishing's QR Code campaign
Associated Media Publishing is South Africa's independent women's media publisher.
In September 2018, Associated Media concealed the titles of its October editions in QR Codes.
The campaign was a part of Associated Media's move to become a shopping platform. It aims to help easy purchasing of products
"Our goal in combining all out titles inside the QR Code bag was to launch the campaign on the newsstand in a disruptive manner. And therefore, change the conversion around magazine media. We are confident that we have done just that"—Raphaely, Managing Director, Associated Media Publishing
2. Star FM Zimbabwe
In 2016, Star FM Zimbabwe ran a campaign—ScanAndWin. They tweeted a post on their Twitter handle.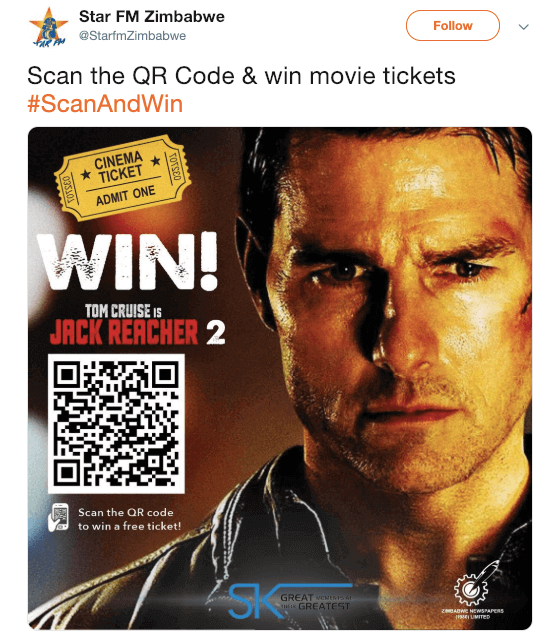 The post read—Scan the QR Code and win free movie tickets.
3. The Great Ethiopian run
In 2017, Great Ethiopian Run saw volunteers volunteers wearing white t-shirts with a QR Code.
Ethiopia signed up for Sustainable Development Goals (SDG). And the UN used run to promote the theme—Because She Can. It aimed to celebrate women's achievements, courage, and strength.
QR Codes on t-shirts linked to Great Ethiopian Run's Facebook page and was intended to increase followers.
These examples show that industries across Africa use QR Codes for various use cases. Though they are massively used in payments, they are yet to pickup in the marketing sector.
If you are a marketer looking forward to run marketing campaigns in Africa, create QR Codes for your campaigns today.
[cta1 caption="Create a QR Code for your campaign" content="Create a visually-appealing and dynamic QR Code for your print media promotion to attract more scans" buttontext="Create QR Code now" destination="https://scanova.io/design-qr-code-generator.html?utm_source=yt_sd_qr-codes-africa_cta&utm_medium=blog&utm_campaign=content#/chooseqr/" image="https://scanova.io/blog/wp-content/uploads/2016/12/qrcode-63.png"]
Know any use case of QR Codes in Africa that we missed? Let us know in the comments below.