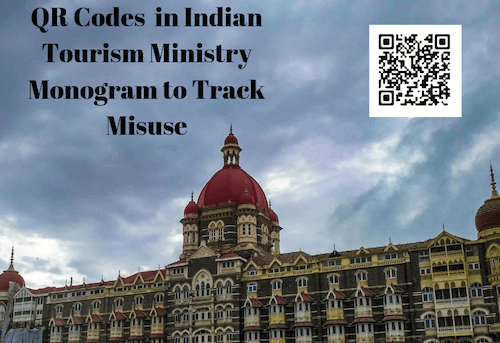 Any bad travel or hotel experience leaves a mark. And this is especially true when you realise you have been mugged off.
Yet there is probably no way to check the authenticity of service provider. All you can do after knowing is— complain. And that takes time too.
This becomes more complicated when you visit a foreign country.
Cases of misuse of tourism ministry monogram in India are on a hike. Tourists have registered complaints of forge hotels, shops and travel agencies running around tourist spots.
To solve this issue and make tourist experience better, the Tourism Ministry of India has come up with a solution.
And what is it?
To include a QR Codes in tourism ministry monogram.
Keep reading the article to know more.
A. QR Codes to track authenticity
QR Codes are 2D barcodes that can store a lot of information. You just need a smartphone to decode the content in a QR Code.
And they are not only being used for promotions and marketing but also for use cases such as education, medicine, parks and gardens and now tourism.
In response to the misuse of monograms, the tourism ministry of India has taken an action. It has started scrutinizing the establishments which forge monograms.
"Many complaints have reached me where the tourists claimed they were duped by a government-approved entity. When investigated these entities were found to be using illegally the monogram," said Minister of State for Tourism Prahlad Singh Patel.
And hence to combat the problem, they have initiated QR Codes in tourism ministry monograms.
B. How are helpful are QR Codes in tourism ministry monogram?
QR Codes can store entity based details awarded to the QR Code by the ministry criteria.
Tourists simply need to scan the QR Code to access details. And then check the authenticity. It has all the details—the name, address, contact information. Hence, it provides no room for the tourist to be fooled.
"The idea is to ensure that tourists are not cheated. Once approved, only verified entities would be able to use the monogram. Also, the QR code can't be duplicated," a Tourism Ministry Official told IANS.
And most tourists go for services that have a ministry monogram. So, this move by the ministry is imperative to secure authenticity. And not to make tourists feel cheated.
The use of QR Codes in tourism ministry monogram has helped the department to track false claims. And most of the cases deal with foreigners, thus scarring the tourism efficiency of India. QR Codes will help change this image.
However, here is another scenario. The use of QR Codes compliant monogram has come at the cost of quality compromise.
And what is it?
Service providers fail to maintain the quality of their services. This has again degraded the image of the tourism industry.
The ministry however is taking action to combat this issue. It has decided to identify the entities that fail maintaining quality standards.
[cta-subscribe]