Realtors often miss out on many potential leads. The reason? Using conventional ways of sales and marketing. Are you one of them? Let's do a quick test. Read the questions below:
Are you engaging potential buyers when they notice your advertisement in any way?

Is a phone number your primary channel of contact and do you wait for buyers to call you?

Is a visit your only way of showing the property to your potential buyers?

Do you rely on word-of-mouth marketing to get leads?

Are you too busy to entertain all your leads?
If your answer is 'Yes', then you are definitely missing out on new ways of converting leads.
Keep reading to learn more.

The new-age consumer is busy, just like you. Their attention span is also low. In the age of Google and Facebook, they need information at their fingertips. You cannot expect them to make time to reach out to you, visit the property, and then make a decision.
To keep up with the new-age consumer you need to start investing in mobile marketing. It can help you better engage today's consumer and increase your conversion rate. In the real estate profession, the mobile marketing tool that can help you is a QR Code.
A QR Code is a 2D barcode that can store a large amount of information and is easily scannable with a smartphone. When scanned, it redirects the end-users to the encoded content such as a web page or multimedia.
These square-shaped codes are common and are marketers use them to engage customers. You can create and manage them using an online QR Code generator tool.
Here are 10 ways, realtors can use QR Codes:
1. GENERATE LEADS
One of the most efficient ways to grab the attention of your audience is to create an attractive real estate marketing flyer. But it takes more than that to convert these it into potential leads. Let's say a potential buyer has just seen your 'House on Sale' flyer. What's the next step? Make it easy for your potential buyer to reach you. Don't wait for them to call you. A QR Code with a link to an 'Expression of Interest' form can help you convert these potential leads.
When scanned, the QR Code leads them to a simple form. This form asks for basic details such as Name, Nature of Interest, and Phone Number. You can reach out to them at your convenience and choosing. This helps you generate high-quality leads and builds a database of potential buyers. Besides that, it also helps you in future promotions.
Tip: You can create a form using Google Docs.
2. PROVIDE MORE DETAILS
Imagine your potential buyer is at your site and you are unavailable. What do you do? Well, you can still provide them with basic details by adding a QR Code to your ad outside the house premises. The QR Code can redirect the buyer to a page with more information about the property such as approx. lot size, features, property tax, community, nearby markets, nearby schools, etc.
3. LIST OTHER PROPERTIES IN THE AREA
At each property site, you can also add a QR Code of a page that lists all your other properties in the area. A buyer can browse through all your inventory before giving you a call.
4. SHOW A PHOTO GALLERY
Your potential buyers want to see what the house looks like from the inside when they first see your ad. Use a QR Code which will lead the potential buyer to an online photo gallery of the property.
Also read: How to create an image QR Code.
5. GIVE A VIDEO TOUR
Create a video tour of the house and put the link of the video in a QR Code. Add this QR Code to all your advertisements. Let your potential customers experience the house on their smartphones.
6. REAL ESTATE AGENT PROFILE
Buying or selling a house is a big decision and your customers need to trust you before they can hire you for the job. Let them learn more about you.
Make an online profile with your listings, your accomplishments, and your alma mater. Put the link of this profile in a QR Code and add it to your ads in the neighborhood.
You can also use a VCard QR Code to share your contact information. This includes your name, email, address, or even a website. Your clients can also save the details by clicking the option—Save as contact. They can then contact you whenever required without any delay.
7. SET UP A CALENDAR EVENT
Are you organizing an Open House? Create a calendar event QR Code and put it up on your Open House ads. This way potential buyers can scan the code and save the event in their smartphone calendars. A reminder is important if you want people to show up on the right date and time.
8. SHOW PROPERTY LOCATION ON GOOGLE MAPS
Direct your potential buyers to the right house by sharing the exact location of the house. Create a Google Maps QR Code and add it to your advertisement.
9. DOWNLOAD MOBILE APPLICATION
Do you or your real estate company have a mobile application? You can make it easy for your potential buyers to download this application. How? By creating an App Store QR Code.
So, what happens when you scan the code? The code first identifies the device of the user. Then, it redirects you to the download page in the right App Store. It could be any of these – iOS, Android, Windows, or Blackberry.
In addition to this, if you want them to view a specific page within your app, you can go for App Deep Link QR Code.
10. REDIRECT TO MOBILE WEBSITE
If all your listings' information is on your mobile website, make it easier for your buyers to view it. Add the website link to a QR Code and put it up on your promotional material.
Related : How To Make QR Code For App Links: Everything You Need To Know
How to create a Real Estate QR Code
Now you know why it makes sense to use a Real Estate QR Code. The next question is—how to create one?
1. Find the QR Code generator
To create it, you simply need a QR Code generator. There are various QR Code generators available online. You can head on to a search engine and find the best one for yourself.
But going through each result is a tedious process. For your convenience, here is a detailed comparison chart of the best QR Code generator available online. You can go through it and decide for yourself.
2. Create a QR Code
Using the Scanova QR Code generator, here is how you can create a Real Estate QR Code:
a. Go to Scanova
b. From the QR Code categories, select the most relevant QR Code category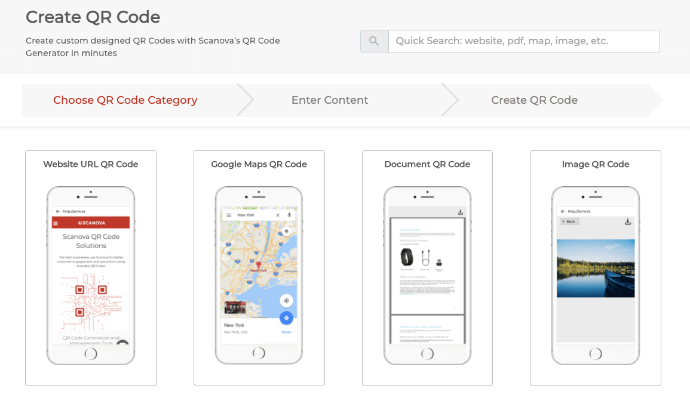 Suppose you want to redirect them to a website, select Website URL QR Code.
c. Enter the website URL you want your users to visit and click on Continue
d. On the page that loads, name the QR Code and click Create QR Code
e. Now you'll be able to see the image of the QR Code. Alongside, you'll see the Edit Design button
If clicked, you'll see two design options to choose from—Custom Logo Design and Custom Background Design.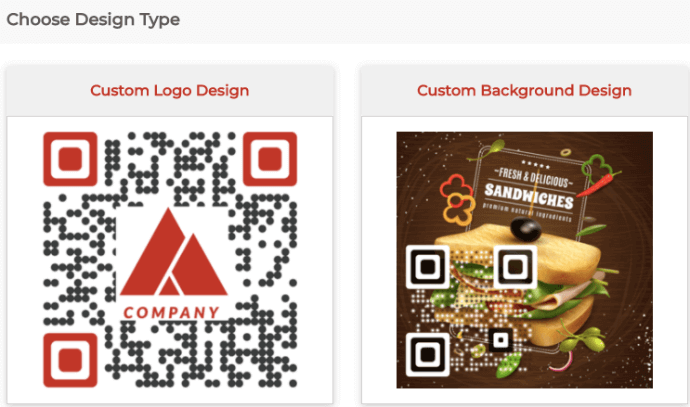 The custom logo design allows you to add a logo and colors to the QR Code. On the other hand, custom background design allows you to add an image as QR Code's background.
f. Once you've decided on design or no design, click Download. A window will open, prompting you to sign-up for a 14-day free trial. Once done, proceed to download it
g. Now, specify the QR Code image's format and dimensions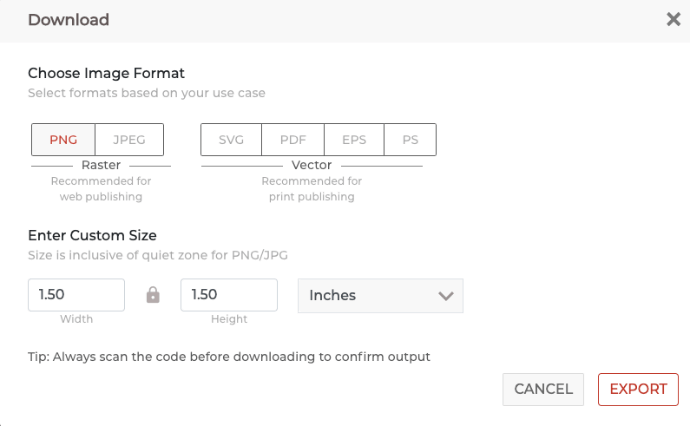 h. Once specified, just click Export
That's it. Your Real Estate QR Code is downloaded. It is advisable to test scan the QR Code before putting it out.
Best Practices
Here are some of the best practices that you must know regarding Real Estate QR Codes:
1. Add an appropriate CTA
Make sure you add an appropriate CTA to your QR Codes. It translates to a 'Call-to-action' statement. CTA is basically a small instruction that guides the users to what they need to do. And it nudges them to take the required action.
It could be anything such as 'Scan here to visit the website' or or 'Scan here to contact me'.
2. Add a design to the QR Code
Since you are planning to use QR Codes for promotions or lead attraction, consider adding design to them. That's because they are visually more appealing and thus, attract the audience's attention.
3. Test scan the QR Code
It is always advisable to test scan the QR Code before putting them out for your target audience.
4. Choose an optimal printing format
If you're going to use QR Codes on print media creatives, it's recommended to download them in high-resolution formats such as SVG, EPS, and PDF. They ensure that the QR Code doesn't get pixelated no matter how much resizing is done.
That's it. That is all you need to know about Real Estate QR Code. You can now create your own QR Code to boost your leads and, in turn, your business.
[cta1 caption="Create your first custom QR Code" content="Create a custom QR Code to attract and engage potential buyers. Sign up now for a 14 day Free Trial." buttontext="Create QR Code now" destination="https://scanova.io/design-qr-code-generator.html?utm_source=gg_sd_real-estate-qr-code_cta&utm_medium=blog&utm_campaign=content#/chooseqr/" image="https://scanova.io/blog/wp-content/uploads/2014/10/qrcode-43.png"]