The pandemic had brought the whole world to a standstill. And among many industries that took a hit, the restaurant industry was one. The businesses saw a huge loss due to COVID-induced lockdowns.
But things have now started easing out and various nations have lifted many of the restrictions.
And the restaurant industry is seeing a revolution. To make it safe for guests to have a hygienic meal, restaurants adopt various measures. And the most important one is—Restaurant Menu QR Code.
QR Codes are helping digitize restaurant menus. This is amid the need to reduce physical contact between people or objects they touch. And QR Codes do away with the need for anyone to touch the paper-based menu to select a meal. That's right. They offer a contactless dining experience.
Keep reading to know how.
A. QR Code: A brief
QR Code technology is being deployed throughout the world to curb coronavirus. From helping avoid long queues to enabling contact tracing—QR Codes are doing it all.
The best part is that in order to access the content hidden in a QR Code, you just need to scan it via a smartphone.
Plus, a QR Code can link unlimited information. That means you can link both text-based content such as a PDF and even multimedia content such as images, audio tours, and video clips.
Besides, QR Codes do not just come in black-and-white colors. You can actually add design to your QR Code via a logo, background color, or even a background image. That means a QR Code customized to your brand (without any assistance from a graphic designer).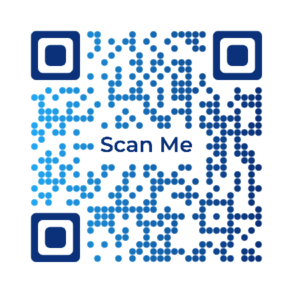 Lastly, did you know that QR Codes are technically editable? That means even once you have created the QR Code, you can still edit the content encoded in it without having to create a new one. These are called Dynamic QR Codes. They give you the liberty to update the content anytime you want.
Here's how this can be helpful for you—say you have created a Menu QR Code for your restaurant. After some time, the prices of some of the meals change (which is quite common). If your QR Code is dynamic in nature, you can simply update it with the new updated menu PDF(s). No need to reprint the QR Codes for your entire restaurant.
This makes QR Codes a sustainable and an optimum solution for contactless dining in your restaurant.
B. Benefits of Restaurant Menu QR Code
1. For customers
As mentioned above, customers now prefer contactless dining. And Restaurant Menu QR Code can help you bring it to life. It does away with the need for you to hand out printed menus to the guests. With QR Code-based menus, they simply need to perform a simple scan to access the menu.
No need for them to touch the paper-based menus that might be shared with other guests and staff members during the day.
This simply translates to better adherence to the social distancing norms. Thus, it ensures guests' safety.
2. For restaurants
a. Improves table turnaround rate
Customers spend a lot of their time waiting for a staff member to bring the menu and take their order. That means the guests have to sit for longer durations. And this simply translates to a longer turnaround time and ultimately—loss of revenue.
But don't worry. Restaurant Menu QR Code has got you covered. Guests can scan the QR Code, the moment they sit at the table. Hence, rather than waiting for the menu to come, they can view the menu on their phones and order the food without any delay.
b. Boosts staff productivity
With Restaurant Menu QR Code, the staff doesn't have to spend much time on the restaurant floor. Thereby, they can perform their duties more efficiently and offer guests a great dining experience.
Restaurant Menu QR Code allows you to quickly change the encoded menus. This would come in handy when you'd want to make updates to the existing menus due to changes in items, prices, and descriptions any time you want.
This would help you reflect any changes without incurring any repeated printing costs. The same QR Code would work fine. This means you get a maximum level of flexibility.
d. Branding
With QR Codes, you can showcase your brand right from the dining table. That's right. How?
Whenever guests sat at the table, the first thing they will see is the QR Code with your logo and brand colors.
Thus, it will help you sync your audience with your brand. Moreover, it will build brand recognition among your customers. You can custom design a QR Code as per your business's branding. It can be done by adding your business logo and colors or a background image to it.
e. Damage resistance
Spillage of food and drinks is common in restaurants. And this often happens on or near the menu. That means you need to replace the spoiled menu with a fresh one.
But with Restaurant Menu QR Codes, you don't need to worry. That's because they are damage resistant, all thanks to the error-correction feature. It ensures that QR Codes remain scannable even after getting damaged, distorted, or even dirty by up to 30%.
Before we see how to create a QR Code for your restaurant menu, let's look at some restaurants across the globe that are using QR Code menu already:
1. Tim Love's chain of restaurants, Texas
The popular restaurant chain in Texas has come up with QR Code-based menus. A simple scan with a smartphone gives the customers the entire menu on their screen. This ensures contactless dining and hence, proper hygiene and customer safety. The QR Code is placed on every tabletop.
"One of the coolest things that we have put in place is we have digital menus. So every tabletop has a QR code and you sit down at the table, you scan your cell phone on the QR code, and the menu pops up on your cell phone. You can order from there and you can also have contactless payment from your cell phone."
—Kyle Noonan, owner of The Rustic, one of the restaurants of Tim Love's chain
2. Yoordi self-ordering solution
Frankfurt Airport has introduced a Yoordi self-ordering solution. It is designed specifically to meet travelers' hunger needs. It helps them order and pay for food and beverages from various restaurants.
A passenger just has to scan a QR code to view the menu of a participating restaurant. He can then decide what to order and pay for it contactless. The order can then be picked up from the restaurant's fast lane.
3. San Antonio restaurant, United States
San Antonio restaurants, a popular chain in the United States, is promoting the use of QR Code-based menus in its restaurants.
Sangria on the Burg, one of the restaurants of the chain, has established a QR Code-based menu. Customers just need to scan the QR Code in order to access the menu.
"We plan to make QR Code-based digital menus permanent in our business. Besides promoting contactless dine-in, they are also ideally green for the environment".
—Cesar Zepeda, the restaurant's owner
Restaurants all over the globe are also using QR Codes for various other purposes. This includes taking feedback from customers and providing customers with a dish's recipe, amongst others.
Besides ensuring safety, QR Codes can also help you engage your customers in many other ways. To know about it, you may refer to this detailed guide on 13 effective ways in which QR Codes are being used in restaurants.
Now comes the actual question—how to create a Restaurant Menu QR Code?
1. Find a QR Code generator
First, you'd need to find a QR Code generator that allows you to create a Restaurant Menu QR Code. A simple Google search will fetch you many options to choose from.
But going through each result to find the best one is a tedious process. To make it easier for you, here is a detailed comparison of the best QR Code generators available online. You can find the best one for yourself.
2. Create a QR Code
Using the Scanova QR Code generator, here'sthe detailed process outline on how to do it:
1. Go to Scanova
2. From the QR Code categories, select Document QR Code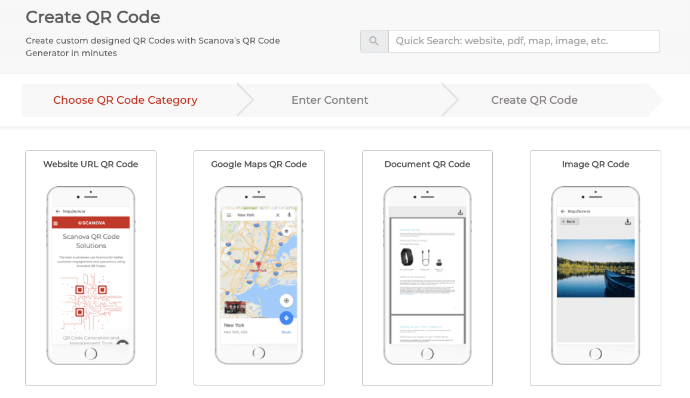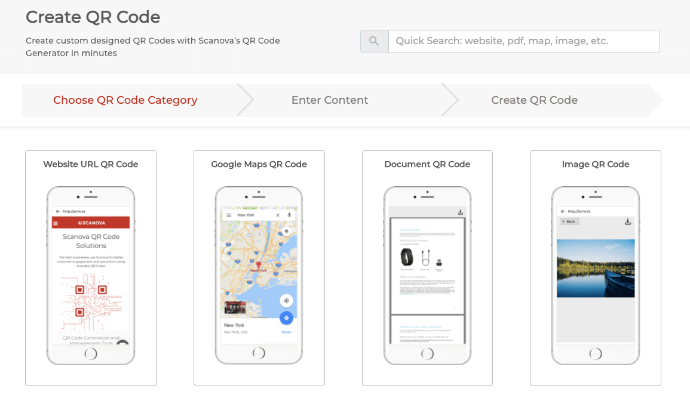 3. Add the menu files you want to encode. They can be in formats such as PDF, Doc, XLS, and PPT
Note that you can encode up to 20 menu files in this QR Code where each file should not be greater than 20 MB in size.
Once you upload all the files, click Continue.
4. Next, you can name your QR Code and click Create QR Code
5. On the page that loads next, you will see the image of the QR Code. Alongside, you'll see the Edit Design option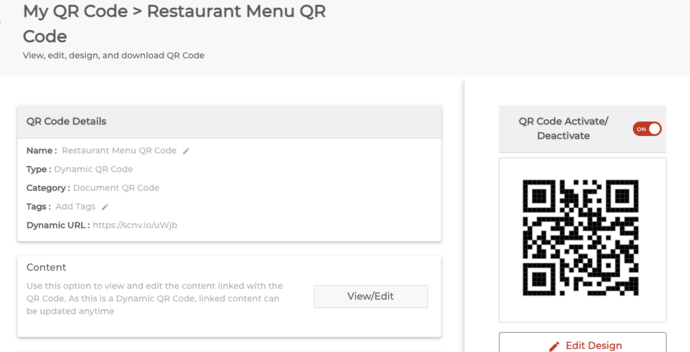 If you want to add a design to your QR Code, you can click Edit Design and proceed to add design to it. Once clicked, you'll see two design options to choose from—Custom Logo Design and Custom Background Design.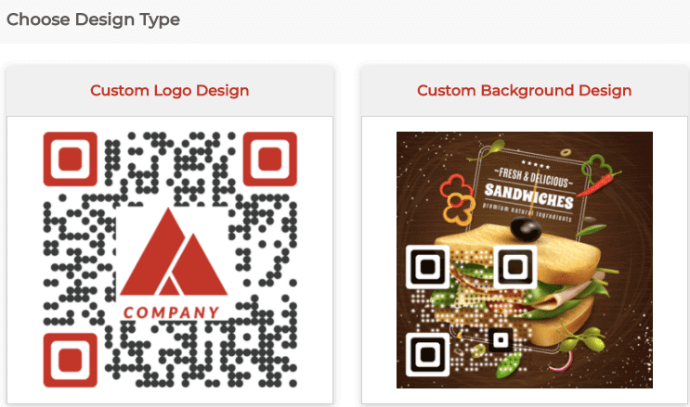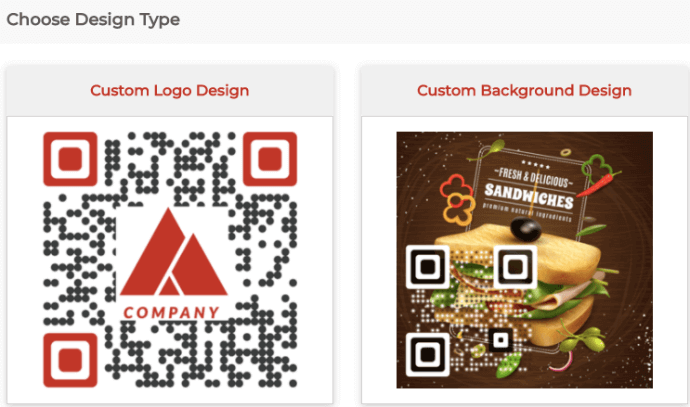 Custom Logo Design: It allows you to add your business's logo and colors to the QR Code. It also allows you to change the pattern of the QR Code's eyes and data modules.
Custom Background Design: It allows you to add an image as the QR Code's background. It also allows you to change the pattern of the QR Code's eyes and data modules.
6. Once you are done with the changes, click Done Editing and then Download your QR Code. A window will appear prompting you to sign-up for a 14-day free trial. Once you've signed up, proceed to download the QR Code
7. Now you've to enter the size and format of the QR Code to be downloaded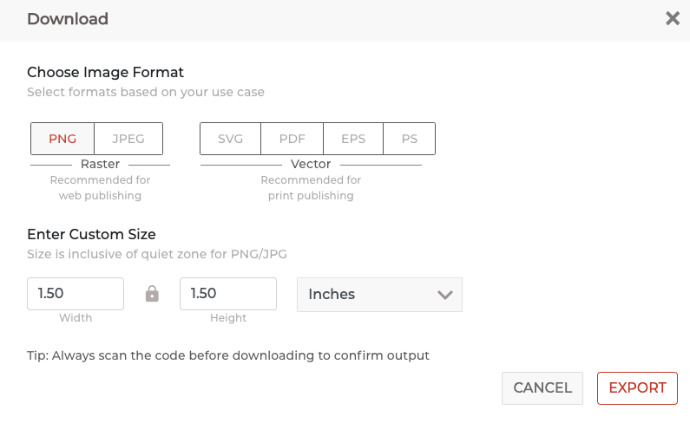 8. Specify these details and proceed to Export
Your Restaurant Menu QR Code will be downloaded.
Here are the steps you need to follow to edit the QR Code you linked to your menu:
1. Login to your Scanova QR Code Generator account
2. Here, on the dashboard, go to My QR Codes


2. Hover on the QR Code you want to edit and click the View/Edit option against it
3 . On the page that loads, head on to the content section and click View/Edit
4. Replace the old menu file with the new one and apply the changes
That's it. Your QR Code will be updated. The updated QR Code will have the same pattern as the original one. Hence, you do not need to reprint a new QR Code.
F. Best Practices
Here are some of the best practices that you must follow with Restaurant QR Codes:
1. Add an appropriate CTA
CTA translates to a 'Call-to-action' statement. It is a small text that nudges the customers to take the required action.
It could be anything such as 'Scan here to view the menu'.
2. Add a design to the QR Code
Since you are planning to use QR Codes for restaurant menus, you should consider adding design to them. That's because they are visually more appealing and can help attract the audience's attention. In fact, customized menus will also contribute towards your branding effort.
3. Test scan the QR Code
It is always advisable to test scan the QR Code before putting them out for your target audience. Because you wouldn't want to be stuck with a QR Code that loos good but doesn't work at all.
4. Choose an optimal printing format
To use the QR Code on print media creatives such as table tents, it's recommended to download it in high-resolution vector formats such as SVG, EPS, and PDF. These formats ensure that the QR Code doesn't get pixelated no matter whether you zoom in or zoom out.
This is all you need to know about a Restaurant Menu QR Code. In the current times of crisis, it is important to keep your customers safe and ensure proper hygiene.