Once upon a time in a land far far away, there lived a young princess. She had eyes as blue as the sky, hair a warm shade of brown and skin as white as snow….
Don't stories like these remind us of our childhood? We snuggled in bed with our parents. Through books, they took us on a journey to faraway lands. Brave knights, beautiful princesses, and grand castles.
So has storytelling changed over the years?
It has.
Idaho-based Smart PJ's is changing the way of storytelling.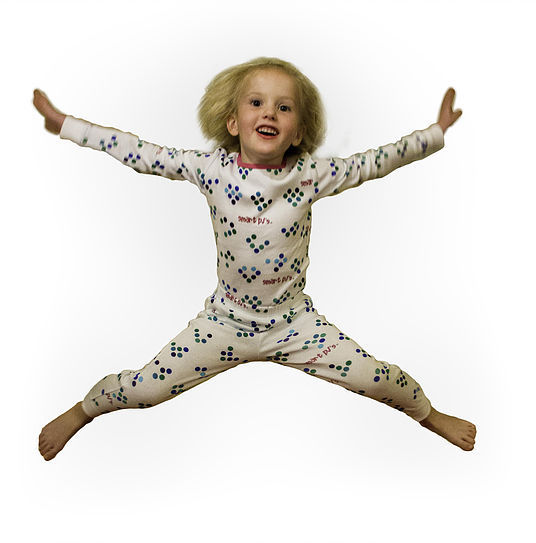 Smart PJ's has introduced a line of nightwear for children. The PJ's feature 90 clusters of solid circles, printed across the fabric. Each cluster is a custom code, readable using a smartphone app.
When scanned using the Smart PJ's free app, each code is a gateway to rhymes, poems, and fairy tales.
This means that each cluster is a story book and each pair of pyjamas has an incredible 90 storybooks on them.
The PJ's are available for both boys and girls between ages 1 to 9 and cost $25 a pair.
Also see how teachers are using QR Codes to engage students in classroom.
How Smart PJ's work
To start using Smart PJ's here is what you need to do:
a. Order the PJ's from the Smart PJ's website
b. Download the free app from Google Play Store or App Store
c. When you open the app, your camera will get activated
d. Click a picture of any one of the codes to open a story, rhyme, or poem
What we think of Smart PJ's
There are hundreds of educational and entertaining apps for children. Come to think to it, Smart PJ's app is nothing but a collection of 90 stories for children.
But the smart thing that Smart PJ's has done is play the novelty factor. The codes on the PJ's make it a fun way to choose the story of the night for both parents and children. The mystery of 'which story will come up?' is bound to excite the kids.
But it's not all good. There are a few hiccups.
In the app reviews, some users have complained that the codes do not scan. This could be possible because the company seems to be using non-standard codes. Standard codes like QR Codes follow rules and are easier to read due to their robust architecture.
See: How QR Codes work
All in all, Smart PJ's is a novel idea that is sure to generate interest amongst parents and their children.
What do you think of them? Share your thoughts in the comments below.
[cta-subscribe]