.United States Postal Service (USPS) has a history of promoting QR Codes. It does this by running incentive campaigns every year.
USPS believes that direct mail is still a relevant component of marketing. And it wants to encourage its customers to invest in technologies that allow consumers to engage with mail i.e. QR Code technology. If you were to quickly peruse at https://www.salesforce.com/products/service-cloud/best-practices/customer-service-goals/, you'd know that modern technology, be it newfangled or in vogue, is optimised to use, and forms one of the fundamentals to marketing.
In 2016, the mailing service is launching a new campaign—2016 Mobile Shopping Promotion. It encourages mailers to use mobile technologies in their mails that makes it easy for consumers to do shopping.
Here is everything you need to know (in brief) about the promotion:
What is 2016 Mobile Shopping Promotion?
As part of the 2016 Mobile Shopping Promotion by USPS, mailers can avail a discount on postage if they add a QR Code on their Standard Mail® letters and flats (large envelopes, newsletters, and magazines). The QR Code should be scannable by a mobile device. And it should lead the consumer to an online store. Here she must be able to make a purchase easily. Or to a social media page with the 'Buy Button'.
USPS is running this campaign to encourage use of mobile technology in direct mail to make it easy for consumers to engage (make purchases in this casse) with the mail they receive.
This is just like a using a Product QR code on product packaging to engage customers.
How can a mailer benefit from this promotion?
Mailers can avail a 2% discount on every eligible (see below for eligibility criteria) mail. The discount will be applicable on the overall postage amount at the time of mailing.
What all mails does the promotion cover?
All standard mail letters, nonprofit standard mail letters, and flats are eligible under the promotion. This as long as they further meet the eligibility criteria. First-Class Mail, Periodicals (includes Pending Periodicals mail), Bound Printed Matter, and Media Mail are ineligible.
Note that each mailpiece will be evaluated and approved on a case-to-case basis. However, here the general guidelines issued by USPS to increase chances of approval:
Snapshot of Key Eligibility Requirements
The mail should have a QR Code (or equivalent mobile technology such as designer QR Codes, Datamatrix Codes, and Augmented Reality images) that leads to a mobile-optimized website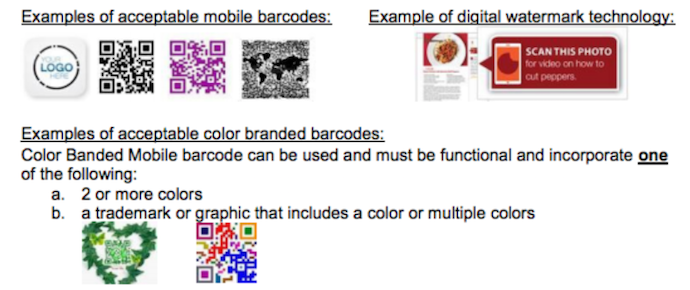 The size of the QR Code should be more than 0.5inch x 0.5 inch
Directions on how to use the QR Code (e.g., "Scan here to purchase", etc.) should be written prominently adjacent to the QR Code to ensure that it is visible to the consumer
Website in the QR Code should link an online store that allows purchase of the products advertised in the mail. It could also link to a social media platform page that prompts the user to purchase the product (e.g., a board on Pinterest that includes item(s) with "Buy Now" button)
The website should have a checkout process that allows consumers to make electronic (credit, debit or prepaid card) or person-to-person (Paypal) payment, and purchase the product
In addition to the above requirements, there are restrictions on the placement of the QR Code as well:
The mobile barcode or other print/mobile technology can be placed on the inside or outside of the mailpiece. None can place the barcode on a detached address label (DAL) or card that is not attached to or enclosed within the mailpiece (e.g., unattached blow-in card). The mobile-print technology cannot be placed in the indicia zone or the barcode clear zone on the outside of the mailpiece – 2016 Mobile Shopping Promotion
One can access details of the QR Code placement restrictions from the promotion document.
What is the procedure to avail the incentive?
Here are the steps that mailers need to follow to avail the incentive:
1. Registration
Mailers can register on the Business Customer Gateway (BCG) via the Incentive Program Service (gateway.usps.com) between May 15 and Dec 31, 2016. Registration should be done atleast 2 hours prior to presenting the first qualifying mailing and specifying which permits and CRIDs will participate in the promotion.
The program will come into effect only between Jul 1 and Dec 31, 2016.
2. Submission and Acceptance
Mailers must provide a unaddressed hardcopy sample of the mailpiece (with QR Code including placement) to the acceptance clerk.
One must tender the mail for acceptance during the promotion period, July 1 – December 31, 2016. All promotion eligible mailings must be accepted and entered in PostalOne! no earlier than 12:00:00 AM on 07/01/2016 and no later than 11:59:59 PM on 12/31/2016 (the last day of the promotion) – 2016 Mobile Shopping Promotion
The Program Office will conduct a sampling of mailpieces collected at Business Mail Entry Units to verify that submissions meet program requirements.
3. Claim Discount
One must claim the discount at the time of mailing and cannot rebate at a later date. Depending on how one claims the promotion, the procedure to claiming discount will vary. Details will be accessible via the promotion document.
How do I get started?
The good news is that you have some time to prepare for this promotion. Simply make sure you have the following:
A mobile-optimized online store of your products with complete checkout process
QR Code technology

We recommend adding a visually-appealing or designer QR Code on your mails for two reasons. Firstly, USPS itself encourages the use of such QR Codes and promoted them in its 2014 Branded Color Mobile Technology Promotion. Secondly, colorful and persnalized QR Codes attract more scans than plain black-and-white QR Codes
[cta1 caption="Create a Designer QR Code for USPS Mails" content="Create a visually-appealing and dynamic QR Code for your USPS mails to get 2% discount on postage" buttontext="Create QR Code now" destination="https://scanova.io/design-qr-code-generator.html?utm_source=sm_sd_usps-mobile-shopping-promotion-2016-qr-codes_cta&utm_medium=blog&utm_campaign=content#/chooseqr/" image="https://scanova.io/blog/wp-content/uploads/2014/08/qrcode-41.png"]