Business cards are a go-to tool while networking in a professional set-up. When you meet potential clients, you have a small talk with them and give away your business card.
But the problem is that everyone receives a lot of business cards in such setups. And manually typing the contact details in the visiting card on your phone to save a contact is quite a task. Since it's time-taking and needs effort, most business cards rather just end up in the trash.
This is where an actionable Vcard comes into the picture. It helps your recipients add you as a contact without having to manually type your details.
So you want to create a Vcard too. And to make things even better, you want to create a QR Code-based Vcard. Using it, the end-users just have to pull out their phones to take a scan. Doing so helps them not only see your contact information but also save you as a contact.
So you're looking for a suitable Vcard QR Code generator. And in this article, we'll tell you everything about the same in detail. Let's get started.
A. Types of Vcard QR Codes
Did you know that a Vcard QR Code generator can offer you both static and dynamic QR Codes?
Here's what it means. A Static QR Code is permanent. That means you can't edit the details encoded in the same. Not sure why would this be helpful.
Say you create a static QR Code with your contact details today. Three months later, you happen to change your contact number. Now you'll have to create a new QR Code.
That means the QR Code printed on your paper-based business cards will be wasted now. Hence, you'll have to get the copies printed all over again with the new QR Code. Quite much of a hassle, right?
This is where the Dynamic counterparts come into the picture. They allow you to change the encoded content anytime. And yet the same QR Code works fine with the updated details. No need to reprint anything again.
What's even better is the fact that a dynamic Vcard QR Code helps you add a lot more details than a static one.
Now that you've learned the basics of both static and dynamic variants, let's move to the next section:
B. Features your Vcard QR Code Generator must have
1. Performance tracking based on scans
Did you know that QR Codes can help you keep a watch on their scanning activity? Yes, that's why marketers love them!
The dynamic ones actually help you track their performance. For example, how many people scanned the QR Code, their location and time, operating system, browsers used, etc. Isn't that great?
All this data comes in handy while optimizing your campaigns or processes in the future.
2. Design customization
QR Codes needn't be necessarily black and white. They're not barcodes after all!
So make sure your QR Code generator helps you add design to your Vcard QR Code. Most players help you do it in two ways.
The first is by adding colors and a logo to the QR Code. The second is by adding a background image to it. No need to add a plain and dull black-and-white QR Code to your well-designed business cards.
Also, did you know that custom-designed QR codes attract more scans? Yes, they engage the end-users to get a lot more scans than their uncustomized counterparts.
As we briefly mentioned earlier, a static business card puts a limit of 7,089 characters to the information you can store.
But what if that doesn't suffice for you? Well, the dynamic ones help you out. They allow you to create a whole mobile landing page for the end-users to see. You can add a lot more details to them. For example:
Name and contact information
Display picture
Company details and Designation
Description
Work samples
Social media handles
Buttons (to link to a website, video, etc.)
All of this comes with a 'Save as Contact' button at the bottom. Great, right?
You've now learned all the basics of a Vcard QR Code and the feature your QR Code generator should have. Let's move further now.
C. How to use a Vcard QR Code Generator
After having learned everything, you need to find a suitable QR Code generator. Well, there are plenty of players online and you just need to run a Google search to find them.
But the challenge is that with multiple players in the market comes a great deal of confusion. And to get things moving forward, you need to do your research before finalizing the right tool.
But that could get time-consuming. So here's a free comparison chart of the top QR Code generators. It compares all the major players transparently based on their features. You can go through it to make a sound decision.
In this article, we'll be using the Scanova QR Code generator for a quick step-by-step guide:
1. Go to Scanova and select Vcard Profile QR Code from the content categories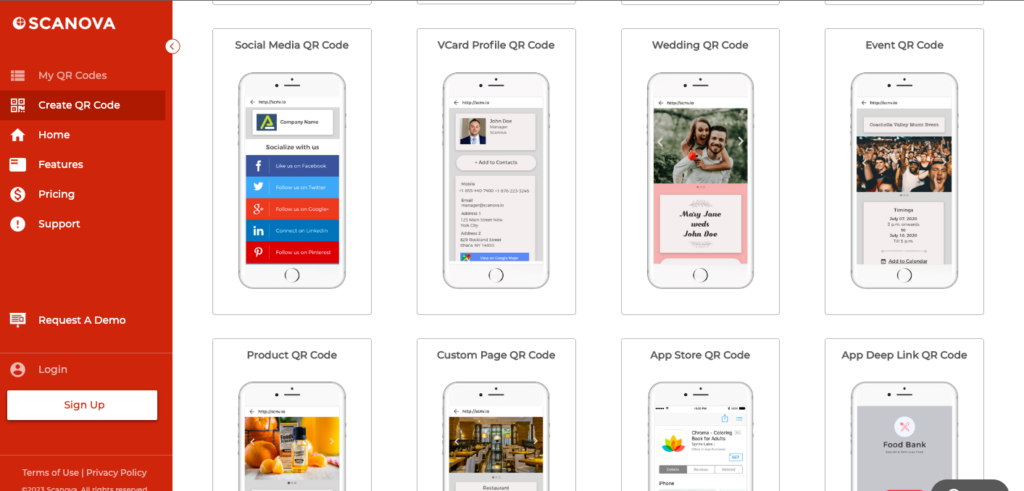 2. Enter the details you'd like to add to the QR Code. As the end-users scan the QR Code, they'll see all these details on a mobile landing page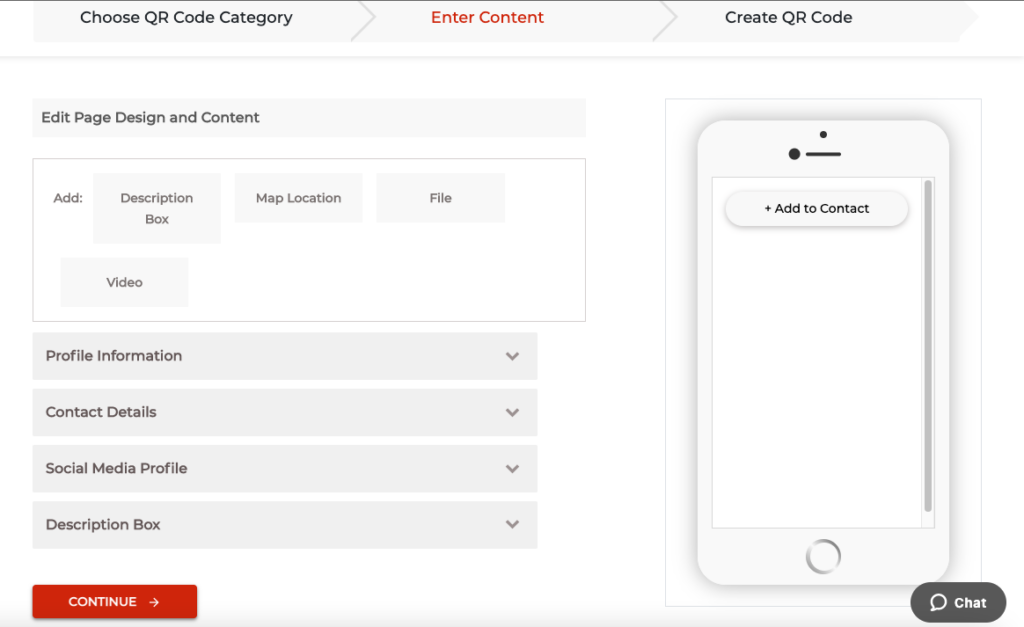 3. Once you've added all the details, click on Continue
4. Next, add a name for your QR Code and move ahead
5. On the page that leads, you'll see the QR Code details along with its image on the right. Under it, you'll also see the Edit Design button
You can use it to add a design to your QR Code. Here's a detailed guide on how to do it.
6. After you're done, update the changes and click on the Download button
7. You'll then just have to do a quick sign-up. Don't worry, you'll not have to give your credit card details
8. After you're done with the sign-up, click on the Download button again. Then quick enter the size and format for the QR Code image
That's it. Your Vcard QR Code will be downloaded. Just make sure you test scan it before putting it up for public use.
D. How to edit the QR Code
If you choose to go for a dynamic QR Code, you'll be able to edit its details anytime you want. Here's how:
1. Login to your Scanova dashboard
2. Go to the My QR Codes section from the menu bar on the left
3. Hover against the QR Code you need to edit. You'll see the View/Edit button. Click on it
4. Now click on the View/Edit button under Content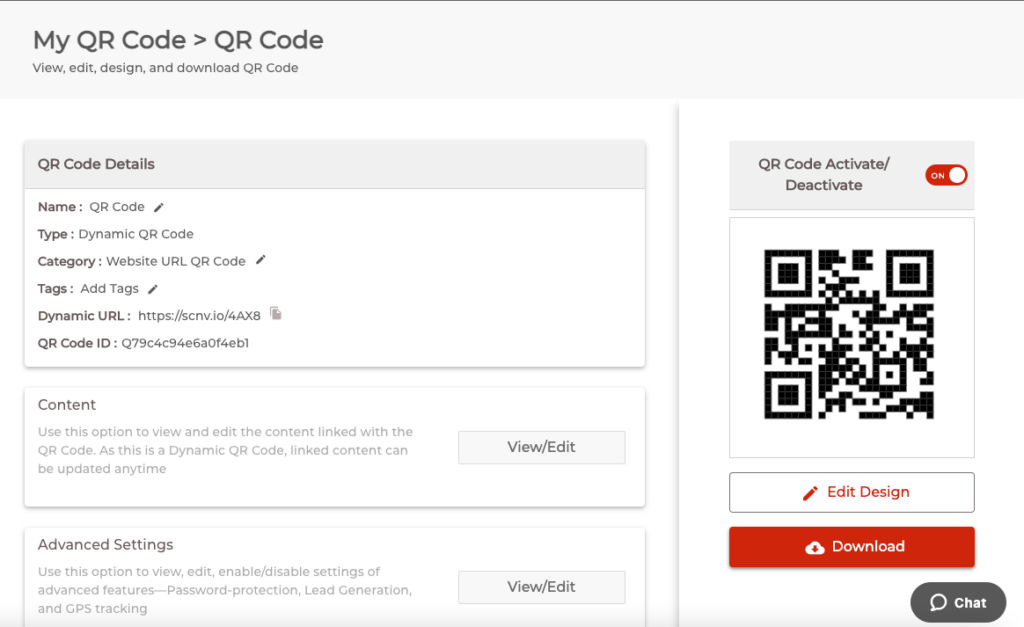 5. Now make changes as you wish and hit the Update button after you're done
That's it. Your QR Code will be updated to reflect the new changes. You can test scan it with your smartphone to be sure.
You've now learned everything about a Vcard QR Code generator. All you have to do is get started to create your first Vcard QR Code.