You know that your business card is an important tool to network. And it does a lot more than simply showing your contact details to the recipient. How?
It's the first thing you hand-out while meeting people you'd like to connect with. It could be at a business meeting, a seminar, or a conference. So it creates the first impression about you and your company or business.
Hence, it decides whether your contact will make it into the recipient's phone or not. And you'd certainly not want your business card to end up in the trash, right? So what you need to do here is—grab the recipient's attention right away.
Ensure that your visiting card enthuses the recipient right from the beginning. And there are multiple ways to do it. Just pick up a design that would enthuse the recipients.
Also, your business card tells people how they can reach out to you. It could be via phone, email, website, or fax. So make sure you add all the important details to it.
But you might think—how many details can I fit in 3.5 x 2 inches? Well, a lot more than you think.
You can add your name, photo, company name, title, mobile number, fax, email, office address, website (work and personal), and social media links all at once. And yet it won't look cluttered. How? Via a QR Code or as we call it—a dynamic Vcard QR Code.

A. What is a dynamic Vcard QR Code
A dynamic Vcard QR Code, when scanned, takes the end-users to a landing page with all your contact details. For example—your name, company's name, profile picture, phone number, website, email, address, and link to social media profiles.

It allows you to add as many details as you want. All these details go into the QR Code. And this QR Code then goes to your visiting card. That means you can add all the details you want without cluttering the card.
Also, a Vcard QR Code increases the chances of your contact being saved to the recipient's phone. How?
When scanned, it gives the end-user an option to add you to their contacts list. And they just need to click this option. That's it.
No need for them to manually open the contacts app, type all your contact details and finally hit save. Following two simple steps—scanning the QR Code and clicking Save—is all they need to do.
And scanning the QR Code is as simple as clicking a picture. You simply need to open your phone's camera and hold it in front of the QR Code. Then, a pop-up appears showing the content encoded in the QR Code.
Or you can install any third-party QR Code scanning app on your phone and scan the QR Code.
Also see how a digital business card helps you increase your chances of networking better.
A Vcard QR Code can be both static or dynamic
Thinking—what does it mean? Depending on how the data is stored, a QR Code can either be dynamic or static.
The content is directly encoded in a static QR Code. Hence, once created, it cannot be edited. To edit it, you have to create a new QR Code altogether.
On the other hand, the target content is never directly encoded in a dynamic QR Code. It only stores a short URL (redirecting URL usually provided by QR Code generator). And this short URL takes you to the target content.
Hence, a dynamic QR Code can be edited anytime. And it even allows you to track its scanning activity. For example—how many people have scanned it, where they did it from, when they did it, etc.
However, a static QR Code doesn't allow you to track its scanning activity either.
Also, since static QR Codes store the data directly, they tend to be denser than dynamic ones.
Here's a comparison between a static and a dynamic Vcard QR Code:

And it is a fact that the less dense a QR Code is, the better is its scannability.
Now that you know what a dynamic Vcard is and how it works, the next question is—
B. How to create a dynamic Vcard QR Code
To create one, you will need to head on to a QR Code generator. And a quick Google search will give you pages of results. And to select the best one for your use case, you'll have to compare them, right?
Don't worry. You don't need to put your time and effort into comparing each one of them individually. We have compiled a detailed comparison chart for the best QR Code generator. You can go through it to decide the best one for your use case.
Using Scanova QR Code generator for a demo, here's how you can create a dynamic Vcard QR Code:
1. Go to Scanova and click Create QR Code
2. From QR Code categories, select Vcard Profile QR Code

3. Start customizing the landing page by adding your details such as name, contact, email, and address
4. Once you add all the details, click Continue.
5. You can now name and save the QR Code. So enter a name and click Save
6. Next, you'll see two QR Code design options—custom with logo, and custom with background. You can proceed with either of the options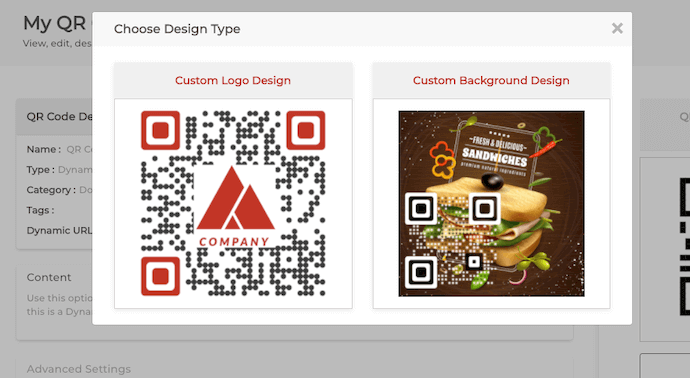 Note that a custom-designed QR Code attracts many more scans than a black-and-white one. Hence, if you want to maximize the number of recipients adding you to their contacts list, consider designing your QR Code.
7. Once your QR Code is ready, say after you design it, click Done Editing.
8. To download your QR Code, you will have to create an account. Sign Up fora 14-day free trial.
9. Once you finish Signing Up, you will be redirected to My QR Codes page. Here, you can click on download icon to download your QR Code.
10. A pop-up will appear prompting you to specify QR Code image size and format. Once you specify these details, click Export
That's it. Your QR Code will be downloaded. You can add it to your business cards with a suitable instruction such as—Scan here to add me to your contacts list.
It will tell them what to do or what to expect after scanning the QR Code. And you'll be surprised to see how far a little push like this can go.
C. How to edit a Vcard QR Code
Say you've created the QR Code and added it to your business cards. A month later, you want to make some changes to the encoded content. Or you intend to add or delete some content.
You can do it here because the Vcard QR Code you created was dynamic in nature.
Here's how to do it:
1. Login to your Scanova account and go to My QR Codes.


2. Select the QR Code you want to edit
3. Here you can edit the following things:
Content: You can edit the PDFs you linked to a QR Code
Advance Settings: You can enable password protection, GPS location, and lead generation
Design: You can edit the design again the way you want to
4. Click Update QR Code
That's it. Your QR Code will be updated.
That's all you need to know about a dynamic Vcard QR Code. It does not only help you add all the important details to your business card but also helps your recipients add you as a contact easily.
Still have any queries? Ask them in the comments.