You probably know what QR Codes are. They are just like barcodes and store information. But they go a step ahead of barcodes to store much more data in a smaller space.
This is why QR Codes are also called advanced barcodes. From websites to multimedia, a QR Code can store a wide array of information. Hence, they have picked up popularity these days.
And you want to explore the utility of QR Codes for your use case—online conferences, meetings, seminars, or workshops via Zoom.
Zoom has emerged as one of the most sought tools for online meetings . Zoom is a better option when it comes to choosing tools for online meetings. The interaction here is always at its peak. Hence, many people use it for smooth communication.
In fact, according to a study, 45 billion minutes of webinars are hosted on Zoom every year.
So, if you are planning to host a Zoom meeting, you'd definitely want to make the most of it. And a QR Code can help you do it. How? Well, in multiple ways.
From sharing invite links to sharing contact details, QR Codes are useful everywhere.
In this article, we will discuss how QR Codes can help you organize Zoom meetings in a better way.
A. QR Codes for Zoom meeting
As mentioned above, QR Codes can make Zoom meetings better. And here's how they do it:
Say you are planning to host a meeting via Zoom. And it is your responsibility as a host to make it easier for the attendees to join the meeting.
To do it, you will copy the Zoom meeting link and use it on promotional creatives and invitations. But here's the problem—website URL is not easily accessible via print media channels, compared to digital ones.
That's because people will first see the URL on the print media. And only after this, they will begin to unlock their smartphones, open the browser, and type the entire link to finally join your zoom meeting.
This is a tedious and long process. While some people may do it, many won't.
But don't worry. QR Codes have got you covered. Just encode the Zoom invite link into a Website URL QR Code and put it out on your creatives.. It can be billboards, flyers, or brochures.
Your attendees will see these creatives and scan the QR Code to join the meeting instantly. No need for tedious typing of long links.
Similarly, you can also share the meeting itinerary via an Event QR Code.
It can encode pictures, video, textual information, maps location of the venue, event schedule, website, and even social sharing buttons. In addition to it, it also allows the guests to RSVP without having to call you or send you an email. How?
When your audience scans the QR Code, they will see all the event details with an option to RSVP to confirm their presence. And for each response, you get a notification on your email. You can then make arrangements accordingly.
Say you want to make your meeting as informative and engaging as possible. And to do that, you need to share reports, presentations, or contact details with the attendees.
To do it, you can add a QR Code as a part of your Zoom virtual background. Your attendees will be able to scan it and go to the encoded information.
To help you understand it better, here's how QR Codes can help you do it:
If you're hosting a Zoom meeting for business, you'd want the attendees to follow you on social media. So you may mention your social media handles in the meeting's chat box.
That's right. But rather than haphazardly sharing social media links over the chat, you can use a Social Media QR Code which is a more organized way.
Just add it to your Zoom background. When scanned, it will take the end-users to a landing page with buttons linking to all your social media accounts. Here, they can then choose their favorite one to follow you online.
b. Virtual networking
It is common in zoom meetings for attendees to make contact with the host. And as a host, it is your responsibility to offer them an easy process to do so. This is where VCard QR Code can help you out.
It allows you to add a detailed contact information such as:
Name
Contact number
Email
Address
Website
Social media handles
When attendees scan the QR Code, they will all these details on a mobile optimized page with the option—Save as Contact.
Hence, no need for them to type anything manually. You just have to add it to your Zoom virtual background. Attendees can scan it to connect with you.
c. Instant file sharing
At most Zoom meetings, hosts use reports or presentations. And as discussed earlier, sharing document links redirects users to a different application.
So, what you can rather do here is—add a Document QR Code to your Zoom virtual background.
A single Document QR code allows you to add up to 20 PDFs. Hence, you can add all the documents you need to share with your attendees in a single QR Code. As they scan it, they'll be able to see all the documents and download them.
Similarly, say you are a teacher or professor who holds Zoom classes. Here. Document QR Codes can help you share quizzes, puzzles, and test answers with your students.
But that's not where it ends. Here are some other use cases of teachers using QR Codes to better engage students.
B. Advantages of QR Codes for Zoom
1. Delivers a quick and simple process
QR Codes make the user journey simpler. They only have to open their phone's camera or a QR Code scanning app, hold it in front of the QR Code, and access the encoded content. Isn't that amazing?
2. Offers a personalized look
QR Codes can be custom-designed as per the user. That means you can add colors, a logo, and a background image to it.
These make QR Codes aesthetically pleasing. Hence, they can help you grab the audience's attention. This would ultimately result in a better response rate.
3. Editable
Say you have created a VCard QR Code to share contact details with your attendees. But after some time, you change your mobile number. And you want to update this information in the QR Code.
To help you out, a dynamic QR Code is here for you. It allows you to edit the encoded content anytime you want without the need to recreate it.
4. Trackable
Similarly, if you decide to create a dynamic QR Code, it can be trackable too. That means you can monitor their entire scanning activity. For example:
How many people have scanned the QR Code
Where did they scan it
When did they scan it
Which browser do they use to do it
This information will help you optimize your future QR Code campaigns.
In addition to this, dynamic QR Codes also offer a unique feature called event tracking. It gives you information about how end-users interact with the encoded content once they scan the QR Code. It could be a button to your social media page or website.
C. How to create a QR Code for Zoom
Now you know why using a QR Code for Zoom makes sense. The next question is—how to create one for your use case?
1. Decide on the QR Code category
Depending on the content you want the end-users to see on scanning the QR Code, decide on the QR Code category.
For example, if you want to provide detailed contact information, you'd need a VCard QR Code. On the other hand, if you want to redirect them to a Zoom meeting, you'll have to create a Website URL QR Code. Here's a list of categories that you can choose from.
Once you've decided on the QR Code category, head on to find a suitable QR Code generator.
2. Create a QR Code
Using Scanova for demo purposes, here's how you can create a QR Code for Zoom:
a. Go to Scanova
b. Select a relevant QR Code category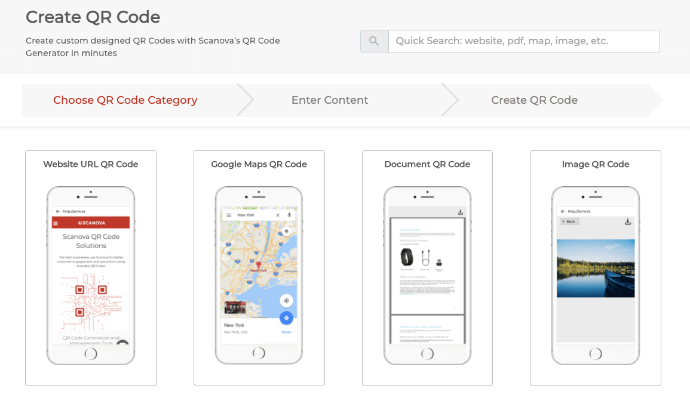 c. Now add the content you want to encode in the QR Code and click Continue
d. On the page that loads, enter a name for your QR Code and click Create QR Code
e. Now you will see the preview of the QR Code along with the Edit Design option
f. If you click on this option, a window will pop up with two design options—Custom Logo Design and Custom Background Design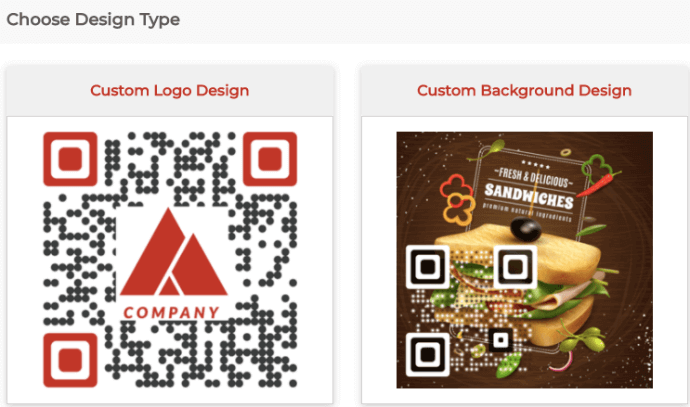 Custom logo design allows you to add a logo and colors to it. On the other hand, custom background design allows you to add an image as the QR Code's background
g. Once decided on the design, click on Download
Note that a window pop-up will appear prompting you to sign-up for 14 days free trial. You'll not have to add credit card details while signing up.
h. Once you sign-up, you can proceed to download the QR Code. Now, you'll be asked to specify QR Code's image format and dimensions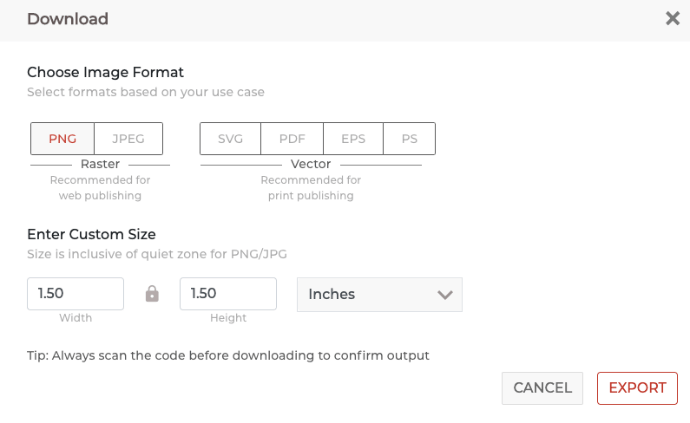 i. Once you specify these details, click on Export
That's it. Your QR Code for information will be downloaded. It is always advisable to test scan the QR Code before rolling them out.
D. How to add QR codes on a Zoom background
Now that you know how to create QR Codes for Zoom. Let's see how you can create your custom Zoom virtual background with QR Codes.
To do it, you need a custom Zoom virtual background creator. And you will find various creators online such as Canva, Fotor, or Kapwing.
Depending upon your use case and its features, you can select any one of them. For demo purposes, we are using Canva:
1. Go to Canva

2. Head to the search bar and enter "Zoom Virtual Background"
3. Once done, you will see various templates. Select any template you like
4. On the page that loads, you can customize the template. Here, you can change its background, and add images and texts.
4. Here, go to Uploads on the left sidebar and click on the Upload Media button
5. Now, select the QR Code you downloaded earlier
6. Once done, QR Code will be added to the Canva gallery. Now drag the QR Code image from the left bar and paste it in the background as per your choice
7. After finalizing all the details, click on the Share button in the upper right corner

8. Now you will be asked to specify the image's format and other export details
9. Once done, click on Download
That's it. Your custom QR Code Zoom virtual background will be downloaded and ready for use.
That is all you need to know about how QR Codes can be used for Zoom meetings. You can now create your own QR Code to offer a better Zoom meeting experience.