You are a part of a food and beverage company. And part of your job is to package products that your company manufactures.
You know that product packaging is one of the most important ways to engage your customers. And build your customer's trust and loyalty.
But due to limited space, you cannot share all the information such as — detailed information about the product, terms and conditions, precautions, etc.
Also, many a times, you want your customers to visit your website. And provide them the website link on the product. But here, only a fraction of people will actually take the effort to type your web address and visit your website.
Plus, you cannot track how many customers actually visited the website.
Finally, if your product contains genetically modified ingredients, then it's very important for you to mention it. The federal law of United States Department of Agriculture has made it mandatory to share the GMO information. So, how do you comply to this regulation?
What if I tell you that you can actually resolve these challenges.
One easy way is to use QR Code-based customer engagement campaigns on product packaging. Popular Food and Beverage companies all over the globe are already using QR Codes on their products.
Keep reading.
A. Why QR Codes on Product Packaging
For the uninitiated, QR Codes are advanced barcodes that can:
Link unlimited information

Link multimedia content like images, graphics, audio files, and videos

Resist damage upto 30%
You can also update the QR Code whenever you want and track the scanning activity. This is possible using Dynamic QR Codes.
Your customers just need to scan the QR Code to access the information encoded.
Plus, from marketing to promotional purposes, QR Codes are now being used in every field.
So, with food and beverage packaging QR Codes, you can make your product packaging a point of engagement.
Hence, with customer engagement comes customer loyalty. And QR Code based product packaging will help you build that.
B. How can you engage customers using QR Codes
1. Provide detailed information
Providing as much information about your product will help your customers make an informed choice. This includes information on terms and conditions of the product, ingredients, precautions, and any other additional information
Plus, many customers choose a product based on calorie intake, amount of sugar, quantity of nuts, amongst others.
All you need to do is add a QR Code that leads to detailed information about the product.
A lot of brands are already using QR Codes on their products to provide in-depth product details. For example:
1. Nestle India recently added a QR Code on its popular instant noodles brand Maggi after controversy that the product contained excessive amount of lead

2. Horticulture Innovation Australia and Australian Authentic branded olive oil bottles with a QR Code. This QR Code linked to detailed information on origin of olive oil and conform its authenticity
3. Anmum—Fonterras' pediatric range—added QR Codes on products. These QR Codes link to web page that gives details about product's batch and authenticity
4. SmartLabel—an initiative by US Grocery Manufacturer association—added QR Codes on products. These QR Codes provide shoppers information about the products they're purchasing
Plus if your product contains genetically modified ingredients, one of the allowed ways to share this information is by adding a GMO QR Code.
So, QR Codes keep your customers up-to-date with the product information besides keeping them engaged.
2. Suggest recipes
You can 'delight' your customers by suggesting recipes for the food item that you are selling. You don't want consumers to use your product incorrectly and then never buy it again.
For example, Chef's Basket added a QR Code to its pasta box which leads consumers to a recipe video.

Thus, by linking recipe video in a QR Code, you can actually provide a step-by-step guide of how to prepare the respective dish.
Besides, you can also give them ideas of how to serve the dish. Or what a particular dish can be best served with, (ideas about food combos etc)
3. Show your entire product range
With a QR Code, you can show your customers the range of other products you manufacture. This way they can discover other food items that you sell.
For example, Cornitos Nacho Crisps added a QR Code that leads consumers to the complete Cornitos product range.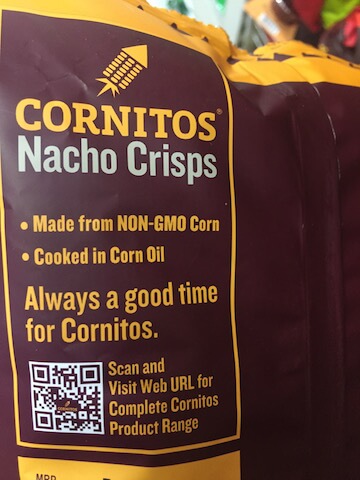 Plus, by creating a Dynamic QR Code, you can constantly update the list. That is, you can easily add a new product that you have launched to the list in the same QR Code by just updating it.
This will also save you the reprinting cost.
If you tell your customers about the social campaigns that you have undertaken, they will feel that you are concerned about the society. And hence, this will create a positive impression.
Many F&B brands, such as Nestle, Coca-Cola, etc. typically run social campaigns to build their brand image.
However, the awareness of the campaigns is either at ground zero or in the annual report that hardly anyone reads (except some shareholders and analysts, maybe).
Food brands can use unique food packaging ideas to get shoppers to learn more about their initiatives. This will help build trust and eventually customer loyalty.
Tata Tea, a popular tea brand in India, added a QR Code on its packaging to redirect users to its Jaagore Consumer Rights campaign.

5. Show short and engaging videos
You can link videos about your company's story, or a short trailer about your product, or just an engaging product advertisement.
And since visuals are anyday preferred more over texts, videos can be a great way to entertain and engage your customers.
For example—in 2016, Nestle Kitkat added QR Codes on its chocolates. These QR Codes, when scanned, redirected users to watch YouTube video while they took a break.
Hence, you now know that QR Codes can act as great tools to build your customer trust and loyalty.
The advantage of using a QR Code is that it takes limited space and is very cost-effective. A QR Code campaign can be managed and tracked using an online QR Code Management tool.
Languiru—Brazil's second largest dairy producer uses product QR Codes to improve product traceability.
Also read: Ernesto Rosales added QR Codes on coffeemaker
6. Show your product's journey
You can also make your product interactive with QR Codes. One way is to show your product's journey from farms to industries, and finally to shops.
Old College Brewery, a famous beer company uses QR Codes on its packaging precisely for this purpose.
A QR Code is placed on every can. Upon scanning, customers can learn about the path the beer took from the field to the glass.
This is not only engaging but also keeps the customer fully enlightened about the product they are buying.
"Our customers will be able to scan the QR code found on the label of every can revealing everything about the beer, from its ingredients to the brewing methods."
—Brewery general manager David Claveau
The next question then comes, how to create a Food and Beverage packaging QR Codes.
C. How to create a Food and Beverage Packaging QR Code
In order to create a Food and Beverage QR Code, you will need an online Product QR Code Generator such as Scanova.
Using Scanova for demo purpose, here is a step-by-step guide to create a Food and Beverage QR Code:
1. Go to Scanova and sign up for a 14-day free trial
2. Now select the category of Product QR Code on the landing page

Add product details. Here you can define the following things:
Design layout for your product page (description, button, and social sharing button)

Banner image

Title, text, images for your product

Website link

Button text, color, and button text color

4. Once you've added all the details, you can see how the landing page will look like. To do this, click on View landing page preview.

5. If everything looks fine, proceed to Create QR Code
6. Next, a window will open prompting you to name the QR Code. Once you specify the name click on Save

7. Next you'll see three QR Code design options—Standard, Custom with logo, and Custom with background.

If you want to start from scratch, then go for Standard QR Codes. But if your purpose is promotional or marketing, then you should go for the other two options of customization.
Also, adding design to the QR Code make it more engaging. And attract 50-70% more scans.
8. Once your QR Code is ready (say after you design it), click on Update and Download your QR Code
9. A window will pop up. Here specify the QR Code size and image format (SVG, EPS, etc). Once specified, click on Export

This way, your Food and Beverage packaging QR Codes will be created. You can then print it on your product packaging in whichever place it looks suitable.
D. Best Practices of QR Code on Product Packaging
Here are some ways to fully optimize your QR Codes on product packaging:
Add design to your QR Code

: Customized QR Codes look visually appealing and act as a great point-of-engagement. And, as mentioned above, it attracts more scans as compared to standard QR Code.

Add a help note

: Once you create and print the QR Code on your product, add a 'call for action' element. For example, you can write a help note like 'Scan to watch video' or 'Scan here to know more about this product' etc to guide your customers

Use Dynamic QR Codes

: Since the content in them can be edited, you can update your QR Code anytime. Plus, you can track the scanning activity by getting analytics of each scan, (who, where, how, device used, etc)
So, marketers – get started now and start engaging your customers to differentiate yourself in the crowded supermarkets.
Use smartphone technology to the fullest in order to achieve your customer's trust and loyalty. Print food and beverage packaging QR Codes now before all the packaging decisions are made.