Say you have a chauffeur-driven car. Wouldn't you like to keep an eye on the car? And ensure that the driver doesn't misuse your car?
To help you do this, Kent RO systems has launched Kent CamEye. It is an easy do-it-yourself (DIY) installation.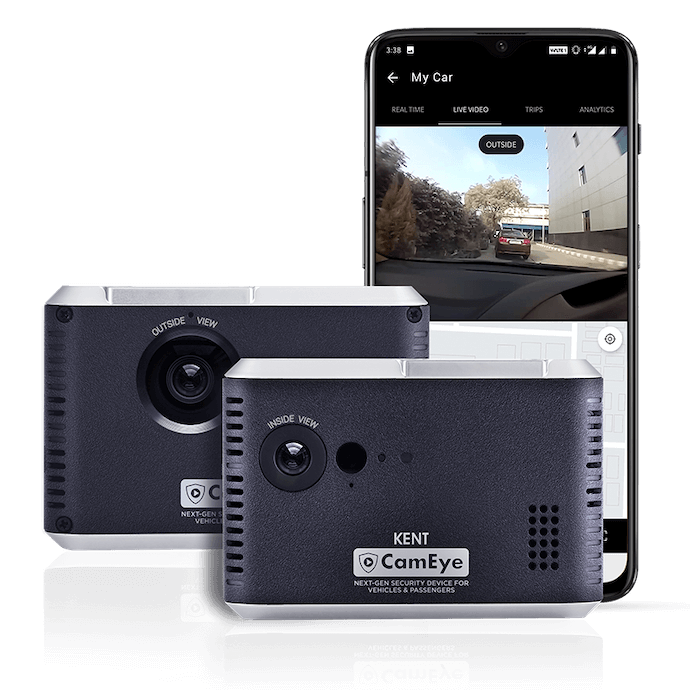 Kent CamEye aims to monitor activities such as over-speeding, rash driving, and passenger safety.
What does Kent CamEye do
The device helps the owner keep a tab on the driver to prevent misuse of their vehicles.
Kent CamEye is a plug-n-play device with dual camera set-up. It has the following features:
1. Dual camera set-up with intelligent video technology that offers live streaming for both audio and video of the vehicle
2. Face recognition
3. Cloud storage
4. GPS tracking
5. Artificial intelligence-based smart alerts (for cabin noise and temperature)
The device has a battery backup of 24 hours.
Even if the device loses mobile connectivity, it has significant internal memory to allow data capture and storage. As soon as the connectivity restores, it automatically syncs the data on the cloud.
How does Kent CamEye work
Before installing the DIY device in your car you need to install an app on your smartphone. And scan a QR Code to sync the device with your phone. Here's how:
1. Download the KENT CamEye app from Playstore or App Store
2. Open the app and scan the QR Code present on the device
3. Mount the device in your vehicle
4. Power up the device
See: How to scan a QR Code.
Wondering how to power up the installation?
It will take power from the 12V car socket without interfering with original electric wiring or IBD port.
So it derives power simply from the USD or cigarette lighter socket without being hard-wired to vehicle's battery.
Also read—How QR Codes are used in security
That's it. Kent CamEye is an initiative to address concerns such as safety of children/ family members inside the car. You'll get a notification every time they reach or exit a location like school.
[cta-subscribe]