Say you're planning on running a QR Code campaign to promote one of your products. And you want to use print media to do it.
To make your print media promotions actionable, you want to use QR Codes.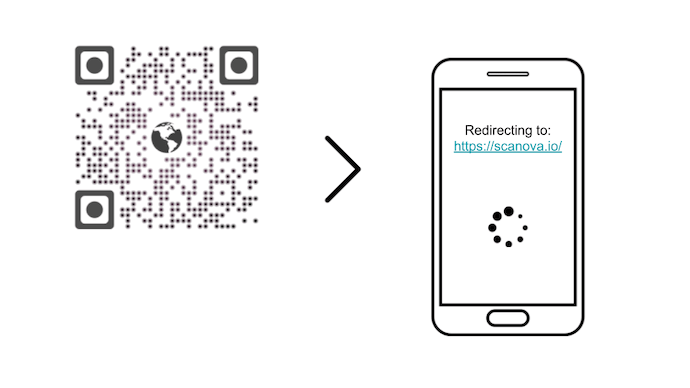 They'll make it easier for your audience to respond. And also help you track your conversions (if the QR Codes are dynamic in nature).
And here's the thing—you want as many people as possible to see your promotions.
That means you intend to expose your promotional material to a wide range of audience. It might include people attending one of your events such as a seminar. Or the ones simply passing by the ad.
And to do it, you're planning on putting banners and hoardings.
But you're thinking—will QR Codes work on large surfaces? Will they be scannable?
The answer is—yes. A QR Code scans well on large surfaces such as banners, billboards, and hoardings. You just need to make sure the QR Code image is in high-resolution.
In fact, when you go to your designer to get the banner or hoarding designed, he'll ask you for a high-resolution scalable QR Code image.
This is because he'll have to zoom-in the image for your print media promotion. And a high-resolution image will not get pixelated here.
Now, this is exactly what you need to ensure that the QR Code remains scannable. After all, you don't want to be stuck with a poster that doesn't work, right?
Now to get the QR Code image in high-resolution, you must first know what are the common image formats.
A. Common image formats
There are two major categories of image formats:
1. Raster formats
You've already seen images in raster formats. How? When you download an image on your computer or smartphone, it usually has an extension such as '.png' or '.jpg' or '.jpeg'.
These are raster image formats. And are also resolution-dependent. That means you cannot increase their size without the loss of image quality. Even if you try to do that, the image starts pixelating.
Hence, you cannot use raster images for large surfaces. In fact, it is recommended that you use raster formats for screen-resolutions. And vector image formats for print resolutions.
2. Vector formats
Vector formats are not resolution-dependent. No matter how much you zoom-in, an image in vector format doesn't get pixelated at all.
Some of the common vector formats include—EPS, PDF, SVG, and PS. And as discussed, it is recommended that you use images in vector formats on print media.
For example—a company logo to be used in various sizes on business cards, flyers, brochures, and banners should be exported in a vector format.
The image below shows a comparison between the same image exported in raster and vector formats.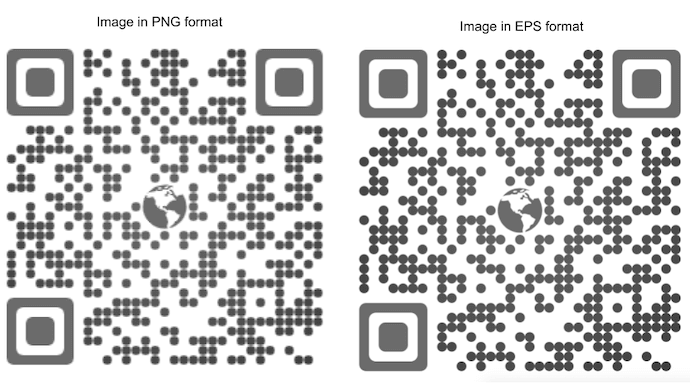 As you zoom in, the image in raster format gets pixelated. On the other hand, the image in vector format doesn't lose its quality and maintains its high-resolution.
You now know why a QR Code image in vector format will make sense for your use case. So what you need is—a QR Code generator that allows you to create QR Codes in a suitable vector format.
B. QR Code image in EPS format
The Encapsulated PostScript (EPS) format is a vector format specially designed for printing purposes.
It helps you resize the image to any size you want. No matter how big or small. It will still retain its quality.
And to generate a QR Code image in EPS format, you need a QR Code generator that offers this format.
But the question is—how to choose a suitable QR Code generator for your use case?
If you go to Google and search 'QR Code generator with EPS format', you'll see pages of results.
How do you then decide which one will work best for you? Probably by comparing them.
But comparing even the top QR Code generators individually will take a lot of time. You'll have to explore each one of them separately.
Don't worry. To make it easier for you, we've compiled a detailed comparison chart of the best QR Code generator. You can go through it to decide which one you'd like to go ahead with.
C. Popular use cases of QR Codes in EPS format
Before proceeding ahead, let's see where you can use QR Codes in EPS format:
1. Print media
Say you own or run a business. It could be anything such as a brick-and-mortar shop or an online store. And you want to boost your business.
To do it, you're probably planning on using print media marketing. It could be via billboards, flyers, or brochures. And it makes sense.
That's because print media has a longer attention span than digital media. However, print media is neither actionable nor trackable. Well, not anymore.
You can make it both trackable and actionable with QR Codes. 
And to ensure that QR Codes scan well on print media, you need to download their images in high-resolution formats such as EPS. This format is crucial for their scannability. It ensures that they scan well no matter how much you resize them.
2. Product Packaging
If you are a business owner or a manager, you know how important it is to share product details with customers. And this is true for every industry.
Moreover, ensuring product transparency is one of the best ways to gain customer trust. And QR Codes allow you to do exactly that.
They assist you in providing the entire product information via a compact space. Hence, you don't need to worry about the limited printing space on your product packaging.
All you need to do is—create a Product QR Code and add the required details to it. This can be anything such as images, text, website link, video, and even social media sharing buttons.
After generating, add it to product packaging. And while you're doing so, ensure that you download the QR Code image in EPS format. it's crucial for the QR Code's scannability.
3. Business card
If you are a working professional, you'd network a lot. Doing so not only helps you with business opportunities but also widens your knowledge.
And after you meet these people, you give them your business card. You do it hoping that they'll save your contact and connect with you soon.
But here's the deal with traditional business cards—recipients need to manually type all of your details on the phone to save you as a contact.
Now that's a hectic process and it needs people to put a lot of effort into it. Hence, no wonder, most business cards find themselves within the dumpster.
But don't worry. QR Codes have got it covered. How?
You can add all of your contact information in a VCard QR Code and print it on your business cards. When scanned, the recipients will see the following details with a Save As Contact button:
Name
Profile picture
Contact number
Designation
Company
Address
Map location of the address
Website
Description
Social media handles
And the best part is that they just has to click a single button to save your contact details. No hassle of manually typing anything.
4. Detailed news reports and articles
Today, many newspapers and magazines leverage QR Codes to relay detailed information that couldn't be added to print.
They just add a Website URL QR Code to the article to take the readers to the extra information on a webpage. You can also use a Document QR Code alongside the article. On scanning, it shows the encoded documents to the end users.
Since you'll be using QR Codes in newspapers or magazines, make sure you download them in vector format.
In this article, we will tell you how to create QR Codes online in EPS format.
D. How to create a QR Code in EPS format
Using Scanova QR Code generator for a demo, here is a step-by-step guide on how you can create a QR Code in EPS format:
1. Go to Scanova and sign-up for a 14-day free trial
2. From QR Code categories, select the one that you want. For a demo, say you want to create a Website URL QR Code. When scanned, it will take the end-users to visit the encoded website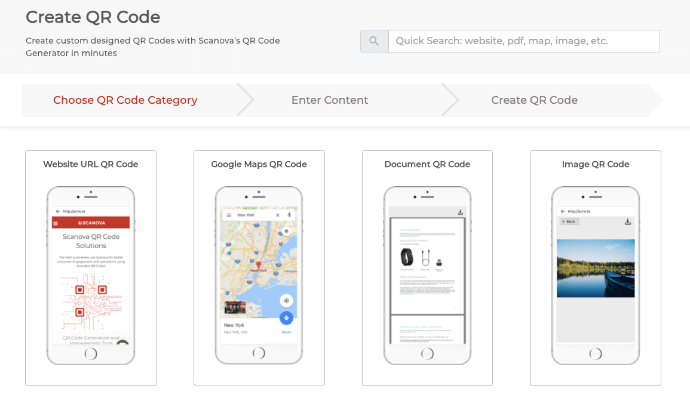 3. Enter the content to be encoded in the QR Code (website link here)
4. Next, click Continue
5. On the page that loads, you will be prompted to name and save the QR Code. In the same pop-up, you'll also see the options—Static and Dynamic
Note that a static QR Code is permanent and non-trackable. That means once you create it, you cannot edit the encoded content. To do it, you will have to create a new QR Code. And a static QR Code also doesn't allow you to track its scanning activity.
On the other hand, a dynamic QR Code is both editable and trackable. That means you can edit its content anytime you want yet your QR Code will remain the same. Hence, no need to reprint it.
In fact, a dynamic QR Code also allows you to monitor its scanning activity.
So, if you're a serious marketer, you must create dynamic QR Codes to monitor how well your campaign is performing.
6. Once you select the appropriate option and enter a name, click Create QR Code
7. Next, you will see the preview of QR Codes with the Edit Design option. If clicked, two QR Code designs will appear on your screen—Custom Logo Design and Custom Background Design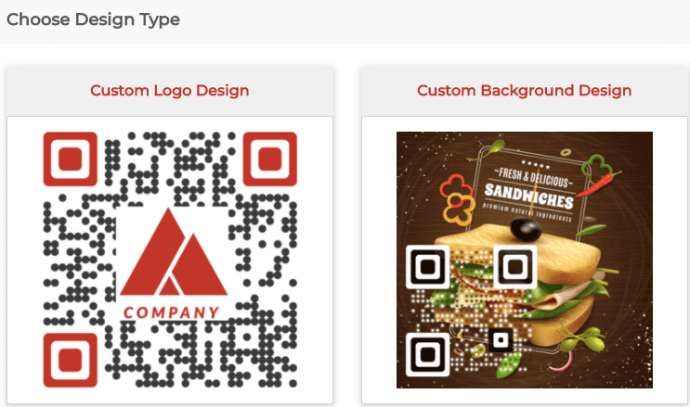 Since you want the QR Code image in EPS format, you must go with either of the first two options. Because custom with background design doesn't allow you to export the final image in vector format.
Also, if your use case is promotional, you must add design to your QR Code. Why?
Because black-and-white QR Codes are dull to look at. But customized QR Codes act as a point-of-engagement. Also, it is a fact that customized QR Codes attract more scans than black-and-white ones.
8. Once your QR Code is ready, say after you design it, click Update and proceed to Download it
9. A window will appear asking you to specify QR Code image size and format. Under vector image formats, select EPS and proceed to Export the image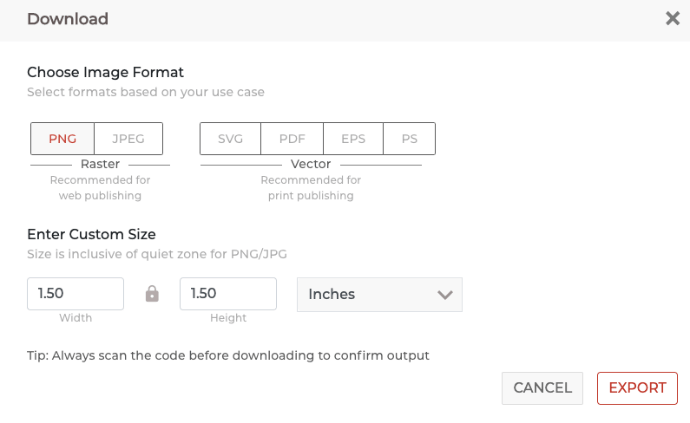 That's it. Your QR Code has now been downloaded in EPS format.
Note that you must always test the scannability before getting the QR Code printed. So pull out your smartphone to scan the QR Code and check if it works fine.
D. How to edit the QR Code content
Say you created a Website URL QR Code that takes the audience to your company's website. But a year later, you want to take them to a webpage with one of your specific products.
However, you don't want to get the banner designed or printed again. So what can you do here? Edit the data (link) encoded in the QR Code without creating a new one, right?
You can do it if your QR Code is dynamic in nature. That means if you selected the Dynamic option while creating the QR Code.
Here is how Scanova allows you to edit your QR Code's content:
a. Go to Scanova and login to your account
b. From the dashboard, click My QR Codes and select the QR code you want to edit


c. Make whatever changes you want to
d. Next, click Update QR Code
That's it. Your QR Code will be updated. And you will not have to reprint it at all.
Besides using a high-resolution image, there are also a couple of best practices that you should follow while using a QR Code.
For example—
A. You must always add an instruction (a call-to-action statement) with your QR Code. It can be anything such as—Scan here to visit our website or Scan here to get discount coupons

This way, you'll not only give your audience a reason to scan the QR Code but also tell them what to expect after scanning it.
B. The landing page must be mobile-optimized. Because users will use their phones to scan the QR Code. Hence, if the landing page is not mobile-friendly, it will not keep them engaged for long
Such factors ensure good user experience. And that's exactly what you need for a successful campaign.
You now know everything about image formats—both raster and vector. And how to find the best QR Code generator to create QR Codes in EPS format.
Next step? Get started by creating a QR Code :
[cta1 caption="Create a QR Code for your campaign" content="Create a visually-appealing and scalable QR Code for your print media promotions" buttontext="Create QR Code now" destination="https://scanova.io/design-qr-code-generator.html?utm_source=yt_pr_qr-code-generator-eps_cta&utm_medium=blog&utm_campaign=content#/chooseqr/" image="https://scanova.io/blog/wp-content/uploads/2016/12/qrcode-63.png"]
Still have any queries? Ask them in the comments.