You're a product company and want to engage customers via your product packaging.
The packaging is the first thing that people see while looking at a product.
That means it is the first point of interaction between your brand and its prospective buyers.
So you'd want to make your packaging attractive. While doing so, you'd also need to ensure a quality product for a competitive market.
That's because there are always multiple brands offering similar products in the market. This usually means similar features with attractive packaging at comparable prices.
And you'd certainly want to stand out from the crowd. To do it, you'll have to go a step ahead. How?
Well, the best way to do this is—by gaining customer trust.
When you gain their trust, you build customer loyalty. And that's exactly what sustains a brand in the long run.
But the question is:
A. How to build customer loyalty
Say you go to a supermarket to buy fruit juice. And you see the shelf having similar fruit juices. They are from five different brands at almost similar prices.
What will you then do? Probably look at the product description?
That's exactly what customers do. They look for product details before making a purchase.
Neilsen, a data analytics company, says consumers look for transparency. They want to know as much as possible about the product. And that's how they decide whether to make a purchase or not.
So what you need to do is—be transparent about your product. Provide in-depth details to your consumers to build their trust.
United States Postal Service (USPS), Shopify, and Cath Kidston are already doing it.
In fact, product transparency is a legal requirement in various industries and in different geographies. It is true in cases such as GMO-based Products.
Say you now want to provide product details. The next big question here is—
B. How to provide product details
You can provide detailed product descriptions in two different ways:
1. By printing all the details on the packaging
You've seen product details printed on its packaging. That's one way you can provide details for your product too.
But you might want to provide more than just ingredients or functional benefits. You might also want to add a method of manufacture, an explainer video, or even images.
And there's a problem. Product packaging has limited printing space. They keep you from printing all the details even if you want to.
What should you do then? Simply find an alternative way to give in-depth product details. And make sure it consumes minimum printing space.
2. By taking customers to a landing page via a QR Code
You can create a landing page with all the product details. And then redirect your customers to this page.
And you don't really need a developer to create a landing page. All that you need is—a QR Code generator.
You've seen 2D barcodes, also called QR Codes, on flyers and brochures for marketing. That's not the only purpose of QR Codes. They're used for many other use cases too.
And this is yet another way of using QR Codes. And we call it—a Product QR Code.
It does not only help you provide all the details about your product. But also saves printing space and cost.
C. What is a Product QR Code
A Product QR Code, when scanned, takes the end-users to a landing page with in-depth product details. And besides text-based details, it even allows you to share multimedia content. It could be product images and videos.
Here's the information you can share via a Product QR Code:
1. Page title and text
It allows you to add all the product-related details to the QR Code. It could be product description, ingredients, energy-related details, manufacturing details, and other important information.
2. Banner Images
You can add up to 3 banner images to a Product QR Code. This does not mean you can't add more images to it. You can add more of then=m in description boxes wherever you need.
3. Button link to your website (or link to a video or an image gallery)
Want people to visit your website or redirect them to a video on YouTube? You can add as many button links as you want. It also allows you to customize the button text, customize its color, add border color, and choose a font as per your liking.
If you want your customers to act as your brand ambassadors, then this option would be helpful. Using it, customers can share your landing page on their social media accounts. This way, you will be able to spread the product details across not only your customers but their contacts too!
5. Document files
Do you need to share documents with your audience? It could be a user manual, an e-book, a report, etc.
You can add any such file to a Product QR Code. The end-users will be able to see all these files on the landing page after scanning the QR Code.
6. Map location of the business
If you want people to visit your business premises, then this feature is just for you. It helps you add your business's exact location on Maps.
When the QR Code is scanned, it shows this location on the landing page. As end-users click on it, it pops open the encoded location coordinates on their phone's maps application.
They can drive conveniently to your store. No need for them to ask anyone for directions.
7. A customized form for your audience to fill
Many businesses use digital forms for their customers to fill. This could be for use cases such as:
Getting customer feedback
Running a market survey
Getting registrations for an event
If you want to create a form too, the Product QR Code can help you with it. On scanning the QR Code, the end-users will be able to see the landing page with all the product-related details and this form.
They will be able to fill it out and hit the submit button on the same page. No need for them to navigate anywhere else.
D. What can I do with a Product QR Code
Here's what you can do with a Product QR Code:
1. Provide detailed product information to buyers
Neilson says that 67% of consumers want to know everything about what goes into the products they buy. And this is especially true for food products.
Here they tend to have questions such as:
a. Is the product high in sugar?
b. Is it gluten-free?
c. Does it contain nuts?
With a Product QR Code, you can easily address all their queries.
This is how Nestle, Carrefour, and IBM partnered to ensure product transparency for retailers and customers.
2. Tell them how to use the product
Say a customer buys your product but doesn't know how to use it. He uses it incorrectly and gets bad results. So, he ends up never buying it again.
But if you tell them how to use it, things will become better for them. And they might even like it.
A QR Code on the product can help you do just that. How?
You can encode both text-based as well as visual directions on how to use the product. For example—a cooking recipe for noodles. Or an installation guide for a gadget.
For your convenience, you can also add a video guide to your QR Codes.
3. Show your entire product range
Say your customers like one of your products and are loyal to you. But they are unaware of other products you sell.
Here a QR Code can help you get them to check out your entire product range. Once they know what all commodities you sell, they might end up purchasing them too.
4. Spread awareness about your campaigns
Enterprises such as Nestle and PepsiCo run social campaigns. The aim is to build their brand image.
If you're doing it too, you can use your packaging to spread awareness about your campaigns.
In short, you can virtually connect with your customers easily by providing social media handles via the Product QR Code.
5. Digital landing page
If you don't have a website for your business but want to relay all the product details digitally, Product QR Codes help do it.
They act as a customized mobile landing page with all the details about your product. That's right. No need to hire any software developer to do the job.
6. Give them exciting deals
You can even use the QR Code to offer great deals and discounts to your customers.
Popular e-commerce giant—Amazon—is doing it already. It uses its own customized QR Codes on the delivery packaging.
These QR Codes are called SmileCodes. And they are scannable only with the Amazon app. When scanned, SmileCodes offer great deals available to the user.
This is yet another way you can use a Product QR Code. It even helps you make your packaging design unique.
Now that you know what a Product QR Code does, make sure you add a relevant call-to-action statement with it. For example—Scan the QR Code to know more about this product. Or Scan here to check out our entire product range.
A small nudge like this will guide the users to take action.
D. Types of packagings Product QR Codes can help you with
1. Primary Packaging
Primary packaging is the one that makes direct physical contact with your product. It is there to serve mainly two functions:
The first is to provide adequate protection for the product. It can be against factors such as moisture or impact
The second purpose is to inform the customers about the product's details, uses, and features, etc.
And Product QR Codes can help you easily offer this information. And customers can scan them to check all the details on their phones.
2. Secondary Packaging
Secondary packaging is sort of protective packaging. It is commonly used for bundling and marketing purposes. And the very first packaging customers see when shopping in-store. For example, the box that contains your medicines, shampoo, or makeup.
It often gives your customers an extra nudge to buy your product.
With this packaging, you can also offer information such as product specifications, how-to guides, and more. Here, Product QR Codes can help you do it in a much simpler way. Just add them with the required information. And customers can view them on their phones.
E. Brands using QR Code on their packaging
In case you're thinking whether adding a QR Code to product packaging is a good idea or not, let us clear things up.
Many established brands are doing it already. What for? Well, many use cases. You can check out some of them here:
1. Quaker Oats
PepsiCo is a well-known brand that needs no introduction. In Feb 2022, they came up with a new packaging for one of their products—Quaker Oats.
They did so to improve the overall visual appeal of the packaging and put a strong emphasis on health benefits.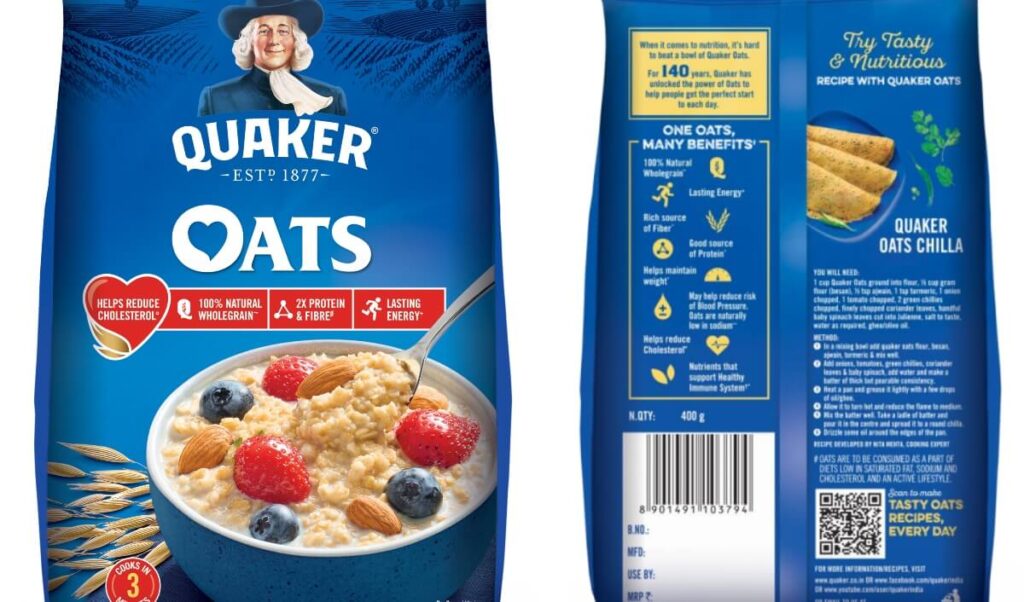 In addition, they also added a QR Code to the new packaging. This QR Code was accompanied by a CTA—Tasty Oats Recipe Everyday.
Quite obviously, scanning the QR Code took customers to see new recipes they could try their hands on. This is an amazing way to let customers know how to use your product. Ans if they like the results, their likelihood of a repeat purchase with your brand increases.
2. Nachos by Cornitos
Almost every brand has different product ranges. And what would be better than showing the same to your customers each time they're making a purchase?
That's how they'll know what other products you offer that they may want to buy.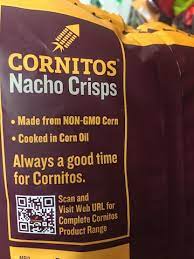 To do the same, Cornitos added a QR Code to its Nacho packs. Scanning it took the customers to the website where they could see Cornitos' entire product range.
3. Real fruit juice
Real Fruit Power is one of the leading fruit juice brands in India by Dabur.
Keeping in mind the corners customers may have about juice quality and quality standards, the brand took an innovative step.
They added QR Code to their juice carton. This QR Code had a CTA Scan to know the best-in-class quality standards for Real.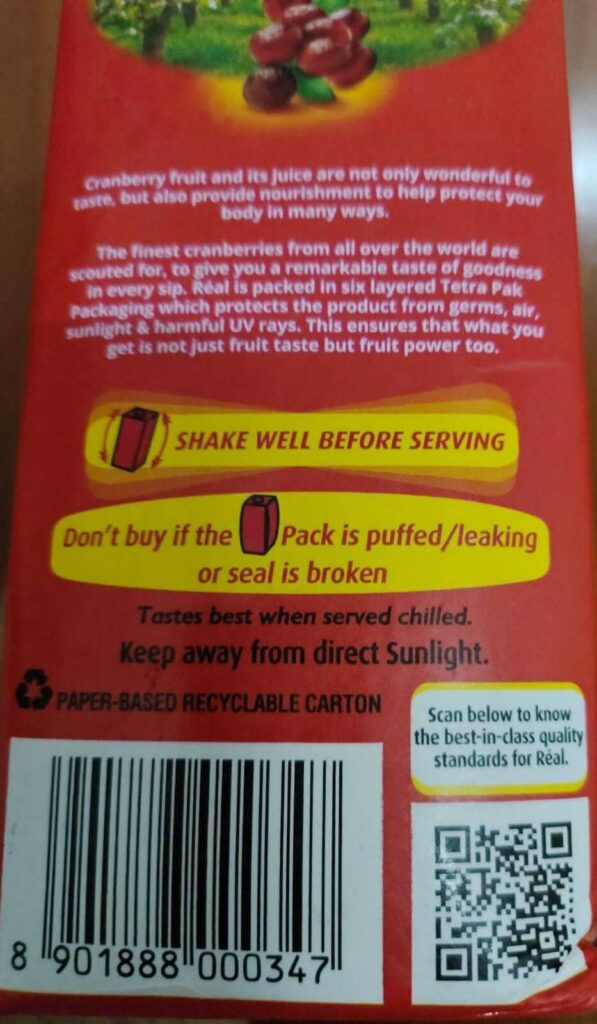 This is indeed an amazing way to offer product transparency and build customer trust in your brand.
4. Surf Excel
Social media marketing is an integral part of the marketing mix for most consumer brands out there.
And building targeted followership is paramount to social media promotions.
To build such targeted followership, Surf Excel added a QR Code to its detergent packaging.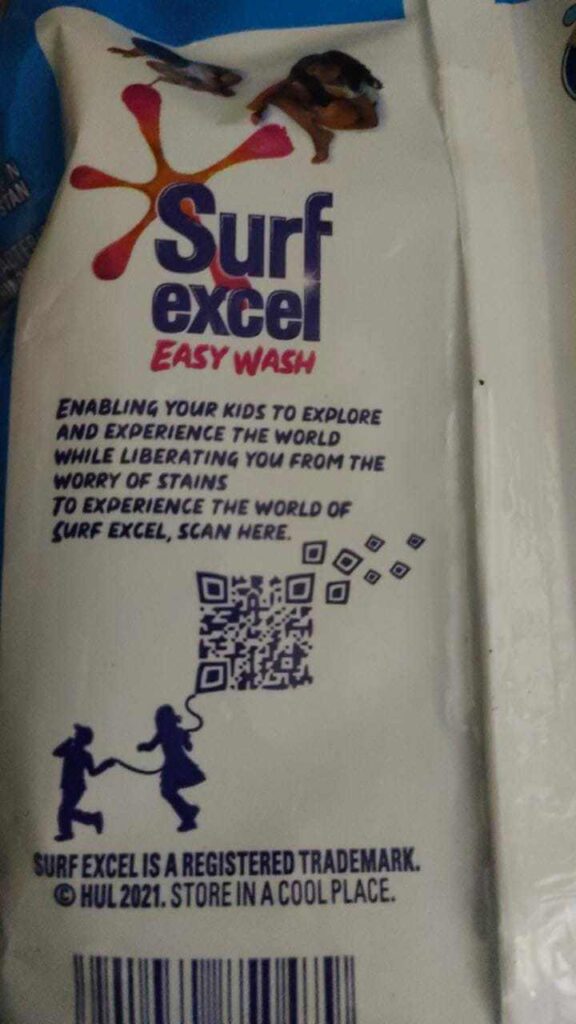 Scanning it took the customers to the brand's handle on Instagram. Here, they could see the latest content posted by Surf Excel and follow it online.
After all, what better than getting your existing customers to follow you?
Now that we've covered the basics, let's move to the next step:
F. How to create a Product QR Code?
You need to find a QR Code generator that allows you to make a Product QR Code online.
Using Scanova QR Code generator for a demo, here is how you can create one:
1. Go to Scanova
2. From QR Code categories, select Product QR Code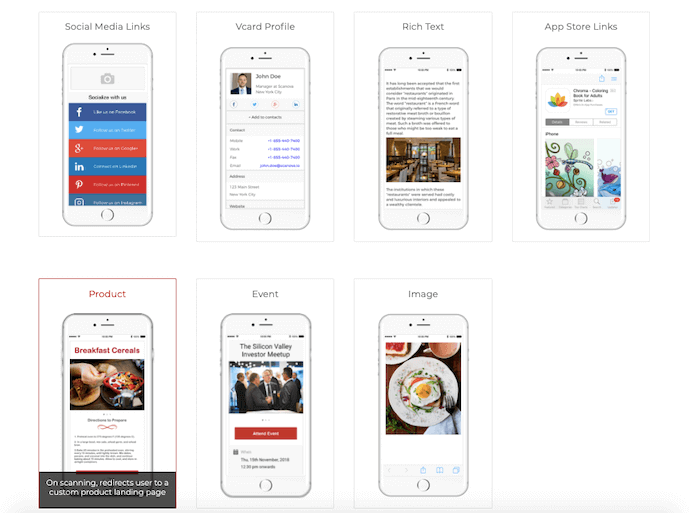 3. Here you can start customizing the landing page by adding banner images (up to three)
4. Next, you can use the Description box to add product details. You can format the text as you want, insert tables, and even images
Note that you can also add additional Description boxes. Simply click the Description box from the page layout elements on the top.
5. Once you've added the text, go to the Button option. Here you can add a link to your website, a video, or even an image gallery. And accordingly, customize the button text and color
6. In case you want customers to share your product information on social media, you can help them do it. Click Social Sharing Buttons from page layout elements
7. Once you're done, you can preview the Landing Page on the right. If everything looks fine, click Continue
8. Now, name the QR Code and click Create QR Code
9. On the page that loads you'll see the image of the QR Code. Below it, you'll see the Edit Design button. If clicked, you'll see two design options to choose from—Custom Logo Design and Custom Background Design
The custom logo design allows you to add a logo and colors to the QR Code. On the other hand, the custom background design allows you to add an image as QR Code's background.
10. Once your QR Code is ready, say after you customize it, click Done Editing and proceed to Download it
11. A pop-up will appear prompting you to specify QR Code image size and format. Once you specify the details, click Export
That's it. Your Product QR Code has now been created.
F. How to edit Product QR Code
Say you've created the QR Code for one of your products and added a button to your website.
A year later, you want the button to show an explainer video. You'll not have to create a new QR Code altogether.
You can rather edit the data encoded in the existing QR Code. How? Because a Product QR Code is dynamic in nature.
And a dynamic QR Code allows you to edit the encoded data anytime you want. Yet the QR Code remains the same. No need to mass print it again.
It even allows you to monitor its scanning activity. For example—how many people have scanned your QR Code, when and where did they do it, etc.
Here's how you can edit your Product QR Code:
1. Go to Scanova and login to your account
2. From the dashboard, go to My QR Codes
3. Go to the QR Code you wish to make changes to and click on the View/Edit icon against it
4. On the page that loads, head on to the content section and make the required changes
5. Once you're done, click Apply
That's it. Your Product QR Code will be updated.
G. Best Practices
Here are some of the best practices that you must know regarding Product QR Codes:
1. Add an appropriate CTA
CTA translates to a 'Call-to-action' statement. It is a small instruction that tells the users what they need to do. And this kind of small text nudges them to take the required action.
It could be anything such as 'Scan here to know more details about the product'.
2. Add a design to the QR Code
If you are planning to use QR Codes for promotions, you should consider adding design to them. That's because they are visually more appealing and can help attract the audience's attention.
As matter of fact, custom QR Codes attract 50%-200% more scans than the generic black-and-white ones.
3. Test scan the QR Code
It is always advisable to test scan the QR Code before putting them out for your target audience.
4. Choose an optimal printing format
To use the QR Code on print media creatives, it's recommended to download it in high-resolution vector formats such as SVG, EPS, and PDF. These formats ensure that the Product QR Code doesn't get pixelated no matter you zoom in or zoom out.
That's it. That is all you need to know about the Product QR Code. You can create your own Product QR Code to provide complete product information and ensure a hassle-free user experience.
That's all you need to know about the Product QR Code. It does not only help you provide in-depth product details but also build customer loyalty.