You're probably working in the healthcare sector. It could be a hospital, diagnostic laboratory, rehab, or any other healthcare facility.
And you know how important it is to ensure smooth business operations. From offering vaccines and medicines to storing patient information and medical details, you need to take care of everything.
Amongst these, there is one thing you need to give extra attention to—Health checks. Health checks have become more vital than ever. Thanks to the COVID-19 pandemic.
These checks help keep people updated on their contact with a COVID patient. They're also being used by many businesses to grant visitors entry to the premises.
To help ensure smooth health checks, the healthcare industry all over the world is using QR Code technology. QR Codes are 2D barcodes that can be easily be scanned via a smartphone.
In this article, we will show you how QR Codes can make health checks more safe, secure, and contactless.
A. QR Code-based health check cards
QR Code-based health checks are a digital means to check the health-related details of an individual. They can help you fetch one's details such as name, contact number, address, age, and contact tracing history.
Medical couriers can also use QR Codes to verify the authenticity of medical samples and medications.
And the best part is that the authorized personnel only need their smartphone to see all the encoded details.
To help you understand better, here are some reasons why QR Code-based health check cards are better:
First, these cards can't really be duplicated. That's because it's not possible for anyone to forge with encoded content in the QR Code
Second, QR Codes come with damage resistance by up to 30%. Thus, even if the QR Code is subject to an environment of wear-and-tear, it will still be scannable
Third, you can personalize the design of your QR Code. That means you can add your healthcare organization's colors, logo, or background image to the QR Code
Finally, QR Codes only need a smartphone for scanning. Thus, there is no need for any expensive setup to do the job
QR Codes can be used in two major ways for health checks.
First, they can be used to store an individual's health-related details. As authorized personnel scan it, they'll be able to see the encoded details.
Second, they can be used to collect an audience's details. For example, you'd have seen QR Codes at theatres, restaurants, and hotels. As you scan it, you're prompted to fill a form with details such as name, address, age, and health. This data comes in handy for contact tracing purposes in case of COVID-related outbreaks.
Next, we'll see some use cases of QR Codes in the healthcare industry that work in sync with health checks.
B. Other use cases of QR Codes in healthcare
1. Vaccines
You know what vaccines are for. They offer mankind immunity to a plethora of deadly diseases. From smallpox, polio, and tetanus to now COVID-19, they're helping us fight it all.
But vaccines are not safe too. That means there are a couple of challenges that vaccines need to face too:
1. Counterfeit and fake copies of vaccines in the market
2. Illegal (or irregulated) distribution and transportation
3. Fake and counterfeit vaccination reports
These issues not only put society at risk but also breach the law. And to help resolve these issues, QR Codes are here.
As mentioned above, QR Codes are impossible to duplicate. They can help you take care of all the issues mentioned above in no time.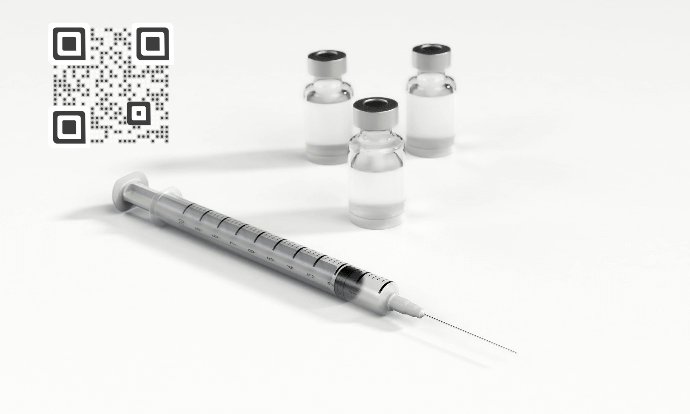 In case you want to generate QR Codes for inventory tracking purposes, here is a detailed guide.
Just like vaccines, Drug counterfeiting is a great menace too. And various industries are adopting QR Code-based technology to tackle this problem.
They create QR Codes having details about the drug and add it to the drug packaging. And customers can scan this QR Code to check the authenticity of the drug.
In addition, QR Codes are also being used on medical equipment. They help the customers learn about the tool and how to use it. To do it, manufacturers add video tutorials, infographics, and even text with relevant information in the QR Code. This way, end-users can then simply scan the QR Code to see the encoded details.
Here's a quick video on how QR Codes are being used in Healthcare Industry:
C. How to create QR Codes for health checks
The next big question is—how do you create QR Codes? Depending upon your use case, you'll have to decide on the QR Code category and the method of QR Code generation.
Deciding on QR Code category: Ask yourselves—what should the end-users see on scanning the QR Code?
For example, if you want to take them to an online form, you'd need a Website URL QR Code. Or if you want to add your drug details, you can use the Product QR Code.
Once decided, you can choose the method to create the QR codes:
1. Create QR Codes one by one
If you don't need hundreds or thousands of QR Codes, this is the right choice for you. This option offers the most variety of QR Code categories to choose from.
And to create a QR Code, you simply need a QR Code generator. A simple Google search will fetch you many options to choose from. But comparing each result to find the best one is a tedious task. To make it easier for you, here is a detailed comparison of the best QR Code generator available online. You can go through it to find the best one for yourself.
Once finalized, you can create your first QR Code. And here's a step-by-step guide on how to get you started.
2. Create QR Codes in bulk
If you need QR Codes in bulk (say for inventory tracking), this is the right choice for you. A bulk QR Code generation service allows you to create thousands of QR Codes in one go.
It allows you to generate static QR Codes in bulk. These include Website URL QR Codes, Simple Text QR Codes, Serial Code QR Codes, and VCard QR Codes.
You just have to upload a data file with all the details to be encoded in the QR codes. Once done, you have to wait for the QR Codes to be generated and finally, download them in a zip folder.
For more information, here is a detailed guide on how to generate QR Codes in bulk.
3. Create QR Codes programmatically
If you have your own healthcare information system and want the QR Codes to be generated in real-time, then QR API is your way to go.
And the best part is that there is no manual intervention needed in this method.
D. Best Practices
Here are some of the best practices that you must know while working with QR Codes:
1. Add an appropriate CTA
CTA means 'Call-to-action'. In simple words, it is a small text that instructs the users about what action they need to take. It gives an extra push to the users to take the required action.
It could be anything such as 'Scan here for health checks' or 'Scan here to fill the health check form'.
2. Add a design to the QR Code
You can get creative with QR Codes while getting them to do the required job for you. How?
By adding a design to them. You can do it by adding a logo, colors, or even a background image to the QR Code. Customized QR Codes attract 50%200% more scans than their black-and-white counterparts.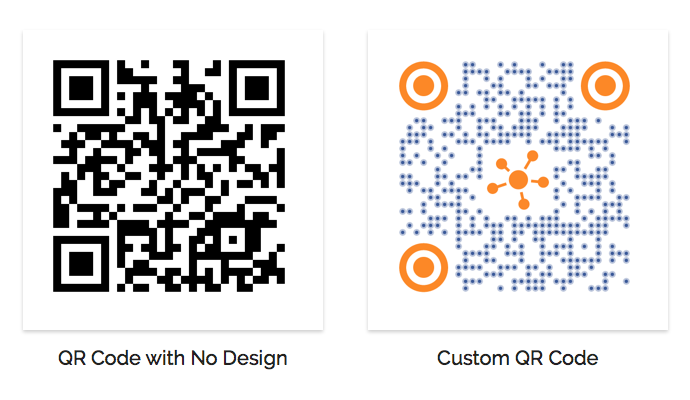 3. Test scan the QR Code
It is always advisable to test scan the QR Code before putting them out for your target audience.
4. Choose an optimal printing format
If you are planning to use QR Codes on print media creatives, it's recommended to export them in high-resolution formats—SVG, EPS, or PDF. These formats ensure that the QR Code doesn't get pixelated no matter how much resizing is done. Hence, you don't have to worry about its functionality.
That is all you need to know about QR Code for health check. You can now create your very own QR Code to ensure proper health checks, prevent counterfeiting, and build a safe society.
[cta1 caption="QR Codes for Health Checks" content="Ensure safety and good health" buttontext="Create QR Code now" destination="https://scanova.io" image="https://scanova.io/blog/wp-content/uploads/2016/12/qrcode-8.png"]