You've seen QR Codes and probably scanned one too. And you're now planning to use them for a promotional or operational use case.
So you want to make sure that your QR Code scans well. But here's the problem—you don't know what's the ideal scanning distance for the QR Code. After all, you'd want to make sure that your audience can access the QR Code to be able to scan it.
In this article, you'll learn everything about the right scanning distance for your QR Code.
A. Is the QR Code's scanning distance important?
The distance between the QR Codes and the scanner (smartphone) is important for its scannability.
And for that, making sure that the QR Code is of the right size is very important. That's because the ideal scanning distance directly depends on the size of the QR Code.
For example, a QR Code that's 2cm X 2cm in size, won't be scannable from 100 cm away. Sounds fair, right?
But you cannot rely on guesstimates all the time. So the question is—is there a way to be certain about how big your QR Code should be to be scannable from the desired distance?
Well, there is an easy way to know that. We'll discuss it in the next section.
B. Determining the readable QR Code size for varied distances
As discussed already, QR Codes' scanning distance and size are directly dependent on each other. Hence, the size of the QR Code placed on a poster to be scanned from a larger distance will be different from that on a product packaging to be scanned from a few centimeters away.
Hence, before creating a QR Code, ask yourself:
Where you will put the QR Code?
What will be the approximate scanning distance (or how far the audience is likely to scan it from)?
Depending on how far the users be, you can calculate the right size of the QR Code via a basic rule.
Hence, the ratio of scanning distance to the QR Code's size should be close to 10:1.
That means if a QR Code is to be scanned from 100 cm away, it must be at least 10 cm wide.
Let's now see a comparison of short vs. long scanning distance.
1. Short distance
QR Codes can be easily scanned from a short distance. But note that for most devices to read the QR Code, its size should be at least 1 inch X 1 inch (2.5 cm X 2.5 cm).
Here are some examples where the scanning would be short (typically a few centimeters):
Display signs or table tents for mobile payments
Print magazines and newspapers
Mail, invoices, receipts, and paperwork
Printed business cards
Digital menus in restaurants
Product packaging
Ticketing systems and print tickets
To be sure about the right size of the QR Code even in these cases, you must refer to the mathematical formula.
2. Long-distance
Here are some of the examples where the scanning distance of the QR Code can be large:
Posters inside your business premises
Displays screens at the restaurants and hotels
Shop windowfronts
Vehicles in transit
Billboards or large hoardings
The screen inside the cinema hall
Now that you know how to calculate the right size or scanning distance, here are some tips to follow:
C. Ensure the best scannability for the QR Code
Other than taking care of the size and distance, you can follow some additional tips to increase your QR Code's scannability. After all, you'd want to make sure that it comes live within 2 seconds of your audience scanning them, right?
1. Export QR Codes as high-quality images
The image quality affects the scannability of the QR Code. All your design efforts will be wasted if the QR Code image quality is low. That's because for the scanners to work, the QR Code image should be clear.
Hence, make sure you export the QR Code image in vector formats. These include SVG, EPS, and PDF. They ensure that the image doesn't pixelate despite any resizing.
2. Ensure the right color contrast
There is one rule of thumb that you must ensure while creating QR Codes. It says that there must be enough contrast between the QR Code and its background color.
Hence, if the QR Code is dark, the background should be light-colored and vice-versa.
3. Add a design to your QR Code
Adding a design makes the QR Code look more appealing and attention-grabbing. You can design it by adding colors, a logo, or even a background image.
Customized QR Codes act as a point-of-engagement. This translates to higher scans compared to the traditional black-and-white QR Codes.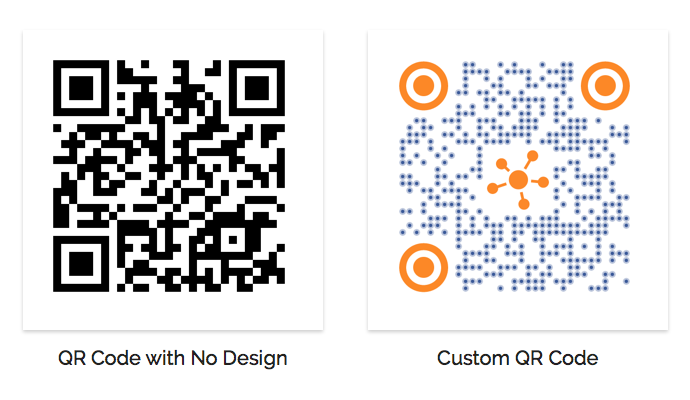 4. Test scan the QR Code
Always make sure that you test the QR Code before adding it to your creatives. It may include scanning via different distances, operating system, device, etc.
It would help you make sure the QR Code is perfectly scannable for your target audience.
That's it. That's all you need to know about the right scanning distance for a QR Code. You can now go ahead and estimate the right size and scanning distance for your QR Code.
Following the tips mentioned above will make sure the QR Code works smoothly and your campaign is a success.
In case you'd like to create a QR Code for your business, you can get started here.
Get Started With Your First QR Code Campaign
14-day free-trial | No card details needed