The petroleum industry faced many challenges during the initial days of the pandemic. First, it saw a problem of oversupply that translated to a dramatic fall in demand. A major reason was people working from home and, hence, a drop in travel.
But after the lockdown, the global petroleum market started recovering. And according to a study by McKinsey & Company, it is turning into an intense competition. In fact, trends related to technology-led supply response, investor skepticism, and increasing public and govt. pressure on the impact on climate and the environment are also being seen.
Having said that, proper capital allocation, risk management, and governance have become important. And you want to optimize your operation in a tech-savvy way.
And QR Codes are one of the best ways to do just that. These 2D barcodes can store information and are easily scannable with a smartphone. No need for you to install any dedicated set-up at the workplace.
In this article, we'll see various ways how a QR Code can make the petroleum industry better.
A. How QR Codes can be used in the petroleum industry
As mentioned above, QR Codes help you with many things. From payments to inventory management, they have got it all. And here are some detailed use cases:
1. Offer contactless payments
Contactless payments soared like never before amidst the pandemic. The global contactless payments market is projected to cross $4.68 trillion by 2027. And QR Codes are surely going to contribute a great deal to it.
While many fuel stations had started offering contactless payments before the pandemic, it has only increased now. They no longer need to pay in cash or use the cards. Thanks to QR Code payments!
They are beneficial for both you and your customers. How? You don't need to invest in a cost-expensive setup to accept card payments. All you need to do is—simply put the QR Code at the station. People can scan it to authorize the payment.
Plus this reduces the physical contact between your staff and customers. Safety for both the parties alike!
IndianOil, the gas explorer and producer of the Indian government, is also using QR Codes to accept payment for fuels.
2. Make your processes faster
To ensure fast and smooth operations, you'd need to optimize your inventory operations too.
And QR Codes can help you do it. You can create QR Codes for inventory and logistics purposes and add them to your products. As employees scan it, they'll be able to see the details such as the stock, change of command, and the product.
No need for traditional barcodes to be used that have various limitations:
a. They store limited information
b. Barcodes do not get scanned once damaged (which is quite common during inventory handling)
c. You cannot edit them with new information once you've created them
To understand it better, here's a detailed guide on QR Codes for inventory management.
3. Connect with clients easily
As a professional, you know the importance of networking. Connecting with your clients or having them connect to you helps both your network and business.
And when you meet people, you give them your visiting card. While doing that, you hope that they'll save you as a contact and connect with you soon.
But here's the problem with traditional cards—recipients have to manually type all your details on their smartphone to save you as a contact. This is a long and tedious process. Hence, most business cards end up in the dumpster.
But QR Codes can make a difference easily. How?
You can add all your contact information in a VCard QR Code and then add it to your business card. A VCard QR Code can offer a lot more information than the traditional business card alone. For example, you can add:
Name
Profile picture
Contact number
Designation
Company
Address
Map location of the address
Website
Description
Social media handles
As a recipient would scan the QR Code, she'd see all these details with a Save As Contact button. Now all she needs to do is click on the button and save the contact. No hassle at all.
4. Get visitors to your website
You'd probably have a business website. It could be to share information about your business, events, services, environmental initiatives, etc.
Then you'd want people to visit it. Here, a Website URL QR Code has got you covered. Just create one and place it on your promotional creatives. Your targeted audience can scan it to visit your website instantly. No need for them to type any URL manually.
Do you want to remain connected with your clients after business hours? Social media can help you achieve it. In fact, many industries now use social media to share their work and promote their business.
Here, a Social Media QR Code can help you gain these followers. Simply create a Social Media QR Code that links to all your social media handles and put it out on your business creatives.
As end-users scan it, they'll see buttons to all your social media handles such as Facebook, LinkedIn, and Twitter. They can then select their favorite platform to follow you online.
There may be times when you'd want to share a lot of information with the audience. For example, event details, the best practices you follow, etc.
For this, you may want to share documents to relay the required information. And guess what? You don't need to print these documents. A Document QR Code has got your back!
You can create one by adding up to 20 document files to it. As the end-users scan it, they'll be able to access all these documents on their phones.
B. Why should you use QR Codes for petroleum products
You now know how QR Codes can optimize your process. But QR Codes offer much more. QR Codes offer various benefits while revamping your petroleum industry. Here are some of them:
1. Flexibility in content
Suppose you have created a QR Code to inform interested people about your products. But after some time, due to dynamic market conditions, you had to change the information. Hence, you need to update the same in the QR Code.
This is where dynamic QR Codes can help you. They allow you to edit the encoded content anytime you want without the need to create new QR Codes again.
That's right. They allow you to make changes to the information encoded in the QR Code and simply update it. Thus, your QR Code will remain the same even after you make the edits.
2. Tracking the audience behavior
You know how important it is to know about your target audience. And QR Codes have got you covered. They allow you to track their scanning activity by date, location (city/country), device, browser, and operating system.
This means you will gain valuable insights into your audience and optimize your future campaigns accordingly.
3. Design customizability
Since you are planning to use QR Codes for attracting clients, consider adding design to them. That's because customized QR Codes are more visually appealing. Hence, they attract your audience's attention seamlessly.
Moreover, it is a fact that customized QR Codes attract 50%-200% more scans than generic black-and-white ones.
5. High-speed scannability
This is the best part about QR Codes. When you hold the camera in front of them, they come alive within seconds. This ensures a fast and better user experience.
C. How to create a QR Code for petroleum products
Now you know why it makes sense to use QR Codes in the petroleum industry. The next question is—how to create one?
1. Decide on QR Code category
Youn must pick the category depending on the content you'd like the end-users to see.
For example, if you want your attendees to know detailed information about the product, you'd need a Document QR Code. On the other hand, if you want to boost your social media followership, you'll need a Social Media QR Code.
This entirely depends on the kind of content you want your attendees to see. Once you decide on it, you'll have to choose the relevant QR Code category.
Once done, find a suitable QR Code generator for your use case. To smoothen your search, here is a detailed comparison of the best QR Code generator. You can go through this to find the best one for yourself.
2. Create a QR Code
Using the Scanova QR Code generator for demo purposes, here's how you can create QR Codes for the Petroleum Industry:
a. Go to Scanova
b. Select the relevant QR Code category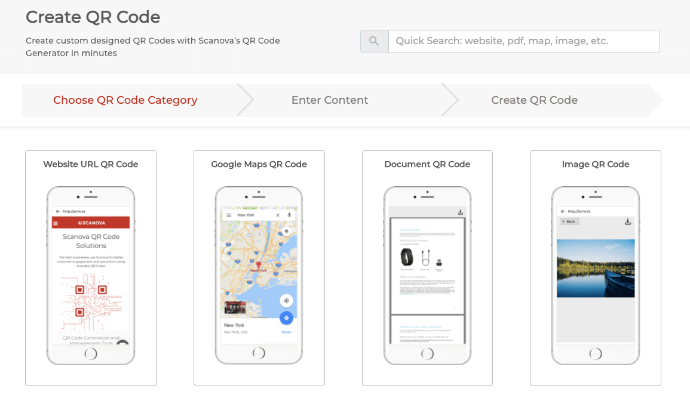 c. Add the content that you want to encode in the QR Code and click Continue
d. Now you need to name the QR Code and click on Create QR Code
e. On the page that loads, you will see the preview of the QR Code along with the Edit Design option
f. If you click on the Edit Design option, you will see two design options to choose from—Custom Logo and Custom Background. Custom logo design allows you to add a logo and color to it. On the other hand, a custom background helps you place the QR Code on an image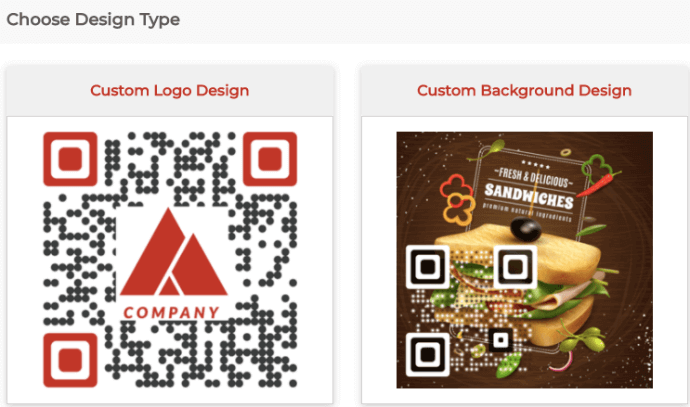 g. Once you finalize the design click Done Editing and then click on Download. A window will pop up, prompting you to sign-up for a 14-day free trial
Note that you'll not have to enter your credit card details to be able to sign-up
h. Once you sign-up, you'll be prompted to specify the dimensions and format of the QR Code image. Once you do it, click Export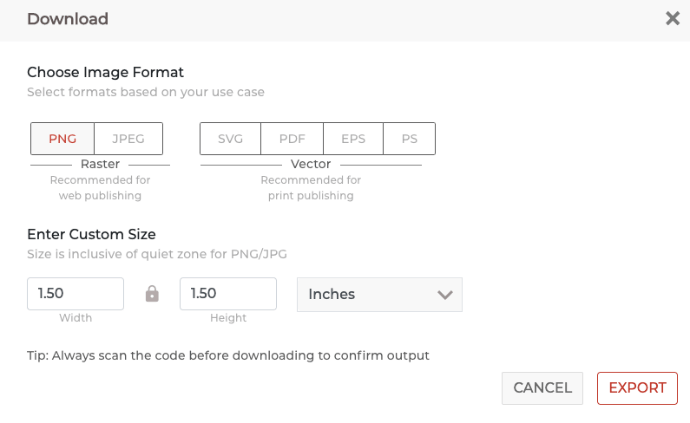 That's it. Your QR Code will be downloaded. It is always advisable to test scan the QR Code before putting it out for your target audience.
That is all you need to know about how QR Codes can be used in the petroleum industry. You can now go ahead and create your very own QR Codes.
[cta1 caption="QR Codes in the Petroleum Industry" content="Get started with your first QR Code" buttontext="Create QR Code Now" destination="https://app.scanova.io/qr/create?utm_source=dk_pr_qr-code-petroleum-industry_cta&utm_medium=blog&utm_campaign=contentt"image="https://scanova.io/blog/wp-content/uploads/2016/12/qrcode-8.png"]