You have seen a lot of messaging apps using QR Codes. These include—WeChat, Snapchat, Facebook Messenger, Viber, WhatsApp, Instagram, and even Twitter. Twitter now allows users to follow each other using a Twitter QR Code.
Brittany Forks, a designer at Twitter, announced the launch of Twitter QR Codes on Nov 16, 2016. Via a tweet.

How a Twitter QR Code works?
Just like WeChat and Snapchat, every Twitter profile will now have a unique QR Code.
You can find this QR Code in your Twitter app:
1. Open Twitter app on your iOS or Android smartphone
2. Go to profile
3. Click on the three-dot icon at the top right corner and  click on QR Code from the list that opens

4. Click on the Share icon on the top right corner to either save or share it with friends
You will also notice a 'scanning' icon just below the QR Code. Click on this if you want to scan a Twitter QR Code of someone you want to follow. Easy-peasy, right?
Why Twitter QR Code?
You might think what is the point of a Twitter QR Code? The Follow button on a profile worked well enough.
This is why—a profile QR Code makes it easy for people to reach your profile.
For example, say you are a business and you want your audience to follow you on Twitter. To do it, you'll add the link to your Twitter profile on your marketing creatives.
But here's the problem—the target audience will have to unlock their smartphone, open the browser, and finally type Twitter profile's link to access it. Once done, they can then follow you. 
However, this is a long and tedious process. And you won't even be surprised to know that many people won't put the effort required for this.
This is where a Twitter QR Code can help you. It allows your audience an easy option to follow you. With it, they won't even have to manually search or type your handle.
Even the popular messaging app Whatsapp has this feature for group chats.
Features of the Twitter QR Code
You'll notice that Twitter is using a designer-version of the Standard QR Code. This means that this QR Code is scannable with any QR Code scanner (and the Twitter app ofcourse). Note that this is not the case with Snapchat and Facebook Messenger Codes
The color of the QR Code changes every time you open the QR Code
There is a Twitter logo on the bottom-right corner of the QR Code
Your profile picture will appear in the center of the QR Code
Popular use-cases of the Twitter QR Code
1. Real Estate
Today, Twitter is also being leveraged to push new properties on sale to users. After all, it has a vast audience and good engagement rates. This can help realtors to make good relationships with their existing and future clients.
And with growing competition, you need to always remain on top by acquiring more followers. This is where a Twitter QR Code can help you. Just add it to your posters, standees, and brochures. When scanned, people can easily follow you and will never miss out on any best property deals.
2. Restaurants
It's pretty common for restaurants to use social media to introduce your delicacies. To do it, you need to make sure it reaches the maximum audience. Thus, you need to increase your social media followers. And a Twitter QR Code can help you do it. 
It can help you increase your number of followers seamlessly.
3. Business
Businesses use Twitter for announcing new products and setting trends via tweets. And Twitter QR codes can help you increase its reach. Just place it on your print media creatives and prompt your audience to follow you on this platform. 
4. Events
One of the best ways to announce any event is through Twitter. That's because its reach is quite enormous and thus, can help you increase the number of guests. Here again, Twitter QR Code can offer you a seamless way of increasing followers.
How to customize the design of your Twitter QR Code?
Yes, that's right. You can customize the design of your Twitter QR Code. All you need is your profile link and an online QR Code designer.
Here's  how you can find and decide on your QR Code generator:
1. Find the QR Code generator
You simply need a QR Code generator to get the job done. There are various QR Code generators available online. A simple Google search will fetch you many options to choose from. But going through each result to find the best one for yourself is a tedious process. 
For your convenience, here is a detailed comparison chart of the best QR Code generator available online. You can go through it to find the best one for yourself.

Before proceeding ahead, copy your profile link for example: http://twitter.com/GGarg88.
2. Customize your QR Code
Using Scanova QR Code generator, here's what you need to do:
a. Go to Scanova
b. From QR Code categories, select Website URL QR Code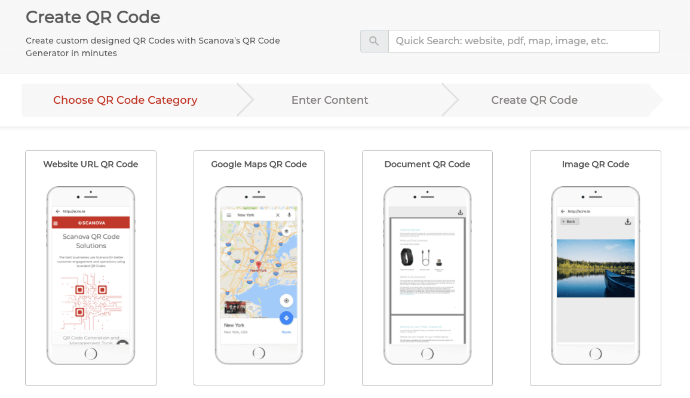 c. Paste the link address in the form field and click on Continue
d. Now, name the QR Code and click Create QR Code
e. Here, you will get the preview of the QR Code along with the Edit Design option. You can customize the design as per your needs
f. If clicked, you'll see two design options—Custom Logo Design and Custom Background Design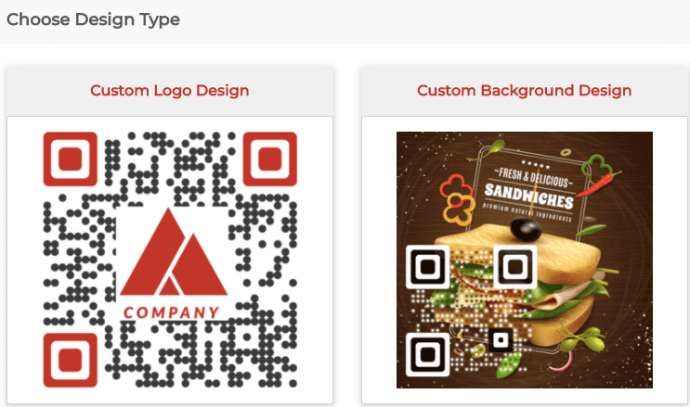 Custom Logo Design: It allows you to add a logo and color to the QR Code.
Custom Background Design: It allows you to place the QR Code on an image.

g. Once you've designed the QR Code, click on Download. You'll be asked to sign-up for a 14-day free trial

Note that you'll not have to enter any credit card details while signing up.
h. Once you've signed up, click Download
i. Now you'll be asked to specify the QR Code image's format and dimensions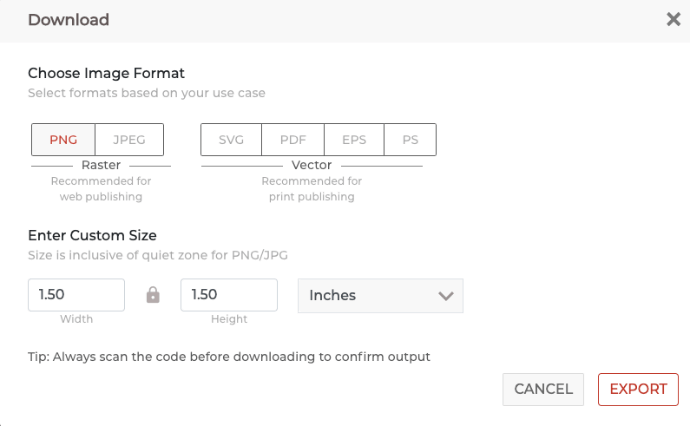 j. Once specified, click Export
That's it. Your custom-designed Twitter QR Code is downloaded. It is advisable to test scan the QR Code before putting it out.
Note that this Twitter QR Code is a static QR Code. In a static QR Code, the data is permanent. And it is not possible to edit this QR Code or track the number of scans.
Best Practices
Here are some of the best practices that you must know before working with QR Codes:
1. Add an appropriate CTA
You need to ensure that you always add a CTA with your QR Code. CTA translates to a 'Call-to-action' statement. It is a small instruction that guides the users to what they need to do. 
It could be anything such as 'Scan here to view Twitter profile'.
2. Add a design to the QR Code
If you are planning to use QR Codes on print media creatives, consider adding design to them. That's because they are visually more appealing and hence, attract the audience's attention.
3. Test scan the QR Code
It is always advisable to test scan the QR Code before putting them out for your target audience to scan. 
4. Choose an optimal printing format
If you'll be using the QR Code on print media creatives, download it in vector format. For example, SVG, PDF, and EPS. It ensures that the QR Code doesn't get pixelated no matter how much resizing is done.
That's all there is to know about Twitter QR Codes. Still have a question? Ask in the comments below.
Like this article? Follow me on Twitter then 🙂

[cta-subscribe]