The popularity of QR Codes is definitely increasing. All thanks to increased smartphone penetration, fast internet speed, and contactless delivery.
Some of the most common use cases of QR Codes are product packaging and payments. I am sure, you must have scanned a QR Code to make a payment.
Hence, today you can spot a QR Code every now and then. But apart from some of the use cases that are evident, QR Codes are used for some bizarre purposes too.
And these use cases are not only personal. Even marketers and businesses have also run bizarre QR Code campaigns in the past.
In this article, we will show you some of the most bizarre QR Code use cases. See how these black-and-white matrices of squares are spreading far and wide!
Keep reading.
A. Some bizarre QR Code use cases
You know that QR Codes can link unlimited information. Plus, they can easily be scanned via a smartphone. Hence, they are not at all capital intensive and are easy to use and create.
Furthermore, they occupy very little space. Hence apart from common use cases, QR Codes are used for many amazing use cases too.
Here's a list:
1. QR Code tattoos

Tattoos are generally seen as an embellishment on the body. Make it modern and tech-savvy with QR Codes!
The best part is that you can make your tattoo come alive. That is, you can link a video, an image, a quote, or anything you want to the QR Code tattoo. Upon scanning this tattoo, end users will be redirected to the target content.
Hence, you can actually walk with your social media account links or image gallery always available with you.
Plus, you can create a Dynamic QR Code and change content anytime. For example, say you want to change a link that you encoded in the QR Code.
You can simply encode a new link to the QR Code tattoo without getting yourself inked with another tattoo. The updated QR Code will redirect scanners to the new link.
For your reference, here is a detailed guide on QR Code tattoos.
2. QR Codes in casinos

You can now play on mobile casinos effortlessly with QR Codes.
Casino QR Codes are displayed on the optimised software installed on the player's desktop/computer. Visitors just need to scan the QR Code to get these games on their phones within seconds.
The player now knows where exactly to go to. Thus she/he does not need to tediously type in details such as mobile casino slots and tables.
Casinos use QR Codes for the players to make payments. This is a functional use case.
Furthermore, they also use QR Codes to make it easy for players to quickly load mobile games.
For example, Crazy Vegas Mobile uses QR Codes to initiate players into playing the game. Upon scanning the QR Code, players are redirected to a link. This automatically launches them into the game. This link is displayed on the desktop software itself.
For a detailed guide, you can refer to this article on QR Codes in casinos.
3. QR Codes on headstones

The demise of near-and-dear ones is definitely a moment of dejection. You express as much gratitude as you can in the memorials.
With QR Codes, you can actually keep the memory of the decades forever. One major quality of QR Codes is that they can resist damage upto 30%. Hence, even if they are subject to wear and tear (on headstones), they will still be scannable.
You can link the QR Code to any of your fond memories with the departed, a text for the, amongst others.
To help you understand it better, here's an example. Legacy Maker, a funeral company in Wellington, New Zealand, uses QR Codes on memorials. The QR Code links to a website. Upon scanning, end users can see the deceased person's story.
"We are very excited about the opportunities this idea creates, not just for healing for grieving families, but also for the genealogy world. It's a great way to organize and preserve family history."
—Camille Barnett, company owner of Legacy Maker
Funeral companies in other countries such as Denmark, Turkey, and England also use QR Codes for the same purpose.
For more information, here is a helpful guide on QR Codes in memorials.
4. QR Codes for your furry friend

Pets are lovable, aren't they? It's definitely a nightmare to wake up one day and see your pet lost or stolen.
With QR Codes, you can keep such nightmares at bay. QR Code pet tags can help you keep your pet safe and secure.
You can simply create a QR Code and link it to your contact details. If your pet gets lost, the finder can easily scan the QR code and know the owner. A good samaritan will definitely give you a call and you will get your lost pet back!
It is ideal for you to create a Dynamic QR Code. As mentioned you can update this anytime. So, even if your contact details change, you can simply update the QR Code. You do not need to reprint another QR Code as the updated QR Code will have the same pattern as the previous one.
Plus, with a Dynamic QR Code, you can even track the exact GPS location from which the QR code was scanned.
For your reference, here is a comprehensive guide on QR Code pet tags.
5. QR Codes on glasses

Even seen a QR Code etched on a transparent glass? Guinness used QR Codes in one of the most amazing manners. This is definitely one of the most bizarre QR Code use cases.
The company advertisers printed a transparent (unreadable) QR Code on their glass products. Upon filling the glass with a dark liquid such as wine, the QR Code came alive. This gave a very resplendent spectacle.
Upon scanning this QR Code, end users were redirected to the company's social media accounts. Here, they could like, follow, or subscribe.
6. QR Codes on t-shirts

QR Codes are not an exception when it comes to the apparel industry. You can link the QR Code to your website, social media accounts, or practically any content.
Since QR Codes can also be designed, they will appear as a point-of-engagement on your clothing. Who wouldn't give a second glance to colorful QR Code with a brand logo in the middle?
For example, Rock The Vote is an NGO in the United States. In July 2012, it came up with QR Code T-shirts. Upon scanning the QR Code, people were led to scan to vote website. Here people could register to vote online.
This innovative!
If you want to know more, here is a complete guide on QR Codes on t-shirts.
7. QR Code in interior designing

QR Codes can be made as beautiful designs. You can make your interior design much more interactive and colorful with QR Codes.
This QR Code can be linked to your website or may be your design portfolio.
If you are an artist and want to impress your clients with something different, QR Code-based designs can be one the ways.
They are modern, tech-savvy, engaging,and definitely picturesque.
8. QR Codes on name plates

QR Codes on nameplates are now becoming a usual sight in countries such as India. Upon scanning, end users can have the contact details of the addressee.
Plus, QR Codes can also help collect garbage quickly. People taking garbage into the houses will also have to scan the QR code. This way, they will be able to know whether the garbage has been collected or not. Besides, people will get the location of the garbage car.
9. QR Code on key chains

Want to make your loved ones feel special? Why not give them a personalized gift?
You can easily buy or create your own QR Code-based keychain. You can then link this QR Code to memorable images, a personalized text, or even a special video for your loved ones.
Imagine how special they will feel when they scan the QR Code.
For example, QR Code-based gifts can commonly be seen around Valentine's day. A personalized gift will definitely bring a wide smile on the face of your near-and-dear ones.
10. QR Code in automotive marketing
Volkswagen wanted to ensure that people don't see ads from competing brands. And there are two ways to do it.
One is to buy all the ad slots in a three-minute ad break. But that is very expensive. So, what Volkswagen did to avoid that was very unique.
Volkswagen first identified the slots where their competitors were advertising. Then they bought the first ad slot in that ad break. And this ad showed a QR Code on the screen for a straight 30 secs.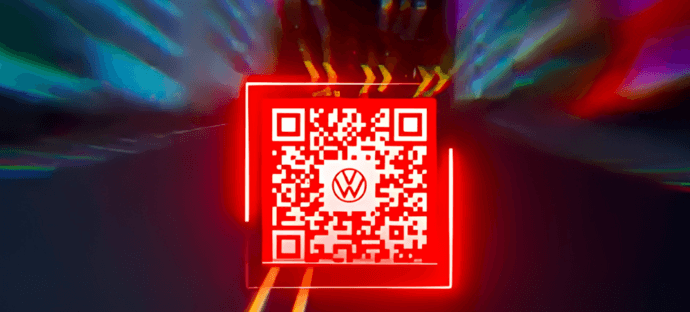 When scanned, the QR Code led people to a live racing game. And the best part was that this game ran throughout the ad break.
While ads from competing brands were airing, people were busy playing Volkswagen's live racing game. And that's how Volkswagen succeeded in beating its competitors with a single QR Code.
11. QR Codes in Sports
Budweiser launched a campaign—'The Drop' to celebrate 100 Days to the FIFA World Cup 2022. During the same, they dropped hundreds of red prize boxes for fans in major cities all around the world. 
These red boxes include signed memorabilia, a year's supply of Budweiser, and the grand prize of a trip to the tournament.
But it was impossible for Budweiser to share the boxes' locations with everyone. So, they used QR Codes to identify true football fans. Here, they made QR Codes appear everywhere across the globe. From Mumbai's Football arena in Andheri to the iconic Wembley stadium in London, they were everywhere.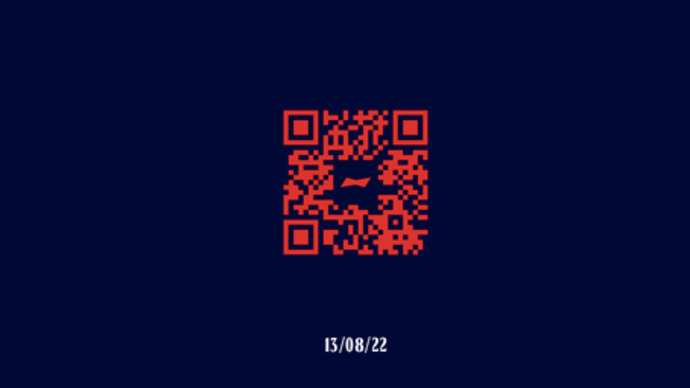 When scanned, the end-users were able to register for this campaign. 
Once done, Budweiser was able to share its coordinates with only registered people. But here's the catch—they sent the coordinates of these undisclosed locations only a couple of hours before the drop of these boxes. This way, they kept the adrenaline rushing among the fans while ensuring crowd control.
In addition, they partnered with famous footballers such as Messi, Neymar Jr., and Sterling to promote these QR Codes via their own social media handles. 
With over 10 million impressions on social media, 'The Drop' becomes one of the best campaigns of this season.
Now, let's go ahead to detail on how to create QR Codes.
B. How to create QR Codes
To create a QR Code, you need a professional QR Code generator tool such as Scanova.
Here, you can Sign Up for a 14-day free trial. And then select from a range of 26 categories, according to the content you want to link.
For use cases such as keychains, pet tags, name plates, and memorials, you will need to create QR Codes in DXF format.
Here's a detailed guide on how you can create QR Codes in DXF with ease.
Besides, in order to create QR Codes flawlessly, you should keep the following best practices in mind:
1. Always design and brand your QR Code. A Custom-designed QR Code attracts 50-200% more scans than a black-and-white QR Code.
2. Always write a short help note to assist end users with what to do. This will act as a CTA element and direct end users on what needs to be done. A simple line such as 'Scan to register' will help.
3. Export QR Code images in vector formats. These are high-resolution images, which do not pixelate when scaled.
This is all you need to know about some of the most bizarre QR Code use cases. Already amazed? Go ahead and create a QR Code now.