​Over 80% of marketers across the globe engage in lead generation activities as a part of their marketing mix. This is even more prevalent for the ones operating in the B2B space.
It's an excellent way to find potential clients and nurture relationships with them. When you do that well, the likelihood of them converting into customers increases.
So you run a lot of campaigns to find highly targeted leads. And this time, you want to explore the scope of using QR Codes for lead generation.
From shop windows and marketing campaigns to the sky, QR Codes have made their presence everywhere!
In this article, we'll see how QR Codes can help you gain targeted leads for a high conversion rate.
A. QR Code for lead generation
QR Codes are known for their ability to make user journeys better. And when that happens, the conversion rate of your campaign increases. So the question is—how does the QR Code technology make lead generation better?
Here's how:
You select a QR Code generator that offers a lead generation feature
You create a QR Code depending on what you'd want the end-users to see after submitting the lead form
Next, you enable the lead generation and specify the data to be collected in the form
You use the QR Code in your promotional campaigns and creatives
Your audience sees the QR Code to scan it
They see a form with the fields specified by you
They fill out the form and submit the required details to see the content encoded in the QR Code
Once they submit the form, they see the content you added while creating the QR Code. For example, text saying 'Thank You', a coupon code, or even a document (lead magnet). If you are the owner of a saas marketing agency, this can be a  good option for you.
Wondering where will these leads go? Well, they will be stored in your account with the QR Code generator. You can access them anytime you want.
B. How QR Codes can be useful for lead generation
Once your audience fills the form and hits the 'Submit' button, you can show them any form of content. Here are some of the various possibilities available:
Are you running a campaign to spread awareness about your business or educate people on a cause?
Then leverage your QR Code to share whatever information you need to relay. For example, if you create a Rich Text QR Code, you can design a landing page with the information you want to share. It could be text, images, weblinks, multimedia, etc.
In case it's one of your products that you want to share information for, a Product QR Code is your way to go. Once the end-users submit the lead form, they will see a landing page having product details.
Similarly, if you want to collect leads for an upcoming event, QR Codes have got your back! You can use an Event QR Code to create a landing page having all the event details. For example, banner images, text, videos, weblinks, social sharing buttons, and an option for the guests to RSVP.
Lead magnets are a popular way of attracting leads. They offer people an incentive to give their contact details. For example, a financial report, an informative e-book, industry trends report, etc.
And to share these lead magnets, QR Codes come in handy. How? Well, a Document QR Code can help you share any form you document files with the audience. Once people scan the QR Code and submit the form, they'll see the encoded document (lead magnet) on their screen.
You know how important it is to share your contact details with your potential customers or leads. It allows them to easily contact you if they'd like to get in touch. What if you can capture their contact details while offering yours?
Wondering how? Well, a VCard QR Code with lead-generation can help you out. How? Just place this QR Code on your name card or promotional materials. As people can scan it, they will first have to submit the lead form where they will submit their contact details.
Once done, they will be redirected to your contact details. It could be your name, contact number, email, address, website, and even your social media handles. Along with these, they will also see the option—Save as Contact.
That means they can save you as a contact with a single click while gaining their contact details at the same time.
d. Direct people to request a demo
Conversion of the leads into customers is a long and calculated process. A part of this journey involves setting up demos with your potential customers or leads.
To do it, you can make use of a Rich Text QR Code. When scanned, people will be asked to fill a form where they will insert their details asking for a demo. Once they submit the form, they will see a webpage saying 'Thank You', a coupon code, or even a document (lead magnet)
These demos will help the transition of leads into sales.
e. Offer discounts and coupons
It is common to give away coupons and discounts to increase sales. They help attract leads and prompt them to make another purchase. In fact, they even keep the customers coming back.
And to keep your customer retention rate high, you may want to contact recently converted leads whenever there's a launch or offer.
You may, in fact, want to offer them discount coupons in exchange for their contact details. And a Coupon QR Code with lead-generation can help you out. Customers can scan it to fill a form to submit their details.
Once done, they will see the coupon code with the option to redeem it. This will not only give you contact details of your customers but also help you generate B2B sales instantly.
That means you can enjoy both short-term and long-term benefits of the same campaign.
f. Guide customers to your store
Say you have sparked the interest in your leads and now they want to visit your store. But they don't know your store's exact location. At the same time, you don't know their contact details either.
Here, a Google Maps QR Code with lead-generation can enable you to help them visit your store. How? When they scan it, they'll be asked to submit a lead form.
Once done, they will be able to see the exact map's location to your store on their phones. No need for them to ask for directions.
This way, you can contact those leads who left halfway through the process. They can be people who are interested, scanned the QR Code, but didn't visit the store. Isn't that amazing?
C. Why use QR Codes for lead generation
1. High conversion rates
QR Codes are quick, easy to use, and don't require any expensive setup. Moreover, your customers only need their smartphones to access them.
These are some of the main reasons why QR Codes have high conversion rates. They reduce the gap between the offline world and online content.
For example, according to the latest Restaurant Readiness Index report, 33% of restaurant owners have accepted that QR Codes have enhanced their business.
From ordering food to checkout, QR Codes have covered it all. In short, it is optimizing the end-to-end experience for both customers and businesses.
In addition, you can track QR Codes. That means you can see various details such as:
How many people have scanned it
When did they scan it
Where did they scan it and more
You can also gain insights into how your customers interact with the encoded content after scanning it. With this data, you can optimize your campaigns and significantly increases the overall conversion rate.
2. Cost-effective
QR Codes are sustainable and scalable tools. You can just use one QR Code for various channels such as product instructions and marketing creatives. Thus, you pay for one while using them for many channels.
3. Direct to conversion
As potential customers scan QR Codes, they will be redirected to the relevant encoded data. This means it saves them the trouble of remembering web URL and typing it.
4. Editable
Say you have created a Lead generation QR Code and after some time, you want to change its content. This is where a Dynamic QR Code can help you out. It allows you to edit the encoded URL anytime you want without the need to recreate it.
5. High-speed Scannability
QR Codes have a high-speed scannability. They come alive within seconds of holding your camera in front of them. This makes the user experience faster and better.
6. Error correction
QR Codes have the feature of error correction. It ensures that even after being damaged, distorted, or dirty, QR Codes scan well.
C. How to create a QR Code for lead generation
Now you know how QR Codes can be used from generating leads to converting customers. The next question—how to create one?
1. Find a QR Code generator
You'd need a QR Code generator that allows you to create a Lead Generation QR Code. You can head on to any search engine and type the query. It may fetch you many options to choose from.
But going through all the search results to find the best one is a tedious process. For your convenience, here is a detailed comparison of the best QR Code generator available online.
This will help you make a sound decision smoothly.
2. Create a QR Code
Using the Scanova QR Code generator for a demo, here is how you can create one:
a. Go to Scanova
b. Select the most relevant QR Code category. For a demo, let's choose a Website URL QR Code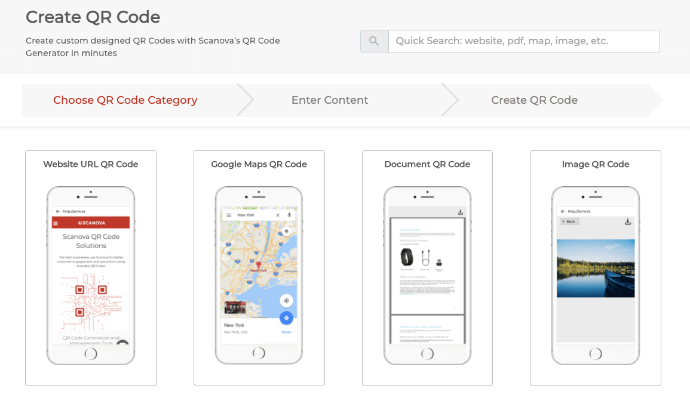 c. On the page that loads, add the link you want to encode in the QR Code and click Continue
d. Name the QR Code and you will see Advanced Settings
e. Under this, select the Capture Leads option and select a lead list
f. If not created, you can click on Create Lead List below it
g. A window will open, where you need to fill the following fields—Page Title, Description Box, and Lead List name
In addition, you need to select the appropriate background color and banner image.

h. Now, you need to design the lead form. You can start by adding a form description or a Question in the given block. Each question can have up to 200 characters

You can also add a question description, select the answer type, and choose if the response would be 'Required' or not.
i. Once you have added all the questions, you can design the Submit and Skip button. Here you can add the button text, color, border color, etc.
Once, you have finalized the lead list, click on Save Changes followed by selecting the just created lead list from the drop-down menu
j. Now, click on Create QR Code and you'll see the preview of the QR Code on the right. Under it, you'll see the Edit Design button. If you click on it, you'll see two design options—Custom Logo Design and Custom Background Design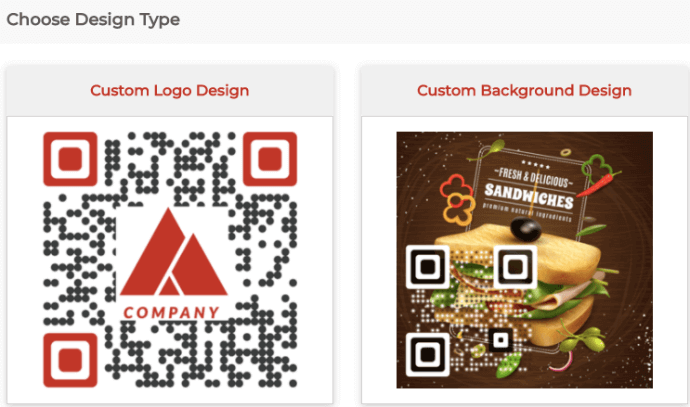 Custom logo design allows you to add your business's logo and colors to the QR Code. On the other hand, custom background design helps you place your QR Code on any image
k. Once you've decided on design or no design, click Download
l. Now, you'll be asked to specify the QR Code image's format and size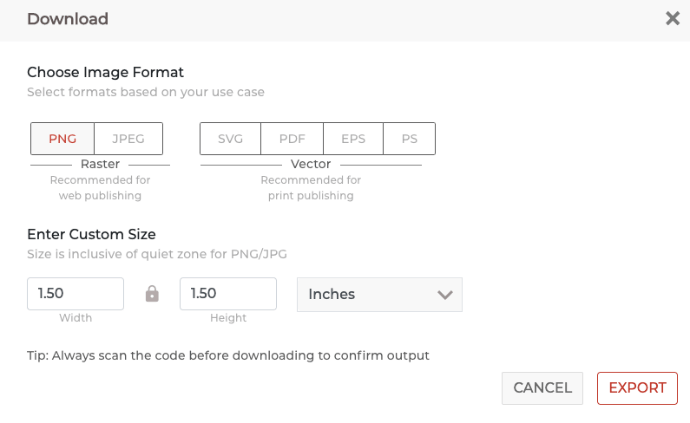 m. Specify these details and click on Export
That's it. Your QR Code will be downloaded.
3. Analyse and export lead data
With Scanova, you can see the leads data captured via lead-generation forms. You can view the total leads, conversion, and lead source (QR Codes). It is also possible to export the Leads data in CSV format for further analysis.
To view Lead Generation Analytics, here's what you need to do:
a. Login to your Scanova account
b. From the dashboard, select the Leads option
c. The list/lists of leads will show up. From here, choose the list that you wish to see the Analytics (and export leads) for

d. On the page that opens, click on Leads Data and Analytics and you will be able to see the analytics and download the leads

4. Edit lead generation form
In addition, you can also edit the lead generation landing page anytime you want. Here's how:
a. Login to your Scanova account
b. From the dashboard, select the Leads option
c. The list/lists of leads will show up. From here, choose the List for you wish to edit


d. On the page that opens, you will be able to update the elements of the page such as Page Title, Lead form, Submit, or Skip Button
e. Once you've made the changes, click Save Changes
Note that you can also edit the content of the QR Code via this page.
That is all you need to know about how QR Codes can be used for generating leads. You can now create your own QR Code to build a list of highly-targeted potential customers.
[cta1 caption="Build Promising Leads" content="Get started with your first QR Code" buttontext="Create QR Code now" destination="https://app.scanova.io/qr/create?utm_source=dk_pr_qr-code-lead-generation_cta&utm_medium=blog&utm_campaign=content"https://scanova.io/blog/wp-content/uploads/2016/12/qrcode-8.png"]