If you are an entrepreneur or a restaurant/hotel owner, you might find it tough to get guests to submit reviews. And so you want to leverage TripAdvisor for the same.
Why TripAdvisor? Because of its immense popularity among people. Many of them, before going to a restaurant, bar, or hotel, like checking out customers reviews on this platform.
Hence, businesses like their customers to give them reviews online.
But it's easier said than done. Asking people to submit review is one thing but them actually doing it is another.
It takes both time and effort for them to go to TripAdvisor, find the restaurant/hotel, and add review. Hence, many of them don't bother doing it.
That's why people rather use a QR Code to get their customers to submit a review.
By the end of this article you will know all about TripAdvisor QR Codes. Let's get started.
A. Why are TripAdvisor reviews even important
TripAdvisor is an American travel information and booking website.
It operates via both a website or a mobile app through user-generated content.
Its content helps people find the best hotels or restaurants to stay and eat while traveling.
That means businesses with a good review profile on TripAdvisor, are likely to be opted by people. That's because customer reviews:
1. Can influence people while taking a decision
2. Help you strengthen your business rapport
3. Boost customer's trust for your business
4. Give people give confidence to try your services
To make things clearer for you, here are a couple of important statistics as found out by TripAdvisor:
1. More than 85% travelers accept that reading TripAdvisor reviews is important
2. About 90% travelers quote TripAdvisor reviews as the most important in decision making
3. Over 70% travelers prefer services with bad reviews than the ones with no reviews
4. Over 80% travelers focus on fresh reviews to experience the newest perspective
The only problem is getting people to submit these reviews. And the key to do that is to make it easy for them to do the needful.
So you want a Best QR Code generator to help you get reviews on your TripAdvisor profile.
B. Using QR Codes to get reviews from TripAdvisor
A TripAdvisor QR Code stores the web link to your TripAdvisor review page.
When people scan the QR Code, they are straightaway taken to your review page. No need for them to manually open the website or app, find your business, and then start filling the form.
A QR Code shortens the process greatly for them. And you'll be surprised to see how that affects the response rate from the guests.
Besides optimizing the user experience, here are the benefits your TripAdvisor reviews campaign can reap from a QR Code:
1. Bring life to print media
If you use print media for promotions, you'd be well aware of its non-interactive nature. That means while it's a great promotional channel, it doesn't really help the audience take action (like digital media).
But with QR Codes, that doesn't remain a problem. They make print media actionable (and trackable) with a simple scan.
So you get to enjoy the attention span of print media (which is better than digital) and make it actionable too. Great, right?
2. Customizing your QR Code
Customized assets are an important part of any business' branding strategy.
And a professional QR Code generator will help you make your TripAdvisor QR Code look customized. How?
Well, you can add colors and a logo to it. Or you can even use an image as the QR Code's background. Such customized QR Codes are known for getting way more scans than the plain black-and-white ones.
3. Access to real-time tracking
Did you know that you a good QR Code generator for TripAdvisor can help you track scans too?
This is due to the dynamic nature of QR Codes. That's why many marketers prefer dynamic ones over the static counterparts.
Wondering what could scan tracking help you with? Well, it can help you monitor scans based on:
Total number
Date and time
County and city
Browsers used
Handset used
Exact GPS location
This data can help you learn a lot about your target audience and run better campaigns in future.
C. How to use TripAdvisor QR Code generator
Now that you're well-versed with the basics, let's move to the next step. Using Scanova QR Code generator, here's how you can create your TripAdvisor QR Code:
1. Go to your business review page on TripAdvisor. Now, copy the review page link
2. Visit Scanova and on the page that loads, select the Website URL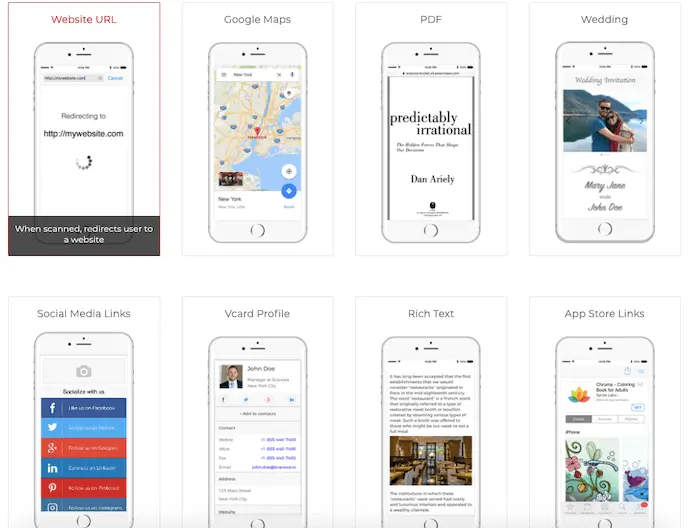 3. Enter the review page link that you copied in step 1
4. Click on Continue
5. Now you'll be name your QR Code. Once you enter a name, click on Create QR Code
6. On the next page, you'll get a preview of your QR Code. Under it, you'll see the Edit Design option. Selecting it will show you two design variants to choose from:
a. Custom Logo Design: It'll help you add custom colors, pattern, and a logo to the QR Code
b. Custom Background Design: This allows you to use an image as the QR Code's background
7. Once, you are done with customizations, proceed to Update Changes and click on Download button

8. You'll be asked to quickly sign-up for a free trial. No need to worry, your credit card details won't be asked for

9. After signing up, click on the Download button again

10. A window will ask you to enter your desired size and format for the QR Code image. Once you do it, click on Export

Your QR Code will be exported and ready for use. Test scan it before putting it on your creatives for public use.

That's it. You've learned everything about TripAdvisor QR Code generator. Still have any questions? Feel free to let us know in the comments.