You're probably planning on using QR Codes for one of your upcoming campaigns. It could be promotional or operational in nature.
Hence, you're looking for suitable QR Code service providers. But here's the thing—you want printable QR Codes. That means you're looking for a printable QR Code generator that helps you export the files in a print-friendly format.
And you're right. Not all common formats work well for print resolutions. The most commonly used image formats such as PNG and JPG are suitable for digital displays but are prone to getting pixelated in print.
So the question is—how do you find the right printable QR Code generator? In this article, we'll discuss all the qualities that you must look for in your QR Code service provider. In addition, we'll also see the best players online and a step-by-step guide to creating print-ready QR Codes.
A. Features to look for in a Printable QR Code Generator
Here are the top three features you must look for in your QR Code generator:
1. Desired QR Code category
The desired QR Code category depends on the content that you'd want your audience to see on scanning the QR Code. For example, if you want them to be redirected to a website, you must create a Website URL QR Code.
On the other hand, if you want them to see a PDF or any other document, a Document QR Code will be your way to go.
There are over 20 QR Code categories that you can choose from. Make sure your service provider offers you the desired content category.
2. High-resolution vector formats
As discussed earlier, it's important to download the QR Code in high-resolution formats for print purposes. And vector formats suit this purpose the best.
Some of the most popular vector formats are SVG, EPS, and PDF. They do not get pixelated despite any resizing. Hence, they're highly preferred by designers.
So make sure the best QR Code generator you choose offers these formats. After all, you wouldn't want to be stuck with a QR Code that looks good but doesn't function.
3. Custom design capability
This feature is especially useful if you want to use the QR Codes for promotional or customer-facing use cases.
Customization helps you add colors and logo to your QR Code. There are two design alternatives that you can choose from.
The first is Custom Logo Design. It allows you to add your brand colors to the QR Code and a logo in the centre. This option also allows you to change the pattern or QR Code's eyes and data modules. Also, you can even change the color of the background. Just ensure that the background color has a high contrast with the QR Code to maintain scannability.

The second is Custom Background Design. It helps you add an image as the QR Code's background. It also allows you to change the pattern of eyes and data modules. However, this option doesn't let you change color of the QR Code for scannability purposes.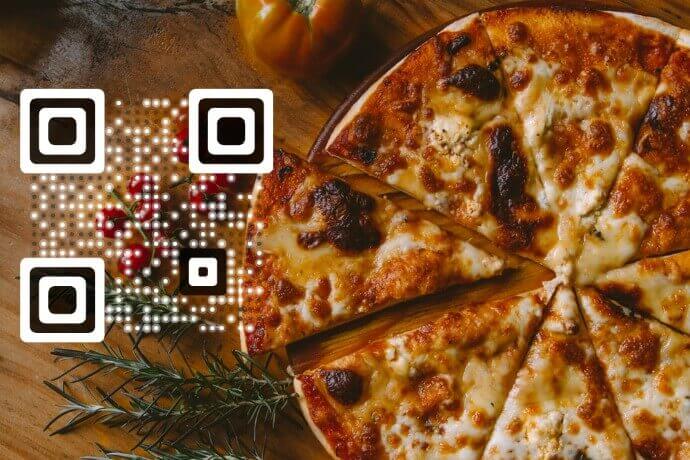 Customized QR Codes act as a point-of-engagement. They not only increase brand recognition among your audience but also attract more scans than their black-and-white counterparts.
4. Availability of dynamic QR Codes
QR Codes are of two types—static and dynamic. The static ones are permanent in nature. Once created, they can't be edited. And you can not even track them for their scanning activity.
On the other hand, dynamic QR Codes can be edited anytime you want. So, you don't need to create a new QR Code every time you want to make changes to it. In addition, they allow you to track their scanning activity.
Due to better functionality, dynamic QR Codes are the preferred choice among businesses. Hence, make sure that your QR Code generator offers both static and dynamic QR Codes.
B. How can you create a QR Code in Printable formats?
Now that you know what you should look for in a printable QR Code generator, the next step is to choose one. There are many service providers online and here's a detailed comparison chart of all of them. You can go through it to pick the right one for yourself.
Using Scanova for a demo, here's how you can create a printable QR Code:
1. Go to Scanova and pick a suitable category as per your use case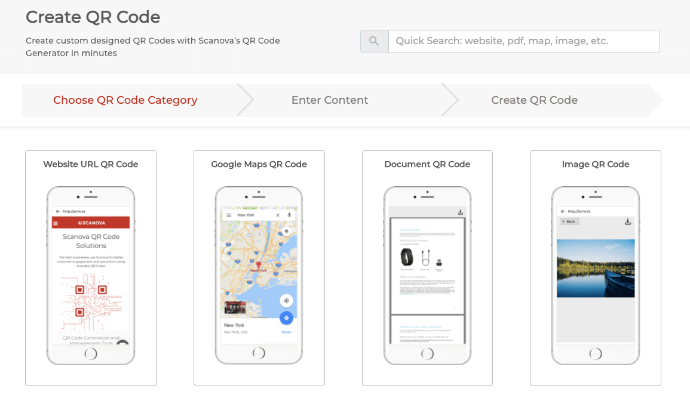 2. Now, add the content you want to encode in the QR Code and click Continue
3. On the page that loads, you can name the QR Code. Once done, click Create QR Code
4. Now, you'll see the preview of the QR Code along with other details such as the name, type, and category. On the right, you'll see the Edit Design button
5. If you click on it, you'll see two design options—Custom Logo Design and Custom Background Design. You can choose either of the two if you want to design the QR Code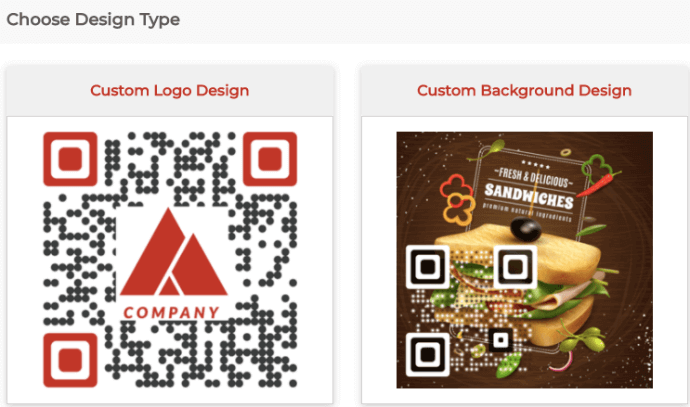 6. Once you've finalized everything—content and design or no design—click Done Editing followed by clicking on Download. A window will open, prompting you to sign-up for a 14-day free trial. Once you've signed up, proceed to download the QR Code
Note that you'll not be asked for your card details while signing up.
7. Now, you'll be prompted to specify the format and size for QR Code image. Since you're looking for print-ready formats, download the QR Code in any of the vector formats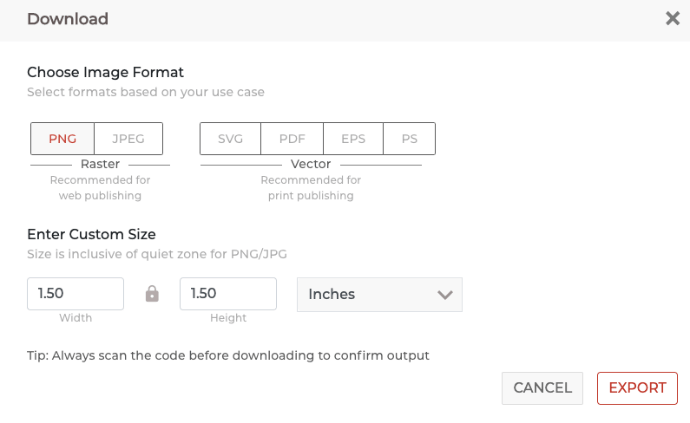 i. After you add the required details, click Export
That's it. Your QR Code will be downloaded and ready for use for design and print purposes.
Make sure you test the QR Code before putting it out on any of your campaigns. That's all you need to know about the printable QR Code generator. Ready to create your first QR Code? Get started today:
[cta1 caption="Printable QR Code Generator" content="Get started with your first QR Code" buttontext="Create QR Code now" destination="https://app.scanova.io/qr/create?utm_source=dk_sd_printable-qr-code-generator_cta&utm_medium=blog&utm_campaign=content" image="https://scanova.io/blog/wp-content/uploads/2016/12/qrcode-8.png"]