If you're a business professional, you know how important it is to cultivate relationships with customers. After all, they are not only a source of revenue for your business but your assets too.
And to get customers aboard, you first need to take various marketing measures to attract your audience's attention. From using print media to digital marketing, you can try to do it all.
But there is still one thing you haven't given thought to. It is your company vehicles. Wondering what does this mean?
Well, in reality, no commodity-based business can function without their company vehicles. They are indispensable assets that help you fulfill day-to-day operations.
Many businesses use vans, trucks, and other automobiles to deliver products and services. They regularly come in contact with potential customers, making it the customer's first point of contact.
So, and must leverage this opportunity. But how? This is where QR Code technology can help you out. These square-shaped barcodes have been around for quite some time. And as per the statistics, their usage has increased over the years.
With QR Codes, you can deliver promotions to your targeted audience faster than most marketing mediums.
And in this article, we'll discuss seven ways how QR Codes can be used for automotive marketing.
A. Why use QR Codes for automotive marketing
You probably know QR Codes have been used for marketing-oriented purposes. And here's why it makes sense for automotive promotions:
QR Codes on imprinted on vehicles have a wide reach. They tend to catch the attention of people walking past them, waiting at the traffic signal, etc.
QR Codes can be scanned from a great distance. In fact, one can scan a QR Code on a vehicle parked on the opposite side of the road given the QR Code is of the right size. This is how powerful QR Code is
They can be read from all directions—360-degree scannability. And they are well known for their quick scanning abilities. Hence, they come alive within 2 seconds of holding your camera in front of them. This is especially useful in the case of automotive marketing
QR Codes can look aesthetically appealing and branded. To do it, you just need to add your company's logo and colors to them
QR Codes can help you share a wide array of information from text to multimedia (images, video, audio, PDF, etc.)
They are damage resistant by up to 30%. This is helpful for vehicles as they go through rains, storms, or damage
B. How QR Codes can be useful for automotive marketing
Now you know the technical reasons why you can use QR Codes. Let us now see some of the endless business objectives you can achieve via QR Codes:
1. Generate leads
Lead generation is the first step to acquiring customers. Only targeted leads have the likelihood of converting into customers. And the best place to acquire leads is via automobiles as they are the first point for various business stakeholders.
Generally, lead generation via print campaigns needs you to add a link to a lead generation form on the creatives. This form is for your audience to fill out.
But here's the problem:
First, they have to open their devices, click the browser, type tediously the form link to access it, and finally fill it
Second, since the process is quite long and needs effort, many people won't bother
But QR Codes can help you resolve this issue. Here, you just need to generate a lead-generation-enabled QR Code and attach it to your car.
Here's how this works:
You create the desired QR Code and enable lead generation
Your audience sees the QR Code to scan it
They see a form with the fields specified by you
They fill out the form and submit the required details to see the content encoded in the QR Code
Wondering where will these leads go? Well, they will be stored in your account with the QR Code service provider. You can access them anytime you want.
2. Offer an easier mode to book appointments
Does your business need customers to book appointments with you?
QR Codes on automobiles can help you do it. To do it, you can make use of a Calendar QR Code and add it to your vehicles.
As the end-users scan it, they'll see the meeting details with the option the save event on their calendars.
You know how important it is to share your contact details with your potential customers. It allows them to easily contact you if they'd like to get in touch.
And a VCard QR Code helps you to do it. How? Just create one and place it on your automobiles.
As people can scan it, they will see all your contact details such as name, contact number, email, address, website, and even your social media handles. They will also see the option—Save as Contact.
That means they can save you as a contact with a single click. That's it. That's how simple it is.
It's common to share product videos or documents with your customers. It helps to invoke their interest and even solve their problems.
And a QR Code helps you do it easily. How? Simply create a Document QR Code by adding all the documents that you need. Or you can create a Video QR Code linking to one of your promotional or tutorial videos.
Clients just need to scan the QR Code to view the content on their phones. Easy, right?
5. Offer discounts and coupons
As a part of your job, you may want to give out coupons and discounts to increase sales. They help attract customers and prompt them to make a purchase.
And a Coupon QR Code helps you do just that. Customers can scan it to redeem it. And they no longer have to remember the code or type the random characters to avail themselves of the discount.
If you have a website for your business, you'd want to increase its web traffic. It could be to give the latest discounts and deals, evoke awareness about your business, or even help customers order online.
And a Website URL QR Code can help you do that. Just create one and as people scan it, it will take them to your website in no time.
Similarly, you can also increase your social media following with a Social Media QR Code. As customers can scan it, they will see a custom page containing buttons with links to all your social media accounts. They can then select their favorite one to follow you online.
7. Drive customers to your store
Say you are an automobile dealer and have carried out many promotional campaigns. You now want people to visit your store.
Here, a Google Maps QR Code can enable you to help them visit your store. How? When they scan it, they'll be able to see the exact map's location to your store on their phones. No need for them to ask anyone for directions.
You simply need to create one and add it to your marketing communications.
8. Provide event details
Are you planning on organizing an event anytime soon? Then you know how important it is to market your event properly. And to do it, you'd do various promotions.
Giving complete event details will be an important part of your campaigns. This is where an Event QR Code would come in handy.
It can encode pictures, video, textual information, maps the location of the venue, event schedule, website, and even social sharing buttons. In addition to it, it also allows the guests to RSVP without having to call you or send you an email. How?
When your audience scans the QR Code, they will see all the event details with an option to RSVP to confirm their presence. And for each response, you get a notification on your email. You can then make event arrangements accordingly.
C. How to create a QR Code?
Now you know how QR Codes are useful. The next question—how to create one?
1. Decide on your QR Code category
Depending on what you'd want your end-users to see, you'd need to select the relevant QR Code category.
For example, if you want to share your contact details, you'd need to create a VCard QR Code. Or if you want to give them discount coupons, you can create a Coupon QR Code.
Once decided on the QR Code category, you can head on to your chosen QR Code generator. In case you haven't chosen one, here is a detailed comparison chart on the best QR Code generators available online. You can go through it to make a sound decision.
2. Create a QR Code
Using Scanova QR Code generator for a demo, here is how you can create a QR Code for automotive marketing:
a. Go to Scanova
b. Select the most relevant QR Code category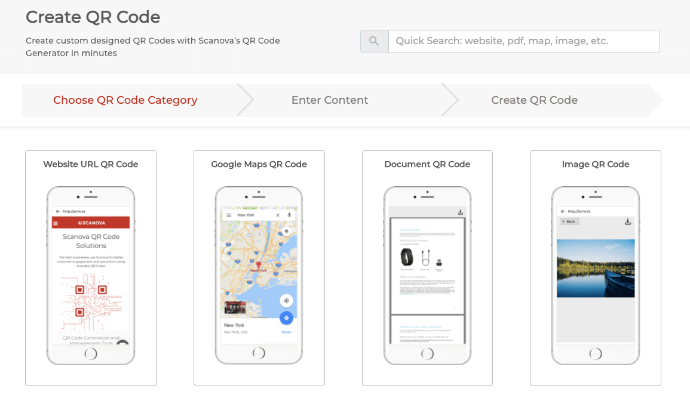 c. On the page that loads, add the content you want to encode in the QR Code and click Continue
d. Name the QR Code and click Create QR Code
e. Now, you'll see the preview of the QR Code on the right. Under it, you'll see the Edit Design button. If you click on it, you'll see two design options—Custom Logo Design and Custom Background Design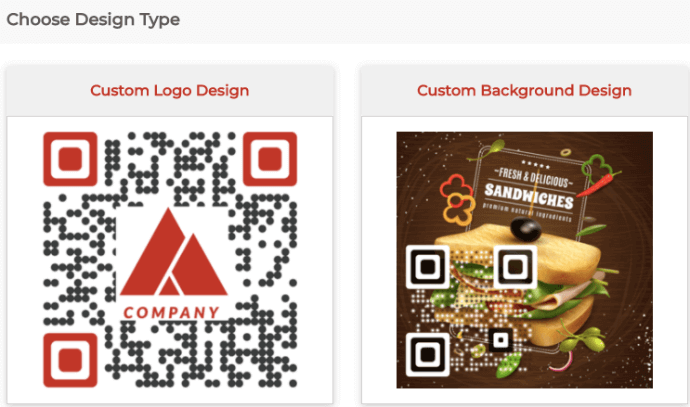 Custom Logo Design allows you to add your business's logo and colors to the QR Code. On the other hand, Custom Background Design helps you place your QR Code on any image
f. Once you've decided on design or no design, click Download. A window will open, prompting you to sign-up for a 14-day free trial. Once you've signed up, proceed to download the QR Code
g. Now, you'll be asked to specify the QR Code image's format and size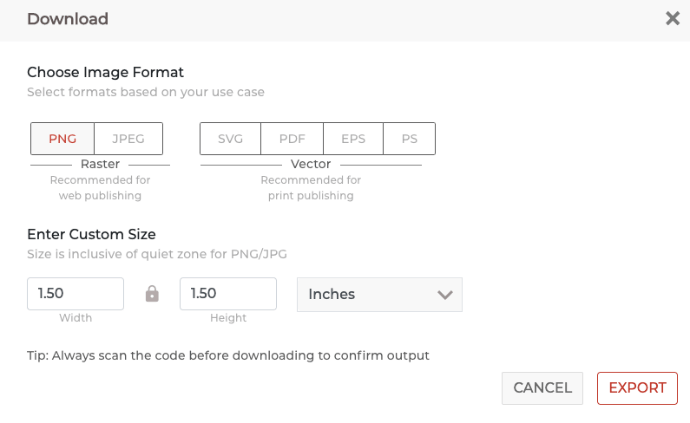 h. Specify these details and click on Export
That's it. Your QR Code will be downloaded. It is always advisable to test scan the QR Code before putting it out for the target audience.
That is all you need to know about how QR Codes can be used for automotive marketing. You can now create your own QR Code to boost your business and offer your customers a seamless experience.