You are a brand that is investing in traditional print media promotions. It could be newspapers, magazine advertisements, outdoor advertising, or other creative print-based campaigns.
No matter what digital marketing pundits say, these traditional marketing practices still bring a lot of sales.
But there's just one problem with print media—it's not actionable alone. That means taking action such as visiting a website or downloading an app. To do it, people have to pull out their smartphone, type the website link or the app name. And finally, visit the website or download the app.
Since it is a long marketing process, many people simply don't put in the effort. But does that mean print media is not suitable for promotions? Well, no!
Print media is more personal and has a longer attention span than digital media.
So all that you need to do is—make it easier for your audience to take action. How? Using QR Codes.
QR Codes are 2D barcodes that store alphanumeric information. You would've seen a QR Code being used for payments and inventory tracking. Similarly, marketing is yet another use case of a QR Code.
You might think—how will a QR Code help me in my marketing campaigns? And the answer is—by making your print media promotions actionable.
All that end-users need is—a smartphone to scan the QR Code.
With QR Codes, you can engage your customers with dynamic online content. This will not only help you stand out from all the marketing noise but also help in increasing brand recall.
Let's get started on how to integrate QR Codes into your existing marketing campaigns.
A. Most popular QR Code Marketing use cases
The thing with QR Codes is that you can engage your customers in a little over a million ways. But here are some popular ways to get started:
1. Drive traffic to your website
This is the most popular use case of QR Codes – driving traffic from offline print media to the brand's website. Or any other relevant content for that matter.
They, in fact, come in handy when your marketing message has evoked the audience's interest. Then the next thing you must do is—get the audience to take action. The QR Code helps you do just that. You simply have to link the QR Code to your website address. When scanned, the website will open on the end-users scanning device.
Earlier in 2016, Ready Player One's movie trailer had a QR Code. This QR Code redirected people to the official website of the film.
In 2017, a Finland-based global food packaging specialist—Huhtamaki—came up with a new idea. Here, they decided to use QR Codes on single-use paper cups. The QR Code, when scanned, redirects customers to promotional content or website.

Expert tip: Make sure your potential customers have a reason to visit your website. To do it, you need to have a clear marketing message. You can do it by telling them about what incentive they have for visiting your website.
See how you can successfully use QR Codes for marketing in India.
This is another use case for QR Codes in marketing. That is—acquiring social media followers.
In your advertising, add a QR Code that leads your potential customers to your social media pages. That way they have an option to immediately Like your Facebook fan page or Follow you on Twitter.
(Tip for Scanova Users: Scanova allows you to create a Social Media landing page with your QR Code. This QR Code helps you add links to all popular social media platforms.
This way you don't need to limit yourself to one social media profile. And customers can follow you on their favorite social media platform.)

This is especially useful for small businesses that communicate via social media. That's because QR Codes don't need large marketing budgets.
So when a customer likes your services, say by visiting your store or stall, she can see the QR Code to follow you easily.
Many large businesses too use QR Codes to gain social media followers. They even give the customers an incentive to follow the business online. For example:
'Get a daily deal on our Facebook page. Scan to Follow us now'
In 2017, the authorities in Ethiopia and Great Ethiopian Run organized 'Because She Can'—an all women-run. The run used QR Codes to gain followers on Facebook.
3. Engage customers via product packaging
This is an extensively common use case in almost every industry. For example, consumer electronics, healthcare, and food service industries.
Due to limited space on the product packaging, QR Codes help businesses share detailed product information. They allow you to engage your potential customers with relevant product-related information. For example:
Product information (raw materials, ingredients, sourcing, sustainability, etc.)
How to use the product (recipes, features, etc.
How to install the product (video instructions)
Safety instructions (Allergies, health hazards, child safety, etc.)
Legal documents (terms and conditions, side effects, etc.)
Also, businesses can add QR Codes as a point of attraction to a product. For example—on Valentine's Day 2015, Tussock Jumper Wines placed a QR Code on the neck of its wine bottles. The buyer (gift giver) could then scan this QR Code to personalize it by adding images, video, text, etc.
In addition, Kitkat added a QR Code on the packaging of chocolates to engage customers. This QR Code, when scanned, redirected buyers to watch a video on YouTube as they took a break.
(Tip for Scanova Users: Say you don't have dedicated web pages for your products. Here, Scanova can help you out. It allows you to easily create mobile-optimized landing pages with desired information and widgets.)
See how brands and businesses use QR Codes to enrich Black Friday Shopping.
4. Offline referral marketing
Offline referral marketing directs people from offline to online content.
For example—Kate buys a watch that has a concealed QR Code. She scans it registers with the brand. When she wears the watch to her office, one of her colleagues likes it and wants to buy the same watch.
So Kate shows her the QR Code and asks her to scan it. As her colleague scans it, she gets a 20% discount and places an order.
Hence, Kate gets her incentive for helping the brand sell its product.
Offline referral marketing helps businesses convert word-of-mouth marketing to sales. One can think of it as 'invite only' marketing, but offline.
If you're a business, you can even conduct referral tracking to get insights into how to improve your referral program.
5. Distribute m-coupons from print advertisements
Let's say your target customer visits a mall with friends. While some of them are busy window shopping, she finds a QR code on one of your promotion creatives. It's a surprise Christmas gift from your brand. She scans it—well because she is curious and who doesn't like surprises. In an instant, she is the owner of a 30% discount m-coupon.
The Vantiv ShopTalk Survey surveyed 500 consumers in Nov 2016. The survey aimed to understand their experience and preferences on redeeming offers. As per the survey, 24% Millennials and 18% Gen Xers preferred scanning a QR Code to redeem an offer.
One can easily create an m-coupon landing page with Scanova QR Code Generator.

In 2018 Amazon started using its own custom QR Codes—Amazon SmileCodes. These SmileCodes give discount deals and offer to customers. And customers can scan them using the Amazon app. One can find them on delivery packaging of products ordered from Amazon.
6. Create a giant QR Code
Why stick to the conventional route of printing QR Codes on packaging or print media? Marketers can grab customer attention by creating a giant, scannable QR Code.
You could use flowers, colors, paper, plants, etc., to create a unique QR Code.
One such example is soon to be set in the island nation of Tuvalu. Vincent Huang, a Taiwanese artist, is set to create a QR Code mangrove on the island. This is raise awareness on how climate change is affecting the island. On scanning, the QR Code lead to a page listing the ill effects of climate change.

Scanova's team created the first ever QR Rangoli, to wish its customers on Diwali. Scanning the QR Code lead to a page with festive wishes and a discount coupon.

Like I said, these are just a few ways on engaging your customers. Depending on what content you want to show your audience, there are 23 types of QR Codes you can create.
7. Get reviews for your business
If you have a business, you know how important it is to have reviews for your company/business on Google. Potential customers use these reviews to decide whether they'll buy your services or not.
But getting your customers to review your services is not that easy. They've to follow a series of steps to submit their review. Hence, most of them simply don't do it.
By making it easy for them to submit their reviews, you'll see an increase in the response rate. This will help improve your business rankings online and boost your sales.
A Feedback QR Code is what you need here. When scanned, it redirects customers directly to the review page for your business.
8. Increase your downloads for your mobile app
Do you have a mobile app for your business? Then you'd want your target audience to install it on their phones. And to enable that, you'll have to run promotions.
You can run digital campaigns to get the job done. But though digital content is readily actionable, it has a very short attention span. On the other hand, while print media has a longer attention span, it's not actionable or trackable.
Here, a QR Code can help you ramp up your promotional effort. Simply add an App Store QR Code to your promotional material. When scanned, they'll be redirected to your app on the relevant app store. This depends on their phone's operating system.
In case you want to redirect them to a particular page within an app, an App Deep Link QR Code can help you out.
9. Generate leads
Looking forward to generating leads from your promotional effort? QR Codes are up for the game.
They offer the lead generation feature. When your end-users scan the QR Code, they get prompted to fill the lead generation form. Once they do it, they can see the actual content encoded in the QR Code.
All you need is a dynamic QR Code generator to do the job.
10. Help people know your business' exact location
It's common for businesses to get people to visit their brick-and-mortar stores. While you will add your store/office address to the promotional material, you can go a step ahead to help people actually reach you seamlessly. How?

With a Google Maps QR Code. When end-users scan it, it redirects them to the encoded location on the maps application on their smartphone. No need for them to manually type your address in the app to locate your business.
As a marketer, you know how important it is to build a network of valuable contacts. Hence, when you meet potential prospects, you give them your business card hoping that they'll save you as a contact.
But there's a problem. Recipients need to open the contacts app on their phone to type your contact details. And only then, they can save you as a contact. Since this is a long process, many business cards end up in the trash.
But a VCard QR Code on your business card can help you surpass this problem. When recipients scan it, it will show all your contact details with a button to save your contact. They can simply click the button to do the needful. A much simpler process, right? And the simpler the process, the better are the results.
If you have a podcast, audio guide, or a recently launched song, you'd like to share it with your audience.
In 1989, David Huron, a professor at the School of Music at Ohio State University wrote a paper—"Music in Advertising: An Analytic Paradigm". In this paper, he wrote that music can serve the overall promotional goals in one or more of several capacities. And his words hold true to this day.
Audio QR Codes can help you share the audio files seamlessly. Your audience just needs to scan the QR Code to enjoy the music. And again, it helps increase your overall conversion rate.
Say you have an upcoming event where you'd display and inform about your business and products. And you need to do promotions for this event.
What better way to do it than QR Codes? QR Codes not only help promote your business but also add detailed event information. How? Via Event QR Code.
Event QR Code allows you to share your event complete information such as date and time, venue, and more. Moreover, it gives you many customization options with an option to get the guests to RSVP.
B. Tracking your QR Code Marketing campaigns
I am a big fan of this saying:
[Tweet "Making decisions without metrics is like driving with eyes closed – Gregory Ciotti"]
Tracking the success of a campaign is necessary for further optimization. Especially for a marketer.
The good news is that with QR Codes, you can track the performance of your campaigns easily. All you need to ensure is that the QR Code Management tool you are using allows you to create Dynamic QR Codes. And, obviously, it must have QR Code tracking available.
(Tip for Scanova users: Scanova not only provides QR Code tracking but also allows integration with other Analytics tools. For example Webhooks and Google Analytics. Hence, you can get all your campaign performance data in one place.
It also offers a feature called event tracking. It allows you to see how your audience is interacting with the encoded content after scanning it.)
C. Some popular QR Code marketing campaigns
Marketing campaigns that used QR Codes are were a huge success:
1. Burger King
Amidst the COVID-19 pandemic, Burger King came up with various promotional campaigns. The aim behind them was to attract and engage customers. One of those were QR Codes in TV advertisements. These ads featured a floating QR Code. If a viewer could scan the QR Code, she'd get a free Whopper on the next purchase on the Burger King app.

2. Netflix
Netflix used QR Codes to spread the word about their series Gilmore Girls reboot. And to do it, they printed Snapcodes on 10,000 coffee mugs that led to millions of views on Gilmore Girls-inspired photo filters.
3. Instagram
Instagram has introduced QR Codes which can be fully customized by the user. And users can scan them using Instagram's in-built scanner. When scanned, the QR Code leads end-users to see your Instagram profile. Hence, marketers and businesses are using them to increase their followership.
4. Amazon
Amazon has been using QR Codes for a while. It could be for various use cases. For example, driving web traffic, offering personalized gifts, and providing product information.
Recently, Amazon introduced Amazon SmileCodes on the product packaging. When scanned, they help customers avail coupons and discounts on their future purchases. They also provide product information. And help people retrieve the security code for their Amazon locker.

5. Samsung
As you know, a closed store means customers come to the doorstep, see the closed storefront, and go back. This leads to the loss of potential business. To tackle such a problem, Samsung used QR Codes on a store that was being renovated in front of an Apple store.
At that time, Samsung risked losing customers to a competitor. So, they used QR Codes to grab customers' attention.
Here, Samsung turned their closed store into a wall full of QR Codes. And each QR Code gave customers a unique virtual experience on their phones.
This strategy was so successful that they got more traffic than when their store was open. That's right. These QR Codes were scanned more than 11,000 times. That's huge.
6. Dunzo TV campaign IPL finals 2022
Recently, Dunzo, a quick commerce business, displayed a TV advertisement during the broadcast of the Indian Premier League final 2022. This ad was quite different than traditional ones. Why?
Because it appeared as a TV screen glitch and invoked a nostalgic memory of the old televisions and antennas.
A part of this ad had a QR Code with the text—"Inconvenience is Regretted, Convenience is not". When scanned, it led to a webpage with details about Dunzo and a button to download the app from the Apple App Store and Google Play Store directly.
This ad led to a sudden crash of the Dunzo app. Why? Because out of 10 million people who were watching the tournament, many of them actually scanned the QR Code. The campaign was hence, massively successful!
7. Being poster IPL
It is common for fans to have posters to support their favorite team. Being, a mental health startup, leveraged this opportunity in one of its promotional campaigns during IPL 2022.
They printed a QR Code on a poster along with a message—Mental Health Matters. When scanned, it took people directly to Being's mobile app based on their smartphones.
And since the stadium was filled with hundreds of people while getting aired digitally too, it was a great success. And the best part was that the campaign generated a high impact at a low price.
8. Volkswagen
Volkswagen wanted to ensure that people don't see ads from competing brands. And there are two ways to do it.
One is to buy all the ad slots in a three-minute ad break. But that is very expensive. So, what Volkswagen did to avoid that was very unique.
Volkswagen first identified the slots where their competitors were advertising. Then they bought the first ad slot in that ad break. And this ad showed a QR Code on the screen for a straight 30 secs.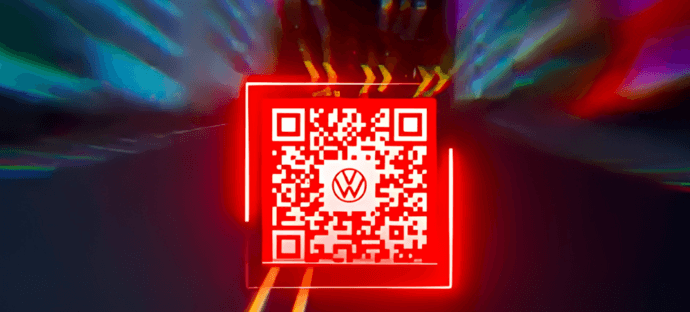 When scanned, the QR Code led people to a live racing game. And the best part was that this game ran throughout the ad break.
While ads from competing brands were airing, people were busy playing Volkswagen's live racing game. And that's how Volkswagen succeeded in beating its competitors with a single QR Code.
9. Budweiser
Budweiser launched a campaign—'The Drop' to celebrate 100 Days to the FIFA World Cup 2022. In this, they dropped hundreds of red prize boxes for fans in major cities all around the world. These red boxes include signed memorabilia, a year's supply of Budweiser, and the grand prize of a trip to the tournament.
But it was impossible for Budweiser to share the boxes' locations with everyone. So, they used QR Codes to identify true football fans. Here, they made QR Codes appear everywhere across the globe. From Mumbai's Football arena in Andheri to the iconic Wembley stadium in London, they were everywhere.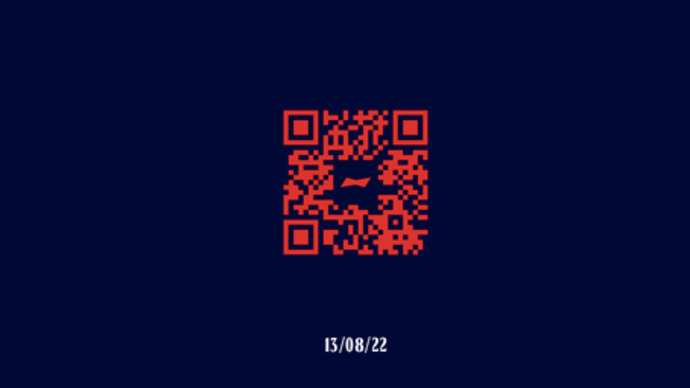 When scanned, the end-users were able to register for this campaign.
Once done, Budweiser was able to share its coordinates with only registered people. But here's the catch—they sent the coordinates of these undisclosed locations only a couple of hours before the drop of these boxes. This way, they kept the adrenaline pumping while ensuring crowd control.
In addition, they partnered with famous footballers such as Messi, Neymar Jr., and Sterling to promote these QR Codes via their own social media handles.
With over 10 million impressions on social media, 'The Drop' becomes one of the best campaigns of this season.
10. Nike
Nike also uses a QR Code on its website to help online shoppers download the Nike app easily.

As people scan it, they are directed to the Nike app as per their device's OS. Hence, this makes it easier for online users to download the Nike app.
11. Walmart
In 2013, Walmart and Procter & Gamble placed QR Codes at all the bus shelters in Toronto. This was to encourage people to use their time more productively while waiting for the bus. When scanned, people get redirected to the Walmart online shopping portal. Here, they could order groceries and other utilities while waiting for the bus.
12. Adidas 'QR to Qatar'

In September 2022, Adidas launched a scannable ad film 'QR to Qatar'. It featured their brand ambassador Ranveer Singh, an Indian actor.
Upon scanning the QR Code, users could participate in the live raffles. The raffles had various prizes, such as a free trip to attend the FIFA World Cup.
13. Thums Up's 'Stump Cam'

In Sep 2022, Coca Cola's Indian brand Thums Up launched a QR Code based 'stump cam' campaign.
Scanning the QR Code gave audience the exclusive access to match footage and content.
14. DBS Bank QR Code gift cards

In Jan 2022, DBS Bank released a series of Chinese new year QR Code gift cards. It was an alternative to traditional red packets and new notes.
Counted amongst the best QR Code marketing campaigns, it aimed to reduce carbon footprint.
The DBS QR Codes were made of eco-friendly paper. After use these gift cards were recycled at recycling points.
15. Coca Cola's QR Code packaging for the blind

This is a unique effort that definitely is one of the best QR Code marketing campaigns out there.
In December 2022, Coca Cola partnered with Royal National Institute of Blind People(RNIB).
Through this collaboration, they created accessible packaging for blind and partially sighted people.
They placed a QR Code on the product packaging. Upon scanning, it redirected users to an audio with information available on the package.
16. boAt's 'Rock in India' campaign

boAt celebrated the continuity of its 'Make in India' initiative with the 'Rock in India' campaign in Jan 2023. For the uninitiated, boAt is an India-based consumer electronics brand
It was one of the best QR Code marketing campaigns in India. Talking of it boAt narrates the story of new era of its products.
The brand also highlighted the power of Indian-ness and uniqueness from the rest of the world.
boAt even launched an interactive print ad with a special QR Code.
On scanning, it took the end-users to boAt's 1 crore 'Made in India' milestone campaign.
17. KitKat's #LoveBreakLingo packs

KitKat took Valentine's day product packaging to the next level. You ask how?
Well, they added a QR Code into their packaging. Scanning the QR Code helped users send personalized messages.
These messages could be sent via WhatsApp using the #lovebreaklingo with other people.
18. Mahindra's 'Together We Rise' QR Code campaign

This one again deserves to make it our list of the best QR Code marketing campaigns.
The 'Together We Rise' campaign was recently unveiled by Mahindra Group.
They created an advertisement with a poem written from the viewpoint of future generations. It communicated the idea of corporate responsibility.
The brand released a print advertisement to promote this campaign. It included a QR Code that took the audience to YouTube where they could watch the TVC.
The ad had kids as consumers of the future whose views on how business is run should be valued.
It's aim was to raise awareness among corporations about the importance of a sustainable future.
19. Cadbury Celebration's #ShopsForShopless campaign

This campaign was launched during Diwali 2022 to support and empower the street hawkers.
The Cadbury Celebration's package had a QR Code. When scanned, it enabled consumers to promote and setup a virtual shop for their local hawkers.
Consumers could then go on to add details like vendor name, phone number and images on the website.
After registration, anyone could shop for the products via a phone/video call or an SMS.
How to create QR Codes for marketing
Now you know all about QR Codes in marketing. The next question—how to create one?
I. Create QR Codes one by one
If your use case doesn't require hundreds and thousands of QR Codes, this is the right choice for you. This option offers you a wide range of QR Code categories to choose from. For example, Event QR Code, Website URL QR Code, Product QR Code, etc.

To create one, you simply need a QR Code generator. You can find various QR Code generators online.
But comparing each result to find the best one is a tedious process. For your convenience, here is a detailed comparison of the best QR Code generator available online. You can go through it to find the best one for yourself.
Once finalized, you can go ahead and create your own first QR Code. To help you get started, here's a step-by-step guide on it.
II. Create QR Codes in bulk
In case, you want to create QR Codes in bulk, then you can go ahead with this option.
To do it, you'd need a bulk QR Code generation service. It allows you to create up to 100,000 QR Codes in one go. Thus, it eliminates the need to generate QR Codes one by one.
Bulk QR Code generation service offers a variety of choices. For example, Website URL QR Codes, Simple Text QR Codes, Serial Code QR Codes, and VCard QR Codes.
To make use of it, you simply need to upload a data file in XLS, CSV, or XLSX formats. And this file needs to have all the data to be encoded in the QR codes. Once done, you just have to wait for the QR Codes to be generated and download them in a zip folder.
For more information, here is a detailed guide on how to generate QR Codes in bulk.
III. Create QR Codes programmatically
If you want to integrate QR code generation into your own information system, QR Code API can help you do it.
It allows you to generate QR Codes programmatically in real-time. Hence, there is no manual intervention required to create the QR Codes.
That's it. That is all you need to know about how QR Codes are used for marketing. In fact, a lot of marketers are already using QR Codes in their campaigns. So, get started today and add the dimension of QR Code to your existing print media and outdoor campaigns.