Say you run a parking lot facility. And you know how important it is for your business to offer a hassle-free customer experience. After all, that's how you'll delight them.
And to do it, you will have to provide them a smooth parking experience. From avoiding long queues to hassle-free payments, you'll have to do it all.
And you know that the tiny square-shaped barcodes called QR Codes can help you do it. They were once commonly seen exclusively for payments but that's not the case anymore. From tables in the restaurants to product packagings, they can now be seen everywhere.
These QR Codes can help streamline your entire parking facility too. And in this article, we'll discuss five ways how a QR Code can be used to make parking better.
A. How QR Codes can be used in Parking
QR Codes offer various benefits while leading the customers to an appropriate parking spot. Here are some of them:
1. Offers contactless payment
Customers often have to wait in queues to pay for their parking spots. And ever since the pandemic, making the payment via card/cash makes has become unsafe.
But QR Codes can save both staff and your customers from all the hassle. QR Code payments are beneficial for both the stakeholders alike.
With QR Code payments, you don't need to invest in a cost-expensive set up to accept digital payments. Simply put the QR Code at the entry/check-out counter. And customers can scan it to make the payment.
Do you know the global contactless payments market is projected to cross $4.68 trillion by 2027? And QR Codes are surely going to contribute a great deal to it.
2. Sharing owner's information
Say a customer has availed of your services to park a vehicle but has somehow obstructed another parking lot. Sometime later, another customer walks and sees the obstructed space. In such cases, you'd need to ask the first customer to move their vehicle.
And to do it, you need their contact information. Here, you can ask your customers to fill a registration form at the counter. But here's the problem—people have to unlock their devices, open the browser, type the URL, fill in the details, and finally submit it. This is a tedious and time-consuming process. While some people may do it, many won't even bother.
Hence, you need a sustainable and quick solution. This is where QR Code-based forms can help you. How?
Just prepare a digital form that asks for the driver's name, number, and vehicle details. Then create a QR Code and place it at the counter. Customers will scan it to fill the required form. With this, you can contact the driverwhenever you'd need to.
You can generate QR Codes in real-time within your system via QR Code API. It will be discussed later in the article.
3. Increase traffic to your website
Let's say you want to take people to your website. Here, they can read about your rules or make a booking online for a parking spot. A Website URL QR Code can help you do it easily. Just add it to your promotional materials and customers can scan it to visit your website in a simple scan. It's that simple.
4. Increase app downloads
If you have a mobile app for your parking facility, you'd want people to download it. After all, it will help them avail your services easily.
Here, you can create an App Store QR Code and place it on your print promotions or inside the premises. When scanned, it will redirect the end-users to your parking app on the relevant app store depending on their phone's operating system. Easy, right?
5. Provide coupons and discounts
You know nothing beats discounts and offers to get customers to buy your services. In fact, many companies are using their bills to do it.
And you can do it too by simply adding a Coupon QR Code to your parking slips. When customers scan it, they'll see the coupon details with an option to redeem. That means no need for them to type or remember the coupon code themselves. All they need to do is—scan the QR Code and redeem the coupon.
B. Examples of organizations using QR Codes for parking
1. Parksafe app
Parksafe App is a mobile app designed to help people contact the owners of wrongly parked vehicles. This app is only available for residents of two cities of Punjab in India—Mohali and Chandigarh.
Here, cars bear QR Code-based stickers on their windshields. When scanned using the Parksafe app, the QR Code leads to a chat window where people can get in touch with the car owner.
2. Frankfurt airport
Frankfurt airport is using QR Codes to ensure a seamless drive-in and out experience for customers. Here's how it works:
Customers book Mobile parking pass online
Once booked, they will receive a confirmation email containing the QR Code
Next, they can save this QR Code as an image on the smartphone or print it
Then they can go to the entry column of the parking row and scan the QR Code
They park the vehicle. Once done, they receive the location of the car via email. To be on the safe side, it's a good idea to note down the car's location or click a picture
On return, they proceed to the exit column of the car park gate and scan the QR Code
3. Bombay Municipal Corporation
Bombay Municipal Corporation (BMC) has also placed boards with QR codes on major roads within 500 meters of six PPLs. It aims to help motorists find parking spaces. When scanned, motorists can find all nearby PPLs on a map and also directions.
C. How to create a QR Code for parking
Now you know how QR Codes in parking are useful. The next question—how to create them?
1. Decide on your QR Code category
Depending on what you'd want your end-users to see, you'd need to select the relevant QR Code category.
For example, if you'd want them to download your app, you'd need to create an App Store QR Code. Or if you want to give them discount coupons, you can create a Coupon QR Code.
Once decided on the QR Code category, you can head on to your chosen QR Code generator. In case you haven't chosen one, here is a detailed comparison chart on the best QR Code generators available online. You can go through it to make a sound decision.
2. Create a QR Code
Here are the three different methods by which you can do it:
a. Generate QR Codes one by one
If you don't need to create multiple QR Codes together, this option is suitable for you. Using Scanova QR Code generator for a demo, here is how you can create a QR Code for parking:
1. Go to Scanova
2. Select the most relevant QR Code category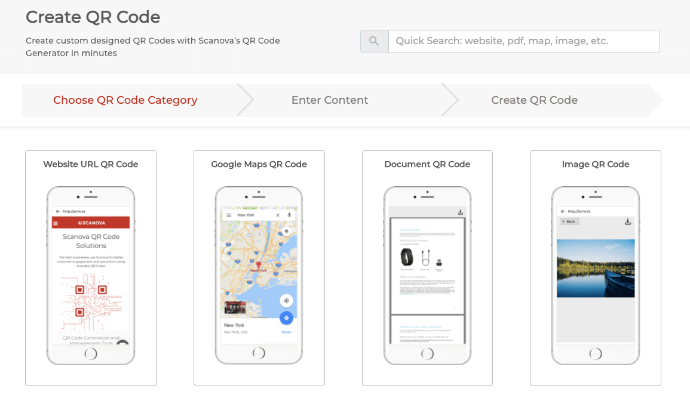 3. On the page that loads, add the content you want to encode in the QR Code and click Continue
4. Name the QR Code and click Create QR Code
5. Now, you'll see the preview of the QR Code on the right. Under it, you'll see the Edit Design button. If you click on it, you'll see two design options—Custom Logo Design and Custom Background Design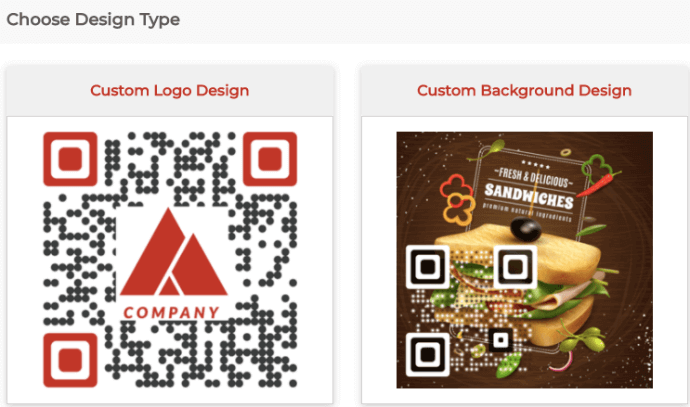 Custom logo design allows you to add your business's logo and colors to the QR Code. On the other hand, custom background design helps you place your QR Code on any image.
6. Once you've decided on design or no design, click Download. A window will open, prompting you to sign-up for a 14-day free trial. Once you've signed up, proceed to download the QR Code
7. Now, you'll be asked to specify the QR Code image's format and size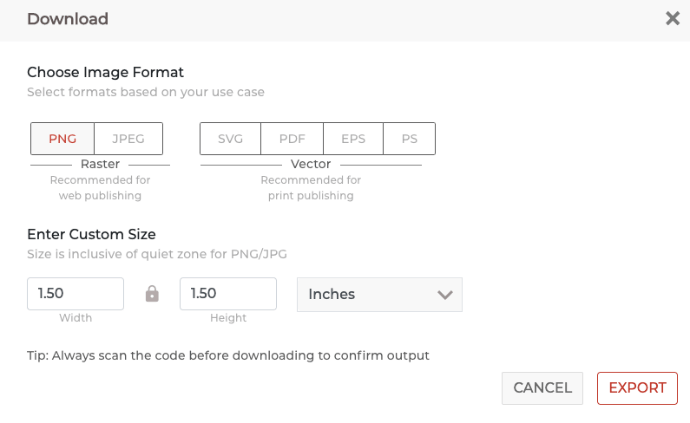 8. Specify these details and click on Export
That's it. Your QR Code will be downloaded. It is always advisable to test scan the QR Code before putting it out for the target audience.
b. Generate in bulk
Need to create multiple QR Codes together? You can save time and effort by using a bulk QR Code generation service. It allows you to generate static QR Codes in bulk. You can create Website URL QR Code, Simple Text QR Codes, Serial Code QR Codes, and also VCard QR Codes via this option.
For more information, you can go through this detailed guide on how to generate QR Codes in bulk.
c. Generate programmatically
Say you have your own parking information system or mobile app and you want to integrate QR Code generation into it. A QR Code API can help you to do it. It allows you to generate QR Codes programmatically via your own information system in real-time. Hence, you won't need any manual intervention to create the QR Codes.
That is all you need to know about how QR Codes can be used in parking. You can now create your own QR Code to boost your business and offer your customers a seamless experience.
[cta1 caption="Enhance your Parking experience" content="Get started with your first QR Code" buttontext="Create QR Code now" destination="https://app.scanova.io/qr/create?utm_source=dk_sd_qr-code-parking_bod&utm_medium=blog&utm_campaign=content"https://scanova.io/blog/wp-content/uploads/2016/12/qrcode-8.png"]