You all know about QR Codes. Popularly known as advanced barcodes, they are being used across industries. Thus, QR Codes have become the new sensation of today. 
Many social media apps such as Facebook, Instagram, Snapchat, TikTok, and WeChat also use QR Codes for diverse purposes. 
WeChat is one of the most popular apps in China. QR Codes are used almost everywhere in China and WeChat is driving the trend most. With WeChat QR Code, you can make payments and connect with your friends quickly and easily.
In this article, we will detail on WeChat QR Codes. Keep reading to know more. 
A. WeChat QR Codes: A brief
WeChat QR Codes are colorful barcodes, which can be shared on social media. Every WeChat user has a unique QR Code. This QR Code is personal and their design can be changed. 
Plus, one can also add people quickly to WeChat groups through QR Codes. That is, upon scanning the WeChat QR Code of an account, you can easily follow them. Hence, the use of WeChat QR Code for promotional purposes in China comes as no exception. 
One can also make payments through WeChat QR Code. QR Code-based payments today are widely used. They are secure, quick, easy, and reliable. 
In this article, we will explain all the use cases in detail. But let's start with how to find your WeChat QR Code. 
B. Find your own WeChat QR Code
When you sign up for an account with the app, WeChat will create a QR Code for your account. Here is how to find it:
1. Go to the 'Me' tab of your WeChat App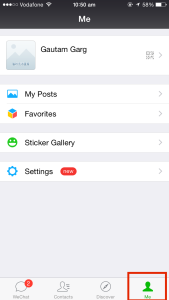 2. Click on the little QR Code icon next to your name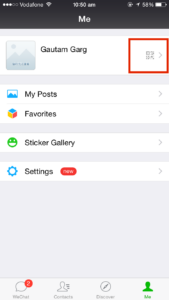 3. Now Click on the 'My QR Code' field to reveal your own QR Code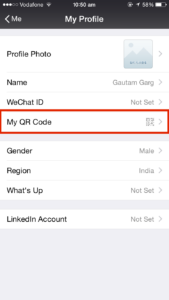 For example, the image below is my personal WeChat QR Code. Feel free to add me (we'll soon find out how) and say Hello.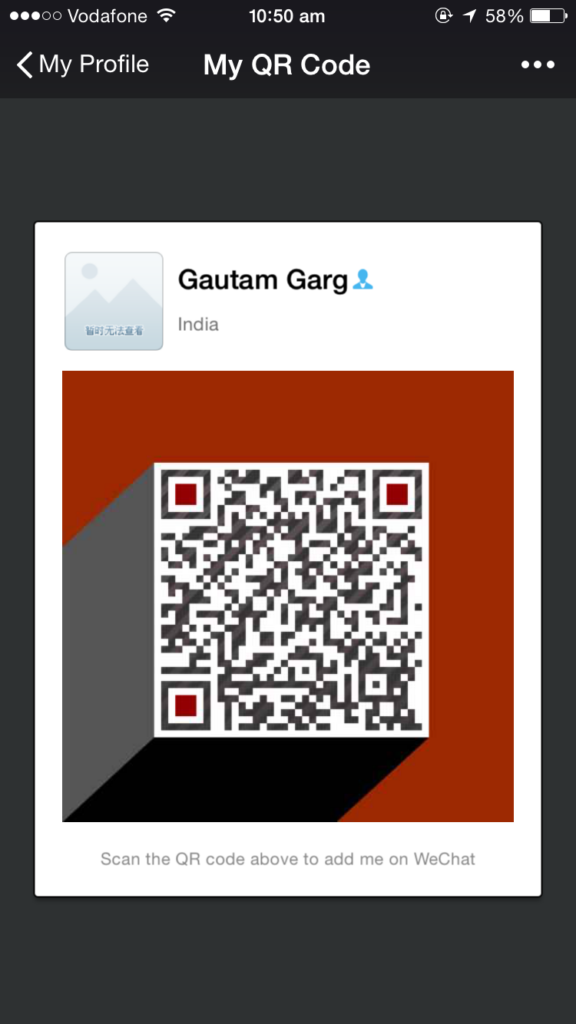 4. If you click on the 'More Options' icon on the top right corner (if you are an iPhone user), you will get options to share, edit design, and save the QR Code.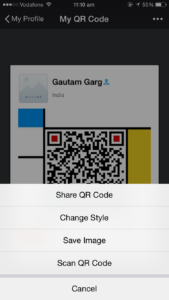 Now you know why your friends have been sharing their WeChat QR Codes on Facebook.
C. Add People as Contacts on WeChat using QR Codes
WeChat QR Codes provide a neat way of adding people to your account in a secure way. Unlike WhatsApp, it is not mandatory to add a phone number and you can immediately add people (or brands) and start chatting with them.
Here is how you can add people:
1. Go to the 'Discover' tab of the app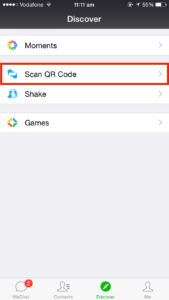 2. Click on the 'Scan QR Code' option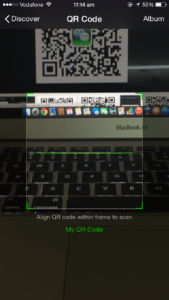 3. Scan the QR Code either from your friends phone or the image shared by him (or her). He will directly be added to your account and you can start texting immediately. Its that easy. Note that you will still not have access to his phone number, making this connection secure.
Now let's go ahead to show how you WeChat QR Codes for groups work. 
D. QR Codes for WeChat groups
WeChat also has group QR Codes. With group QR Code, you can add people to the group effortlessly. You can also post this QR Code with a short synopsis of the group's purpose. 
Unlike Whatsapp, you do not need to be the group admin in order to find your group QR Code. And to do it, here are the steps, which you need to follow:
1. Open WeChat and go to the group to which you want to add participants.
2. Now, go into your group chat thread and tap the little head and shoulder's icon at the top right corner. 
3. Next, from the group options select 'Group QR Code'. This is your unique WeChat group QR Code. 
Now, by tapping on three dots on the top right corner, you can choose from the following options: 
Share via email:

You can share the QR Code via email for a clearer QR Code image

Save to phone:

You can save the QR Code image in your gallery and share it with your friends over social media

Scan QR Code

: This option is self-explanatory
Now, the question comes how to scan a QR code in-bedded in a picture that's been sent to you on WeChat? 
For this, hold down on the picture and wait for the scanning options to pop up. This way, you can add followers to the group instantly. Or print this QR Code for promotional purposes.
Related : QR Code For Link
E. WeChat web QR Codes
Just like Whatsapp web, WeChat also has the option to enable chats on desktop. And for this, you just need to follow some easy steps:
1. Go to WeChat web.
2. Here, you will see a QR Code that you need to scan using your WeChat app on your phone.
3. Now, in order to scan the QR Code, open WeChat on your smartphone and go to the Discover tab.
4. Choose the 'Scan QR Code' option and point your camera towards the QR Code on WeChat Web. Once the QR Code is detected, you will be asked to confirm web login on your phone.
5. Now, confirm login. Once done, you are ready to start chatting. 
It's that easy.
In order to know more about it, you can refer to this detailed guide on WeChat Web QR Codes. 
So, this is all about how WeChat QR Codes can help you connect better with your social circle. Now, let's move on to see how WeChat QR Codes help in performing functional purposes such as payments. 
F. Make payments with WeChat QR Code
90% of the population in China has linked their bank accounts to WeChat. This makes WeChat payment option possible. WeChat QR Code payments are secure, quick, and reliable.
And in order to make a transaction, Simply tap the + button in the top right corner of the home screen. Here, click on the option of 'Receive Money'. 
The QR Code will appear. The person making the payment just needs to scan this QR Code for you to receive money.
Note that the highest amount you can receive is ¥ 10000. 
Hence, both small and large scale businesses in China use WeChat QR Code payments in order to receive money. This method is most popular among small street vendors in order to facilitate cashless payments. 
G. Use WeChat QR Code to Download App
WeChat also uses a QR Code to allow users to download their app.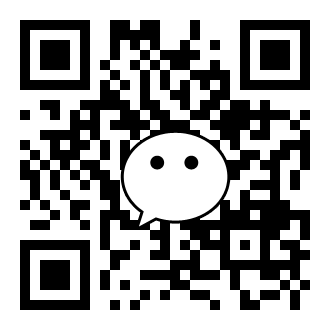 To scan this QR Code, you will need a generic scanning application (such as inigma or Quick Scan for iPhone and Barcode Scanner or QR Code Reader for Android).
Note how a single QR Code can identify your device and redirect you to the right App Store. Such a QR Code is called an App Store QR Code. If you are a mobile app developer, you can use such a QR Code to allow users to easily download your app. You can use the online QR Code Generator Scanova to create one.
Now, you know that it is very important for the QR Code to be scanned properly. A QR Code, which cannot be scanned is rendered invalid. 
Thus, in the next section, we will detail on some of the best practices for scanning the QR Code. 
H. QR Code scanning: best practices
Follow these best practices in order to scan flawlessly: 
1. Keep your camera lens clean
In order to scan flawlessly and instantly, it is important to keep the camera lens of your smartphone clean. The clearer the lens, the better will the scanner be able to detect the QR Code.
2. Scan in a well-lit area
Scan in an environment, which is full of light. This will help the scanner to detect the QR Code easily. If you are scanning in a dimly lit area, there is a high probability that the QR Code will not be scanned.
3. Scan from a close distance
It is important to scan from a close distance for easy detection. And in order to effectively scan the QR Code, it should be within 1cm (0.4 inches) across the viewport of the scanning device (smartphone).
As the distance between the camera and the QR Code increases, the size of the QR code will appear to shrink. This will lead to difficulty in scanning.
Now you know that WeChat QR Codes are omnipresent in China. One can use it to increase followers, promote their product, or to make quick payments. 
That's all you need to know on WeChat QR Codes.
Still have questions on WeChat QR Codes? Ask in the comments section below.