If you're a marketer, you'd know how powerful YouTube can be for your marketing mix. In 2021 alone, it generated USD 28.8 billion in revenue with a 46% year-on-year growth. Thanks to the 2.5 billion (and counting) users who use the platform every day.
In fact, the number of people who prefer consuming video-based content is growing too! That means the plain text is no longer enough to engage your audience.
If you really want to engage and even retain them, video marketing shall go a long way. To ride this wave, you are making use of this video streaming platform too!
And here's the deal—you want to promote your YouTube videos. So you're thinking of using a technology that's not only useful for you but easy for your audience too!
Enter—QR Codes! Having picked traction massively across the globe, they make an excellent marketing tool. And they're really easy to use for the end-users too.
They just need to open their phone's camera application to take a quick scan. Even if their phone lacks the feature, they can install any free third-party application to do the job.
So you're looking forward to creating a QR Code. And this article shall explain everything you need to know about a YouTube QR Code generator.
A. YouTube QR Code Generator: The basics
First, let's just quickly see what a YouTube QR Code does. A YouTube QR Code when scanned redirects your end-users to watch the required YouTube video. Alternatively, it can also take them to your YouTube channel.
That means your target audience will not have to manually type any link. A scan would do the job for them in a second or two.
That's why they make an ideal addition to print media promotions too. How? With them, it becomes easy for the end-users to switch to online content (video) via print. When that happens, the success rate of your campaign increases.
In fact, with a QR Code, you can even track how well your print media campaign has performed. How? Via scan tracking feature which helps you monitor the QR Code's scanning activity. We'll talk about it later in the article.
Now that you've got the basics covered, let's see what features your YouTube QR Code generator must have.
B. Must-have features for your QR Code Generator
While the list can get pretty long, we've curated the four most important features to watch out for.
1. Dynamic QR Codes
Suppose you created a QR Code that redirects the end users to one of your videos. And you added it to your print media creatives. After a month or longer, you want your QR Code to rather take the end-users to another video of yours.
Here, you'll not have to create a new QR Code from scratch. Dynamic QR Code will help you update the link in the existing one. Yes, you read it right!
But you can do it only if the QR Code is dynamic in nature.
In fact, with the dynamic counterparts, you can even track the scanning activity of your QR Code. So is not the case with the static ones. Static QR Codes are permanent (non-editable) in nature and cannot be tracked either
Being a marketer, this kind of flexibility can be of great help.
Related : Best QR Code Generator
2. Track Scanning Activity
If you're a marketer, you know the value of evaluating your campaigns. It helps you to understand if your campaigns are meeting expectations or not.
Campaign analysis and optimization go hand in hand. Not paying attention to numbers is as good as leaving money on the table.
That's why you must ensure that your QR Code generator offers scan tracking. It'll help you see the scanning activity based on:

– Time and geography
– Devices used
– Browsers used
– Exact GPS location
Having access to such data will help you improve your campaigns in the future.
3. Event tracking for deeper insights
Event tracking is another valuable asset that you'd find helpful.
Most QR Code generators only offer scan tracking (which may not be enough at times). Knowing what the users did after scanning the QR Code can go miles in terms of user-behavior monitoring.
For example, after users scan the QR Code, see how many of them actually hit the 'Register Now' or 'Visit Website' button.
4. Customization of QR Code design
A plain black-and-white QR Code is quite boring to look at. And let's be honest, it just doesn't go well with the creative's design at times.
But the good news is that a QR Code can be custom designed easily. And you don't even need to hire a graphic designer to do the job.
You can do it yourself in minutes in one of the following two ways:
a. By adding colors and a logo
You can change the QR Code's color and even add a logo in the center. This is called the custom logo design variant.

Just make sure there's enough contrast between the background and the QR Code. So for a light-colored background, the QR Code must be dark and vice-versa.
Similarly, you can also add a logo (image or text) to the QR Code.
b. By adding a background image
You can also add a background image and superimpose the QR Code on it. However, here you'll not be allowed to add colors to the QR Code. This helps maintain the scannability of the QR Code.
Now that you have learned the features your service provider must offer, let's move on to the next step.
C. Generate QR Code for your YouTube Channel
You've now learned all the basics of a YouTube QR Code generator. Let's now see how to use one.
Using Scanova for a demo, here's a detailed step-by-step guide:
Go to Scanova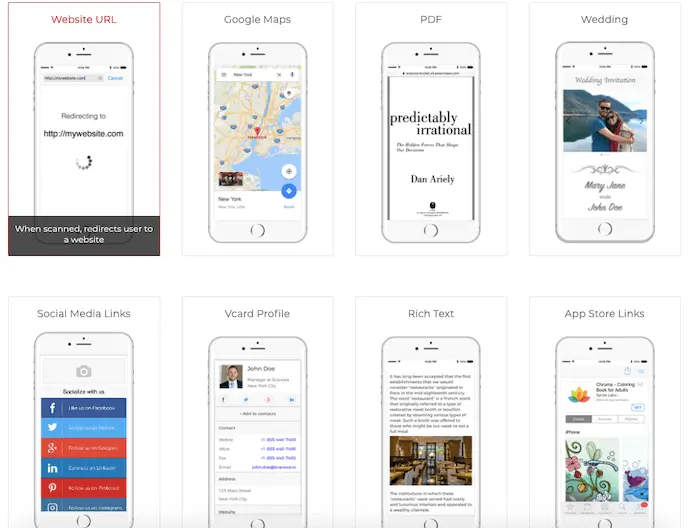 Select the Website URL category from the dashboard
Enter the YouTube link you want the end users to be redirected to
When you're done, click on Continue
Next, name your QR Code and proceed to the next step
On the next page, you'll see the QR Code details with an image at the right. Under it, you'll also see the Edit Design option
Using it, you can add a design to the QR Code.
As soon as you're done, Save the changes & click on Download
A pop-up window will ask you to sign-up for a 14-day free trial.
Note: No need to give your card details while signing up
After signing up, click on Download
Now you can enter the size and format of the QR Code image to be downloaded
After adding these details, click Export
That's it! You are done with your QR Code. Hope you find it useful. Also, make sure you test scan the QR Code before adding it to your campaigns. It'll help ensure that you don't just have a QR Code but it works too!