You probably know what QR Codes are. And you regularly use them for your business. It could be for any use case such as doing product promotions, getting visitors to your website, or even offering deals and discounts.
You are probably thinking of using a large-sized QR Code for one of your campaigns. This could be for a billboard or a digital screen.
To do it, you will need a QR Code image that will not pixelate when the resizing is done. This would ensure high scannability for the target audience. After all, none wants to be stuck with a QR Code that just doesn't scan.
In this article, we will discuss various use cases of a large QR Code along with an easy way to create one in minutes. Keep reading to know more.
A. How large QR Codes are useful
Large QR Codes can act as a point of attraction and make your marketing creatives actionable.. And here are some popular use cases of the same:
Say you are planning to run marketing campaigns using QR Codes. And you have decided to do it via billboards, banners, and large digital screens.
You want to redirect your target audience to your website. It could be to check out your product range, watch a video, or even make a purchase.
Here, a Website URL QR Code can help you do that. Just place it over your desired creative. When scanned, the target audience will visit your website in no time.
Thus, they no longer have to manually type the web link to visit it. All they need is a simple scan. And the easier the process, the better is the engagement rate.
Similarly, you can also a Social Media QR Code to increase your followers on social media. When scanned, your audience will see a landing page with buttons linking to all your social media accounts. They can then select their favorite one to follow you online.
2. Offering coupons and discounts
It's common for businesses to offer discounts and coupons. To do it, they run promotional campaigns. They help create a pull among the audience to boost sales.
And if you're planning on using large screens such as billboards or digital screens to get the job done, QR Codes can help you again. How?
Just place a Coupon QR Code on them. When scanned, your target audience can easily access the encoded coupon code and redeem it. Thus, increasing your conversions.
3. Increase your mobile app downloads
Say you provide your products and services via a mobile app. Then it makes sense that your audience downloads it. And to enable that, you'll have to run promotions.
Here, an App Store QR Code can help you out. Just place it on your promotional material such as digital screens or billboards. People can scan it to be redirected to your app on the relevant app store depending on their phone's operating system.
In addition, if you want them to visit a particular page in your app, you can go for an App Deep Link QR Code.

Related : How To Make QR Code For App Links: Everything You Need To Know
4. Generate leads
You know the importance of lead generation. And the best way to collect leads is via promotions and lead generation forms.
But here's the problem— people have to open their mobile browser, type tediously the form link to access, and fill it.
This is a long process. While some people may go through it, others won't bother.
However, QR Codes are here to save the day. They offer the lead generation feature.
When scanned, they take the end-users to the lead generation form. Once they fill it, they see the desired content. It could be text saying 'Thank You' or a document (lead magnet).
Here's how this works:
You create the desired QR Code and enable lead generation with the information you'd like to collect
You add this QR Code to large screens
Your audience sees the QR Code and scans it
They see a form with the fields specified by you
Once they fill the form, they submit it to see the content encoded in the QR Code
You can access these leads anytime you want via your QR Code service provider. Easy, right?
5. Help people know your business' exact location
If you are a brick-and-mortar business, you need people to visit it to make sales. And to do it, you need to inform your audience about the address.
Here, a Google Maps QR Code can help them visit your store. How? People can scan it to see the encoded location on their phone's maps application.
Thus, they no longer need to manually locate your business.
You know how important it is to share your contact details with your potential customers. After all, that's how you grow your customer base and ultimately, boost your revenue.
And a  VCard QR Code helps you to do it. How? Just place it on the desired screen. And people can scan it to see all your contact details. It could be your name, contact number, email, address, website, and even your social media handles. Along with these, they also see the option—Save as Contact.
Thus, they can save you as a contact with a single click. Easy, right?
B. Examples of QR Codes on billboards
1. Calvin Klein
Calvin Klein, a fashion company, had used bright red QR Codes on three of its billboards—two in NYC and one in LA. They did it with a CTA—"Get It Uncensored."
Passersby could use their smartphones to scan the QR Code. When done, they would be redirected to an exclusive, 40-second commercial featuring models Lara Stone, "A.J.," Sid Ellisdon, Grayson Vaughan, and Eric Anderson.
And the audience could even share the QR Code to their Facebook and Twitter networks.
2. Levi's Ad Campaign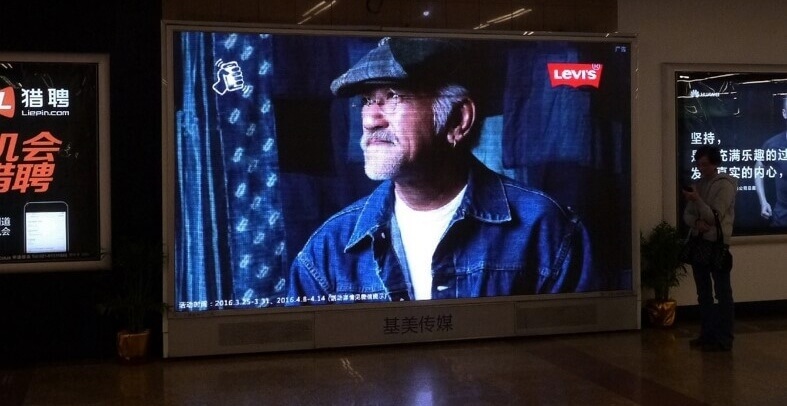 In 2016, Levi's, a clothing company, came in partnership with a media agency, OMD, to launch a QR Code campaign in China. The idea was to create brand interest among the youth.
Here, Levi's didn't even create a single ad for the campaign. In fact, the campaign was aimed to encourage people to create their own ads.
To do it, people had to strike a pose and thus, becoming the star of Levi's print ad. These ad posters containing QR Codes were put up at different locations. People could scan the QR Code to share them with friends on WeChat.
This campaign increased Levi's consumer engagement by 2.9 million in the form of likes, forwards, comments, and shares.
3. Victoria's Secret

In 2012, Victoria's Secret, an American premium womenswear and beauty products manufacturer, displayed QR Codes on billboards. They wanted to encourage people to scan and view the brand's latest lingerie collection.
4. Shanghai

In the Skies of Shanghai, Cygames and Bili Bili celebrated Princess Connect Re:Dive Anniversary show by using 1,500 LED drones up the skies.
During the event, these drones synchronized and took the form of the Princess Connect Re:Dive characters like Labyrista, Hiyori, Chika, and Kyuoka. This showed how the game works and boosted engagement.
In the end, the drones slowly gathered at the center and formed a scannable QR code in the Shanghai sky. Players could scan this to open the game's homepage while in the show.
5. BTS

You probably have heard about BTS (Bangtan Boys). They are one of the most popular South Korean band groups. And they also are using QR Codes on billboards for their fans.
When scanned, it leads the fans to their website called the "ARMYPEDIA". It allows them to access all the BTS information corresponding to that particular date.
C. How to create a Large QR Code
Now you know how they are useful. The next question—how to create one?
1. Decide on your QR Code category
This depends on what you'd want your end-users to see. For example, if you'd want to redirect them to your website, you'd need to create a Website URL QR Code. But to give them discount coupons, you'd have to create a Coupon QR Code.
To help you out here, here is the list of all relevant QR Code categories, you can use.
Once decided, you can head on to your chosen QR Code generator. In case you haven't chosen one, here is a detailed comparison chart on the best QR Code generator available online. You can go through it to make a sound decision.
2. Create a QR Code
Using Scanova for a demo, here is how you can create one:
a. Go to Scanova
b. Select the most relevant QR Code category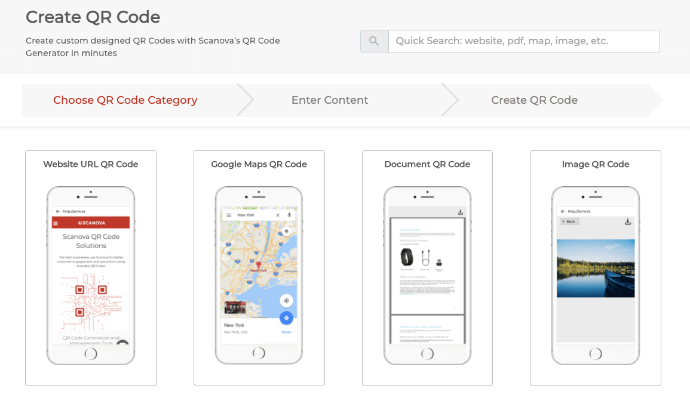 c. Now, add the content you want to encode and click Continue
d. On the page that loads, name the QR Code and click Create QR Code
e. Now, you'll see the preview of the QR Code along with other details such as the name, type, and category. On the right, you'll see the Edit Design button
f. If you click on it, you'll see two design options—Custom Logo Design and Custom Background Design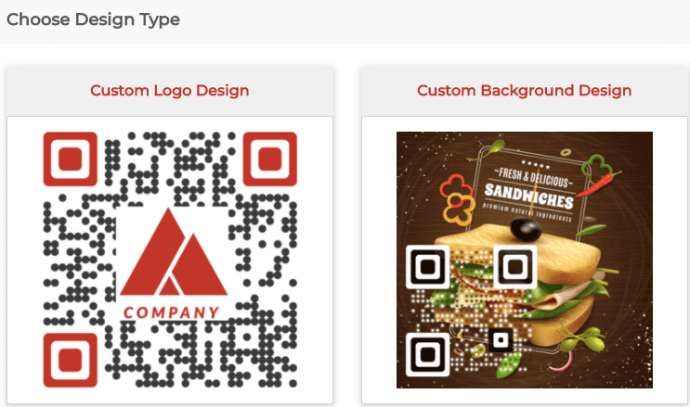 Custom Logo Design: It allows you to add a logo and colors to the QR Code.
Custom Background Design: It helps you place your QR Code on any image.
g. After finalizing the design, click Done Editing followed by clicking on Download. A window will open, prompting you to sign-up for a 14-day free trial. Once you've signed up, proceed to download it
h. Now, you'll be prompted to specify the image's format and size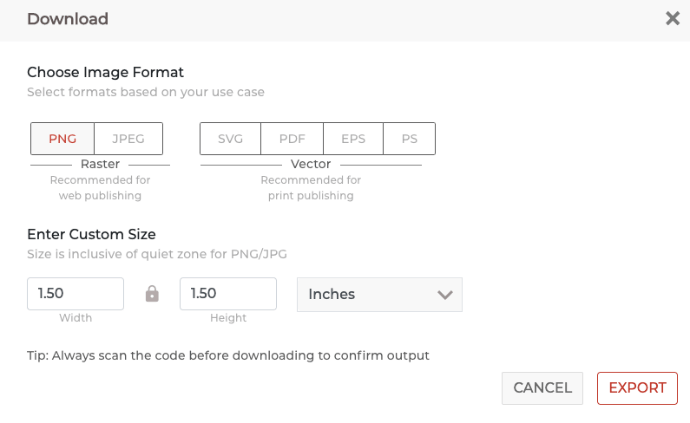 Note: If you're going to use it on print media creatives such as billboards, make sure you download it in vector formats such as SVG, EPS, PS, and PDF. They ensure that the it doesn't get pixelated no matter how much resizing is done.
i. Specify these details and click on Export
That's it. It will be downloaded and ready for use
That is all you need to know about a Large QR Code. You can now create your own to attract passersby's attention and boost your engagement.