Christmas holidays are fast approaching with less than two months lefts for the festival. It's that time of the year when everyone around is sending and receiving gifts.
After all, Christmas gifts are one of the best ways to express love and gratitude towards your loved ones.
Hence, you might have started Christmas shopping already. According to Statista, 15% of people do their holiday shopping in December. And in this digital era, many of them use digital platforms for the same.
Did you know that internet users grew by 7.3% from Jan 2020 to Jan 2021? And here 96.6% of device ownership belongs to smartphone users.
That means as a business looking forward to increasing its customer base, you must not ignore digital channels of promotion. In fact, the best way to do so is by targeting your audience via their smartphones.
You may think—should I focus just on digital promotions and not print media? Well, we'd say—both. How?
Well, since print media has a longer attention span, use it to grab your audience's attention. And leverage the readily actionable nature of digital media to make your campaigns actionable and trackable.
You can do it easily with the help of QR Codes. They bring you the best of both worlds.
For the uninitiated, QR Codes are 2D barcodes that can store a lot of information and are scannable with a smartphone.
They bridge the gap between print and digital media, making print media actionable and trackable.
Keep reading to know how QR Code technology can be used this Christmas.
A. How QR Codes can be used for Christmas shopping
As mentioned, QR Codes can help push your marketing campaigns. Here's how you can use them:
1. Take people to your website
Say you are planning to run print media promotions for Christmas-themed gifts. And you have a website for the same. Now you want to direct your target audience to your website.
Traditionally, to get people to visit your website, you'd add the required link to your promotional creatives. But here's the problem—people have to pull out their smartphones, open the browser, tediously type the link, and finally visit your website. You know that it is a long and tedious process. While some people may do it, others simply won't.
But a Website URL QR Code has got you covered. When scanned, it redirects your audience to your website. You can also use this QR Code to push your festival-themed promotional video to your target audience.
Thus, you will see an increase in the response rate of your marketing campaign. In addition, you will even be able to track the performance of your print media campaign using the QR Code scan tracking feature.
2. Boost app downloads
If you have a mobile app for your business, then you'd need people to download it. Your business could be using it to offer festival-themed items.
But getting people to download your mobile app can be quite a task. However, an App Store QR Code can help you simplify this process. As soon as people scan it, they will be redirected to your app on the required app store based on their mobile's OS. They can then simply download the app and start their purchasing journey.
Moreover, you can also direct them to visit a particular page within your app via an App Deep Link QR Code.
You know how important it is to offer your customers a genuine product. This is especially important during the festive season when the rate of scams is quite high.
Thus, you need to ensure your customers' complete product transparency. But it's easy said than done. That's because, with limited product packaging space, it becomes challenging to do so.
However, this is where a Product QR Code comes to your rescue.
It allows you to add all your product details such as images, descriptions, website links, and even social media sharing buttons.
You just need to ensure you have added a suitable CTA. It could be anything such as—'Scan here to know detailed product information. This small text will help the customers understand what they need to do. Easy, right?
If you have an audio guide or a Christmas-themed song, you'd like your audience to listen to it.
And Audio QR Codes are here to help you do the same. Your audience just needs to scan the QR Code to enjoy the music. This will leave a lasting impression in their minds and thus, fetch your desirable results.
5. Offer coupons and discounts
It is common in business to give out coupons and discounts. This is especially true during the festive season. After all, at that time, business competition is cut-throat.
Coupons and discounts can not only help attract customers but also keep them coming back. And a Coupon QR Code can help you do it smoothly. It serves two benefits:
In pandemic times, people like to avoid physical contact with objects. And QR Codes make it a reality by offering them a contactless experience
Customers don't have to carry the coupon or remember the code. Easy, right? They just need to scan the QR Code and click on the Redeem button to avail of the offer
6. Generate leads
Do your promotional campaigns aim to generate leads and ultimately convert them into sales? QR Codes are up for the game.
They offer the lead generation feature. When your audience scans the QR Code, they get prompted to fill out the lead generation form. Once they do it, they can see the actual content encoded in the QR Code.
7. Help people know your business' exact location
Say you have decorated your brick-and-mortar store for Christmas and are ready for the business. Now you want people to visit your store and enjoy the view while shopping.
To do it, you will have to add your store/office address to the promotional material. But what if there is a much simpler way to help people actually reach you seamlessly?
You can use a Google Maps QR Code. Your customers can scan it to view the encoded location on the maps application on their smartphone. No need for them to manually type your address in the app to locate your business.
It's common for businesses to build a strong social media presence. And festival time is one of the best times to do it. After all, this is when people look for trendy collections and the businesses offering them.
Hence, you'd want the relevant audience to follow you online.
But simply printing the links to your social media accounts and hoping that people would follow you is futile. Why? Because manually locating your profile requires a lot of time and effort. And people usually don't bother to do it.
So, you need to offer an easy way for your audience to follow you online. And a Social Media QR Code has got you covered. When scanned, it shows a custom page containing buttons with links to all your social media accounts. People can then select their favorite one to follow you online.
9. Sharing your contact information
As a business person, you know how important networking at the right time is important. This is especially true for seasonal businesses. Thus, you need to share your contact details with people.
To do it, you probably use a paper-based business card to do it.
But after receiving the card, recipients have to open the Contacts app on their phones, fill in your details, and finally save you as the contact. This is a tedious and time-consuming process. Thus, various business cards end up in the trash rather than in the recipient's contacts.
But VCard QR Code is here to save the day. Just place it on your business cards. When scanned, recipients can see your contact details with the option to add you as a contact.
B. Examples of Christmas campaigns using QR Codes
1. Fun rewards by Coca-Cola
In 2022, the renowned soft drink manufacturer—Coca-Cola, added QR Codes to its Christmas festive packs.

The QR Code came with the caption Win £200 towards your festive feast. Scanning the QR Code helped the buyers get the chance to win cash or seasonal prizes.
2. Participate in fun riddles
Discover North East Lincolnshire partnered with High Street Safari in Dec 2022 for a campaign called 'Hunt for the Lost Toys'. This was done in a town named Cleethorpes, England.
As per the event's storyline, ten presents have gone missing that need to be found. To find these gifts, people need to solve riddles and release the Christmas imps.
To help them do it, participants need to scan QR Codes across ten locations in the town. Scanning these QR Codes will evoke augmented reality on the end-users' phones.
Once someone finds all ten QR Codes, they get a free digital fun pack.
3. La Salle University's gifts  drive
Philadelphia's La Salle University is known for giving gifts over receiving them. That's why they organize an annual drive to support kids at The Church of New Hope and Faith.
To facilitate the same, they have QR Codes hanging from Christmas trees across the campus. Also, each of these QR Codes is places in areas with high footfall.
Scanning the QR Code takes people to the wishlist on Amazon curated for the gift and toy drive.
4. Run location-based offers
The Yard, in Convent Garden (UK), launched an impressive Christmas campaign based on QR Code technology.
They gave exclusive location-based offers by getting the audience to scan a QR Code in their area. Scanning it took them to the destination on their phone's maps application.
The Yards has several unique offers that the visitors get to see only after they visit the destination. Some of these include £500 discount at Clarendon Fine Art and a £150 Hawksmoor gift card.
C. Benefits of QR Codes
Now that you've seen he potential use cases of a QR Code and how many marketers are actually using them, let's move to the next section.
Besides offering an easy user-journey, QR Codes offer many other benefits too. Here are some of them:
1. Editable content
Say you created a QR Code to provide coupons. And after some time, you've decided to scrap that coupon and incorporate a new one. Thus, you need to put this information out. Here, dynamic QR Codes can help you do it. They allow you to edit the encoded content anytime you want. That means, no need to create a new QR Code every time you make a change.
2. Scan tracking
QR Code allows you to monitor its scanning activity. For example, how many people have scanned the QR Code, where did they scan it, when did they scan it, and which device they used to scan it. This tracking helps you better optimize your campaigns.
In addition, you can also see how your end-users are interacting with the encoded content in your QR Code. This encoded content can be anything like a sign-up or register button. A feature called Event Tracking helps you monitor it.
3. Custom design
QR Codes are customizable. That means you can personalize the design of a QR Code with your business's colors. You can do it by adding a logo and color or a background image to it.
And it is a fact that custom QR Codes attract 50%-200% more scans than basic black-and-white ones.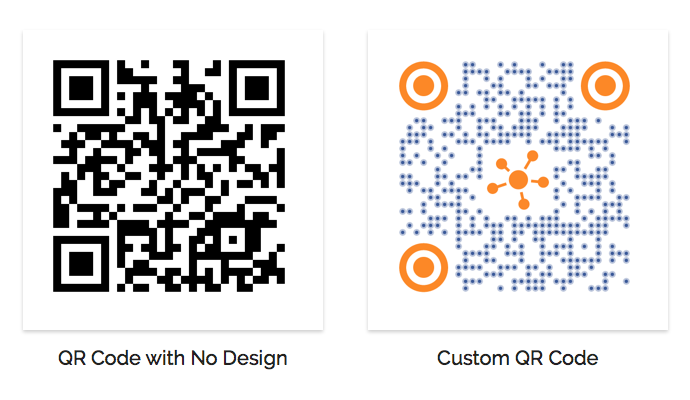 Thus, if your use case is promotional, you'd want to attract as many scans as possible. Hence, consider adding a design to your QR Codes.
4. Error Correction
Error correction feature ensures that QR Codes are scannable even after getting damaged, distorted or dirty.
D. How to create a QR Code for Christmas
Now you know how QR Codes are useful for Christmas. The next question—how to create one?
1. Decide on your QR Code category
Depending upon your use case, you need to select an appropriate QR Code category.
For example, if you'd want to redirect the end-users to your website, you'd need to create a Website URL QR Code. But to give them discount coupons, you'd need to create a Coupon QR Code.
Once decided, you can head on to your chosen QR Code generator. To help you choose more wisely, here is a detailed comparison chart on the best QR Code generator available online. You can go through it to make a sound decision.
2. Create a QR Code
Using Scanova QR Code generator for a demo, here is how you can create a QR Code for Christmas:
a. Go to Scanova
b. Select the most relevant QR Code category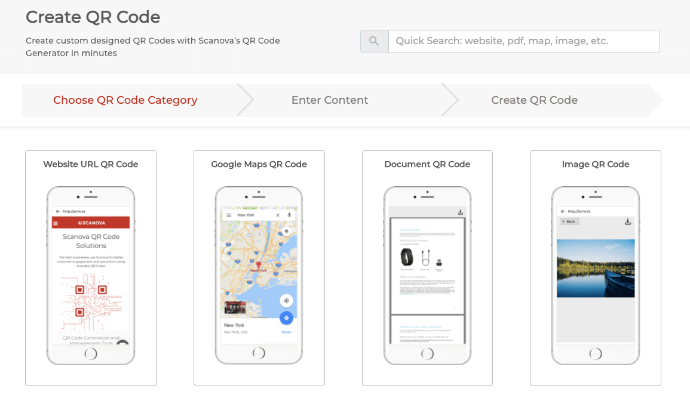 c. Add the content you want to encode in the QR Code and click Continue
d. Now, name the QR Code and click Create QR Code
e. On the page that loads, you'll see the image of the QR Code along with the Edit Design button
f. If you click on it, you'll see two design options—Custom Logo Design and Custom Background Design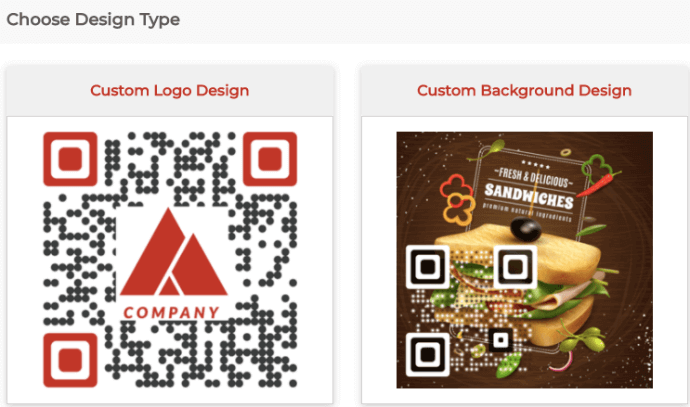 Custom Logo Design: It allows you to add a logo and colors to the QR Code.
Custom Background Design: It helps you place your QR Code on any image.
g. After finalizing the design, click Done Editing followed by clicking on Download. A window will open, prompting you to sign-up for a 14-day free trial. Once you've signed up, proceed to download the QR Code
h. Now, you'll be prompted to specify the QR Code image's format and size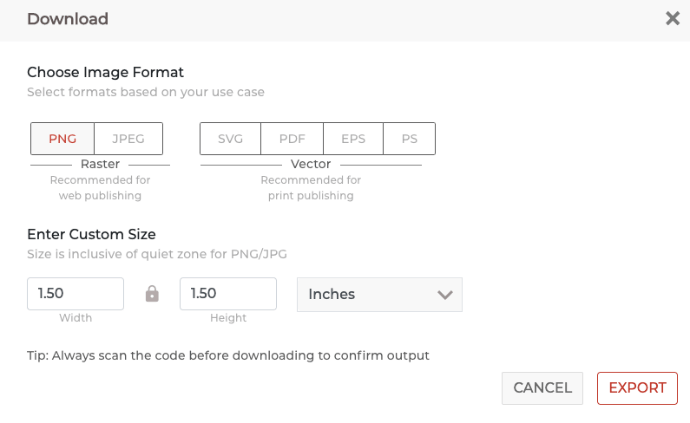 i. Specify these details and click on Export
That's it. Your QR Code will be downloaded and ready for use.
In case you're interested, here's how QR Codes can be used for Easter celebrations.
That is all you need to know about a QR Code for Christmas. You can now create your own QR Code to attract your target audience's attention and boost your overall festive engagement.