The wave of QR Code technology has hit almost every sector. And the world of games is no exception to it.
Playing games has always been seen as a fun-filled activity. And with QR Codes, playing now becomes more interactive and interesting.
Various corporate activities today invest in games with printed QR Codes on them. Besides, even game developers are creating QR Code based gaming apps. Popular gaming apps such as Angry Birds have a QR Code embedded in them.
QR Codes can be used either in-game or out-of-game – to reveal secret information, earn points or weapons, or unlock goodies. For gamers, it's like finding Easter eggs.
Game developers leverage QR Code technology to enhance the 'hunt and gather' thrill in games.
Scroll down to see how QR Codes are adding more entertainment.
A. Why use QR Code in games
Here are a couple of reasons why you should use QR Code in games:
1. Boost engagement
While you add QR Code in your games, make sure that the players are aware of its purpose. Only then they would be coming back for new QR Codes, to win rewards, or to find a treasure. QR Codes will build audience curiosity and keep them glued to the game.
2. Stimulate word-of-mouth marketing
When a person likes your game, there is a high probability that they will recommend it to the others. Thus, giving an impetus to word-of-mouth marketing.
By using a QR Code, you can make it easier for them to share the game details.
All this will increase user adoption. And lead to better returns on your investment.
So by using QR Codes, you can not only make your game modern and tech-savvy, but also unique and engaging.
B. Use cases of QR Codes in games
Here is how you can use QR Code in games:
1. QR Code within the game
Here, you can categorize QR Codes in two ways depending on how they are used in the game:
a. In-game QR Codes
Virtual QR Codes that appear within PC/console games fall under this category. Here are examples of a couple of QR Code based games:
i. Homefront
Homefront, a popular FPS game, has 10 QR Codes scattered across the game story.

When scanned, they reveal exclusive content on the Homefront world and backstory.
ii. Watch Dogs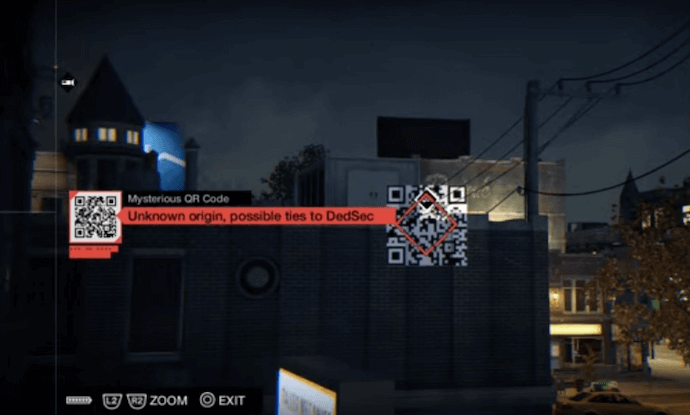 Watch Dogs, a third-person shooter game, allows gamers to collect items by using QR Codes. To do it, gamers just need to scan QR Codes placed on 16 different locations in the game.
iii. Angry Birds
Angry Birds Star Wars series character, Rovio has a tiny QR Code on its base. On a clear plastic, the code becomes magnified.
You just need to scan this QR Code using your device's camera. And the character will be zapped into the game almost immediately.
b. Printed QR Codes
Printed QR Codes are generally used in the real world. And they can also be a part of the gaming experience.
i. QR Code Scavenger Hunts
QR Codes are now a common addition to scavenger hunts to hide digital clues. Munzee, a global scavenger hunt, has scattered ~4.2 million QR Codes across the world.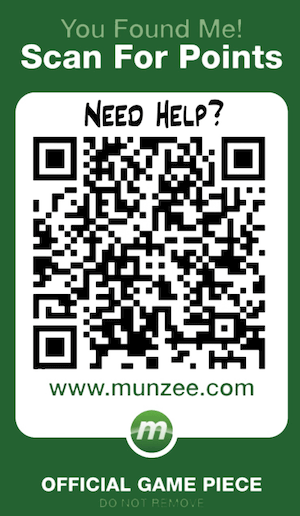 Participants of the game are required to find and scan these QR Codes to earn points.
QR Code Scavenger Hunt game is also a part of fun activities in the corporate world. Here, QR Codes are used to hide questions and clues.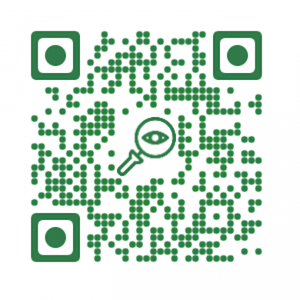 For more information, you can refer to this detailed guide on QR Codes in Scavenger Hunt.
And to create a QR Code for such games and activities, you need a professional QR Code generator such as Scanova.
ii. Borderlands 2
Borderlands, an FPS game, allows users to scan real-life UPC barcodes and QR Codes on daily items. But it can only be done using the LootTheWorld app. Some of these codes will earn gamers weapons.
iii. Nintendo 3DS games
In Nintendo 3DS games like Tomodachi Life and Animal Crossing, gamers can add avatars by scanning Mii QR Codes. A Mii is a free-form digital avatar that can be created using the Mii Maker on the 3DS or the Mii Channel on the Wii.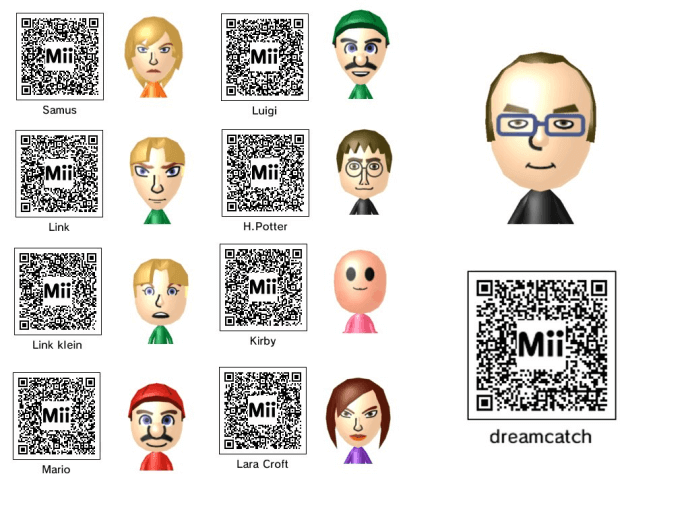 Each Mii comes with a QR Code to allow gamers to share Miis between them.
Nintendo's Mini-NES, launched in July 2016, comes with a set of 30 games. The list includes games such as Doctor Mario, Double Dragon 2- the revenge, Pac-Man, Super Mario Bros. (1-3).
Each game comes with a unique QR Code on the screen. When scanned, it will lead the player to copies of original instruction books for each game.
Also, in 2016, UK's Camelot added QR Codes on its lottery tickets. On scanning this QR Code, one can check if she has won or not.
If you've developed a game and want to create in-app QR Codes in real-time, you can use QR Code generation API.
Using this, you can generate QR Codes programmatically. You just need to send a trigger request with data (QR Code size, design, format and the data to be saved in it) to Scanova's API. The API will then respond with the QR Code image.
iv. Volkswagen
Volkswagen, a German motor vehicle manufacturer, wanted to ensure that its target audience didn't see ads from competing brands. 
One way was to buy all the ad slots in a three-minute ad break. But it was heavy on the pocket. So, they came up with another way.
And this was via QR Codes. Here, they first identified the slots where their competitors were advertising. Then they bought the primary ad slot of that ad break. 
In this ad, they showed a QR Code on the screen for a straight 30 secs.
As the viewers scanned the QR Code, it led them to a live racing game. And here's the best part—this game ran throughout the ad break.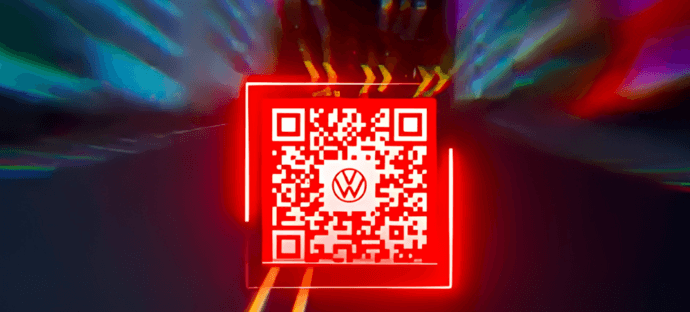 That's right. People were busy playing Volkswagen's game while their competitor's ads were airing.
Isn't that amazing? Volkswagen succeeded in beating its competitors with a single QR Code.
2. QR Code in ordinary games for fun
As a part of the academic or corporate world, you do participate in fun activities and games occasionally. And with QR Codes, you can make these games much more interactive. Here's how:
a. QR Code reflection cubes
Just like a Rubik cube, you can print colorful QR Codes on all six sides of the cube. And in these QR Codes, you can encode reflection questions.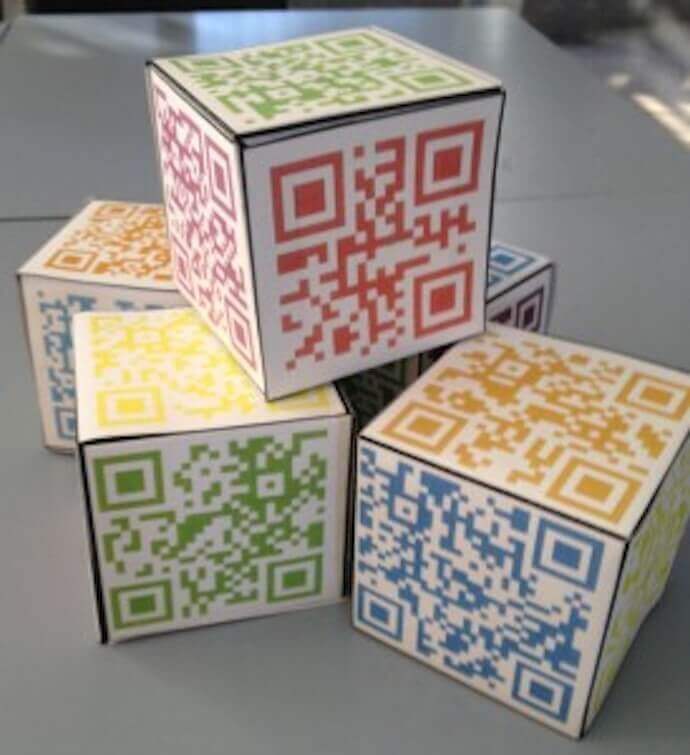 For example, educators can create a reflection cube and place it in the classrooms. And then ask students to answer the reflection question decoded on scanning the QR Code.
b. QR Code on Secret Santa
Make Secret Santa merrier and more enjoyable by adding QR Codes to it.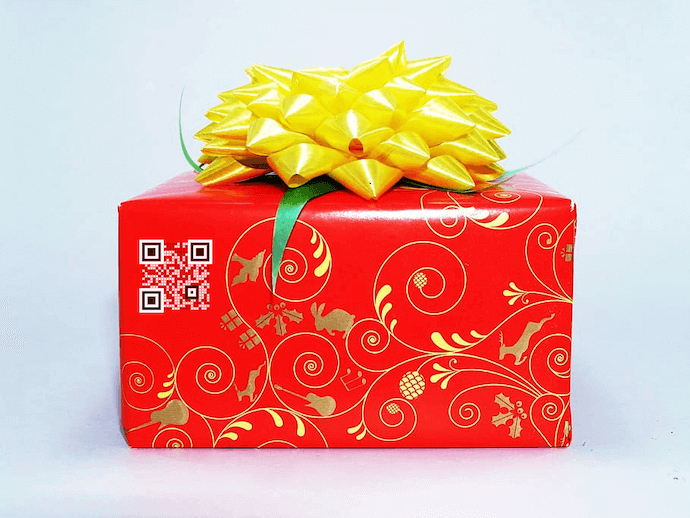 To keep the game utter transparent, you can encode the names of the participants in a QR Code slip. And then shuffle these and let participants pick a random slip.
Upon scanning, they would know the name of the person whom they have to gift.
To know exactly how to play it, you can refer to this detailed guide.
iii. Budweiser
To celebrate 100 Days to the FIFA World Cup 2022, Budweiser launched a campaign—'The Drop'. This campaign had all the fans all over the world excited. Why?
Well, in this campaign, Budweiser dropped hundreds of red prize boxes all around the world. These red boxes contained signed memorabilia, a year's supply of Budweiser, and the grand prize of a trip to the tournament.
But Budweiser wanted to offer this opportunity to true football fans only. So, they had to identify them. This is where QR Codes came into play. Budweiser made QR Codes appear everywhere across the globe. From Mumbai's Football arena to Wembley stadium in London, they were everywhere.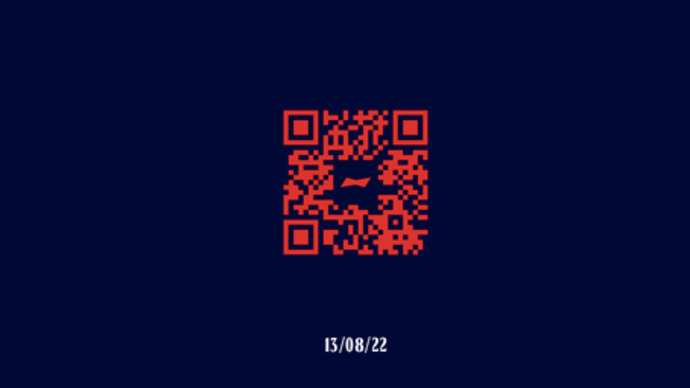 As people scan it, they were taken to a webpage where they could register for this campaign. 
Once done, Budweiser was ready to begin its true campaign. They shared the coordinates of the red boxes with only registered people. But here's an interesting catch—they sent the coordinates of these boxes only a couple of hours before the drop. This way, they kept the adrenaline pumping while ensuring crowd control.
Budweiser also partnered with famous footballers such as Messi, Neymar Jr., and Sterling for promotions. They promote these QR Codes via their own social media handles. 
This campaign generated over 10 million impressions on social media. Hence, it became one of the best campaigns of this season.
3. QR Code for your game app promotion
As a game developer, you obviously want more and more people to download your app. And in offline promotions, QR Codes can help increase traffic to your gaming app while getting people to download it.
All you need to do is create an App Store QR Code by adding your app links to it. Once done, print it on print media creatives such as pamphlets and brochures. Here, you can use them for promotions.
Upon scanning, the end-users will be redirected to your app on the required App Store as per their device's OS. This will save their time and effort to manually type the app link. And hence, make it easy for them to download your app.
In addition to this, you can also use QR Codes for other use cases:
You know gamers love the in-game soundtracks. And you can direct them to these tracks easily. How? Via Audio QR Codes.
They allow you to share the audio files seamlessly. This is a convenient option as players can play the sound without the need for additional apps. To listen to it, your audience just needs to scan the QR Code. Easy, right?
It is common for Streamers or professional gamers to build their gaming audience. They do it on various platforms such as Twitch, Discord, YouTube, or Facebook.
And a Social Media QR Code can help you gain followers easily. When scanned, it leads the audience to a custom webpage with buttons to your social media accounts. Your audience can then select which one would they like to follow you on.
How to create QR Codes for games
Now you know all about QR Codes in games. The next question—how to create one?
I. Create QR Codes one by one
If your use case doesn't require  hundreds and thousands of QR Codes, then this is the right choice for you. This option offers you QR Code categories to choose from.

To create one, you simply need a QR Code generator. There are various QR Code generators available online. 
But comparing each result to find the best one for yourself is a tedious process. Hence, to make it easier, here is a detailed comparison of the best QR Code generators available online. You can go through it to find the best one for yourself.
Once finalized, you can go-ahead and create your own first QR Code. To get you started, And here's a step-by-step guide on it.
II. Create QR Codes in bulk
In case, you want to create QR Codes in bulk, then you can choose this option. To do it, you'd need a bulk QR Code generation service. It allows you to create up to 100,000 QR Codes in one go. It offers you a variety of choices such as Website URL QR Codes, Simple Text QR Codes, Serial Code QR Codes, and VCard QR Codes.
To make use of it, you just need to upload a data file with all the details to be encoded. Once done, just wait for the QR Codes to be generated and download them in a zip folder.
For more information, here is a detailed guide on how to generate QR Codes in bulk.
III. Create QR Codes programmatically
If you want to integrate QR code generation into your own information system, QR Code API can help you do it. 
It allows you to generate QR Codes programmatically in real-time via your own information system. No manual intervention required to create the QR Codes.
Best Practices
To get the best results, here are some best practices, you need to follow:
a. Add design to QR Code
QR Codes are not just black-and-white matrix of squares. You can customize your QR Code and make it completely branded. That is, you can add a logo, change the background color or place a background image to your QR Code.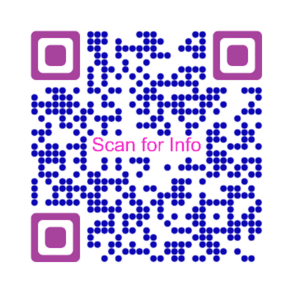 Plus, since your use case is marketing, you should design your QR Code. Custom-designed QR Code attracts 50-200% more scans as compared to black-and-white ones.
Also, note that there should be enough contrast between the background color and QR Code. That is, if the background color is dark, then the color of data modules should be light and vice-versa.
b. Add a CTA element
That is, tell the users what they exactly need to do. For this, you can write help notes such as 'Scan to download app'.
This will guide the users of what they will achieve after scanning. Thus, the CTA element is important to lead people to download your app.
c. Export in vector formats
It is important to choose the right format of QR Code image to ensure proper scannability. If you want to place the QR Code ( advertisement with QR Code) on a large surface, then export in vector formats.
Vector QR Code images are high resolution images, which do not get pixelated when scaled. And they come in SVG, EPS, PS, and PDF formats.
That's it. So, follow these best practices in order to create QR Codes flawlessly.
Now you know how QR Codes can add more fun and entertainment to the games. So, add a QR Code to your game now to make it more interesting, engaging, and interactive.
[cta1 caption="Create a QR Code for your game now" content="Create a visually-appealing and dynamic QR Code and make games more interactive. Free Trial." buttontext="Create QR Code now" destination="https://scanova.io/design-qr-code-generator.html?utm_source=smb_smb_qr-code-in-games_bod&utm_medium=blog&utm_campaign=content#/chooseqr/" image="https://scanova.io/blog/wp-content/uploads/2016/12/qrcode-8.png"]