Say you are planning to use QR Codes for one of your upcoming campaigns. This could be for any promotional or operational use case.
And you're looking for suitable QR Code generators available online for the same.
So you probably went to the search engine to find a couple of suitable options. And you came across both free and paid services.
This has caught you in the web and you're wondering—which one should I choose? Moreover, is there a need to pay for a service that can be availed for free?
Well, it's true that many free QR Code generators indeed allow you to generate basic QR Codes. This could be to store information such as website URL, contact information, and text.
But the free QR Codes usually have many limitations. For example,
Most of them are static in nature. That means the content stored in them is permanent. You can't change it after creating the QR Code. In addition, you can't even track their scanning activity

They're often simply black-and-white with very limited to no option for design customization
In fact, that's not where it ends. In this article, we'll see twelve differences for free vs paid QR Code generator.

Related : Best QR Code Generator
Here is a sneak peek on which one is better among the two:
A. Twelve major differences for free vs paid QR Code generator
Let's get started on comparing the two options available in detail:
1. Editability of QR Codes
As mentioned above, most free QR Code generators only provide static QR Codes. And they are non-editable. But if you want to make your QR Codes editable, go for Dynamic ones. They allow you to edit the encoded content anytime you want without the need to create a new QR Code.
With this, you can continue using the same QR Code by editing the targeted content. This saves a lot of effort, time, and printing costs.
And needless to say, the dynamic QR Codes are usually offered by paid services.
2. Scan tracking capabilities
Executing a campaign without tracking its impact is detrimental to the business. And if you're a serious marketer, you'd want to avoid doing that.
To do it, you must monitor the performance of your QR Code based campaigns. But the static QR Codes provided by free services don't let you do that.
Here, you'd rather need dynamic QR Codes that help you monitor their scanning activity. For example, how many people have scanned the QR Code, when did they scan it, and where did they scan it.
In addition, you can even monitor the granular data to see how your audience interacts after scanning the QR Code. For example, are they even clicking on the Visit Website or Purchase Now buttons?
These analytics come in handy to not only optimize future campaigns but also the user journey.
3. Integrations
Another important feature that helps you track analytics is—integrations.
If you are a marketer, you may have various campaigns running simultaneously. And to monitor their performance, you might be using tools such as Google Analytics and Webhooks.
Hence, you may want to look for a professional service provider that offers desired integrations. It will help you handle all the data in one place.
4. Ad-free redirection:
Generally, free QR Code generators show your end-users mobile ads before the target content. Now you may think why? Well, the answer is—how else would they sustain their business?
However, these ads adversely affect the user experience. As a result, many end-users bounce back without even seeing the actual content you encoded. Now, you wouldn't want that, right?
So to offer your audience an ad-free experience, you must opt for a professional service provider.
5. High-resolution images
If you're planning to use QR Codes for print media, make sure you export them in vector formats such as PDF, SVG, or EPS. These formats ensure that images don't pixelate no matter how you zoom in or zoom out.
However, most free services offer QR Codes in PNG/JPEG formats only. These are more suitable for digital displays but not printed creatives.
On the other hand, paid services offer you both raster and vector formats. You can select the one as per your needs.
6. Personalized design
It is given fact that custom-designed QR Codes attract 50%-100% more scans than plain black-and-white QR Codes. This is because a customized QR Code looks more visually appealing and thus, attracts the audience's attention.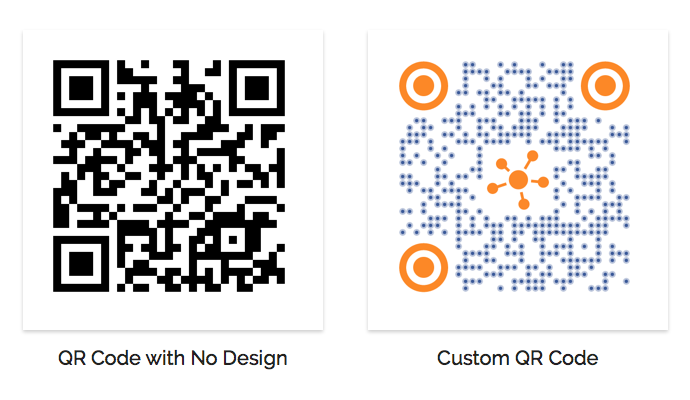 So if you're planning to run a promotional campaign and want as many scans as possible, consider designing your QR Codes.
While the free services provide little to no room for customization, paid services help you customize the QR Code in many ways.
7. Timely support
Say you are running an important campaign. However, you face some technical challenges before or during the same.
In such cases, you'd need support from your service provider. And nothing beats a paid service in providing timely support.
This could be over live chat, email, and phone. So make sure your QR Code generator ensures you of 24*7 support in case of any emergencies. You can also Propofs for the live chat support.
8. Custom landing pages
Say you don't have a website but want to redirect your audience to a landing page. While you can hire a software developer to do the job, it'll be a bit too heavy on your pocket.
Free not! Many professional services such as Scanova help you create QR Codes that redirect your audience to mobile landing pages. And you don't even need to have a website for the same.
That means you simply have to create a QR Code by adding text, images, videos, weblinks, etc., and customize it the way you want. A landing page will be created on its own where the end-users will be redirected on scanning the QR Code.
And you don't need any developer for the same. You can do it yourself in minutes.
9. Custom URL and custom domain
Dynamic QR Codes take the target audience to a redirecting URL that stores the target content. This URL is provided by the QR Code generator and has the name of its domain too.
However, you may want your target audience to see your domain name over anyone else's. And a feature called custom URL can help you do it. It shows the target audience the redirecting URL as per your requirements, hence, taking care of your branding effort.
So, ensure that your service provider offers this as most free ones don't.
10. Multi-user support with custom roles
As a marketer, it's common to get your team on board to help you handle the campaigns. Here, the multi-user support feature can help you out.
It allows you to invite teammates and stakeholders to access and manage the same QR Code account. But most free QR Code generators don't have this feature.
In fact, services such as Scanova even help you assign custom roles to each one of them. You can do it depending on your desired level of access for each one of them. These may include—Viewer, Manager, and Admin.
11. Data security
Data security is a huge concern for everyone today. So, make sure your data is in safe hands.
Look for a QR Code generator that is GDPR compliant and, if possible, ISO 27001:2013 certified too. It would help you rest assured about the safety of your private data.
12. No constraint on the number of scans
You never know exactly what results in the campaign will fetch before monitoring it for some time after the launch. Hence, you can't be sure how many scans will your QR Codes get while starting the campaign.
So make sure your QR Code generator doesn't limit the number of scans on the QR Codes. This is not only the case for free services but some of the paid ones too.
So look out for any limitations in the number of QR Code scans. For your convenience, here's the comparison chart of the best services available online.
B. How to create QR Codes
Now you have understood the difference for free vs paid QR Code generator. So the next question is—how to create a QR Code?
1. Create QR Codes one by one
If your use case doesn't require hundreds or thousands of QR Codes, this is the right choice for you. This option also offers you a wide range of QR Code categories to choose from. For example, Event QR Code, Website URL QR Code, Product QR Code, etc.
To create one, you can simply follow this step-by-step guide.
2. Create QR Codes in bulk
In case, you want hundreds or thousands of QR Codes, this is the right option.
You'd need a bulk QR Code generation service such as QR Batch for the same. It allows you to create up to 100,000 QR Codes in one go.
To generate them, you simply need to upload a data file with all the data to be encoded in the QR Codes in XLX, CSV, or XLSX formats. For more information, here is a detailed guide on how to generate static QR Codes in bulk.
In case, you want to generate dynamic QR Codes in bulk, here is a step-by-step guide on it.
3. Create QR Codes programmatically
If you want to integrate QR code generation into your own information system, QR Code API can help you do it.
It allows you to generate QR Codes programmatically in real-time. Hence, there is no manual intervention required to create the QR Codes.
All three options offer unlimited scan limits. In short, with a paid QR Code generator, you can make the most out of your investment.
This is all you need to know about Free VS Paid QR Code generator. You can now select the right one as per your requirement.